You just bought a new soundbar and you're trying to make all the connections ready. Unlike years ago when a single coaxial cable did all the work of connecting our few appliances, we now have a ton of accessories that we use like cable boxes, game consoles, and Blu-Ray players.
After buying a soundbar, you have another decision to make. Which cable is the best? Luckily, HDMI was created to take on the role of coaxial cables. But some problems may arise when it comes to connecting your source device to A/V receivers or Soundbars.
Conventional HDMI doesn't allow two-way audio transmission. Therefore, your signal can't run back out, if it comes through your receiver directly into your TV. That is why the HDMI ARC ( Audio Return Channel) comes in. Optical cables can be used instead of an HDMI ARC. Which one works best? Here's an overview.
What is a Soundbar?
A soundbar is a centrally located speaker system that projects audio from a wide enclosure. They are often used for their high-quality sound output. For sounds played through a television speaker, the output from a soundbar is really great. A soundbar can be used alone with no other surround sound systems.
When soundbars are used alone, they produce great sound and they do not take up space as a full surround sound system will do. They are popularly used in homes across the country and they are easy to set up.

HDMI ARC and Optical Soundbars: Understanding the Basics
HDMI ARC and Optical Soundbars are cables used to relay audio from the source to the Soundbar. There is a little difference between the two devices, but the difference no matter how small it can be is worth considering.
HDMI ARC Cables
High-Definition Multimedia Interface (HDMI) cables are the most common types of cables used in modern houses. They have grown to become the cable used in almost all modern devices. They are the go-to cables for most home theater systems to provide reliable, consistent, and quality sound and video.
HDMI cables are used to relay both video and audio signals among devices, making them easy and less stressful to set means. You enjoy dealing with lesser cables to connect to your devices.
Making a connection of an HDMI cable from a TV to a Soundbar is easy- simply use the TV HDMI ARC input. The HDMI ARC ( Audio Return Channel) sends signals from the TV to the soundbar. A regular HDMI input that can be used is the HDMI ARC port, it works to send both audio and video signals.

Optical Cables
Optical cables also referred to as Digital Optical cable also produces reliable, high-quality consistent sound. Even some users claim that the audio quality from Optical cables is a bit higher than the one relayed from the HDMI cable.
Digital Optical cables work by relaying audio signals from a source device to a receiving device by a pulsing wave of light. Users with home theater systems prefer optical cables as their go-to choice due to the quality of the sound produced. Optical cables unlike HDMI cables only relay audio signals. This means, if you want to relay images and video signals among devices, you will need an additional cable.
As stated earlier, HDMI and Optical cables are similar however, there is a difference in their material construction. HDMI cables are made of copper due to the fact that copper is easy to produce, cheap and it has been used to manufacture cables for centuries. One of the disadvantages of using copper to produce electronic cables is its vulnerability to electromagnetic interference.
Optical cables are made of optic fiber strands, which are made of glass. This material can be expensive to manufacture. But they transmit audio signals via light rather than electric current. This makes it impermeable to external interference.


Comparing the Specifications
Audio Quality
For most home theater systems, Digital Optical Fibers produce the best quality sound. They support surround sound of up to 5.1 channels, which works perfectly for any soundbar. But if you're an audiophile and you use a 7.1 channel surround sound system, an optical cable will not deliver the audio quality that you like.
Besides, optical cables don't have the capacity to support DTS HD, Dolby Digital Plus, or True HD. This is because optical cables are immune to interference, so they have limited capacity. Therefore, you can't use optical fibers for advanced stereo systems or surround sound systems.
An HDMI ARC connection would be the best option if you have a powerful stereo system. It supports any sound format. It works with Dolby Digital Plus, Dolby Atmos, DTS HD, and TrueHD. You even get high-quality sound and images from your modern game console or Blu-ray Discs.
For your 7.1 surround sound system, you'll need a further update because HDMI ARC doesn't support it. An HDMI eARC will work perfectly. The 'e' stands for advances, so it comes with better features and supports more devices.
HDMI eARC provides higher bandwidth. Most modern televisions produce compressed sound at lower quality than the input. Whether you're the HDMI ARC cable or not, your audio quality can be reduced. HDMI eARC solves this problem by producing the same output and the input using Ethernet technology. So, you enjoy uncompressed, rich audio without latency or jury-rigging.
If you are planning to get HDMI eARC for your device, make sure you check the hardware specifications carefully before you buy.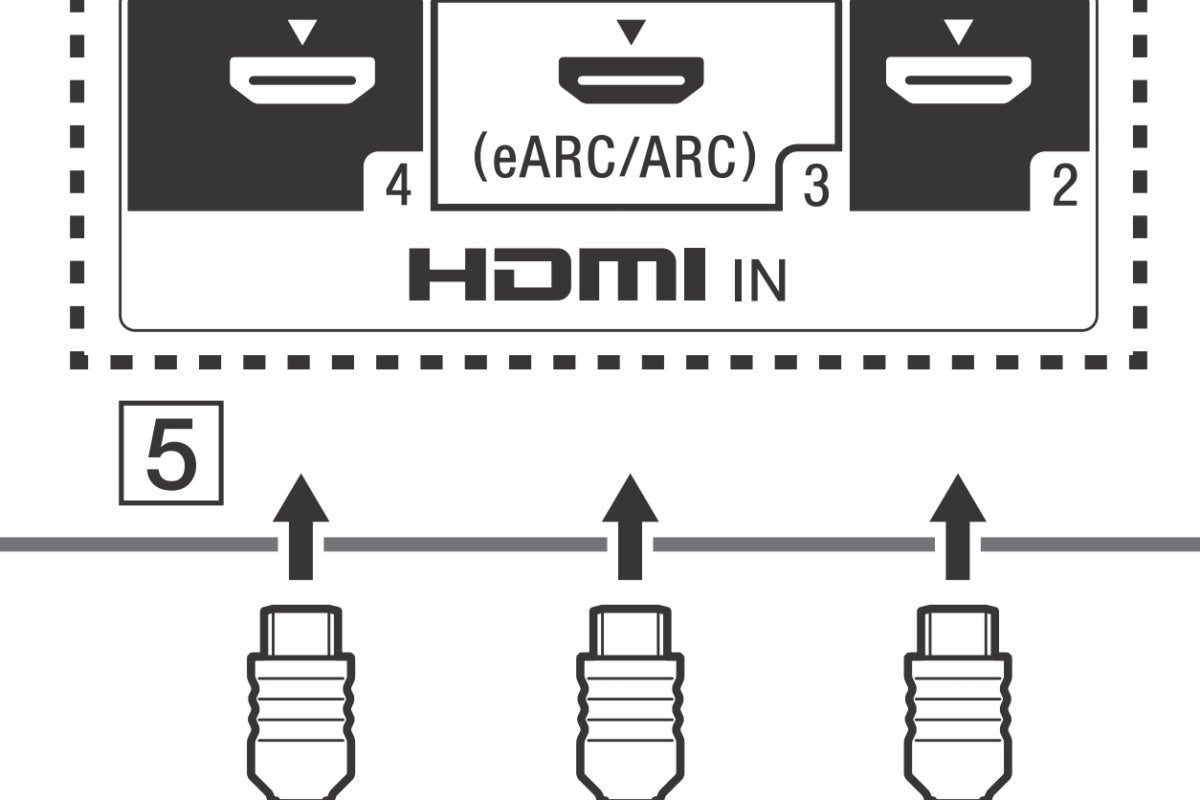 Video Quality
This feature applies to the HDMI ARC cables, but there are some features you need to note here. Not all HDMI cables can produce the same quality output. Let's say you want a 4k video output, an HDMI 2.0 cable can give you nice results, but your frame rate will be 60 frames per second.
An HDMI 2.1 cable offers 120 frames per second to get a 4k video output. You also have the option to watch videos in 8k at 60 frames per second. This works well for most Virtual Reality systems.
If you are considering using an optical cable, you might need to buy more cables to allow the relay of video signals. Buying an optical cable and HDMI cable to perform both functions might be more expensive than buying an HDMI ARC cable.
Input Options
Before buying any cable, you need to check the inputs and ports of your source device and soundbar. Some devices do not come with an HDMI port, while others come with it. If your device doesn't come with an HDMI port, make sure you get the cables that are supported so as to replay video and audio signals between devices.
Most people make a purchase expecting a type of connection without confirming if the cable they want to get is supported.
Game consoles, Blu-ray, and similar devices all support HDMI cables. If your device doesn't support HDMI cables, a Digital Optical cable can provide the same audio quality. If you're looking to replay audio signals only, the Optical fiber can produce high-quality sound without having to stream video signals between devices.
Length of each cable
Depending on your needs and the space available, the length of each cable might not cause a problem. If your A/V beneficiary and TV are near one another, this probably won't be an issue. But, it can be an issue if you have a whole-house audio system or custom media room. For your application, use the shortest possible cable. The longer the cable, no matter what type of cable it is, there will be some loss of signal.
That said, video signals use a large amount of bandwidth, therefore the signals degrade faster than audio signals. Signal loss for video has lesser tolerance than audio signals making them degrade faster. Understanding how the length of the cables affects video quality is important, so you'll want to use the same length cables if you're running separate cables to separate speakers.
Different cable lengths affect the signal. The longer the difference in cables, the longer the time used by the A/V receiver to detect proper clock signals. An HDMI cable runs on a maximum length of 15 meters ( almost 50 feet). This is because an HDMI signal uses a low voltage of 5 volts. This means the transfer of signals would cause degradation.
Optical cables, on the other hand, run on a maximum length of 10 to 30 meters ( 33 to 99 ft). They have a maximum length because the material used is not perfectly transparent and eventually, the light signal will start to degrade.
How to Place the Soundbar
After making a decision to buy the cable that suits your needs, you need to consider where to place the soundbar as well. One mistake most users make is putting the soundbar at the back of the TV. It reduces the sound quality by rescuing the obstructing sound waves. Soundbars are meant to be kept under the TV, where there will be nothing directly at the front.
A soundbar offers a minimalist approach to sound and apart from that, it minimizes the carbon footprint of your home theater system. An HDMI cable helps keep with the sleek approach to music as only one cable is needed to relay video and audio signals. Using an Optical cable, you may need more wires to help relay video and image signals to your TV. But if you're looking to stream music from your home theater system, an optical cable is your best bet.
Overall, an HDMI keeps your space free of wire clutters. A single wire is easier to manage than the numerous ones you may need for relaying video signals when using an Optical model.
Recommended Optical and HDMI Soundbars
Depending on your needs, each one of the soundbars listed here is very reliable, powerful, and affordable.
Sony 2.1 Channel Soundbar System ( Supports Digital Optical Cable)
The Sony Channel Soundbar System, Model HT-CT290, is an affordable option if you're looking for a soundbar that supports the Optical cable. It offers 300W of power. It is very slim and produces rich, well-developed deep tones when connected with the subwoofer.
The device is wall-mountable. It has received a lot of positive reviews from users of all kinds. It comes with both USB ports and Optical cables. The HT-CT290 supports different audio formats and other Dolby signals. The Soundbar measures 2.1 inches high, 35.5 inches long, and 3.4 inches deep.

Yamaha YAS-207BL Soundbar ( Supports HDMI Cables)
This Yamaha YAS-207BL comes with a lot of nice features. It comes with 100W of power, it is also sleek and crisp. It features a subwoofer, so both connect wirelessly to produce good quality sound that is clear and true no matter what tone used. It is one of the most highly regarded HDMI Sound Bars available in the market, due to its power and number of reviews from users. It allows HDMI, analog, and optical inputs.
The inputs the Soundbar enables make it very great for home theater devices. It is wall-mountable and it measures 2-3 inches tall, 3.25 inches deep and 36 inches tall.


Sonos Arc
One of the latest surround sound solutions of Sonos is curated in a soundbar called Arc. The device uses an HDMI interface. It produces a curved sound and it delivers high quality impressive sound to a modern mi minimalist home.
This system tried to do the work of short-circuiting the surround sound game. Dolby's TrueHD and Dolby Digital Plus Sound codecs are used to deliver lossless audio that can only be on some streaming platforms and Blu-ray disks.
It also enhances 3D Soundscape by bouncing certain sounds off the wall around you using the Dolby Atmos object tracks. In this situation, you will feel like the sounds are coming from different angles.
This way the Sonos Arc works might sound a little overwhelming, but the setup is pretty easy. It involves a couple of simple steps just like when you're setting up a smartphone app. The all-in-one system construction and the minimalist cable connections add to the easy setup and streamlined aesthetic.

Bluetooth Connections over Wired Connections
Most Soundbars and TVs come with a Bluetooth connectivity option. There are a few downsides to this.
One, Bluetooth audio takes more time to process, making lip-sync more obvious. Secondly, Bluetooths Bandwidth is lower than optical and codecs tend to compress the audio a lot. The lip-sync issue can be more obvious when there is an audio delay, and it can be weird when you're watching movies.
It is not recommended to pair your TV to a Soundbar via Bluetooth. Using wired cables like HDMI ARC and Optical cables will produce better audio.
Conclusion
The best cable to purchase if you use a Soundbar or A/V controller is HDMI ARC because you will get a better audio quality than when you use an Optical cable. HDMI ARC also allows CEC technology. CEC technology allows you to have a remote control for all your HDMI ARC-connected devices. A standard HDMI cable will work fine if your speakers are not external.
Optical cables work best when you have issues with connecting your devices. Let's say you have old devices that don't support HDMI ARC. An optical cable would be a good choice. Also, if you're getting a lot of electromagnetic interference, the optical cable is a good go-to choice. In that case, don't forget to check what device is causing the electromagnetic interference.
You may also be interested in:
About Post Author