Nothing beats the feeling of purchasing a radio or TV. You feel so excited and want to get home to connect and enjoy all the buzz. However, during the fixing and setting time, you realize that it has the worst in-built sound. You feel annoyed, stranded and wasted, right? But you don't have to worry anymore since 2.1 or 3.1 soundbars can fix all the issues, and you get to enjoy the sound from your TV once again.
This article explains key differences between a 2.1 and 3.1 soundbar and why they come to your rescue.
What's A Soundbar?
Soundbars are loudspeakers that come in a short and long speaker box formats. They have channels that amplify the sound from the connected device to give you loud and clear sound. They are a perfect fit for home theatres since they enhance the sound giving you a surround sound experience.
The Channels and Dolby Atmos
While on the market shopping for a soundbar, you may come across numbers such as 2.0, 2.1 and 3.1 and wondered what they meant. The number before the period refers to the number of channels a soundbar has. For example, 2.1 indicates it has two channels, one left and one right, while 3.1 indicates three channels – left, right and centre.
The number after the period, i.e. 2.(0), means the soundbar doesn't have a subwoofer while 2. (1) means it has one subwoofer. There are some cases where a soundbar can have a number after the period and still lack a subwoofer. That is where a soundbar has dedicated low-frequency drivers.
In addition, a 5.1 soundbar has five speakers and one subwoofer. It means it has two front speakers, one centre speaker and two back speakers.
If the soundbar has three digits, i.e. 5.1.4 – this means that it has discrete Dolby Atmos surround sound. The last number refers to dedicated drivers that aim the sound to the ceiling and bounce it down to form an enveloping effect. You can select these soundbars if you wish to experience this effect to mimic the experience obtained from movie theaters. However, its hard to find a model below 5.1 having a discrete surround sound.
What's the Difference Between the 2.1 and 3.1 Soundbars?
A 3.1 soundbar has an external subwoofer and three channels; left, right, and centre, whereas a 2.1 soundbar has only the left, right channel and a subwoofer. The 3.1 has a better sound dialogue due to the center channel. Both soundbars are effective, and you can decide which of the two fits your choice. Let's look at each of them separately.
3.1 Soundbar Setup
3.1 soundbars tend to be more expensive compared to 2.1 due to the additional channel. The setup is different from that of a 2.1. The centre channel acts as a dialogue and gives a dynamic sound that makes you experience a perfect surround sound for the ears. The sound clarity will be clear, unlike in 2.1, where there will be a mix-up of music and sound effect; thus, the clarity will be a little bit compromised.
2.1 Soundbar Setup
The setup for a 2.1 soundbar is standard since it has only two channels that are inbuilt in the soundbar and a subwoofer. It's a great option if you want to upgrade the sound quality from your TVs while on a minimum budget. The left and right channels will produce good sound; however not dynamic enough to outdo the sound from advanced soundbars.


Other Differences
Size
3.1 soundbars are slightly larger than 2.1. You thus have to be careful when buying a soundbar for your TV. Check the space available and decide which one will fit in the room. If you have mounted your TV on the wall, you must check the area above or under the TV to confirm that it fits the soundbar. Likewise, if your TV is on the stand, measure and ensure it has some space for your soundbar.
Audio Quality
It's no doubt that the 3.1 soundbars will have powerful and clear sound compared to 2.1. The central speakers create better dialogue, and you get to experience surround sound. The 2.1 has only the left and right speakers that produce the sound, which gives inconsistent sound. The three speakers in a 3.1 soundbars work independently and don't have the pressure to produce sound, giving high-quality sound.
Price
The additional centre speaker in a 3.1 soundbars makes it have a higher price compared to 2.1. That is due to the dialogue and dynamic sound that it produces. Bluetooth connectivity and other features such as voice control also increase the price of the soundbar.
Design
The design of the soundbar is vital for a successful setup in your room; it includes the weight, brand, quality and dimensions of the soundbar. Both 2.1 and 3.1 soundbars are sleek, slim and lightweight. But the 3.1 is slightly heavier than 2.1 due to the additional speaker.
Both soundbars have a sizeable external subwoofer that's likely to consume much space in your home theatre. If you have a large theatre room, then a 3.1 soundbar would be a great option. However, for small rooms, you should consider a 2.1 soundbar.
Center Channel Speakers vs Soundbars
While many synonymize these terms due to their central placement underneath a TV, they are quite different in reality. For example, center channel speakers are usually part of a speaker set and are designed to be used as a 'central' source of sound in a multi-speaker set up.
Soundbars, on the other hand, are all-in-one solutions which have a left, right and center channel to render sound from a receiver's output. Check out our center channel speakers buying guide for some excellent choices on offer.
Benefits of Sound Bars
Soundbars are increasingly becoming a necessity to amplify the sound from your TV. They are easy to use, set and ensures you experience surround sound, which is excellent. Some of the advantages of soundboard include:
High-Quality Sound
You don't have to pay so much money to experience the surround sound system when you can get that with these soundbars. However, while buying them, make sure you buy from a reputable seller who will sell you high-quality items.
That will give you all the fantastic sound you can experience with complex systems. The 3.1 soundbars will provide more precise and high-quality sound due to the central channel that produces high dynamic sounds.
Simple and Easy to Connect
One of the main benefits of soundbars is that they are very easy to connect compared to other systems. They easily integrate with your TV or other devices without any difficulty. Additionally, they update themselves to fit the latest technology hence fit for use.
Compact
Most traditional sound systems are complex and have many wires that you have to connect to achieve a complete surround system. That isn't the case with soundbars since they have most of their speakers inbuilt, so it's wireless. You can easily connect them even if you are new to using them. They also ensure your room remains neat since they don't incorporate many other things.
Modern and Stylish Design
You probably want a system that adds style to your room and every visitor that visits your house to admire it. Soundbars are the way to go to get that stylish look. Their design is unique, and you can easily mount it near your TV and still achieve this look. However, you need to keenly follow the guide to ensure you mount correctly to attain a modern and superb look.
Budget-Friendly
Soundbars are all in one pack, and they allow you to experience quality sound while still staying within your budget. They are available in all sizes and shapes; thus, you have a variety to choose from. You can start by purchasing affordable 2.1 or 3.1 soundbars and adding more components to achieve more surround sound.
How to Connect and Set Up Your Soundbar
It's easy to connect a soundbar to your TV; however, trouble may set in if you want to connect a Blu-ray player, cable box or game console to the soundbar. Let's look at some scenarios to understand how to do it:
Scenario 1: Components Connect to TV
It is a straightforward method and will take a short time to complete. For instance, you are trying to connect your Blu-ray player, cable box, game console and several other devices to your TV. The purpose of the soundbar here is to ensure your TV produces excellent sound. The optical digital audio cable majorly transfers the audio signal from the TV to the soundbar.
The Setup
Switch off the TV speakers, select external speakers from the TV audio menu, or turn off the in-built speakers.
The soundbar needs to decode the digital surround sound formats that your TV send through the optical output. In a scenario where it doesn't, you should change the settings of your TVs digital audio output to PCM.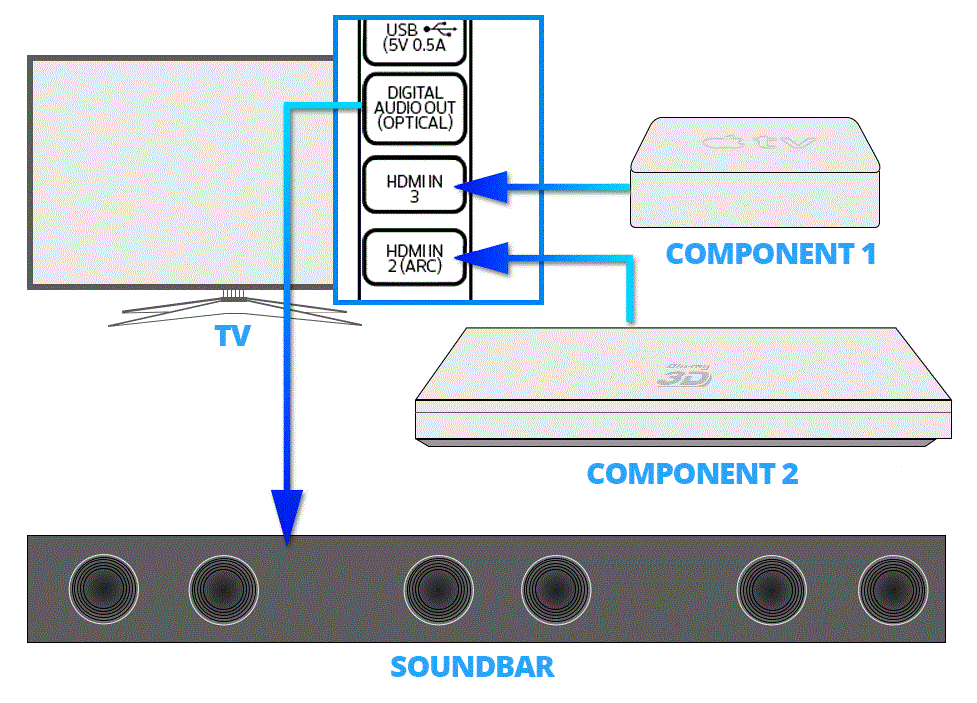 Scenario 2: Components Connect to Sound Bar
The installation process may be a bit longer when you decide to connect your components to the soundbar. The reason is that the majority of the TV cannot send digital surround sound through the optical output. The advantage is that you will experience excellent sound quality from multi-channel formats and Blu-ray soundtracks.
The Setup
You mainly need a single HDMI cable version 1.4 or more if both your soundbar and TV have an HDMI jack labelled Audio Return Channel (ARC). However, you will need HDMI and optical connections between the soundbar and TV if your TV lacks HDMI/ARC inputs. You can also activate ARC on your TV.
After successfully connecting your soundbar and TV, you have to do some essential things to get the most out of all the soundbar features. Let's dive into some of these features:
Subwoofer
Most of the soundbars come with a wireless subwoofer. Its primary purpose is to round out the sound. Plug the subwoofer on the wall, then switch it on. Most of them are incorporated during manufacturing such that they automatically connect to the soundbar. For high-end soundbar models, you only activate the subwoofer from the onscreen setup menu.
Wireless subwoofers are very efficient in that you can place them anywhere in the room with no restrictions. Mounting the subwoofer against a wall gives more bass. However, it should be about 30 feet from the soundbar to produce surround sound.
Some Tricks to Achieve Better Sound
The soundbar doesn't only increase the volume of your TV; they have additional features that ensure you experience more than just loud sound.
There are specialized processing modes for sports, movies, games and music that will better sound experience.
It has dialogue enhancers that make the spoken words easier to interpret and understand.
Do you have trouble watching your movies at night since you feel you are disturbing your neighbours? Night mode prevents the volume from being loud; thus, you don't have to worry anymore.
Sync settings ensure the action on screen and the accompanying sound rhyme and prevent any delay.
Your MP3 and music streaming sound will sound more natural and complete with the compressed music enhancement.
These sound advancement menus have different names depending on the type of model. You can easily identify them on their remote control that's sold with the soundbar or on the remote app or onscreen menu.
How to Stream Audio Using Bluetooth to Your Sound Bar
Bluetooth allows you to stream movies, music or games from your tablet or phone to the soundbar. Here are the steps to follow to stream your music to the soundbar:
Turn on the Bluetooth on your tablet or phone
Choose the soundbar as the component you intend to stream to
Select your movie. Music or game and press okay
How to Transfer TV Sound from a Soundbar to a Bluetooth Device?
Select the soundbar as a Bluetooth transfer option from the soundbar menu
Choose the Bluetooth speaker or headphone as the device you want to stream to
The soundbar may mute when you are transferring sound from Bluetooth to another device, depending on the type of soundbar.
Factors to Consider When Buying a Soundbar
Subwoofer
The main aim is to amplify the sound from the soundbar and give you the best sound. Most of them are wireless, while some have direct wires that you need to connect to the soundbar. Some soundbars come with subwoofers; however, it's best if you buy them separately.
Size
Soundbars are available in all sizes and shapes. You may want a soundbar that's the size of your TV which you can easily find. The size of the subwoofer depends on the space that's available in your house; hence you need to make a personal decision before purchasing.
Connection
In most cases, a single wire is all you need to connect your soundbar and TV. Some soundbars rely on HDMI connectivity while others on optical cables. The only difference is that HDMI supports several audio formats compared to optical. It also gives a better sound that's more immerse.
The HDMI connection is only suitable for TVs that support HDMI ARC. If your TV doesn't support this, then you will have to use an optical connection. Connecting your soundbars deprives you of one HDMI port on your TV for connecting cable boxes, media players and Blu-ray players. Soundbars compensate for this by giving you an HDMI input that acts as a mini A/V receiver.
Active Vs Passive Soundbars
You can get active or passive models for 2.1 and 3.1 soundbars. But the active models are more popular than passive ones. The active soundbars main aim is to upgrade the sound from your TV, especially if you don't have amplifiers or receivers.
Frequently Asked Questions (FAQs)
1) How Does the Number of Channels Affect the Placement?
The total number of channels in a soundbar does not in any way affect the placement you choose. You can place the soundbar on a TV stand or mount it on the wall.
The recommended method is to mount it just below the TV or at the front bottom since they are designed to transmit sound slightly upwards and to the front. The size doesn't matter; however, the weight of the soundbar determines the installation method you will choose.
2) Is a 5.1 Soundbar better than a 3.1 or 2.1 model?
In reality, a 5.1 soundbar may not have powerful sounds compared to a 3.1 soundbar that a trusted manufacturer has designed. The component quality and engineering play a vital role in the quality of the sound the soundbar produces.
Rare channels don't make a significant difference from the front speaker. It thus draws the line that the manufacturers of a soundbar determine how powerful it will sound.
3) Which One Should I Buy – 2.1 or 3.1 Soundbar?
Both 2.1 and 3.1 soundbars are good and work very well at enhancing the sound from your TV. Choosing which one to buy depends on your budget and the available space in your home theatre or living room. You should opt for a 2.1 soundbar for small rooms since it's smaller in size than 3.1, and if you want to get more dynamic sound, then 3.1 is the way to go.
4) Are 3.1 Soundbars Worth It?
With a 3.1 system, you get left, center, and right channel speakers besides your subwoofer. Adding the central channel enhances the dialogue from your device.
It doesn't compromise on clarity. So, while you'll spend more on a 3.1 soundbar than a 2.1 setup, 3.1 is excellent if you are a sound geek.
5) What's the Difference Between 2.1 and 3.1 Soundbars?
A 3.1 system differs from a 2.1 in terms of available channel speakers. While you only get the left and right channel speaker with a 2.1 soundbar, a 3.1 unit includes a central channel speaker.
Adding the central channel makes a noticeable impact. You'll hear good sound from a 2.1 soundbar though miss out on the clarity a 3.1 soundbar provides.
6) Is 3.1 Better Than Soundbar?
If you're looking for an extra perk to your surround sound experience, 3.1 surround sound is a good pick. A 3.1 setup is better than a soundbar with lesser channels, say a 2.1 or 2.0. With the 3.1 unit, you have a central channel to provide a crisp output.
7) Is 2.1 Soundbar Good Enough?
A 2.1 soundbar provides left and right speaker channels, which are excellent starting points. Nonetheless, you'll experience a mix of sound effects with music. If you need clarity amongst other fabulous additions to your listening experience, seek more channels.
Conclusion
Soundbars are the devices you should choose to take your listening experience to a higher level. They are designed to produce high-quality sound that's pleasant to the ears, and the additional features allow you to set it to fit your existing circumstance.
The 3.1 soundbar will give you dynamic sound due to the additional central channel. That doesn't mean that 2.1 isn't a good choice. It's still the best choice, especially if you have a small room and you can find those with additional features like Dolby Digital and DTS that will serve the same purpose as the 3.1.
You may also be interested in:
About Post Author