Sometimes, all we need is good background music as we go along with our day. High quality floor standing speakers could do the trick, though mostly in the main rooms of our homes. But when we need music in almost every corner, from the living room to the bathroom to outdoors, in-wall speakers are the way to go.
Good quality in-wall speakers can create a more immersive all-over sound experience without cluttering your décor. Besides, they are installable in any wall of your home or office, as long as you get those designed to special conditions like humidness.
If you're looking to create an affordable sound setup or a home theatre sound experience, then in-wall speakers could be all you need. And to help you choose the best in-wall speakers, we detail everything you need to know in this guide and recommend the best in-wall speakers for you.
What Are In-Wall Speakers?
In-wall speakers are similar to regular speakers but specially designed to operate within a wall cavity. They are mostly without any casings but come with templates for mounting on walls. Among special features found in these speakers include rubber surrounding to prevent vibrations from getting into your wall and swivel-mounted tweeters for easy angling.
All in all, in-wall speakers provide quality sound without taking any floor space.
Best In-Wall Speakers Summary Table
Polk Audio RC85i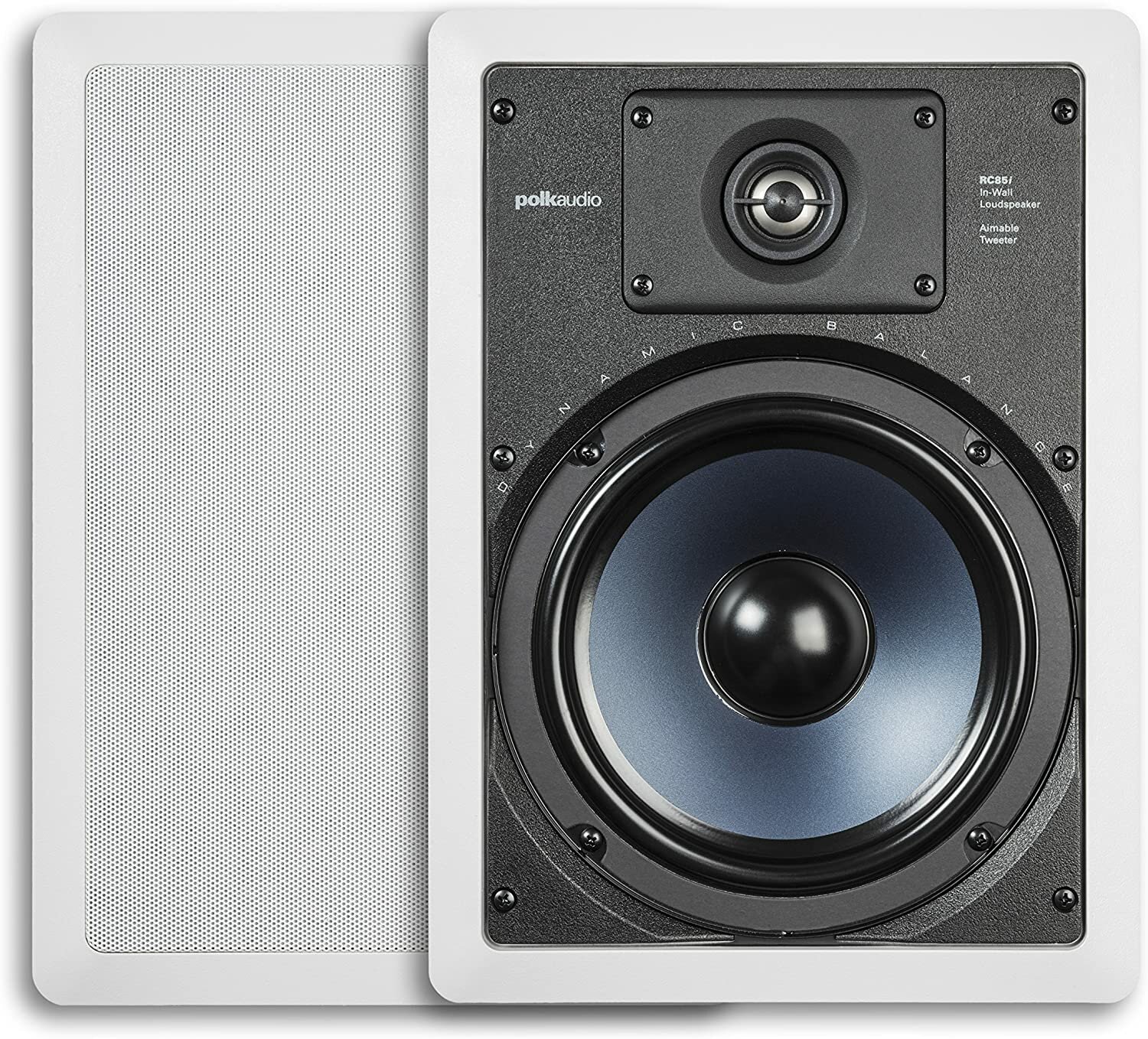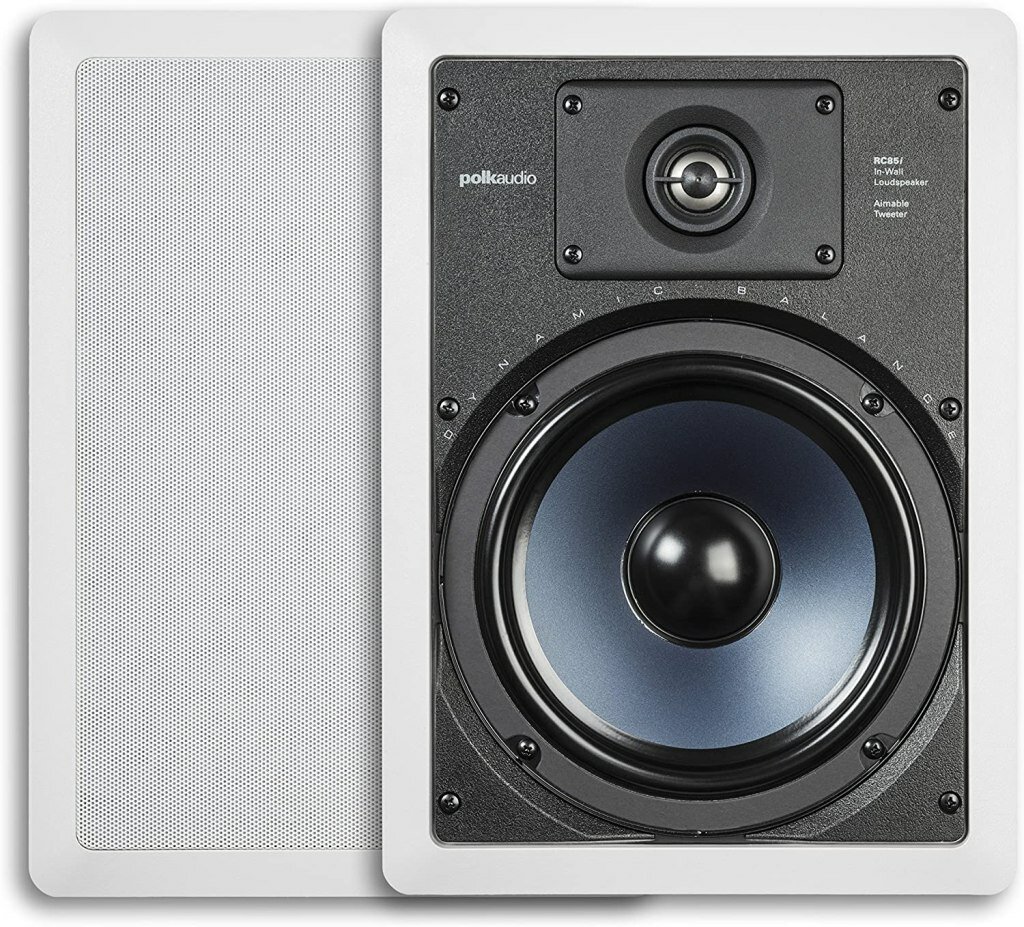 Technical Features
The RC85i in-wall speakers are among the most popular brands under Polk Audio's RC-5i series, with the "8" representing the size of the main driver. It's a 2-way speaker, featuring an 8-inch dynamic-balance woofer and a 1-inch tweeter. They are sold in pairs and can work independently or as part of a home theatre system.
The general build looks sturdy, featuring quality materials such as stainless steel and butyl rubber. For instance, the 8-inch woofer comes with a mineral-filled polymer composite cone mounted on rubber surroundings for durability, vibration absorption, moisture resistance, and better sound dispersion.
The tweeter features a metalized material and is mounted on a swivel to allow for easy change of sound direction.
Performance
For a start, the Polk Audio RC85i in-wall speakers' build design is optimized for indoor and outdoor use, faring well even in moist areas like bathrooms and saunas. One speaker unit has a 100W RMS power rating, and they come in pairs; so technically, you get a 200W RMS in-wall sound system. You'll need an amplifier that can drive 100W at 8 ohms to provide enough juice for these speakers.
With a frequency range of 35Hz-20 kHz, these speakers handle the lows, midranges, and highs satisfactorily, with a slight bias on the bass. The sound stage is full and rich, with the swivel-mounted tweeter adjustable to focus the high frequencies to a specific listening area.
They can work with a subwoofer for deep bass lovers, but these speakers have enough bass for average listeners.
Installation
Polk Audio has made the RC85i speakers very easy to install. The speakers come with an installation manual and a cardboard cutout template to mark the installation hole. The required mount depth is 5 inches, with the length and width as the size of the template. Since these speakers are considerably heavy, they need mounting in an upright position and on a stable point such as a stud.
The speaker grills are paintable for color matching with your décor. Though these speakers are resistant to moisture, they need protection from direct contact with water if installed outdoors or in places with frequent water use, like kitchens and bathrooms.
Polk Audio recommends using 18-gauge speaker wires to connect these speakers to the amplifiers at lengths of 25 feet or less.
Pros
Full and Rich Sound
Water-resistant
Wide dispersion
Reasonable Price
Cons
Micca M-8S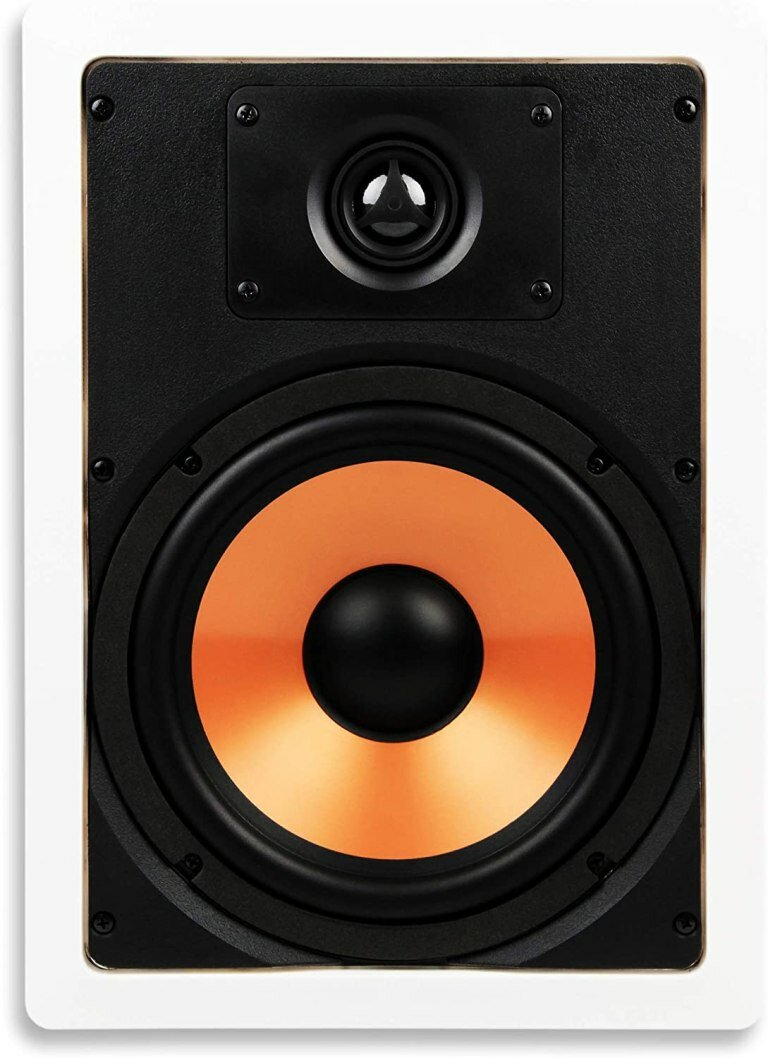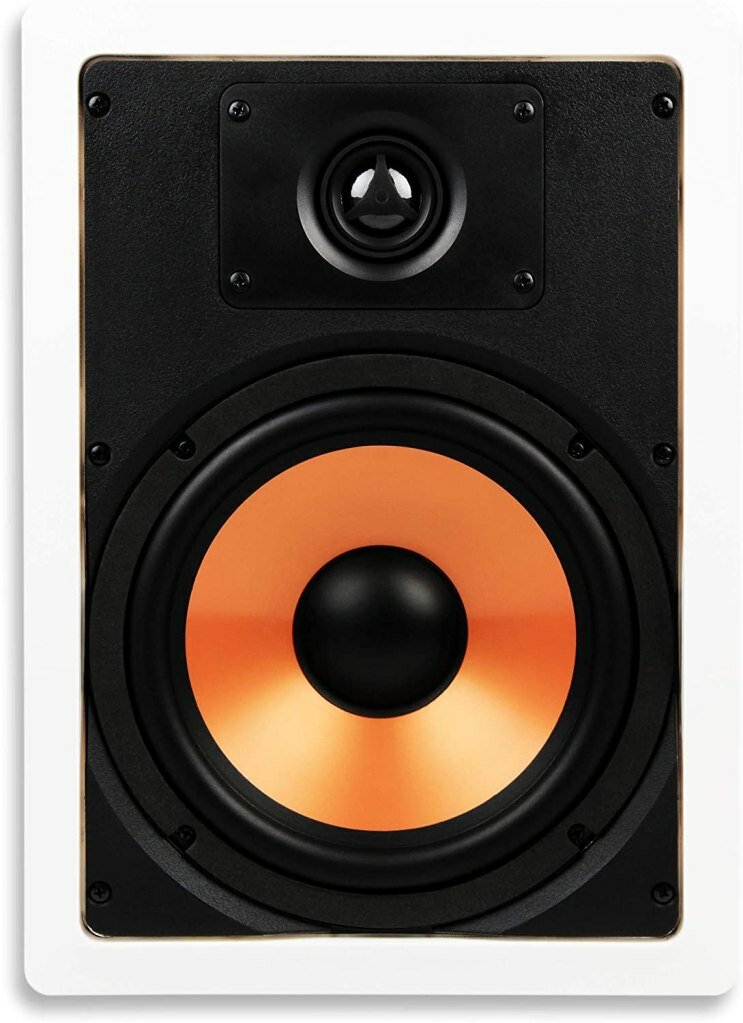 Technical Features
The Micca M-8S is a two-way in-wall speaker unit and is a part of a five-set of in-wall/in-ceiling speakers from Micca. The unit features an 8-inch low-frequency driver and a single 1-inch tweeter. And to enhance the bass output and shock absorption, the poly woofer driver mounts onto a rubber surrounding. Plus, the soft dome tweeter pivoting mechanism allows for easy sound focusing.
The overall design looks carefully thought, with a mix of white, orange, and black colors adding to the aesthetics. Micca uses high-quality materials, with the two drivers perfectly integrated through a 12dB crossover network.
Performance
The Micca M-8S is a part of a five-speaker unit, meant to work together in a five-channel home theatre setting. It perfectly tone-matches with the other speakers in the range and can be used in pairs independently.
The speaker unit has a power output of 100W, with the 8-inch low-frequency driver producing a decent amount of bass. The tweeter processes high frequency sounds exemplarily, and the 12dB crossover network ensures coherent transition within the upper and mid frequencies.
The sound stage feels wide, with enough robustness and ambiance to handle high-impact music and movie sounds. The M-8S has a frequency range of 40Hz to 20 kHz, an impedance of 8 ohms, and 90dB sensitivity ratings–the perfect combination of broad range sound production.
You can boost the bass by adding a subwoofer. What's more, the grills are paintable to a color of your liking.
Installation
The Micca M-8S design allows for mounting in a single vertical position. Depending on your sound system setup, these speakers can fit in front left/right or rear left/right places. With these speakers, it would be possible to create a single-brand 5.1 surround sound setup, if only Micca made subwoofers.
The installation is straightforward, especially if you have some experience with in-wall speakers' installation. Fret no though, as Micca provides a user manual and a template for marking out the installation holes. You'll need a receiver that can deliver 100W at 8 ohms to perfectly drive these speakers, and a 16-gauge connection cable for distances less than 50 feet.
Pros
Capable crossover circuitry
Great design
Relatively cheap
Cons
Some users report that the sound is not as deep as other high-end speakers
The push-fit grills may occasionally work loose
Bose Virtually Invisible 891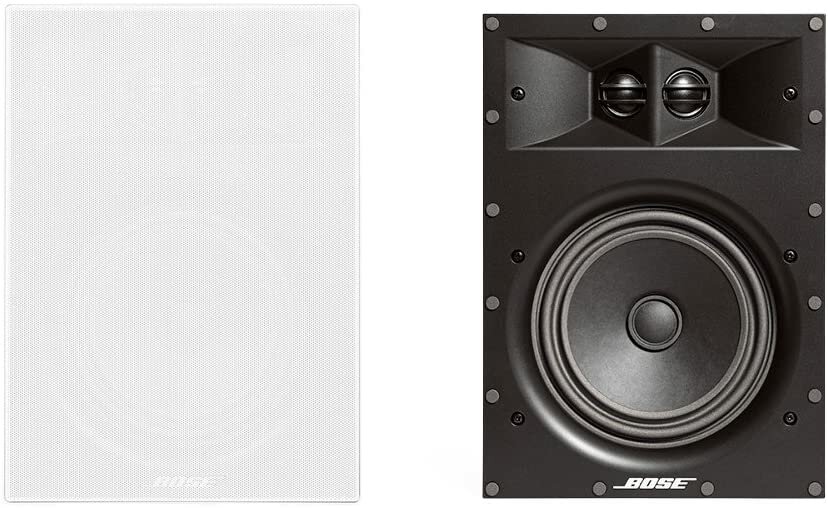 Technical Features
The Bose Virtually Invisible 891 in-wall speakers are part of the Virtually Invisible series by Bose. They get their name from their design that allows for flush mounting on the wall, and when color-matched, you can barely notice their presence.
Even so, the 7-inch low-frequency driver and two 1-inch tweeters sound quality is hard to forget. The tweeters are in an array, allowing for wide horizontal sound dispersion.
Though pricey, the overall high-quality build shows Bose has put the effort in designing and making these speakers. The near-bezel-less construction coupled with standard dogleg clamps ensures these speakers crawl into your sound system unnoticed, just as they should. The grills are easily paintable to match your decor.
Performance
The Virtually Invisible 891 in-wall speakers have a power rating of 10W-100 W per speaker unit. They have a wide soundstage that spreads evenly across the room. The strategic tweeter positioning allows everyone in the room to experience the same audio image for an extraordinary surround sound.
To benefit fully from this-top-of-line speakers, pair them with a powerful amplifier. These speakers can work on their own or as part of a home theatre system. Their wide dispersion makes them fit best as rear speakers of a surround sound setup.
Installation
Bose has designed virtually Invisible speakers for easy installation. Plus, they provide a cutout template and clear installation instructions in the user manual. These speakers' design limits mounting to vertical position only and works well with Bose SoundTouch SA-5 Amplifier.
Bose recommends using 18 gauge cables for connections at lengths of up to 20 feet, though you can vary the gauge as the distance gets longer, up to 12-gauge for 50-feet long links.
Pros
Great design
Superior build quality
Five-year Warranty
Excellent performance
Cons
Monoprice Caliber 106816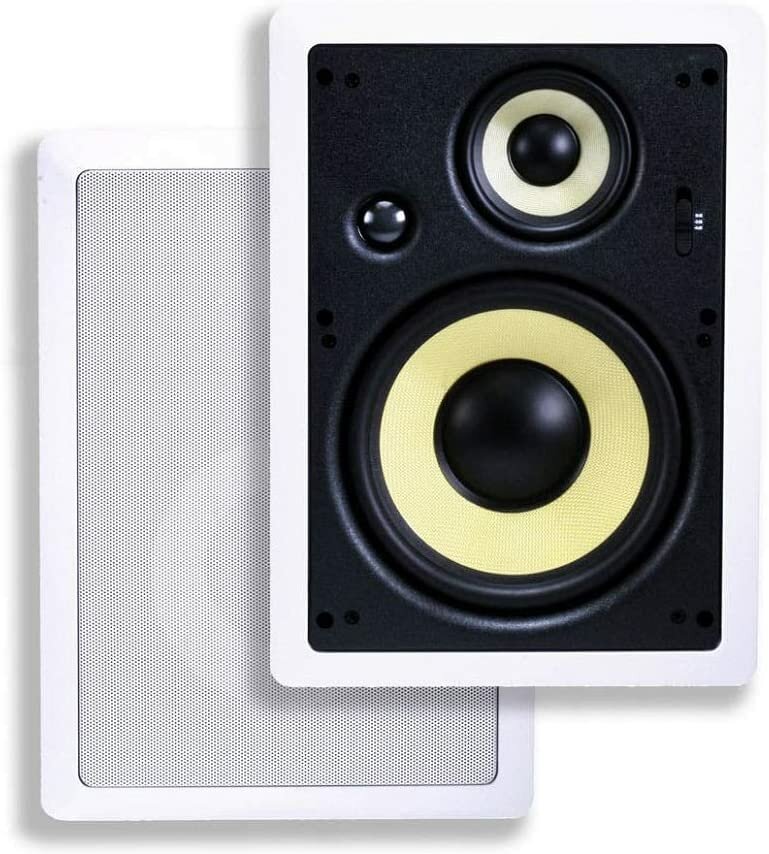 Technical Features
Monoprice Caliber 106816 is a 3-way in-wall speaker that combines performance and style. This speaker unit features an 8-inch Kevlar woofer, a 4-inch Kevlar Midrange speaker, and a 1-inch Titanium Silk Dome tweeter. A white frame houses the drivers, and the white grille attaches to it with magnetic clips. The design is sleek and stylish and easily fits into any room.
Monoprice has made this speaker unit with quality materials. The large drivers feature a Kevlar fiber cone, while the tweeter has a titanium silk membrane. These materials are rigid and minimize distortions as the drivers hit hard and handle more power. Plus, the fitted speakers are extra-large to ensure the cones move the highest possible amount of air.
Performance
For a start, these speaker units have a power output wattage of 200 watts, but Monoprice recommends you drive 100 watts per speaker at 8 ohms. These speakers operate at a frequency response range of 50Hz-20 kHz, at an impressive 90 dB sensitivity. In addition, there is a built-in adjustable crossover switch, normally set at 12dB per octave but can be changed to 0,-3, or -6dB.
Even when working alone, the Monoprice Caliber 106816 punches hard, going the full length of the frequency range to deliver impressive sound with low distortions. Dedicated drivers handle the lows, midranges, and highs effectively, with the tweeter making the sound clean, crisp, and awesomely clear. If the audio sounds too bright, you can fine-tune the blend using the built-in high-frequency attenuator.
The Monoprice Caliber 106816 slides right into any sound system setup to enhance the sound performance for a better listening experience. Please note that these speakers come in pairs.
Installation
The installation process is pretty a no-brainer, with many users reporting having spent as little as 30 minutes for the whole process. You'll need at least a mounting depth of 3.6 inches and a strong anchoring place to support the speakers' entire weight of 17.6 pounds.
With a pair of the Caliber 106816 speakers, you only need a center speaker, a powerful amplifier, and your sound setup is complete. Monoprice provides an installation manual, cutout template, a paint mask, a grille removal tool, and grill putty to make the whole installation even easier. Ensure you use the right gauge of connection wires.
Pros
Excellent Value for Money
Attractive
Great Sound Quality
Cons
The unit is relatively large and heavy.
Klipsch R-5502-W II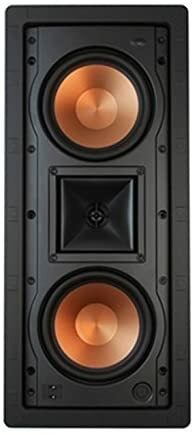 Technical Features
Klipsch R-5502-WII 3-way in-wall speakers feature the trademark Klipsch architectural design for its in-wall and in-ceiling speaker series. An R-5502-WII unit features dual 5.25-inch woofer drivers and a single 1-inch tweeter in the center.
The tweeter has a titanium diaphragm compression driver mated into a Tractrix Horn, while the woofer cones are made of spun copper material. A sleekly designed durable ABS cabinet houses the drivers and everything else. The set comes with a white paintable frame and grille.
Performance
The Klipsch R-5502-WII in-wall speakers have a power handling rated at between 75W to 300W. If used as the left, right, and center speakers in a sound setup, the sound output is outstandingly powerful. These speakers have a frequency response range of 46Hz-20 kHz at a sensitivity rating of 92dB.
The bass is deep enough for average listening, though a subwoofer could make it more immersive. Be ready for a wide soundstage, enhanced further by the speaker unit's Horn-loaded technology.
In addition, the system uses crossovers at 1300 Hz and 2200Hz to produce a compelling sound performance. If you were looking for a versatile in-wall speaker which handles any sound recording from music, games, and movies, then the Klipsch R-5502-WII fits the bill.
Installation
Klipsch R-5502-WII speakers are mountable horizontally or vertically, depending on your preference and style. And Klipsch has included detailed installation instructions in the user manual and a cardboard stencil to trace the holes before cutting. Also, they have provided a magnetic paint protector so you can paint the speaker frame worry-free.
The doglegs slide the speaker unit right in as you tighten the screws. You can create a 5.1 surround sound setup with five of these speakers, a subwoofer, and a powerful receiver to drive the system effectively and efficiently.
For connection cables, use the recommended 18-gauge for less than 20-feet linkage and 14 or 16-gauges for long-distance connections.
Pros
Great build quality
Rotating horn technology
Excellent performance
Cons
Yamaha NS-IW470-WH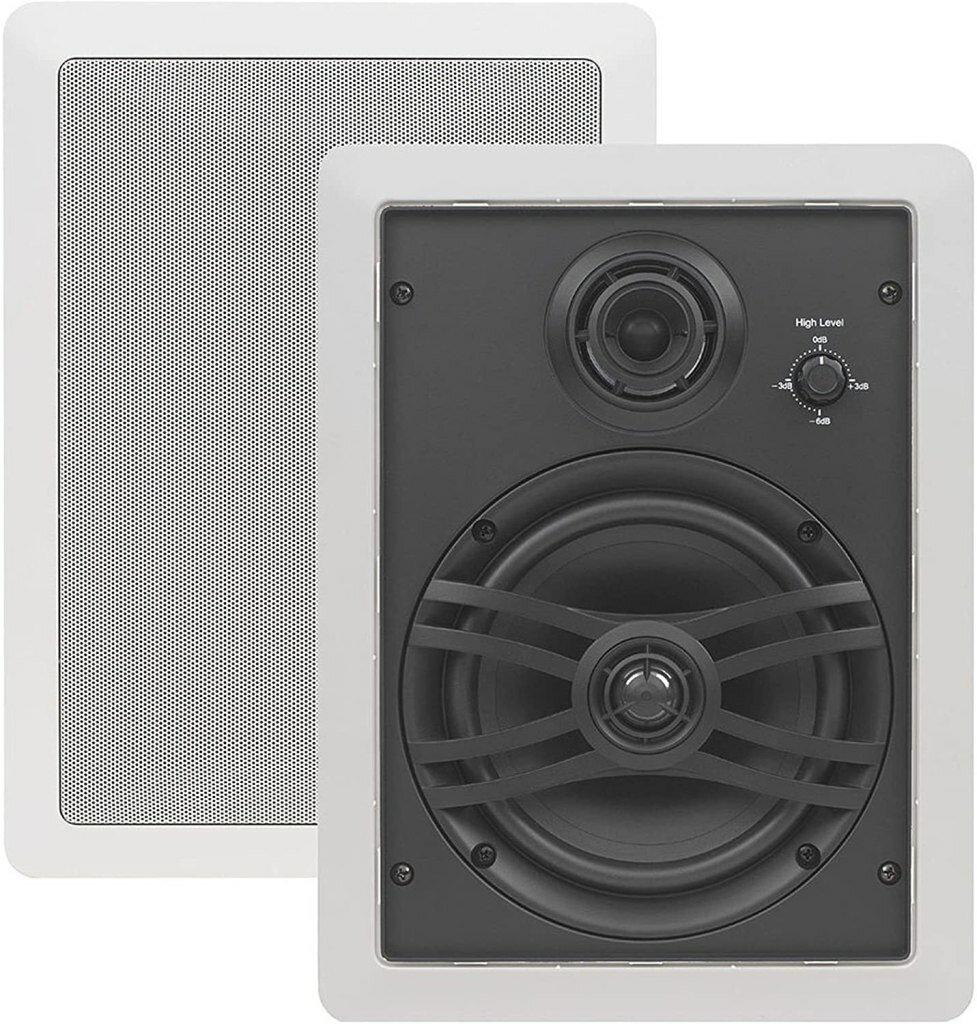 Technical Features
Yamaha NS-IW470-WH 3-way in-wall speaker unit ticks all the right boxes in design, performance, and functionality. The unit features three drivers: a 6.5-inch woofer, a 1 5/8-inch midrange driver, and a 1-inch tweeter. The drivers are coordinated by a high capacity and quality customized crossover network.
The NS-IW470-WH design is perfect for home and office use, preferably as front or center speakers in a surround sound setup. Yamaha uses quality materials for the drivers and casings to ensure you get many years of quality sound.
For instance, the woofer features a Kevlar cone, the midrange is a swivel aluminum dome driver, while the tweeter is made with titanium. The midrange and tweeter have a pivoting mechanism for easy tilting to change sound direction.
Performance
Yamaha NS-IW470-WH fits all listeners with its potential to deliver full, crispy, clear, and tight sound responses. It has a peak power of 50W-300W at a frequency response range of 55Hz to 28 kHz. These speakers are usable on their own or in home theatres or whole-house audio systems.
Each speaker unit features a high-performance octave crossover network (3.5 and 7 kHz) with high-level adjustments to the mid and high frequencies output. It reproduces a full range of audio frequencies to complement sound systems and audio selections.
Though pricey, the Yamaha NS-IW470-WH in-wall speakers fit any individual audio tastes and listening style with lifelike audio imaging.
Installation
Yamaha NS-IW470-WH installation is a no-brainer, thanks to Yamaha including a cutout template, two paintable grilles, two paint protective covers, and two blue stripes. You only have to locate the installation location, trace the hole, cut the hole as traced and to a depth of 3.1 inches, connect the speaker wires, and mount your speakers.
There are also detailed instructions in the user manual to help you in case you're stuck.
Pros
Excellent sound quality
Great build quality and design
Pivoted mid and tweeter driver
Cons
In-Wall Speakers Buying Guide
Open Vs. Closed Back Speakers
Open-back speakers have their drivers open to the wall cavity, while closed-backs have encased drivers, either in metal, plastic, or wood casings. The casings act as the speaker cabinet and protect the drivers from humidity and dust. Closed-back in-wall speakers are popular in commercial environments but can also work at home settings, though they are costly.
Open back in-wall speakers use the entire wall as a cabinet, and the drivers have no dust and humidness protection. Even so, they have deeper bass and are less costly than closed-back speakers are. However, open-back gives you no control over the sound direction, and sound easily leaks to other rooms.
Consider the Space Available
In-wall speakers don't take any floor space, but they need enough wall space for installation. You need enough dead space on the wall to install your speakers, as moving them may not be an option. Also, consider your room space as it determines the number of speakers you need and the speakers' arrangement.
Test before Installation
Unlike floor-standing speakers, in-wall speakers have some permanency once installed. To avoid the unnecessary need to relocate them, test the setup design you have in mind before actually cutting any holes on your walls.
You can hold the speakers at their respective installation points and assess how the sound feels at the center of the room. Testing before installation ensures you get the best surround sound experience for your space and eliminates the need to change the speakers' positions soon.
Moisture
Moisture easily damages speakers irreversibly. Depending on where you want to install the speakers, you may need to check their moisture resistance capabilities closely. For instance, gazebos and decks are better with some music but are environments with high humidity. Any speakers meant for outdoor installations should have good moisture resistance. For outdoor use, closed-backs are the best.
Decide Your Budget
There are many in-wall speakers with varying sound qualities and prices. Each speaker in our list is best for a reason, and it would be good to decide what to buy based on your budget. Decide on your budget, and consider other factors such as durability and ease of installation before settling on any speaker type. The baseline is, aim to get the highest value for your money.
Get Everyone On Board
Unless you stay alone, you need to get everyone at home on board with your in-wall speaker setup idea. Let everyone agree that in-wall speakers are the best thing for your home before you spend a fortune on installations.
Also, let them give their opinion on the amount of bass or sound volume they like before installing the complete opposite of the preference.
If possible, you can visit a friend with a similar setup for everyone to feel what is coming home and thus make an informed decision. Believe us, installing a system that makes everyone happy at home is the best thing for everybody. Besides, you'll enjoy your sound preference without annoying anyone.
In-Wall Speakers FAQS
Which Speaker Type Is Better Between In-Wall And Floor-Standing Speakers?
If you're possibly wondering why you should go for in-wall speakers over floor-standing speakers, then you should consider their benefits. For a start, in-wall speakers allow for customization of color for easy blending with your décor.
Also, they can be set at a head-height level on different walls to create an enhanced surround sound experience. Plus, the in-wall speaker setup is neater, as all cables run within the wall cavity. Further, in-wall speakers produce deeper bass and richer sounds as they use the wall cavity as cabinets.
To sum up, in-wall speakers offer a better "wraparound" sound experience in a neater setup that needs no floor space and without messing with the aesthetic of your décor. However, in-wall speakers' installation is a hassle, and you need to be careful not to run into electrical and plumbing works in your house.
Also, once fixed, they're not easy to move if you decide to change your room arrangement.
Which Tools Do I Need To Install In-Wall Speakers?
With the right knowledge and tools, installing in-wall speakers should be straightforward. But before trying anything, you need to be sure you know what you're doing. Or, you'll end with high repair costs for damaged walls. Enough with the warnings. Below are the tools you'll need for this awesome DIY project:
Drywall cutter
Screwdriver
Carpenter's pencil
Drill
Spirit level
Spray paint
Stud finder
Are In-Wall Speakers Good For A Home Theatre?
Yes, in-wall speakers are good for a home theatre setup. They work well to distribute audio within a room, creating a deeper and richer surround sound experience. They fit well in a home theatre setup and can work with in-ceiling speakers to make them sound more immersive.
For best performance, mount in-wall speakers at approximately 40 inches and 62 inches above the ground to cater to seated and standing listeners. Also, keep the distance between the listener and speakers and from speakers to speakers the same.
How Many Speakers Do I Need In A Room?
The number of speakers you need in a room is a matter of personal preference. You can have one speaker and still enjoy good music, or have a whole home theatre setup. But generally, you need at least one left, one right, and one center in-wall speaker to enjoy surround sound. The ultimate home theatre system requires at least five speakers, a subwoofer, and a capable amplifier.
Do I Need A Special Amplifier?
High-quality in-wall speakers need a quality amplifier to perform optimally. However, the type of amplifier depends on your sound quality preference and budget. But generally, at least get an amplifier that can supply enough power to your in-wall speakers.
Do I Need Special Wires?
You may have the best in-wall speakers and amplifiers, but the sound quality may suffer in the hands of old low-quality speaker wires. At least get a high-quality speaker cable to make the connections of your system. And you don't have to go for the most expensive, but ensure the wire is UL-rated and have CL2 or CL3 labels.
Can I Use the Same In-Wall Speakers for Home Entertainment and Music?
Yes, you can use the same setup for all your home entertainment needs, including listening to music. Different speakers are suited for specific use, such as playing movie sounds, gaming sounds, or music. But since you will be playing all sound recordings at home, it's good to have in-wall speakers handling different frequency ranges for a high-performance home theatre audio output.
Conclusion
The best in-wall speakers will deliver great sound for the ultimate listening experience at home. The bottom line of what you will include in your system will depend on your budget and the number of speakers you want.
A couple of lower-priced in-wall speakers could do just fine, but for a truly impressive home theatre sound experience, you need higher performance models. And you can go for our top picks: Klipsch R-5502-W II and Polk Audio RC85i, or pick any other in our list. Besides, you can use our in-wall speaker's guide to choose a model that fits your audio needs perfectly.
Why not complete the Home Theater with the:
About Post Author