Your audio experience will be enhanced if you use a soundbar within your audio system. Owning a soundbar is excellent and should be the first thing to do if you own a home theatre or audio set-up. They have either inbuilt or external amplifiers that ensure your music has not only a high-quality surround but also an immersive listening experience.
However, you might need to consider owning a soundbar without a subwoofer if your space is limited. Whether you like bass sounds or conversational movies, these speakers will give you an incredible experience.
Nevertheless, getting a good sound bar without subwoofers is time-consuming and tedious. The market is full of different models. For this reason, we came up with a list of the best sound bars without a subwoofer for all your audio needs.
Bose Solo 5


Change your listening experience with this soundbar without a subwoofer, and you will be glad you did. It features Bluetooth connectivity and enhances the TV dialogue giving you clarity and detail of every word being spoken in your favorite program. It is also Bluetooth enabled and here are reasons why you should choose Bose Solo 5
Features
Sound Quality
Investing in a home theatre means that you are keen on sound. The reason why investing in this device is wise is because it is made with advanced technology. You can therefore trust it for an incredible dialogue mode. You won't miss any word in your audio content; thus, you don't need to keep adjusting the volume often.
Functionality
With Bose Solo 5, you have maximum control over the gaming system, Bluetooth, and controlling both of them is easy. The soundbar is remote-controlled and gives you total command over it. Also, the remote has a bass button which is a unique feature compared to other units.
You can, therefore, intensify your bass by conveniently pressing the remote control button without sacrificing your comfort.
Pros
Easy to set up
Bluetooth connectivity
Great in bass delivery
Cons
No power button
Limited to televisions
Sonos Beam


Transform your sound experience by buying this soundbar without a subwoofer. It has a wireless connection, and setting it up is easy. Also, it's small in size and will significantly save your space. There are many reasons why you should pick this unit, and here are some of them.
Features
Design and set up
This unit is small, but it will make a statement on whichever area you place. Its sleek and black color distinguishes it from far. Also, it boasts a compact size and won't interfere with your view on TV. Additionally, Sonos Beam is easy to set up, and within no time, you will have unboxed and connected it thanks to the instant remote detection.
Audio Quality
The sound that this unit delivers is unmatchable and highly defined. It dominates your entire space and with a richness and detail that you will appreciate. This sound quality is one of a kind regardless of whether you're using radios, TVs, Podcasts, play music, or movies. It's so versatile without compromising its quality.
Pros
It has a night mode
Made for any room
High connectivity to Wi-Fi, Bluetooth, and Ethernet
Cons
Incompatible with most modern televisions
Unreliable codec.
Yamaha YAS-109


If you have been searching for a soundbar with a theatre like sound quality, your search ends here. Yamaha YAS-109 has a comprehensive connectivity, and you can set it up quickly with optical connections. Below are its features.
Features
Functionality
They produce a unique bass whose depth and richness you won't find easily. Also, YAS-109 has a soundbar controller app that gives you complete command over the sound mode, voice, and music. With its DTS Virtual, your audio will be real and practical.
Versatility
This soundbar without a subwoofer is built not only for television. Its versatility makes it different from other similar devices. It also gives you complete voice control when you are playing music, setting timers or alarms, or controlling your system, among others.
Pros
It offers a clear sound
The voice control is inbuilt
Easy to set up.
Cons
Samsung 3.0 – HW-M650


Samsung is a brand that has dominated the electronics industry for a long time. The 3.0 soundbar is the newest baby in the market, and you can be sure of its sound delivery. It has an inbuilt subwoofer that enables it to work effectively. Let us look at what you get from the unit.
Features
Sound Quality
You will cancel your theater sessions and bring them to your living room with this unit. SAMSUNG 3.0 produces a deep and clear sound giving you value for your money. The soundbar can choose the right sound mode for you, or you can choose for yourself.
The unit also does a critical sound analysis and makes sure that your content is fully optimized. Also, the quality and originality of the sound are maintained thanks to the soundbar's high resolution. Additionally, Samsung 3.0 ensures all distortions are filtered thanks to its canceling technology that gives a clean sound.
Functionality
This is an easy-to-use soundbar without a subwoofer, thanks to its remote control feature. The remote gives you complete control over all the device's functions at the comfort of your couch. Additionally, this soundbar is Bluetooth and Wi-Fi enabled, and therefore streaming music from your tablet or phone is easy. Samsung 3.0 will give you a user experience like no other.
Pros
The mounting is seamless and easy
Noise-canceling technology
A sleek and classic design
Cons
Majority Teton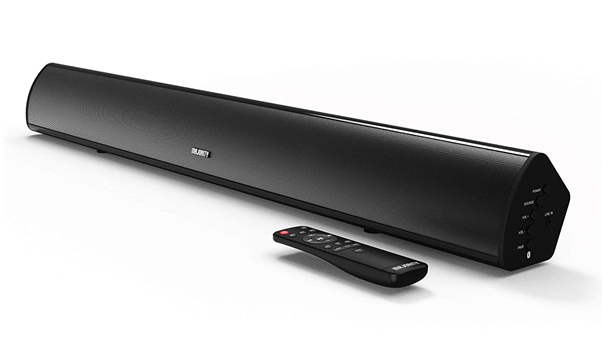 Fill your room with an irresistible soundbar from Majority Teton. This unit will take your home entertainment to another level. It is multi-connectable and will give you value for your money.
Features
Connectivity
A good soundbar without a subwoofer should boast several connection options. And the Majority Teton is not short of connection options. Its wide range of connections includes USB, Bluetooth, UX-point, RCA cable, and optical input. This gives you freedom of selection and does not limit you to any source of your content.
Sound Quality and Compatibility
The inbuilt woofer offers you a sound that you can't resist. Whether you listen to songs or watch a movie, this unit will deliver beyond your expectations. It is also compatible with television, computers, and mobile phones, thanks to its various connectivity options.
Pros
Rich and deep sound
Easy installation
Fairly priced
Cons
Very light
No value for money
YOUXIN TV Soundbar

Your home entertainment will feature different modes once you purchase this soundbar without a subwoofer. Youxin soundbar is a 3D sound system and has an inbuilt subwoofer. It is the best you can have for your PC or phone, and here is why.
Features
Sound Performance
Because Youxin is a 3D soundbar, its unit will deliver excellently. The Youxin sound bar's inbuilt subwoofers are made to give a richly layered bass, and you can be sure to enjoy the sound. Watching your movies, playing music, or playing games, the 3D effect will make your sound so natural and give it an enhanced bass.
It is also ideal for both the highs and lows with excellent power output. The sound quality makes Youxin Soundbar the best for parties, home entertainment, or outdoors because it's made to offer the best audio experience.
Connectivity
This is a unit that has several connectivity options. They include Bluetooth, Wi-Fi and also feature a wired connection. Also, this soundbar integrates inputs that come in handy in making all media sources well amplified. Among the devices you can use, Youxin includes TVs, Projectors, DVs, computers, and phones, etc.
Pros
Different sound modes
Remote controlled
Not limited to indoor use
Cons
Unreliable Bluetooth connection
No remote batteries.
JBL Bar 2.0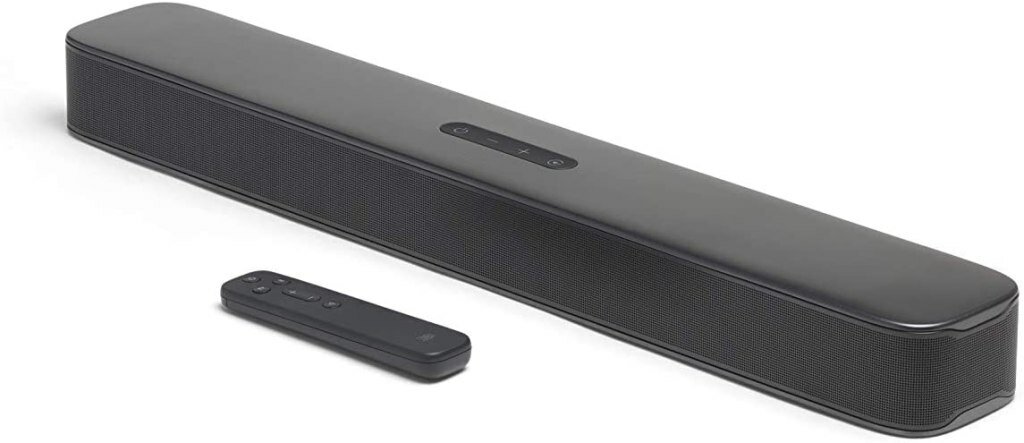 If you are an audiophile, this soundbar Is oriented for you. It boasts many features, all of which are meant to enhance your listening experience. JBL can be connected to Bluetooth and HDMI and works well with tablets or Phones.
Features
Design
The sleek and compact design of this soundbar is incredible. It is made for your sitting room, and it's a centerpiece you won't be ashamed of. The JBL 2.0 fits nicely in front of your television and doesn't hinder you from seeing the screen.
Connectivity and Sound Quality
One of the features that make this unit outstanding is its connectivity. If you have a phone and tablet, you will connect them quickly to the soundbar via Bluetooth. Also, you have the HDMI connection option which is easy. JBL 2.0 is made for your ears. Its sound quality is immersive and excellent.
Pros
Easy to use
It is mountable
Great bass output
Cons
Poor remote range
Poor sound depth
Wohome Soundbar


This is a unit with a wide range of connectivity options, and it is worth having. Wohome is made to be used with smartphones, computer projectors, and Televisions. You will be a satisfied client once you purchase it because of the reasons below.
Features
Design
A soundbar is a centerpiece in your living room, and therefore it should be well designed. Wohome sound bar boasts a modern and sophisticated design. Its ultra-small size allows it to fit under your television or computer monitor easily.
Audio Quality
A clear and precise sound unit is simply the definition of this soundbar. This is because it is made with DPS technology. Wohome offers excellent support, whether it's a movie you are watching or playing music. It also features high-end equalizer modes, thus bringing a theatre experience to your sitting room. Also, the soundbar fills the room with its deep sound thanks to the inbuilt speakers.
Connectivity
This unit has multi-connection options. This allows you to enjoy music or watch a movie via Bluetooth, USB, Optical inputs, HDMI, among others. It is for this connectivity factor that Wohome works with a wide range of devices. Setting it is easy because a manual is provided.
Pros
Digital display
Instant connectivity with Bluetooth
Multiple preset modes
Cons
Complicated HDMI connection
Poor bass
VILINICE 16-Inch Sound bar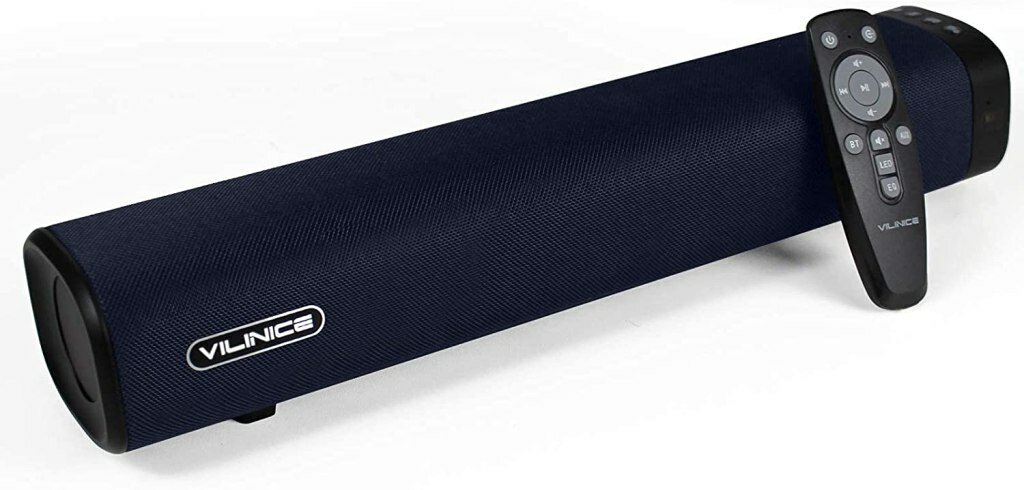 Go for this easy to set sound bar without a subwoofer and enjoy audio like never before. It is easy to install and highly recommended thanks to the vast features that it has. VILINICE is wall mountable and boasts several connectivity options. Are you still doubting why this should be your option? Here are its outstanding features.
Design
VILINICE is a beautifully designed sound bar without a subwoofer. Its small in size and boasts a slim and unique design with a touch of modernity and class. This makes it a centerpiece in your room whether you place it besides your television, computer or mount it on the wall. Because of its design, this sound bar immensely saves on space and gives you a sound that you have always wanted.
Connectivity
This is another important and amazing feature of the VILINICE sound bar. It features three connectivity options including Bluetooth, RCA, Auxiliary and USB. This unit supports a 5.0 Bluetooth with a reliable and fast transmission between your phone or tablet.
Moreover, VILINCE can be connected to computers, TVs, laptops and other gadgets through USB, Auxiliary, among other wired connection options.
Audio Quality
This sound bar has a distinct audio quality and that's the main reason you should not think twice about owning it. It is made with the DPS technology with highly sensitive tweeter drivers. These features make the sound clear and clean and therefore you can't miss any word in the content you are streaming.
Also, the sound bar is remote controlled and hence user friendly.
Pros
Multiple input
Easy to install
Adjustable sound settings
Great bass
Cons
BESTISAN 80 Watt Soundbar


BESTISAN 80 Watt is another beast in the electronics industry. It has so much to offer, including wireless and wired connectivity. This soundbar without a subwoofer is made for televisions, surround system phones, and tablets. There are several reasons why you should invest in this soundbar, and here are some of them.
Features
Premium Sound
Buying BESTISAN will be bringing the best home theater experience to your home not to mention getting value for your money. Your audio quality will remain natural whether it's a movie you are watching or listening to music.
The sound is continuously premium thanks to the two tweeters and the full range speakers. Another feature that enhances the quality of BESTISAN audio is the Integrated DPS technology. It is responsible for supporting movies, music, and communications.
Connectivity
BESTISAN is not limited to one connectivity option. It features both wired and wireless connectivity. The wireless includes Bluetooth, while the wired ones are RCA, Aux inputs. With Bluetooth, you can stream your content from any device, thus increasing your convenience.
Design
You will love BESTISAN for its design. It is a slim 34-inch bar made for televisions between 42 to 55 inches, and it's big enough to fill your room with sound. Also, the design allows you to mount the soundbar without a subwoofer on the table, and it saves space.
Pros
It has excellent bass and treble
Remote controlled
Easy installation
Cons
Not best in dialogue clarity
The reset button is not effective.
Sound Bar Without Subwoofer Buying Guide
There are many types of soundbars without subwoofers in the market. This makes selecting the best quite confusing, even for an audiophile. They differ in sizes, features, and designs. Here is a guideline that will help you pick the best and have it serve you for long.
Size
Size is a factor when it comes to choosing the best soundbar without a woofer. Your television determines your choice. Ensure that its width is not bigger than your TV. However, that doesn't mean you can't pair a soundbar with any TV size, but this depends on your preference.
Additionally, since a soundbar will be a centerpiece in your living room, choose the one with an aesthetic and elegant design.
Connectivity
As you might have noted, soundbars have different connectivity options. This is more so the new ones. This factor is critical because it determines the functionality of a soundbar without a sub-woofer. Here are some different connectivity options that you should check out.
Wireless Connectivity
This is the one that allows you to stream your content to your tablet or phone directly. Here are the two types of connectivity.
Bluetooth – Many modern soundbars without subwoofers have a Bluetooth feature, allowing you to stream your audio content directly. This could be from the phone, tablet, or computer. However, before making a purchase, you have to ensure that your device is Bluetooth-enabled.
Wi-Fi – Some soundbars use the internet network in your home, which is the Wi-Fi to stream audio content from any platform you choose.
Wired Connectivity
This type allows you to connect to various devices using special cables. They include;
HDMI – In this type of connectivity, all you have to do is connect an HDMI cable to your television's audio return channel. This is the best for soundbars with multiple channels.
USB Input – This is another connectivity option, and it's the best for someone who wants to use a thumb drive with your songs.
Optical Port – This connection offers the best audio transition between your soundbar and the source of your content, mainly the television. It's not only a reliable connection option, but it's also the easiest.
A good soundbar without a subwoofer should have several connectivity options. This gives you diversified streaming either from televisions, tablets, phones, or computers.
Control
This buyer's guide can't be complete without mentioning the control factor. Times have changed, and operating a sound system requires some level of convenience. This is why as you buy your soundbar without a sub-woofer, you should check on its control options.
The best to pick is the one that you can control from wherever you are using a remote control.
Placement
Where you will be placing your soundbar without subwoofers is essential. Therefore, you should make sure that there is enough space so that it does not block your view on the TV. Buy a soundbar that is not too tall to hinder the functionality of your remote control.
Price
The cost of anything you desire is the main determining factor in having it. This is why you should consider the price of the soundbar and compare it with your budget. Their features determine the cost of these units.
For example, if you want a soundbar for TV listening only, you will get it at a lower price. On the other hand, if you want a more diversified one in functionalities, you will have to spend more. This is more so for the modern ones that have several connectivity options.
Brand
There are thousands of electronics companies across the globe, and this means that the models are equally many. Some of the companies produce a particular type of electronics while others manufacture different ones.
Therefore, it is essential to choose your brand wisely and go for the one whose soundbars will make your home an entertainment theater. Some of the best brands include Samsung, Bose, LG, etc.
Advantages of Sound Bars Without Subwoofers
Great Sound
Audiophiles will agree with us about the natural sound quality of these units. A good soundbar has a high resolution, and it's excellent in sound amplification. Additionally, it filters out any unnecessary noise and makes your audio clean, clear, natural and deep. Also, most soundbars without subwoofers boast an excellent bass production without the need for many spacers.
Convenience
One of the main reasons why you should invest in a soundbar without a subwoofer is the convenience it brings. These units don't require any plugging or cable interference. This is unlike with sound bases. Also, most of them are remotely controlled, thus making it easy to adjust the volume, bass, and much more. You won't have to move from the couch.
Connectivity
Most soundbars without subwoofers feature high and diverse connectivity. You can, for example, have a model that streams through Bluetooth, WIFI, HDMI, or optical input. All these options work to your advantage because you can listen to your audio content from whichever source you prefer, be it a TV, phone, PC or desktop.
Frequently Asked Questions
1. Which is the best soundbar without a speaker?
This is a common question that many music lovers struggle to find answers to. However, the best soundbar without subwoofers is the one that has several connectivity options, is easy to set up, gives excellent, clean, and clear sound. In the above-discussed list, the Wohome soundbar is the best because it features these aspects.
2. Where can one buy good soundbars without a subwoofer?
The electronic industry is wide, and the soundbar without subwoofer models are many. However, online stores are the best to go for if you want an excellent soundbar unit. The amazon website is the best you can pick because any product available on the platform has been tested, and therefore, you can trust it.
Also, most online stores get their soundbars without subwoofer from Amazon. Therefore, the best thing to do is to first check on the reviews people have given for the different units and make an informed purchase.
3. How much is a soundbar without a subwoofer?
The price of a good soundbar without a subwoofer depends on several factors. For example, a soundbar with several connectivity options is highly-priced compared to the one with one option.
Other factors that might affect the price are functionality and the quality of sound. However, that doesn't mean that you can't get a good soundbar without a subwoofer at a fair price. All you have to do is research extensively and get what meets your sound demands.
4. Do all soundbars have bass?
No. Not all soundbars without sub-woofers have bass. Also, the ones that have their bass vary depending on the settings and models. However, if you get a sound bar that has bass you can be sure your listening experience will be great.
Conclusion
We have discussed a list of the top best soundbar without subwoofers that you can purchase. Everything about them is worth your money. From the sound quality to the connectivity to designs. The units are made to meet all audio needs and improve your listening experience.
Additionally, some of these soundbars without sub-woofers are remote-controlled and easy to set up; hence they are user-friendly. Since there are different models in the market, as we have mentioned, you should use the buyer's guide herein to make an informed purchase.
Be sure to get an immersive listening experience from any of these soundbars. We hope this guide has been timely, and you will get a model that suits your needs.
You may also be interested in:
About Post Author