Music is as good as the equipment playing it. And technically, electronic devices like phones, computers, and gaming consoles have in-built digital audio converters (DACs) that play with regular headphones just fine. Now, put a quality portable DAC/Amp combo and quality headphones into the equation, and the sound quality gets to a whole new level.
The sound becomes clearer, higher-quality, and with more captivating bass. The DAC/Amp Combo achieves the sound quality by converting the digital signal to analog audio and amplifying it before sending the sound to the headphones.
And to make sure you go straight to listening, we present to you eight best portable DAC/Amp Combos you can buy.
Audioquest DragonFly Cobalt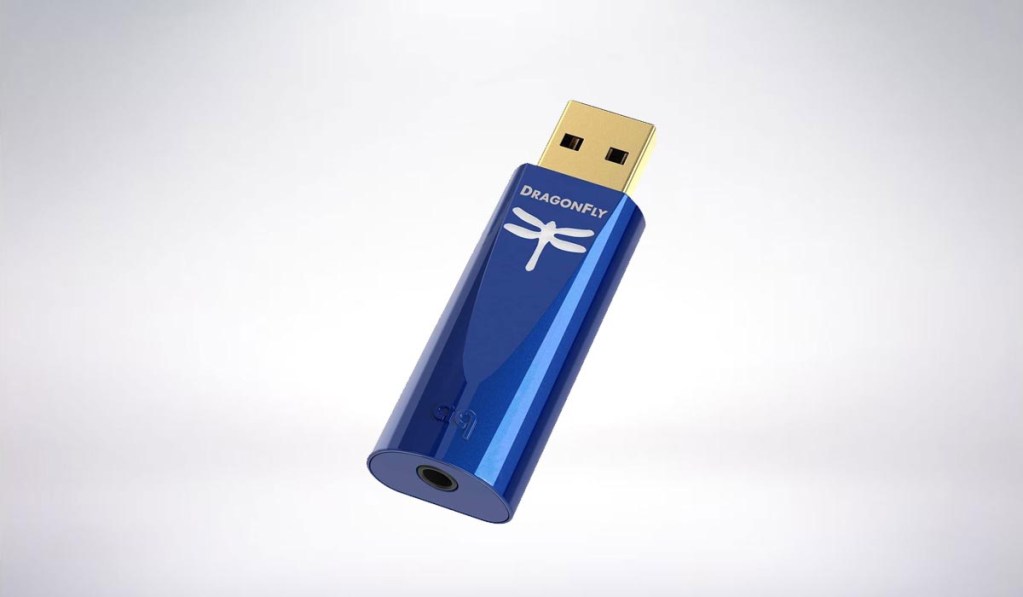 Audioquest's new Dragonfly solves the imperfections of the old generation's portable DAC/Amps by solving their compatibility challenges. You can now use it together with iOS and Android mobile devices. However, you'll need Apple's Lightning-to-USB and the simple USB Adaptor, respectively, to connect the DAC/Amp with the mobile devices.
Furthermore, the converter uses the new DAC Chip-ESS ES9038Q2M for better audio output.
DragonFly Cobalt is a USB drive-sized portable DAC/Amp combo from Audioquest. The device natively connects to a USB Type-A port but can also connect to a USB Type-C port via an adapter. It's a revision of the 2015 Red and Black models, though with a better chip.
It retains the much-loved features of its predecessors like digital volume controls, 2.1v headphone output, and the MQA renderer.
The advanced chip betters the Cobalt's power management while improving the processing speed. If you had used the prior models, you'd certainly notice the improved sound quality in the Cobalt.
The improved performance results from the combined efforts of the ESS ES9038Q2M DAC chip, a PIC32MX274 microcontroller, and a 64-bit digital volume controller.
Furthermore, the whole circuit is optimized to draw less current and improve power filtering, resulting in low interferences from Wi-Fi, cellular, and Bluetooth signals.
The DragonFly Cobalt is compatible with Windows, iOS, Android, and Mac devices. It outputs an audio signal through a 3.5mm jack to headphones, powered speakers, receivers, and amplifiers. With its 24-bit/96 kHz resolution and monoClock technology, the Cobalt handles most audio formats like MP3, MQA, and high-res codecs nicely.
It competes exemplarily with multi-clock DACs in sound resolution and clarity thanks to a StreamLength asynchronous USB code that minimizes jitters, packet errors, and resource load errors.
The smart LED indicator shows you the sample rate and signal status. The indicator is red when on standby, purple when decoding MQA, green for 44.1 kHz, blue for 48 kHz, yellow for 88.2 kHz, and light blue for 96 kHz.
This device will drive headphones under 250 ohms without breaking a sweat but may struggle with higher impedance and inefficient headphones.
However, this tiny and attractive device won't need any extraneous components to perform as it should as its analog circuit directly connects to the ESS converter chip's output.
Stand Out Features
Dragonfly plays all music files from MP3 and MQA. It's fully compatible with high-resolution audio too. It supports resolutions of up to 24-bit/Khz(natively).
Pros
Portable design
Impressive instrument separation
Great for commuting and traveling
Plug-and-play with phones and PCs
Cons
Quite pricey
Limited inputs/outputs
Chord Audio Mojo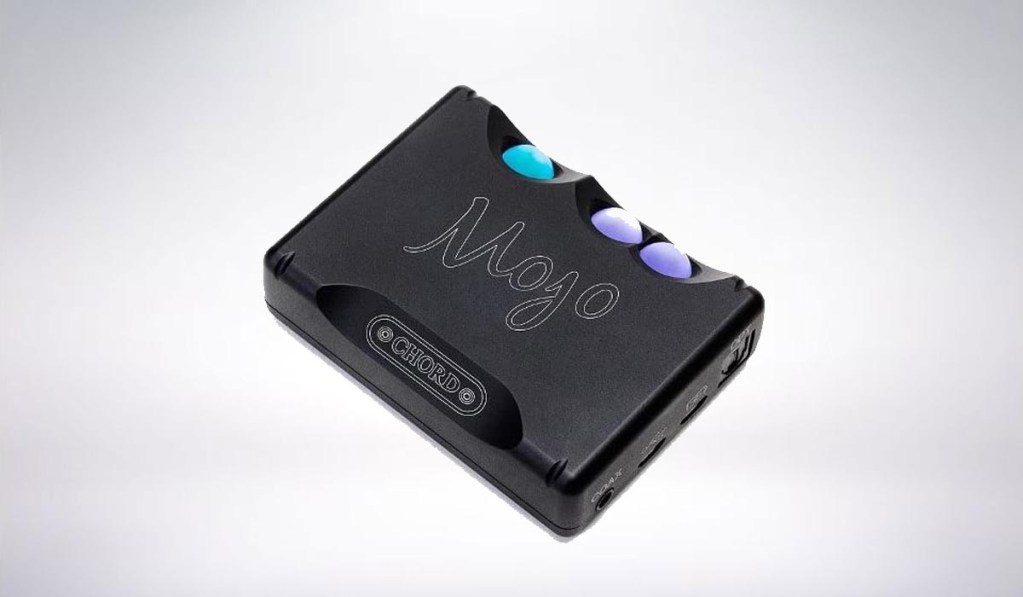 The Chord Audio Mojo is a Britain-made portable DAC/Amp combo the size of a pack of cards. It combines the Hugo series and Dave reference converter technologies from the same manufacturer to effortlessly drive any pair of headphones.
Mojo's new unrivaled performance and audio quality come from its incredible custom-coded chipset—FPGA. The processor is responsible for the tremendous digital-to-analog conversion of audio inputs.
Chord gave the Mojo a minimalistic design, with three ball-like buttons for power on/off and volume control. It has no dedicated display, but the colors on power and volume buttons change to indicate the input signal's sampling rate and status.
Everything is housed in an aircraft-grade aluminum casing, well machined to give the Mojo a sleek high standard look. You should charge it for 10 hours straight out of the box and install the device-specific drivers from Chord's website.
This small sound powerhouse connects to any audio device that outputs audio in micro USB, Optical, or Coax ports. And the Mojo rechargeable battery gives you 8 hours of music playback on the go, though it runs warm while in use. The inputs are autosensing, with USB taking priority over the optical and coax.
In addition, the output is in a pair of 3.5mm jacks and can run simultaneously with no performance issues. The Mojo outputs 35mW into 600 ohms, which rises to 720mW into 8 ohms. The FPGA chipset delivers exceptional tonal balance with a pleasing and engaging sound.
Pros
Informative, subtle, and dynamic sound
Lots of inputs
Fine rhythmic drive
Solid build and sleek finish
Cons
No EQ controls
High price tag
It runs warm and becomes hot while charging
FiiO BTR5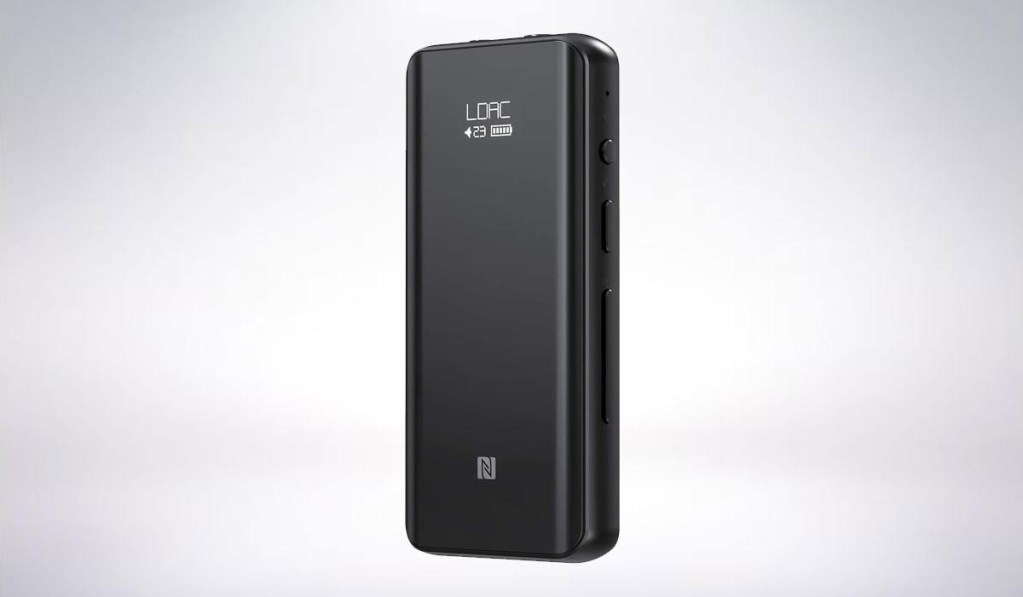 If you like your gadgets feature-rich, then grab the Fiio BTR5 portable DAC/Amp combo. It has a modern look with nicely done curved edges and rounded corners. The design is minimalistic, with an oleophobic-coated glass that gives Fiio BTR5 a silky and smooth texture. It's long and slim and hardly noticeable in your pocket.
Fiio BTR5 features the XMOS XUF208, a specially designed chip for effective decoding and processing of high-resolution DSD audios up to 384khz. Further, it uses the ES9218P double chip to ensure that the audio output is detailed.
If you're wondering why the BTR5 maintains quality sound even through a wireless connection, CSR8675 is the answer. The Bluetooth V. 5.0 receiver ensures the gadget receives and transmits quality studio-quality audio.
But it's not the physical design that makes BTR5 tick. It has a Qualcomm CSR8675 Bluetooth 5.0 chip that supports 24-bit processing and transmission and a dual independent high signal-to-noise ratio ES9218PC chip for the DAC.
Apart from Bluetooth connectivity, BTR5 has a USB Type-C port with an independent XMOS XUF208 control chip that can decode native DSD and up to 384 kHz sampling rates. It charges through a USB Type-C port and outputs sound in either the unbalanced 3.5mm stereo jack or a balanced 2.5mm stereo jack.
Other technologies featured in the BTR5 include one-touch NFC pairing, OLED display, digital filters, and USB DAC support. Also, the device supports AAC, aptX, SBC, aptX LL, aptX HD, and LDAC audio codecs.
All these technologies work together to deliver quality and dynamic sound upgrades to your audio setup. What's more, the BTR5 has an inbuilt microphone that allows for hands-free calls.
Stand Out Features
The BTR5's output is powerful and with detailed resolution thanks to its single-ended 3.5mm and balanced 2.5mm outputs.
Operating the DAC/amp is more convenient when using the Fiio Music app. Through the app, you can adjust the equalizer, switch channels and select the low pass filters.
The gadget is portable, and despite the bright OLED display, it's capable of 9 hours of battery life under continuous play.
Pros
Bluetooth support
Aesthetically pleasant with its 2.5D glass
Tons of functions
Cons
Difficult to understand for novices
Battery timing could have been better
FiiO Q5S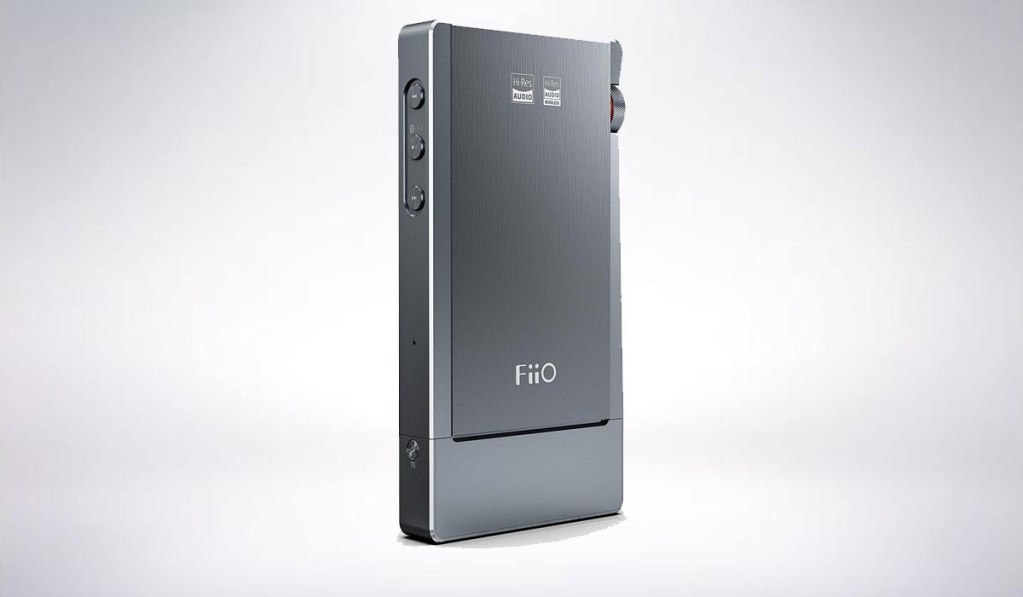 The Fiio Q5S was developed to meet the demands of audiophiles—a feature-packed, high-resolution audio amp on a portable device.
The new Fiio Q5S fully met their expectations. It handles "heavy" audio formats like PCM and DSD Native for an incredible listening experience. Furthermore, it processes audio up to frequencies of 768 Khz and a bitrate of 32.
The Fiio Q5S is an improved version of the Fiio Q5. The Q5S is clearly ahead, thanks to its more advanced Bluetooth and DAC chips (CSR8675 and AK4493, respectively).
The battery, a robust 3800mAh Li-on, is robust enough to last you 12 hours even under continuous use. Stunningly the Q5S shuts down automatically (after a set time) if there's no music input and thus cuts down on wastage of charge.
FiiO Q5S is a portable DAC/Amp combo designed for performance on the go or at home next to your favorite digital audio source. It has a slim, durable, and sturdy build and sits tightly, almost unnoticeable, in your pocket.
The device draws power from a rechargeable battery. It has an AK4493EQ DAC chip, a swappable AM3E amplifier module, and supports Bluetooth 5.0, coaxial S/PDIF or MicroUSB input options. It supports up to 32-bit playback at 768 kHz, with an extremely low noise floor to ensure you get the smoothest sound quality.
You can either connect your headphones to any of the pair of 3.5mm jacks (amplified and unamplified) or the balanced 2.5mm and 4.4mm jacks. All the output options offer similar sound clarity and beauty that is rare in DACs of similar price.
Better, controlling the device is easy either through the playback controls under Bluetooth connection or the volume knob.
The swappable amplifier allows you to upgrade to THX AAA amps, but the FiiO G5S is a force to reckon with even without any upgrade. Plus, there are other options to fine-tune the output as bass boost settings, though the chip automatically lowers the max volume to avoid cracking your cans.
You get solid performance and versatility unmatched by the few competing DAC/Amp combos for its price.
Stand Out Features
Equipped with multiple outputs—both balanced and unbalanced—the device is compatible with different types of headphones. It supports wireless streaming via Bluetooth. Furthermore, it connects to computers and smartphones via a micro-USB port with all necessary cables included in the package.
Ultimately, there's something aesthetic about the Q5S. Its aluminum alloy casing and well-rounded corners are appealing to the eyes.
Pros
Lots of inputs/outputs
Smooth 32bit/768kHz output
Bass boost mode
Cons
Limited EQ options
Weak built-in mic
Tonal balance lacks precision
Lotoo PAW S1


And here comes the king of USB dongles, the mighty Lotoo PAW S1. This portable DAC/amp combo has all it takes to be a reference-grade USB dongle. For a start, it has dual 3.5mm and 4.4mm output jacks and a display screen despite the small size. The screen displays information like the volume level, gain mode, and equalizer mode.
The PAW S1 is Lotoo's first USB DAC in the PAW series. Its top-range DAC chipset is responsible for its incredible sound clarity, low audio distortion, and low background noise (118Dbu).
PAW S1 can handle high-resolution audio like PCM to the maximum limit of 32-bit/384Khz. Furthermore, it handles DSD to a roof capacity of DSD128 natively.
Alongside the DAC chipset, the device features a separate AMP chip, OPA1622, responsible for the top quality output without background noise. Unlike most of the average DAPs, PAW S1 has two output ports instead of one—3.5mm single-ended and a balanced output port of 4.4mm.
It features a power-efficient AKM4377 chipset on an 8-layer PCB board. In addition, there are AK8142 oscillators that help PAW S1 reach a stunning 123 dB S/N ratio and support up to DSD128 and 32-bit/384 kHz files.
Further, it has a classic black aluminum body that feels sturdy and has an expensive look.
The sound is neutral but warm, with an above-average soundstage. The notes are within the sweet spots, not lean nor fat, but presented with a fuller body. The superb EQ/ATE pre-settings fit any situation, but you can use the two gain settings to have a change.
The Lotoo PAW S1 supports Android, iOS, Mac, and Windows devices and connects through a USB-C and lightning cable. The drivers install automatically in computers while the UAPP app runs on Android for USB driver support.
Stand Out Features
The portable DAC/Amp needs no external drivers to connect to computers and smartphones. It's plug-and-play! Besides, it's compatible with all major smartphone operating systems (Android, iOS) as well as for computers(Windows and MAC).
The PAW S1 has an attractive design—an OLED display on the face, settings buttons on one side, and a sturdy aluminum casing. The OLED display brings convenience in selecting format type, preferred EQ band, gain mode, and volume level.
Pros
Supreme build quality
PMEQ/ATE settings
Supports many platforms
Neutral sound signature
Cons
Picky OTG cable
Mobile data interference
iFi Hip-DAC


If you like music from Spotify, iTunes, or Tidal, you won't have to worry about high-resolution audio since the iFi Hip-native DAC's digital-analog converter brings the original recording's quality to your ears. You can modify your output audio using the Power Match and Xbass options without changing the digital conversion.
As an upgrade from the previous iFi DACs, The new iFi Hip-DAC comes with increased convenience in connectivity. With USB input, it needs no separate adapter to connect to your smartphone. Further, its powerful amplifier can handle headphone outputs of up to 400mW power for top-quality audios.
iFi targets the digital-to-analog converter market's dominance with quality and affordable devices. And the Hip-DAC adds to those efforts. This portable DAC/Amp combo resembles the desktop-based Zen DAC but battery-powered and smaller. The overall device is neatly done, with an extruded petrol blue aluminum casing that closely resembles a hip flask.
Hip-DAC supports numerous audio devices and will play up to 32-bit/384kHz PCM and DSD256 files. For control, Hip-DAC features several dedicated buttons and two LEDs that show the sampling rate and signal type. Also, there is an LED indicator for the charge level.
Input is through a male USB Type-A rather than the usual female option. The male port allows for direct connection to Apple's lightning-to-USB cable, though you have to buy the cable separately. Though iFi ships the combo with short cables that terminate with either USB Type-A or USB Type-C.
You connect your headphone to the Hip-DAC through either the standard 3.5mm jack or the balanced Pentaconn 4.4 mm port. To ensure you enjoy your music for long, iFi packed a 2200mAh battery, that's claimed to last for 12 hours on a single charge.
But of course, the actual use-hours largely depend on the headphones' power demand and the volume levels used.
iFi has kept the sound across its devices very consistent, but the Hip-DAC offers more balance, more details, and dynamism. And it has a dedicated X-bass button to handle the low-end frequencies for deep sound lovers.
The sound details organization is amazing, very cohesive, and smooth for daylong listening without any fatigue.
Stand Out Features
The iFi Hip-DAC is a superior portable DAC/amp. The device can last 6 to 8 hours, depending on how much you use it. It's also tiny and light, allowing you to slide it into your pocket and use it on the go.
Pros
Easy-going with engaging sound
Awesome battery power
Fine build and finish
Cons
Larger than some rivals
Sub-par sampling rate indicators
iFi Micro iDSD Signature


Looking back at iFi's series of portable DAC/Amps, one can't help but marvel at the iFi Micro iDSD Signature. Its upgrade has gone to every length and breadth to give audiophiles something to hold on to.
The iFi Micro iDSD Signature is fitted with the top-performance Burr-Brown chipset that handles all high-resolution audio formats like MQA, DSD512, and PCM 32-bit/768Khz.
Its amplifier produces powerful outputs thanks to its excellent peak power rating of 4000 mW. Therefore, it can drive all types of headphones, from In-Ear-Monitors (IEMs) to power-intensive planar headphones.
Unlike the other two editions of Black Label (BL) versions, the iFi Micro iDSD Signature portable DAC/Amp combo features a space blue finish on a solid aluminum chassis. It's sleeker and feels durable for many years of high fidelity listening.
The front features the Pentaconn 4.4mm and 6.3mm jack outputs and the iFi's patented Xbass and 3D switches, an LED indicator for status and sampling rate for playback signal, and a high-response volume button that doubles as the on/off switch.
The rear houses a S/PDIF 3.5mm coaxial port for Toslink mini-plug connections, an RCA output, and a USB 3.0 type A input port.
To handle different types of headphones, the Signature has three modes switchable via controls on the sides. The power mode handles sensitive headphones and IEMs with a substantial drive requirement, while the turbo and eco mode fares well with high-impedance headphones and IEMs. And the normal mode is for medium sensitivity outputs.
To better the performance for each mode further, the Signature has three digital filters for each: the bit-perfect, minimum phase, and the standard mode filters.
Two DAC chips in an interleaved configuration deliver four signals in two channels, which keep the noise floor low to better the musical details highlights and micro-dynamics. The signal flow is smooth with fewer jitters, ensuring you're getting the best of your headphone's timbre with high precision and stability.
Also, the S-Balanced circuitry proves a worthy upgrade as it balances sound output better to eliminate cross talk and distortions, for a clean and clear presentation. Other included features are IEM match mode, top-notch Bit rate and sample rate support, DSD and MQA decoding, 3D sound, XBass, and multiple output power and filter settings.
However, the Signature misses Bluetooth connectivity support, and the huge battery makes this powerhouse large and heavy.
Stand Out Features
The iFi Micro iDSD Signature accepts inputs from USB, optical, and S/PDIF. Further, with analog capabilities like XBass+, iEMatch, and 3D+, the device can offer an immersive audio experience for your headphones. It supports three headphone output options—4.4mm, 6.3mm, and RCA.
Micro iDSD's battery is designed for the outdoors. It's able to withstand 6-12 hours of play.
If you're looking for some aesthetics, then the iFi Micro iDSD Signature isn't left behind. With an excellent blue finish and a slim, compact design, it's visually impressive.
Pros
Nicely designed with a solid build
Features-rich
Balanced outputs with copious amounts of power
Great aesthetics
Cons
Not portable, but transportable
Picky with IEMs
Earmen Sparrow


EarMen are relatively new in the portable DAC/Amp combo market, but they're already turning heads with affordable yet quality devices. And the Sparrow is ticking all the right boxes and becoming a favorite for audiophiles and casual listeners alike.
The new Earmen Sparrow isn't limited by compatibility like its predecessors. It supports playback from both iOS and Android operating systems on mobile phones. Moreover, it's compatible with computer operating systems—Windows and macOS.
The SABRE DAC Chipset in the Sparrow is responsible for efficient audio conversion that produces top-range sound quality.
The Sparrow is tiny but with a big performance. The design is minimalistic, with the chassis cut from a single CNC aluminum block and glass paneled on the front and back. The silver Hi-Res logo and lettering on the glass and the LED EarMen logo adds to the design's elegance. However, the glass panels would use some protection to prevent scratches.
The device is purely a plug-and-play with no controls of its own. The Sparrow uses the ESS flagship Sabre ES9281PRO chip, with a signal-to-noise ratio of 122dB, a total harmonic distortion and noise (THD+N) -112 dB, and 124 dB DNR.
Technically, the Sparrow is an IEM amplifier that handles all file formats within the 32-bit/384 kHz and supports the popular MQA and DSD128.
The input is via a USB Type-C port, while the output is through a standard 3.5mm stereo jack or a balanced 2.5mm stereo jack.
When it comes to sound quality, the two outputs offer slightly different flavors. The standard stereo jack offers up to 2.0 Vrms and will treat you with a full-bodied and punchy sound. You'll notice some good level of neutrality, with no overemphasis on any sound aspect. The soundstage is adequate with enough bass and control.
But a switch to the balanced output port with a 4.0 Vrms in 600 ohms shows the real power of this tiny device. The soundstage becomes more transparent, with every frequency range getting adequate attention.
The bass gains more grip and texture, notes become richer, and the transients crispier with more refined micro-details. You can feel the value of every dollar you spent on the Sparrow, as the instruments breathe more freely. The performance is simply commendable.
Unluckily, you won't experience such sound quality on a pair of power-hungry headphones, as the Sparrow lacks the power muscles needed.
Stand Out Features
Through special capacitors and top-grade power supply materials, the EarMen Sparrow can reduce noise to insignificant levels. The finest details in high-resolution files are thus not lost through transmission.
The high-performance DAC chipset can handle high-resolution audio with up to 32 bit/384 kHz. The most common digital formats it processes are MQA, DSD128, and DSD 64. Moreover, it can handle DoP and PCM.
Pros
Fully plug and play
Extremely small for portability
Excellent build quality
Features a transparent sound signature without unnecessary colorations
Great value for money
Cons
Lacks the power to drive demanding headphones
Some users have observed occasional playback pauses
The glass is prone to scratches
What Are The Benefits Of Having The Best Portable DAC Amp Combo?
A quality portable DAC/Amp combo has the following benefits:
Gives you the best high definition audio quality: Try good quality headphones with your phone or computer directly, and you'll know the headphones aren't getting enough juice. The inbuilt DAC has no enough power to drive power-demanding headphones. And that is where a portable DAC Amp combo gets in to deliver precise power to the headphone for some quality HD audio quality. You'll certainly like the sound precision while listening to music, gaming, or watching a video.
Versatile connections: The best portable combo has several connection options to devices like CD players, AV receivers, DVD players, or any audio system with a USB port. So, these multipurpose devices let you create a quality sound experience from all your audio devices.
Accurate controls: Even as we talk of quality sound, different people love different bass, treble, and more. And a DAC/Amp combo gives you that power to fine-tune the sound to your liking through the accurate controls, though the precise controls depend on the specific device.
Jitter reduction: Jitters are the shaky effects on digital pulses that alter their timing. And they affect sound badly. DACs alone reduce the jitters completely, while the amplifier part enhances the sound quality further, resulting in perfect audio output.
Portable DAC/Amp Combos Buying Guide
While shopping for the best portable DAC/Amp Combo, consider the following aspects:
Inputs and Outputs
We live in a digital era where audio devices come in many shapes and sizes, with different input and output options. Therefore, it would be unwise not to check the input/output options offered by your preferred DAC/Amp combo.
Multiple input/output ports allow you to enjoy music from several audio devices and in various formats with one combo. The Typical ports found in portable DAC/Amp combos include RCA stereo, USB, coaxial S/PDIF, 3.5mm jack, and optical or Toslink ports.
Sampling Rates
Sampling rates refer to the speed at which the device takes digital signal samples per second to create the analog signal. For example, if a device's rating is 44.1 kHz, it means it takes digital samples 44,100 times every second to create the analog signal. And, the higher the sampling rate, the clearer and crispier the sound quality.
Impedance
Impedance refers to the total resistance of a circuit to electrical currents. In the case of headphones, it shows the amount of power needed to deliver high-quality sounds consistently.
Generally, quality headphones have high impedance ratings and thus need a portable DAC/Amp combo that can deliver that much juice. While shopping for a combo device, be sure to check its output impedance ratings for compatibility with your headphones.
Compatibility
We spend each day with several electronic devices such as TVs, computers, smartphones, and gaming consoles. It would be tiresome and expensive to have a combo device for each of your audio sources, and that is where compatibility comes into play.
You need a combo that goes with as many of your devices as possible. Also, go for a combo that supports many audio codecs, such as DSD and MQA.
Portability
Do you love to enjoy superior sound experience on the go? Then you need a portable DAC/Amp combo device. Some come with a rechargeable battery that can last for hours on a single charge to kick out boredom as you run your errands. Also, the compact size allows for easy handling.
Affordability
Pricing is a major consideration when choosing the best DAC/Amp combo. These devices come in many shapes and designs and at different prices. While, of course, a $50 device may not offer as many device compatibility options and audio quality as a $500 combo, you can still get a good quality budget portable dac amp combo without breaking the bank.
The bottom line, your budget and quality needs should be your guide.
FAQs
How does a DAC/Amp combo work?
A DAC/Amp combo has two components: the digital to analog converter that changes the digital 0s and 1s to an analog audio signal. Then the amp transforms the analog signal into a bigger one. They generally better the sound quality of audio devices and bridge the power gap between speakers and the audio sources.
Do you need a DAC/Amp combo?
A nice media player and a solid pair of headphones will give you a good listening experience. But you won't enjoy the clarity, preciseness, and deep bass that a DAC/Amp combo adds to the combination.
The combos have better signal conversion chips, power supplies, amplification abilities, and output circuitry that no sound card can match. So, you need a DAC/Amp combo to improve the dynamics, volume, sound staging, and overall quality of your audio.
Is DAC better than a sound card?
All electronic audio devices such as computers and gaming consoles contain a sound card. While these cards convert digital signal to analog audio signal, their output quality is way below DACs. Also, sound cards lack the power needed to produce crystal clear audios and they suffer interferences once too often.
An external DAC rids the sound card issues and improves the overall sound quality.
Is a budget DAC/Amp combo worth it?
Yes. Besides, even the cheapest DAC/Amp combo is better than your PC's sound card. Even so, audio quality and budgets are subjective factors. For instance, a $500 DAC/Amp combo may be a budget device for an audiophile who is after the $2.2 million Pivetta Opera Only, but for someone with a budget of $50, it's certainly not within that definition.
In addition, there is no universal measure of audio quality, and it all depends on the ears of the listener. That said, the baseline of the worthiness of a budget DAC/Amp combo depends on your audio setup endgame and the much you want to spend.
Conclusion
Now you know enough about portable DAC/Amp combos and have a list of our best selections for 2021. If need be, reread the review, and this time with your audio setup endgame in mind. The bottom line, all of them meet your sound needs, both on the go and at home.
Even so, each combo may perform differently depending on the power needs of your headphones. For instance, if you are a hardcore gamer with some studio-grade headphones, EarMan Sparrow won't fit your bill – you need a Chord Audio Mojo.
But also remember, as long as a portable DAC/Amp combo fits your minimum sound quality needs, this may suffice to replace your smartphone or media device and serve you for the long-run.
You may also be interested in:
About Post Author