There's much more to a pair of earbuds than their classiness and fit. It wouldn't matter how you can crank up the bass or get the crispiest highs if you'll only do so for a couple of months.
A sturdy pair of earbuds features water, sweat, and dust resistance, quality plastics, immense cable strength, and good warranties.
That said, read on to discover what makes our list of the most durable earbuds worth your time and money. But before that, below is a quick run-down of comparable aspects.
Bose SoundSport


Design and Quality
While their wired predecessors are good, the Soundsport Wireless buds are a true gem for sustained quality over many usages. On first impression, the Soundsport Wireless promise great value for money as they come at less than half the expense of their wired counterparts.
Whereas you can enjoy the wireless options with both your Apple and Samsung devices, the Soundsport wired only support either. So, if you don't want to spend much and enjoy more versatility, wireless is the way to go.
Unlike the wired versions that use StayHear tips, these feature StayHear+, which adopts an umbrella shape. Due to the design, these upgraded tips offer a gentle seal that enhances their audio performance.
You get three tips like the wired versions, allowing you to get a comfortable fit.
The wireless cable is quite thick and won't tangle irrespective of how clumsily you store them. That's another improvement from the relatively flimsy wires on the wired versions that tangle if mishandled.
Overall, the fit is nice, and the construction is more solid than their wired predecessors.
Performance
With six hours of usage per charge, these earbuds provide a midrange level of performance in terms of battery life. However, the longevity varies based on the use case. You can easily increase the allowance to seven hours if you tone down the volume to half.
Despite the many design qualities and friendlier pricing, you're almost getting the same sound performance as the wired versions. The call quality is pretty attractive. The voice is crisp without distortion, though there may be a bit of background noise coming through.
The cable can bob around during running though these earbuds do an impressive job blocking out wire noise.
Stand-Out Features
Paying over twice as cheap and over thrice as cheap as the wired Apple and Samsung Soundsports while maintaining a comparable performance excites me the most.
In Bose's fashion, the Soundsport Wireless buds come with fast, accurate, punchy bass. The sound quality is fantastic, allowing you to listen to high volumes without getting tired. If you prefer sound cleanliness and accuracy, the Soundport earbuds are an ideal choice.
Pros
Smooth balanced sounds with active EQ
AAC codec ensures impressive performance
Provide a snug fit
Compatible with Google Now and Siri
Cons
Lacks active noise cancellation
Large sizes that considerably stick out of the ears
Jaybird Vista 2


Design and Quality
While coming with a few things better than the Jaybird Vista earbuds, the Vista 2 are pretty similar to their predecessors in terms of the build.
The lack of a rubber coating on the Vita 2s is the most notable difference when it comes to the casing. The 2s have a slick, slippery carry case that offers a tad less grip than the Vista. So, you may need a bit more pull to pry them open.
Whereas the Vistas feature an IPX7 rating, the 2s take things a notch higher to IP68. These rugged earbuds hold up nicely against moisture and may have the best water resistance on the list.
However, because of that ruggedness, they weigh more than the Vistas by about two pounds.
Performance
From the specs, they're pretty similar to their predecessors. They both have a six-millimeter driver, same bandwidth, same codec, and same audio format; everything is almost the same. So, there isn't much difference in audio quality.
Nonetheless, the Jaybird Vista 2s also include active noise canceling and surround
sense unavailable on the Vistas. The 2s take many of the low tones and some highs out, making them quieter than their predecessors.
Nonetheless, the ANC performance isn't as striking as the Bose QuietComfort, but good enough. You don't need to put them at full volume to enjoy sounds in a noisy place. There may be a bit of distortion with ANC on, though tweaking the EQ settings usually sorts the issue.
Notably, the bass quality tends to drop a tad with surround sense or ANC, but their sound is excellent overall.
Moreover, the Vista 2s come with more battery power than the Vista. Whereas the Vista earbuds only had six hours of listening, the Vista 2s top that by two hours. The case storage power also improves from 16 to 24 hours, letting you enjoy the music longer.
Stand-Out Features
The Vista 2 essentially retail at a similar price to the Bose Soundsport wireless. However, with the Vista 2, you're getting active noise cancellation. That makes them invaluable for working in noisy environments.
Plus, their IP68 protection ensures you don't have issues even if you accidentally drop them in your pool's shallow end for 30 minutes.
Pros
Provide excellent Active Noise Cancellation to block outside chatter
Long-lasting battery power for a rig with ANC (24 hours)
Lightweight and cozy to wear
Robust water, sweat, and dust protection thanks to IP68 construction
Cons
Occasional pairing issues
Not a budget option
JBL LIVE 300


Design and Quality
The LIVE 300 earbuds are as stylish as they are durable. While not the lightest pair, the company did an excellent job maintaining the quality while slicing the weight by half. Whereas the 220TWS weigh 121g, the LIVE 300s weigh only 66g, making them more portable.
Their charging case is medium-sized and has a smooth matte finish with some JBL branding engraved on the front. Similar to the weight, it is toned down; thereby, allowing you to fit it in your pocket with more ease.
Additionally, the 220s lack an IP rating. Meanwhile, the 300s feature an IPX5 water-resistant rating that protects them from sweat and water splashes, making them a viable option for the gym.
The fit on these earbuds is okay though the wings may not fit perfectly for everyone. The LIVE 300s give a decent fit but aren't best for intense movements like running or jumping.
Performance
You get roughly six hours from the LIVE 300 on a single charge which is twice as much as the mediocre three hours the 220s provide. However, the carrying case's additional hours drop by two, from 16 to 14 hours.
As far as the sound quality, these feature 5.6-millimeter drivers, like the Tune 220s, that pack a powerful punch. You're getting an excellent balanced sound. The bass is clean, and they're punching in the mids while the highs are incredibly detailed.
This pair provides impressive sound quality with their AAC and SBC codec compatibility and Bluetooth 5.0 functionality. You won't experience any latency when live streaming videos.
Stand-Out Features
The most likable aspect is how forward the mids and highs can get. The JBL app lets you tweak the EQ for a more customized sound. It has some presets for you to play around with, and you can create your own.
Pros
Smooth, crisp highs and deep bass
Allows you to customize the EQ
Short charging duration (10 minutes for an hour's use)
Compatible with Google Assistant and Alexa
Cons
Monolistening only works with the right earbud
Lacks Active Noise Cancellation
Powerbeats Pro


Design and Quality
The Pros are a chic pair that comes with key upgrades to take your earbud experience to the next level.
Starting with the packaging, the Powerbeats have a cheap carrying pouch that does nothing to protect your earbuds.
Meanwhile, the Powerbeats Pros have one of the largest and sturdiest earbuds carrying cases. Though it won't comfortably sit in your pocket, it offers a ton of backup power and cushioning for your earbuds.
Additionally, the ear hooks on the Pros are more flexible than those on the Powerbeats. That combined with the absence of the neck-grazing wire and lighter weight makes the Pros a bit cozier to wear than the Powerbeats.
Whereas the Pros have similar controls on both earbuds, only the right wireless earbud features them.
Performance
On a full charge, these offer nine hours of playtime. So, you shouldn't have to carry the enormous charging case everywhere you go. With the charging case, you'll get 24 hours of playtime.
Hence, they offer nine additional hours than the Powerbeats, minimizing the need to charge them.
Charging speed also improves with the Pro earbuds providing one and a half hours per 5-minute charge while their predecessors give you an hour.
The sound quality on these is impressive and pretty similar to the Powerbeats. They offer much volume to get you through your workout sessions or drown the noisy surroundings.
The sound is balanced with big bass. On the other hand, the mids and highs are rich and present.
However, the pros tend to perform better when it comes to treble, which may get a bit piercing in the wireless options.
Stand-Out Features
If your ears simply weren't made for wireless earbuds and you're constantly readjusting and worrying about them falling out, these are a perfect option.
The fit is phenomenal, with an around-the-ear design suitable for intense activity. Once you get these on and adjust them to a point where they're comfortable for you, they're not going anywhere.
Their treble performance is impeccable, with no flaws to highlight in terms of sound quality.
Pros
Superb fit with comfort over extended use
Easily pairs with iOS
Impressive sound performance
Considerable battery life, extending 24 hours with the carry case
Cons
Not suitable for a discrete look
Active noise cancellation absent
Sennheiser IE 80 S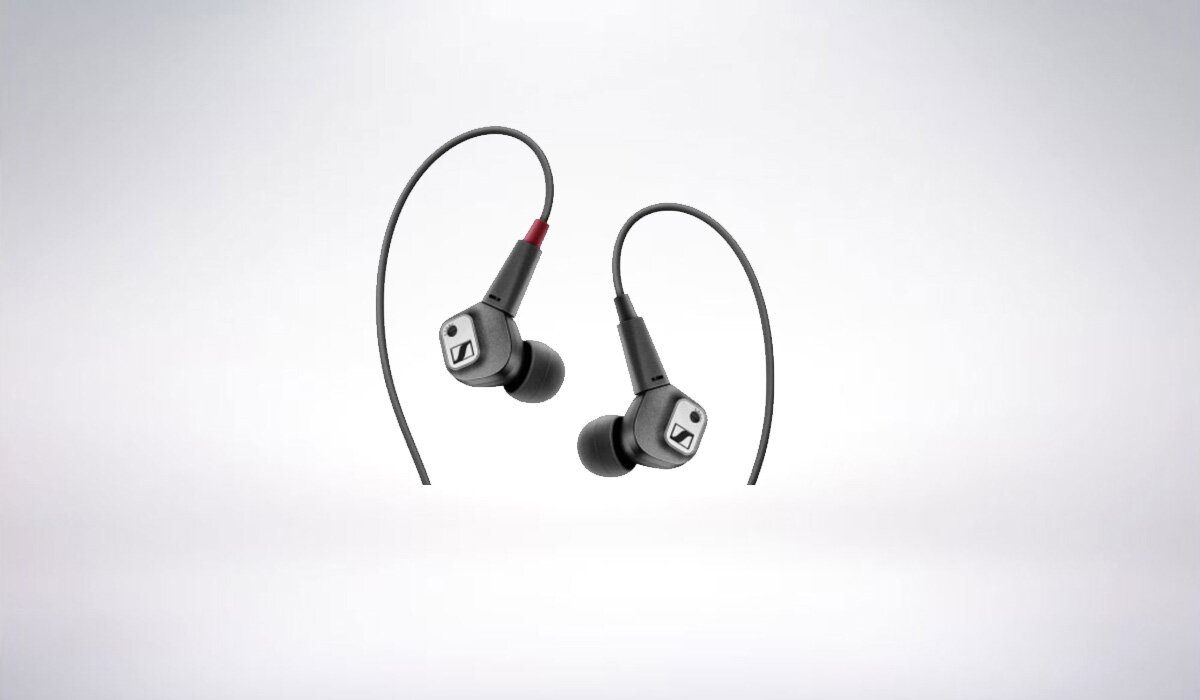 Design and Quality
Although I don't find their appearance striking, the IE 80 S earbuds look a bit better than the 80s. Still, the two versions have many similar features. The packaging feels premium and comes with many ear tips to get a snug fit.
Both have replaceable line schemes and the bass adjustment nut that you can tweak with the come-along cleaning tool.
The included carrying case is nice, though irrelevant for most users as you'll need a bag for it.
As far as looks and comfort, the IE 80 S buds look bulky but are comfortable and low-profile. You can even sleep without them coming off.
Performance
This product's strength is its supreme sound with pretty much anything from
cheap mp3s to flax. The IE 80 S buds boast better sound quality than their predecessors, particularly in the mids and highs.
Highs are both loud and clear, and mids are also clear, though somewhat subdued. This makes mid-range vocalists feel a bit far away, especially during busier parts of a track with much background music.
You can turn the little dial on the earpieces with the included tool if you want more bass. Regardless, with or without the knob, the bass experience with these is truly skull rocking. It feels like the bones at the back of your head are vibrating.
Despite the strong bass performance, you can hear every detail in the music without cranking them. The isolation is sound, minus them feeling like you could get hit by a car unawares.
Stand-Out Features
These earbuds deliver a bass-heavy solid sound signature. However, unlike many similar mainstream products, they do it well with tight thumping, low-frequency performance, and clarity in the mids and highs.
Nonetheless, if you're looking for reference IEMs for studio monitoring and you want a flat frequency response curve, then seek something else.
Pros
Customizable bass performance
Numerous accessories and ear tips, providing versatility
Attractive sound quality
Provide a cozy fit
Cons
The priciest option in this review
Lacks active noise cancellation
Pioneer Rayz


Design and Quality
While Rayz has brought interesting upgraded rigs like the Rayz Pro, the Pioneer Rayz set the pace for the brand's lightning earbuds with many cool forward-looking features. They come with nine different sizes of ear tips. So, you should be able to find something that fits well with you.
Since they use Apple's lightning audio module 2, they provide additional aspects like Siri compatibility. They also have pass-through charging. Hence, you just plug your headphones in
and then insert your lightning cable into this and charge your phone.
Their remote is a bit on the big side, but they include a fourth button for intelligent functionality, allowing you to program them to your liking. There is also volume up, volume down, play and pause, and Siri activation buttons.
Although they craft from plastic, they use quality materials. Their construction makes them light, letting them stay in your ears better than heavier alternatives. Plus, the fit is good, ensuring they stay in place even when running or performing something similar.
Still, there's no carrying case like many earbuds.
Performance
There's the equalizer that has tons of options. Depending on what quality you are after, you can customize speech, boost the bass, or go for a flat sound. Overall, the sound quality is pretty solid for the price and far better than something like the Air Pods.
The active noise cancellation is good but not the best. Still, it does a respectable job for its price range, and it's a bonus considering most other options on the list lack it.
Stand-Out Features
The Pioneer Rayz earbuds offer great value for money. They are super light yet snug, ensuring comfort even when worn for many hours. Besides, you get customizable EQ and ANC that aren't available on many high-end options.
Pros
Provides active noise cancellation
Good quality audio
Works with Siri to ease usage
Relatively a budget pick
Cons
Call quality isn't the best
The active noise cancellation could be better
Durable Earbuds Buying Guide
Longevity, while crucial, isn't the most critical factor when selecting earbuds. Sound quality tops the list once you identify a long-lasting pair. But, how much are these earbuds? What type are they?
Let's check out the key features you should consider.
Wireless or Wired or True Wireless
Firstly, you'll need to decide whether wireless, wired, or TWS earbuds are your go-to option.
Whereas you'll need to consider the usage hours per charge for the others, wireless earbuds are plug and play. Nevertheless, they have several shortcomings that are less apparent in the other models.
Below are the key differences between the three earbud types.
| | | | |
| --- | --- | --- | --- |
| | Wireless | Wired | TWS |
| Charging | Not needed | Needed | Needed |
| Earpiece sizes | Generally the smallest as they don't need Bluetooth, plus the wires provide some real estate for other components | Mid-sized as the wires provide some room for additional components | Generally the biggest as all components have to stay in them |
| Usage convenience | Least convenient | Moderate | Most convenient |
| Ease of losing | Least as wires are lengthy allowing you to spot them easily | Moderate as they have some wire though shorter than wired | Most as they only have small earpieces |
| Longevity | Relatively the lowest due to the ease of crashing cables | Moderate due to shorter cable length | No wires, lowering vulnerable components |
| Neat appearance | Lowest | Moderate | Neatest |
| Simplicity of storage | Least due to the need to tie the wires appropriately | Moderate | Highest as they have no cables and feature carrying cases |
Battery Life
The beauty of wired things is the flexibility to go off-grid for as long as you want, provided your device has ample power. Regardless, its other disadvantages may irk you much, forcing you to pick between TWS and wireless. That's where battery life comes in.
A good pair of TWS or wireless earbuds should provide you with six or more hours of continuous use. Check out the power storage capacities of the cases so you know how much you can charge on the go. Some offer you over 40 hours.
Moreover, determine the charging speed and whether there's wireless charging. You don't want to take ages before you can plug in your earbuds to continue enjoying your music or podcast.
IPX Rating
You may just be clumsy or want to listen to your music even as you rush home during a drizzle. Knowing that your earbuds have no qualms with water resistance means you'll have no issues jamming to your tunes in the rain.
Whereas an IPX4 pair offers sufficient water, sweat, and dust protection, the best earbuds can go up to IPX7 or higher. For instance, the Jaybird Vista 2 (upgraded grom IPX7 to IP68) can handle up to half an hour in a 1.5m-deep pool.
Noise Cancellation
All earbuds feature some form of noise cancellation, whether only passive or also combining it with active.
Passive noise cancellation employs design aspects, for instance, silicone ear tips to counter surrounding noise. It isn't the most effective and varies based on the material and design used.
Active noise cancellation provides advanced blocking of exterior noises. It also varies based on the brand and design. High-end earbuds typically have better noise canceling than cheap picks.
Moreover, some earbuds allow you to dictate the degree of active noise cancellation you need by dragging the control button between zero and 100.
If surrounding noises bother you greatly, active noise cancellation should be of priority.
Fit
How snug are the earbuds? In what manner do they rest while in use? Ensure that your earbuds fit as much as or as close as you'd wish them to. Some go deep into your ear, providing a secure connection, vital especially if they are TWS, but which may irritate you.
Others may lightly stay in your ear or attach around your ear. They may keep coming off during intense activity and may not provide excellent passive noise cancellation as deep-sitting options. Nevertheless, they are typically more comfortable.
FAQs
What Kind of Earbuds Last the Longest?
Based on your desired parameters, different earbuds do last the longest. For instance, if looking at how much you can listen to them, wired earbuds last the longest as they don't need recharging.
On the other hand, if considering longevity, the design and materials affect how well a pair can withstand. TWS earbuds are the way to go for extended listening sessions if you're clumsy with wires.
Why Do Earphones Break So Much?
Earphones break so much because we often get budget options hastily put together and not meant to last. Alternatively, you get a pricey product without doing ample research and land on a product that's charged higher than its worth.
Still, you may source from a reputable company but get a defective pair. So, check whether you can get a refund or replacement.
Lastly, you may be mishandling your earbuds, leading to hastened depreciation.
How Do You Make Earbuds Last Longer?
You make your earbuds last longer by practicing good care. Ensure you dislodge the wired and wireless earbuds by tagging at the audio jack rather than the wires.
Also, properly tie wired and wireless earbuds with the Roadie Wrap technique. This way, they won't dangle around in your space, increasing the chances of you destroying them.
If using wired and wireless earphones, ensure you don't go to bed with them intact to avoid contorting the cords. Moreover, proper storage is vital. Get an earbud carrying case or have a dedicated pocket in your bag or outfit where they won't get crushed.
Listen to your earbuds within recommended volume levels. Also, raise the volume sequentially rather than instantly.
How Long Do Earbuds Normally Last?
A sturdy pair of earbuds normally last 2-3 years. However, many cheap quality options can only do you good for a few months or even weeks. So, it's best to pick durable earbuds and embrace good care practices to ensure you get value for your money.
Conclusion
When your earbuds have good water protection, adequately thick cabling, and no weak points, audio specs, and price largely determine whether you'll buy them.
As for the sound quality, you don't need to worry about these six most durable earbuds as they perform exceptionally well. Even for those that lack ANC, their passive noise canceling ensures you can still hear your music with richness and character.
You may also be interested in:
About Post Author