Today, smart devices operate on an advanced level thanks to wireless communications. Most importantly, Bluetooth is becoming the most popular form of wireless audio. Hence, it comes inbuilt into nearly all audio devices.
However, if it's hard to play music from your phone in your non-Bluetooth car or stereo system, worry not.
The best Bluetooth audio receiver is a handy device that enables you to listen to music on the gadget or create wireless two-way communication.
Additionally, it allows you to connect to more devices simultaneously with high-quality sound.
The best part?
It's easy to setup
Portable on the go
Reliable
Wide range of compatibility
So, if you're looking for a Bluetooth receiver, browse the top selection below to get value for your money.
Best Bluetooth Audio Receivers Comparison Table
| | | | |
| --- | --- | --- | --- |
| Product Name | Bluetooth | Range | aptX |
| Audioengine B1 Bluetooth Music Receiver | 5.0 | 100 feet | aptX, HD, LL |
| Logitech Bluetooth Audio Adapter | 5.0 | 50 feet | aptX, HD, LL |
| Auris Blume Bluetooth Music Receiver | 5.0 | 100 feet | aptX, HD, LL |
| Avantree Oasis Bluetooth Transmitter Receiver | 5.0 | 164 feet | aptX, LL |
| Anker Soundsync Bluetooth Transmitter and Receiver | 5.0 | 33 feet | aptX, HD, LL |
| Besign BE-RX Long Range Bluetooth Audio Receiver | 5.0 | 100 feet | aptX |
| Denon Professional DN-200BR Bluetooth Audio Receiver | 5.0 | 33 feet | aptX, HD, LL |
Audioengine B1 Bluetooth Music Receiver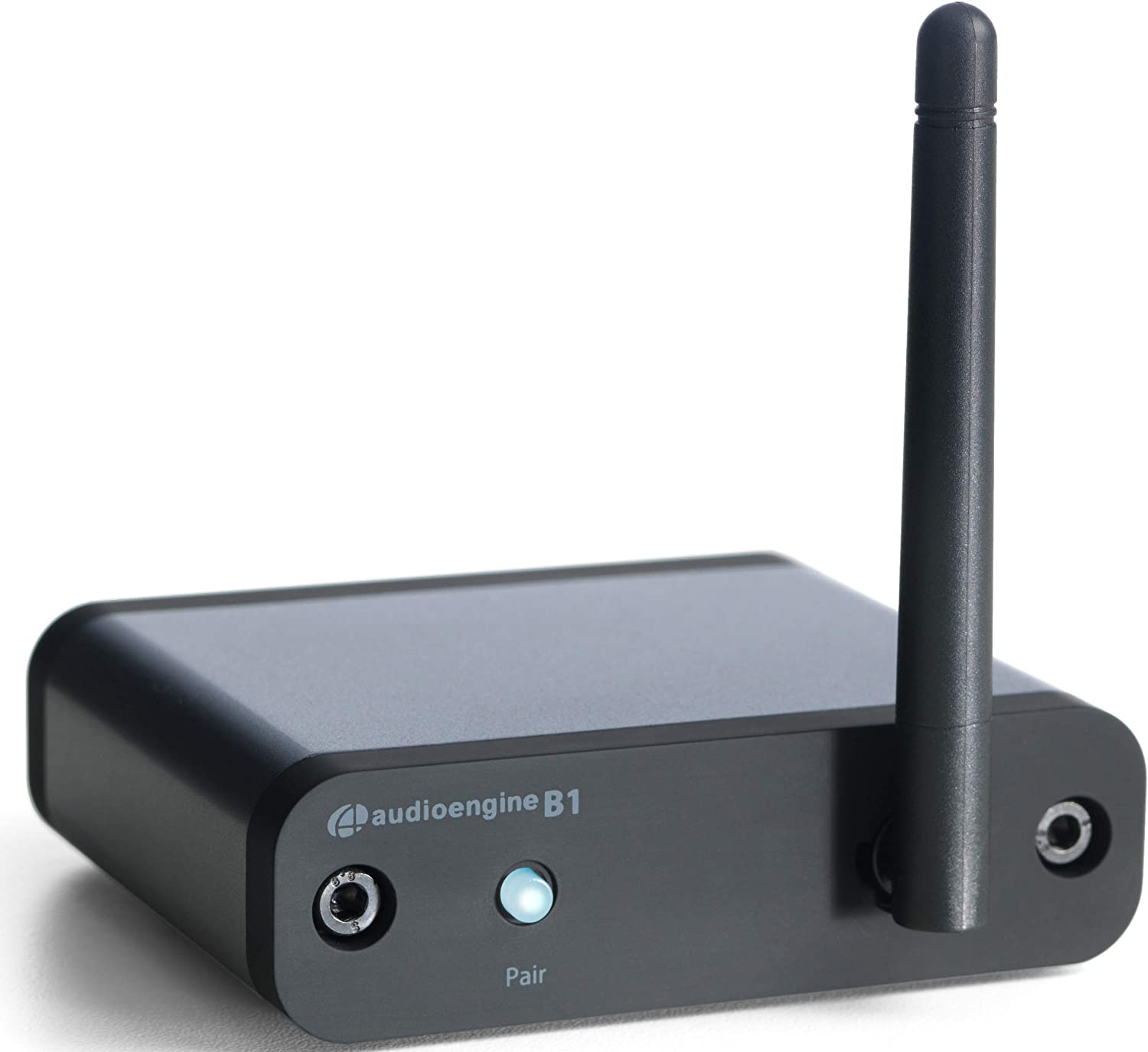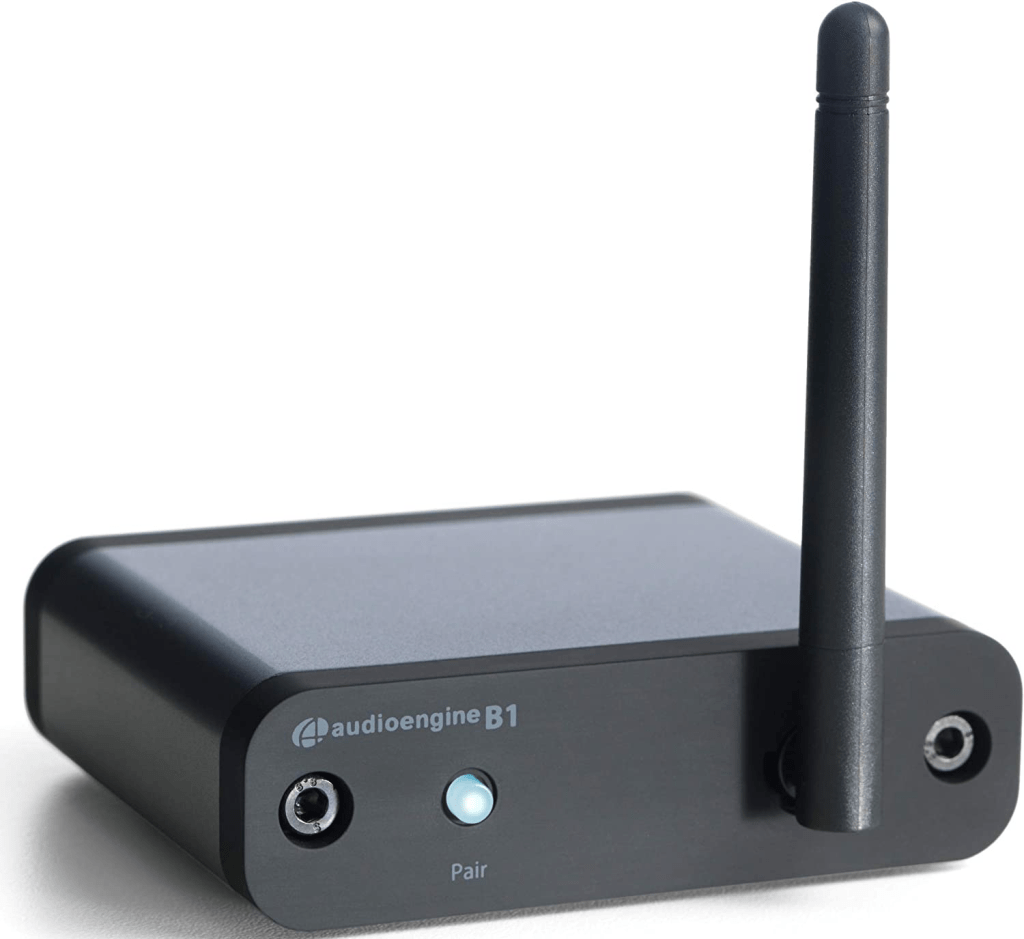 Instead of a modern feature, the B1 takes pride in Bluetooth and quality sound elements. Therefore, what you expect, is what you get with B1 when it comes to audio. Here's the breakdown of this top overall device;
Design and Quality
What meets your eyes first is the front's protruding antenna. Because most Bluetooth receivers don't have an antenna, this feature in B1 adds a unique aesthetic value. Plus, it's small and built of thick unbendable rubber.
When it comes to the body, it delivers a futuristic look that gives a pretty statement than most options. Here's how.
A large part of the body comes in brushed slate grey metal. However, the front and back plates with controls are black or dark grey.
Also, the front on/off button acts as the Blue LED indicator and is in soft white. Keep in mind that all the controls are easy to click.
Moreover, the back consists of the O/I panel with high quality and stable cables.
Remarkably, the rubber feet ensure its safety that it stays once you put it in place. It's safe to say that the whole construction of B1 weighs about a pound and is sure to provide durability and strength from its aluminum chassis.
Performance
The B1 has Bluetooth 5.0 that displays a modern approach to outstanding performance. Better still, the inclusion of the antenna provides an out-of-range solid tuning of about 100 feet.
Since it's hard to get a room this big, this receiver allows you to stream music in two big rooms through concrete walls.
You also don't have to panic about a drop or weak signal strength.
In addition, B1 features aptX codec, which samples while compressing. Still, it has a digital-to-analog convertor, specifically the AKM AK4398A version. This helps to establish a lower signal-to-noise ratio.
So when it receives the digital Bluetooth audio, the 24-bit engine transfers the music to your speakers.
Generally, this is among the top Bluetooth audio experiences to have. It's expensive but worth it because it delivers top-notch sound quality with a highly stable connection.
Pros
Easy and stable connection
Great and wide range
Several output options
Compact and sleek
Durable aluminum construction
Easy to use
Cons
It has frequent connectivity issues
Weak USB port
Logitech Bluetooth Audio Adapter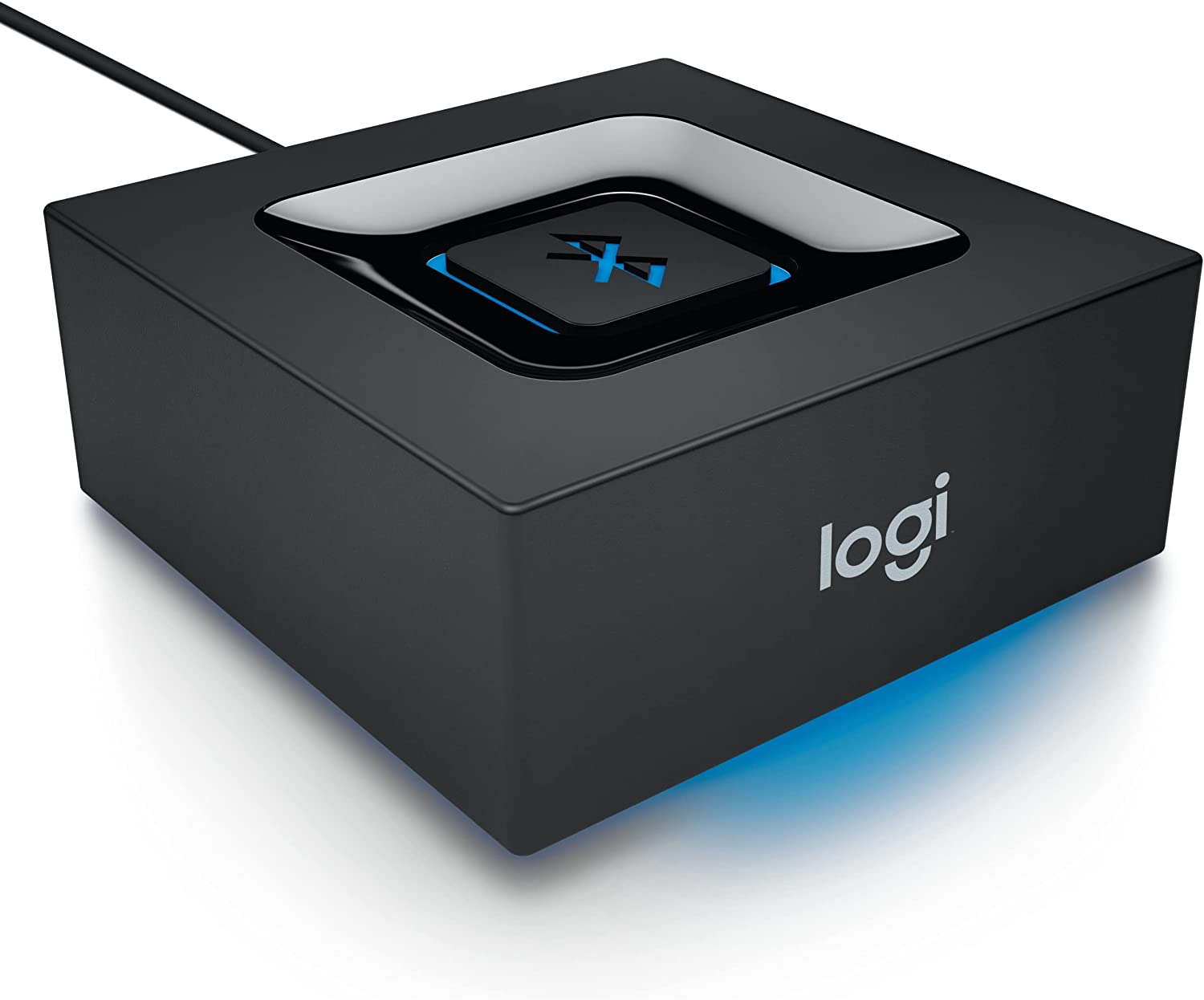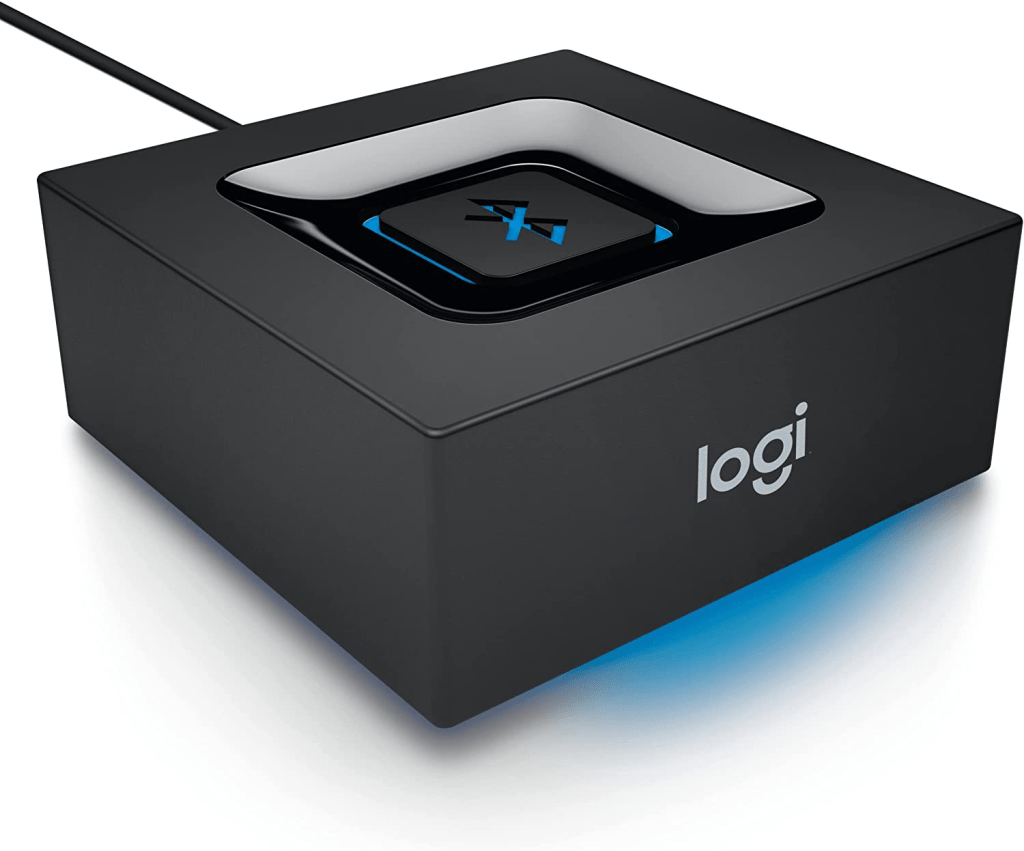 The Logitech Bluetooth audio adapter is your best bet when you decide to get a no-fuss receiver. It does what it needs to do!
Design and Quality
Next in line, the Logitech brand boasts of its extremely compact and lightweight Bluetooth adapter. On a serious note, you could simply put this device in your pocket on the go!
The small square design has a giant button on the top to power the device. The bottom part lights blue when on, which can double up as an aesthetic feature.
Moreover, the top part is smooth black, while the sides are textured to bring out a distinctive appearance. You won't miss the Logi logo in white on the front side of this device. For durability, the metal construction boasts strength for prolonged use.
Performance
Though small in size, Logitech covers up to 50 feet away, producing excellent sound quality. For its price range, it includes SBC and essential codecs. If all you need is an RCA cable output, this is perfect. Here's why.
It powers using the power adapter plugged into the back. Aside from the RCA output, a 3.5mm auxiliary output adds to the flexibility.
Another great advantage of Logitech is the straightforward pairing and re-pairing. While this is a plus, some users still complained that this feature disconnects you from other Bluetooth devices you're using within proximity.
Nonetheless, Logitech isn't specific about its tech sheets that use codecs. However, extensive research showed that it most likely uses the base-level SBC codec. It compresses any audio you send through the receiver up to the average Bluetooth level. This shouldn't be a problem for people who connect daily to their speakers.
Pros
Compact and portable
Aesthetic and functional design
Extensive range
Good sound quality
Easy pairing and re-pairing
Added flexibility with 3.5mm auxiliary cable to RCA
Cons
It makes a loud noise when connected
The connection is inconsistent depending on the signal strength
Auris BluMe Bluetooth Music Receiver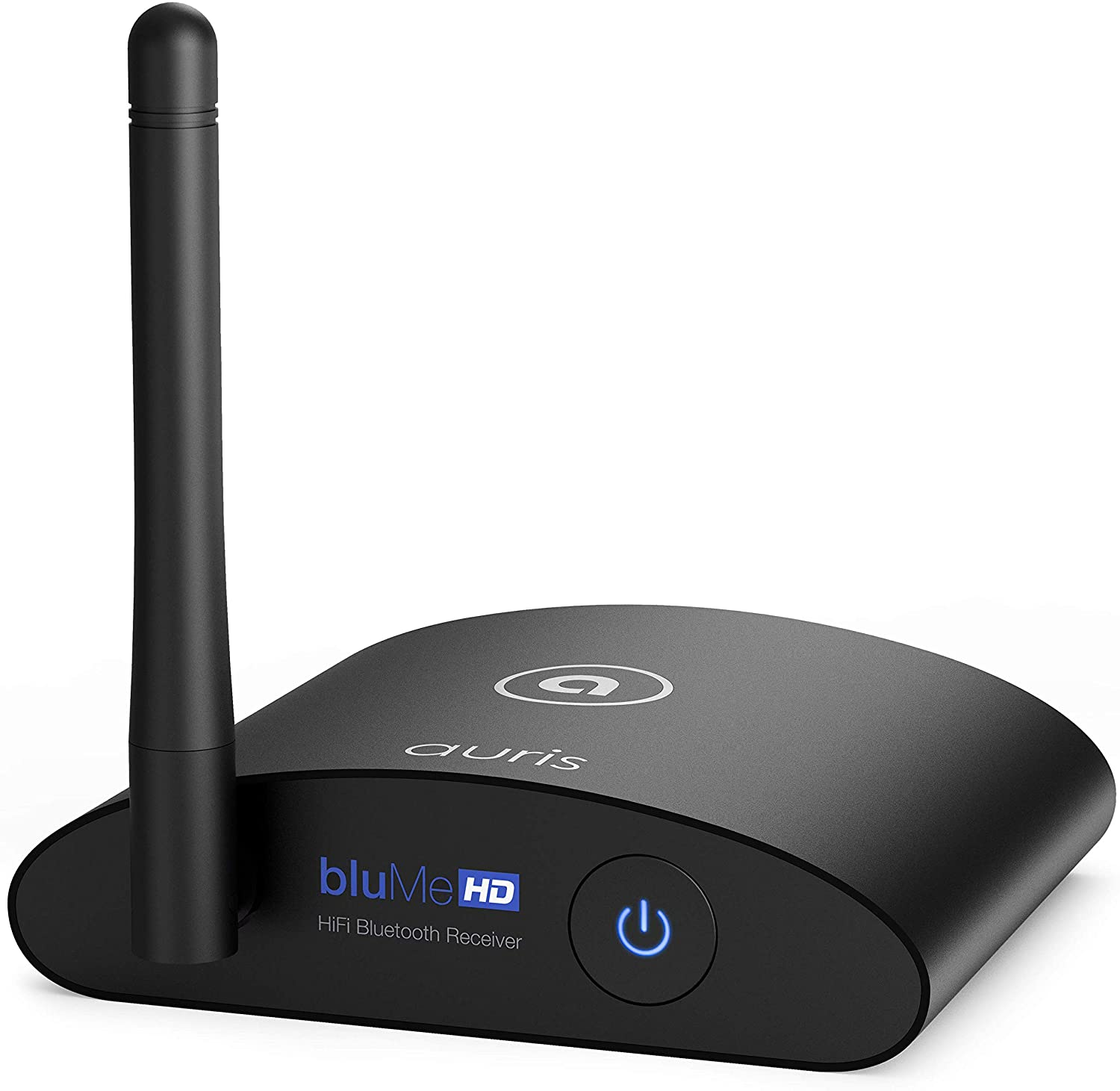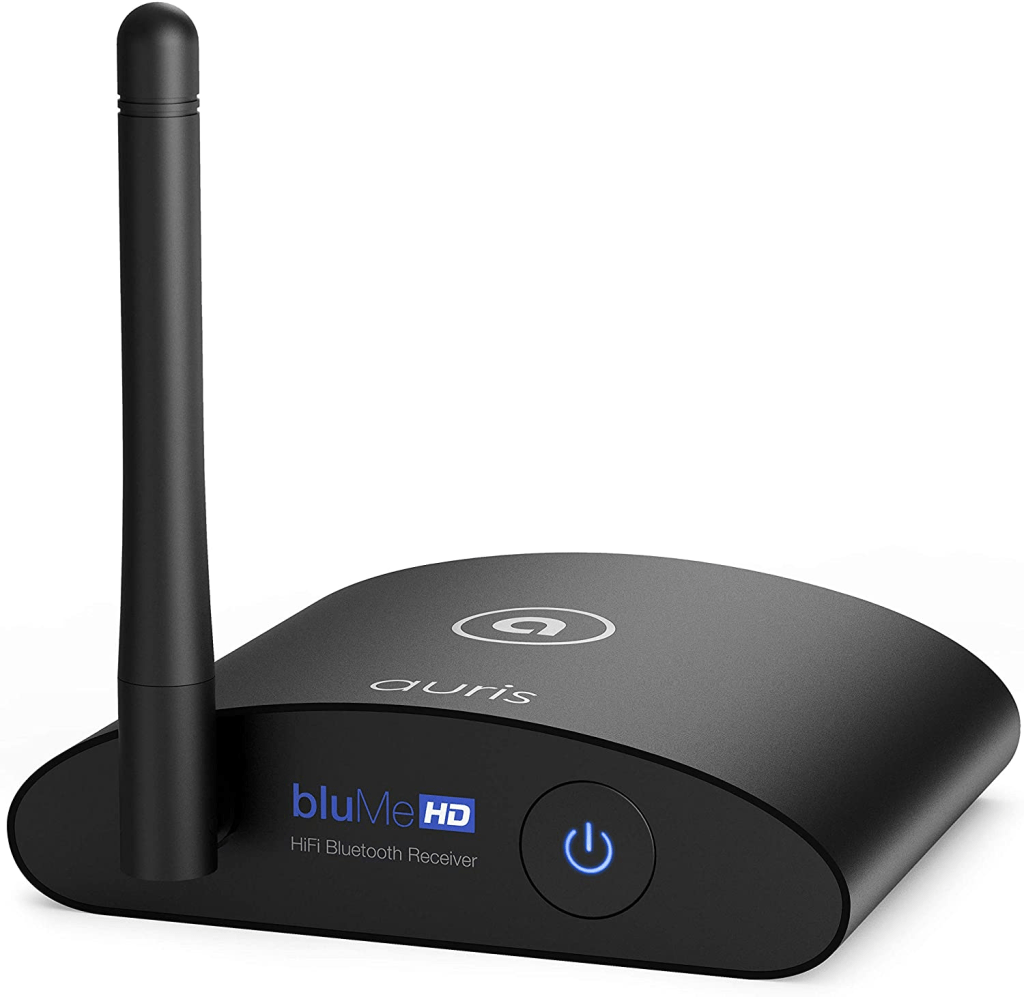 Auris is another impressive Bluetooth music receiver. It makes you float away in the high-quality sound-cloud as you enjoy your time indoors or on a long drive. Undoubtedly, there's more to what meets the eye in Auris. See below:
Design and Quality
BluMe is a tiny wireless router but has a more sophisticated design than most options on this list. It also weighs just 0.32 pounds making it very lightweight and hence portable.
The BluMe receiver has a chassis made from durable aluminum and an excellent shape that enhances your interior décor.
A power button on the front plate features a Bluetooth indicator and antenna. Conversely, the back panel has two top-quality gold-plated outputs, a micro USB power input and a TOSLINK output.
Performance
For starters, the installation is hassle-free – simply plug-and-play.
BluMe features Bluetooth 5.0, aptX Low Latency, AAC codecs, aptX HD, and Hi-Fi DAC for excellent and high-quality audio. The 32-bit engine ensures a stable connection without dropping or breaking when transmitting your sound.
Thanks to its distinct and precision-tuned antenna, you can listen up to 100 feet away. Therefore, you can easily communicate through walls from one room to another without lags or drops.
Furthermore, the connection via gold-plated RCA and digital optical outputs produces premium sound through your speakers. More to the striking design is that you don't have to use any software or apps to get started.
BluMe also allows the pairing of up to 8 devices producing clear, high-quality sound, making it a convenient gift to any home.
Pros
Easy to setup
Pairs up to 8 devices
Produce high-quality sound without lags or breaks
Long-range and stable transmission
Durable and attractive design
Operates with both digital and analog connectivity
Cons
It comes without an output selector switch
The antenna feels flimsy
Avantree Oasis Bluetooth Transmitter Receiver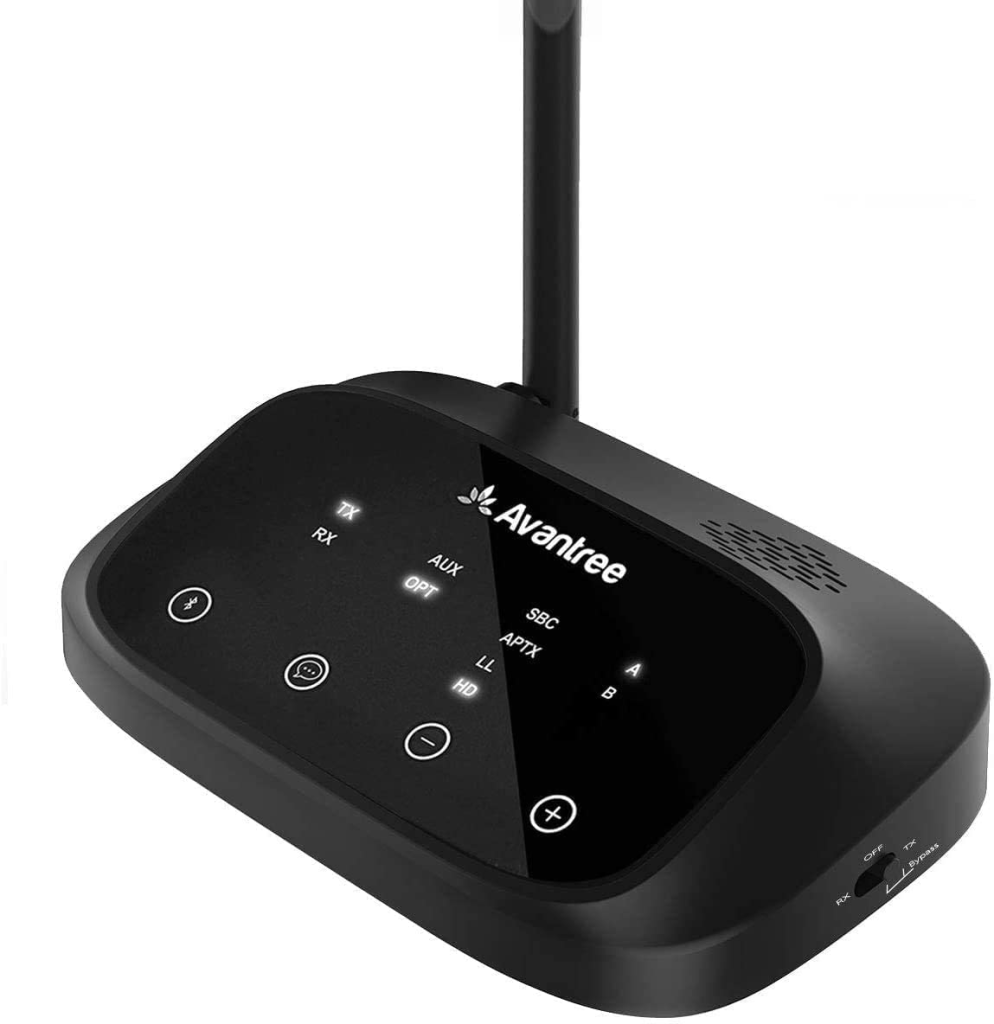 Making a bold entrance in this top-rated list is the Avantree Bluetooth audio receiver. Let's see how it shows off its prowess:
Design and Quality
At first sight, the striking design has a 30mm black and unbendable antenna. The chassis features a top panel with all the functions touch-enabled. Besides, the display is convenient and well-marked in white to ensure the user identifies and uses the correct mode.
The speaker section on the front panel helps you determine the volume rate for better adjustments. Also, a side panel comes with a push-button for functions like off, Bypass, and RX.
Above all, this compact design fits just anywhere you put it. Though entirely made from plastic, rest assured that the plastic is of top-notch quality to deliver ongoing use.
Performance
You've got to agree that Avantree is among the most advanced Bluetooth receivers. Primarily, it features Bluetooth 5.0, aptX Low Latency, aptX HD, and LL support and aptX. Plus, it supports SBC and AAC codecs.
The aptX Low Latency essential codecs eliminate sound lags when watching favorite shows or playing video games.
What are you watching or listening to? This device has an LL/HD switch that allows forcing a specific mode of Bluetooth codec to match the content you're enjoying. LL for TV and HD for music listening.
The pairing is fast and straightforward, with long-range transmission up to 164 feet away without obstruction. Oasis can also be a bypass device between your TV and your stereo when you have inadequate optical outputs on your TV to connect the stereo and the Oasis Plus.
Pros
2-in-1 operation featuring receiver and transmitter
Touch-sensitive control panel
Use of specific codecs to match content
Bypass function for versatile connection
Cons
The plastic body is not the most durable
Anker Soundsync Bluetooth Transmitter and Receiver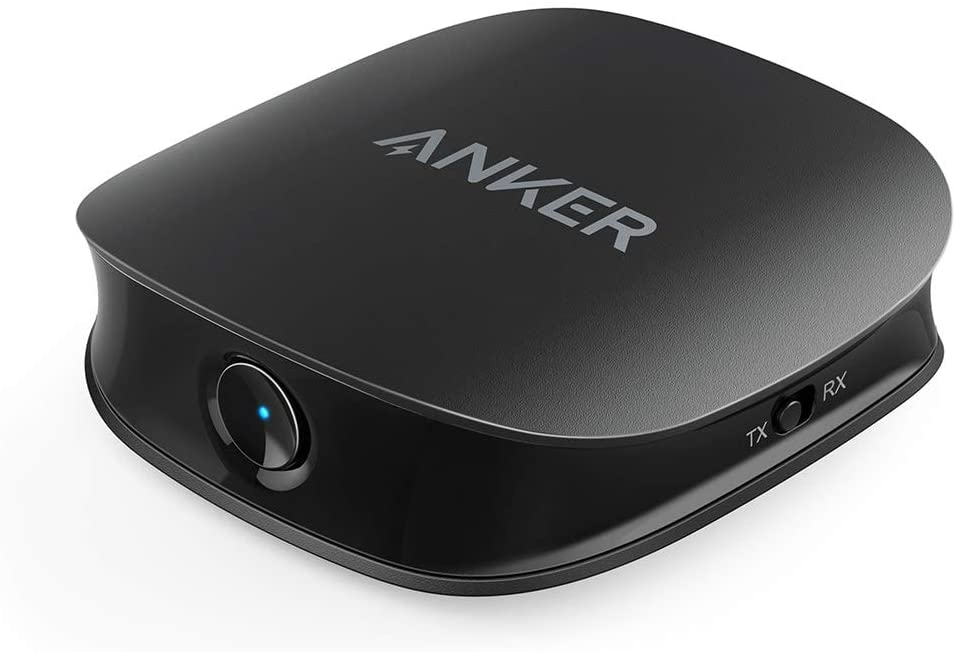 If you desire to get the best sound quality with versatile options, go for Anker. There's more.
Design and Quality
The Anker Bluetooth 2-in-1 is compact and has a space-saving design. Besides, it's black with a simple but classic design which blends wherever you place it.
With just 0.32 pounds, the design is portable; hence you can bring it with you wherever you go. The 2-in-1 design brings together a transmitter and receiver in a tiny body. This adds a Bluetooth function to any device to catch up with today.
Furthermore, the receiver has an aux cable, optical cable, and RCA cable to cover several devices. So, you can link it with your phone, stereo, or TV.
Performance
Firstly, the Anker A3341 pairs effortlessly with your devices; thus, the setup is a breeze.
Because the device has a wireless music streaming option, you can expect the quality battery to last longer; 20 hours as a transmitter and 17.5 hours as a receiver. Besides, it's a 2-in-1, allowing two devices to connect at once in each mode. Optionally, you can plug it in one location if it'll be there for some time.
You can get fantastic movement in your home without carrying any device as a hands-free operation. Moreover, its long-range connectivity covers about 33 feet, suitable for a standard-size space.
Sometimes, a Bluetooth receiver isn't enough, and you also want to transmit audio. Therefore, Anker allows you to plug the output of your TV into the transmitter and pair it with the Bluetooth headphones, or connect to your stereo system and enjoy your playlist from your phone.
Remarkably, a switch on the side determines your decision with the audio. It couldn't be simpler.
The Anker SoundSync comprises aptX HD and low-latency sound for creating higher quality audio and lower latency sound. This way, the audio, and the video stay in sync when transmitting to Bluetooth headphones.
Pros
Space-saving and portable
Simple but classy
2-in-1 Bluetooth receiver and transmitter functionality
Long-lasting battery life
Easy setup and hands-free operation
Connect to several devices
Long-range connectivity
Cons
It goes to sleep mode after a short while of no audio; hence requires constant manual turning on.
Poor audio quality when connected to two headphones
Besign BE-RX Long Range Bluetooth Audio Receiver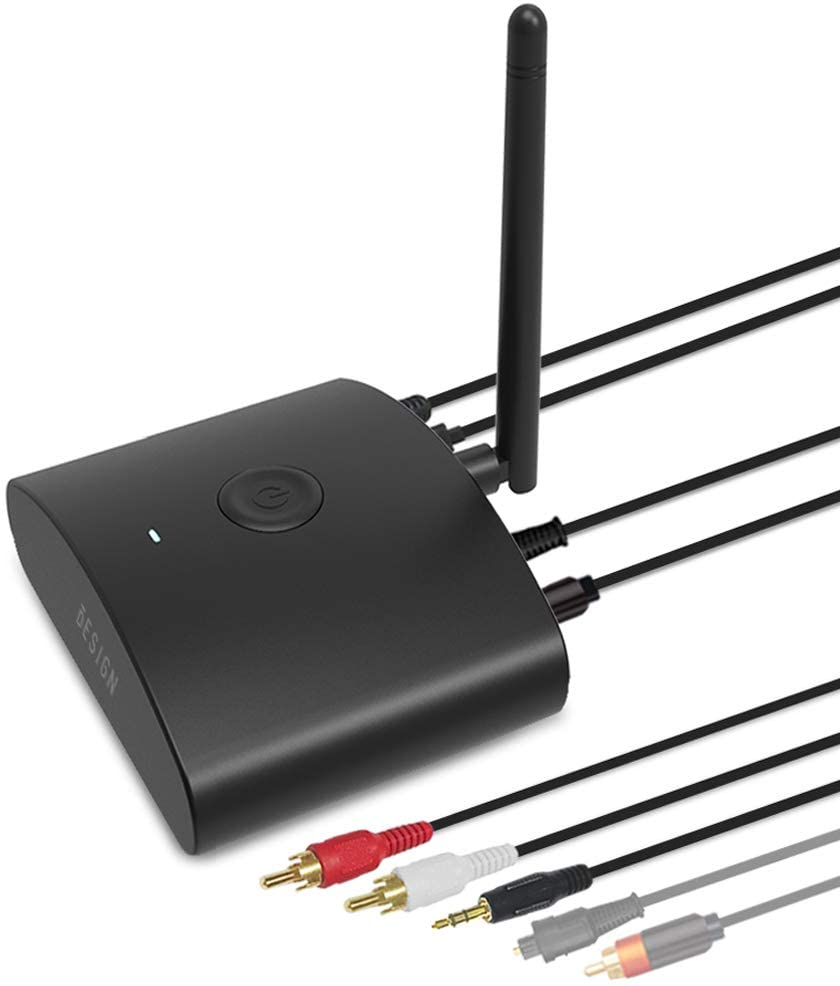 Design and Quality
Right from the box, a small but sleek antenna meets your eyes. Fortunately, it's solid and unbendable so it won't break easily. The chassis has a concave shape that adds a touch of elegance wherever you place it.
Remarkably, it's a simple design that is very easy to use. On the top of the chassis, there's an on/off button that's very easy to press. That's it! No more buttons to press for whatever functions unless operating from your phone.
Also, it's an all-black design except for the logo in soft white; hence easy to blend with your interior décor. It comes in an ideal size and is lightweight to place even on top of speakers or delicate surfaces.
The metal construction lasts longer, serving you with nothing but quality.
Performance
Right off the bat, Besign presents Bluetooth 5.0 and aptX technology. Powered by a micro USB, this receiver requires manual turning on by pressing the power button.
Though, some users preferred the smart plug to power this unit automatically. But in this case, Besign works well with manual powering since it prevents accidental pairing to your phone. The best part? It provides CD-quality sound up to 100 feet away.
As a long-range Bluetooth audio receiver, it features a mains adapter and connects through AUX or RCA. It connects with many speakers available even without a digital output.
This budget-friendly unit comes with an Optical Out to the receiver. Therefore, it goes wireless to digital directly – and allows your receiver to translate the digital audio.
Aside from the impressive long-range, the setup and connectivity are also straightforward for excellent sound quality.
Pros
Compact and lightweight
Long-range connectivity
Connects to most speakers
Easy setup and pairing
Manual powering to avoid unintentional paring
Cons
The manual powering is inconvenient if you're far from the device
It comes with short cables
Denon Professional DN-200BR Bluetooth Audio Receiver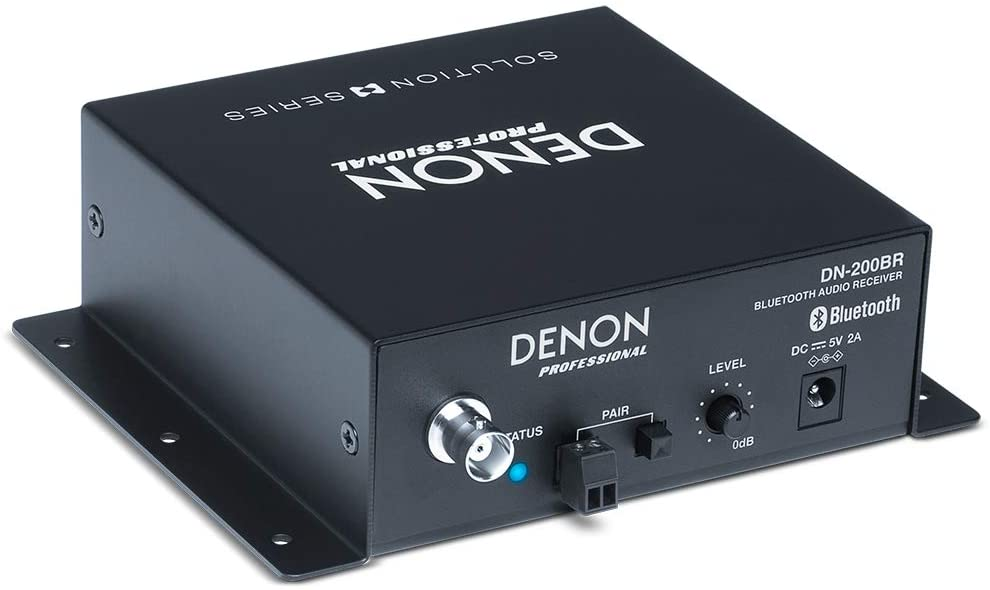 Being a household name in home theater technology, it makes sense to appear on this list. Denon undeniably creates a stable Bluetooth connection to provide excellent audio performance. Let's break it down into details;
Design and Quality
The build quality of Denon is a striking feature that can't go without notice. To be precise, the metal structure feels solid and appears to be long-lasting.
This Bluetooth receiver features unique engineering that allows you to install it near your stereo system. Better still, it comes with inbuilt eyelets for effortless mounting screws.
There's a status indicator in the front panel, a 5V 2A DC power input, a proprietary port for the Bluetooth module, and a level adjustment.
Conversely, the back has two variable quarter-inch outputs and two well-adjusted XLR outputs. It works well with high-end gear. Besides, you need an adapter to work with a traditional 3.5mm jack.
Performance
As expected from Denon, the performance is highly exceptional. You likely won't notice any lag or break in the audio all through unless you have a very high-quality Amp combo.
Also, its pro-grade specifications support all different profiles such as hands-free, mainstream, and even headset. The wireless connectivity is strong and stable for as far as 33 feet away, creating balanced mixers and amp systems integration.
Remarkably, you can add this Bluetooth receiver effortlessly to any audio system you please, in the house or even in the car.
Pros
No lag or breaks in sound quality
Supports all audio profiles
Strong and long-range transmission
Works with any audio system
Striking and durable build quality
Easy to install with inbuilt eyelets
Cons
Sometimes, there's a slight loss in audio
Difficult to support most modern phones
Bluetooth Audio Receiver Buying Guide
Despite concluding which is the best Bluetooth audio receiver in the market, some people are unlikely to make the right choice. You're likely to compromise, exaggerate, or overlook the features you need.
Fortunately, the buying guide below helps you make the ideal decision quicker.
Portability
Do you need to hook your Bluetooth audio receiver to your headphones, car stereo, or home theatre system? Preferably, look for a compact choice to carry on the go.
Better still, check the power supply because some units are only car compatible, while others work with batteries or standard AC wall adapters.
Audio Inputs
If you want a Bluetooth receiver for your car, it'll be best to get a single 3.5mm AUX input jack. But, if you're going to hook a Bluetooth receiver to a stereo system, you should look for an option that supports RCA inputs.
Audio Quality
Truthfully, it does not always do Bluetooth produces high-quality audio.
However, it's possible to get the best sound if you search for a receiver compatible with Macbooks, Android, and PCs. Most likely, an aptX codec establishes the best sound.
Which Is Better: Bluetooth Receiver Vs. Bluetooth Transmitter?
First, a receiver uses a Bluetooth signal to transmit sound from the current non-compatible Bluetooth device. Therefore, a Bluetooth receiver can connect to your analog or digital stereo system and send your favorite playlist from your phone to the speaker.
As a result, it converts any audio system wireless and a Bluetooth controllable device. You can get the desired quality sound while experiencing the wireless connectivity benefits.
Conversely, a Bluetooth transmitter converts incompatible Bluetooth devices to compatible ones. This device enables TVs and stereo systems to stream high-quality sound to headphones and speakers.
In simpler words, a transmitter transmits a Bluetooth signal allowing you to control it from a compatible device, such as a phone or tablet. So, the transmitter connects to a digital or analog output and sends a signal to specific Bluetooth devices.
Most importantly, a Bluetooth transmitter allows you to listen to or watch your movies and music without disturbing everyone. Because you can connect your headset wirelessly and freely move about your house as you enjoy your content.
Bluetooth Receiver vs. Transmitter
Rather than observing which is better, you should focus on which works for you. These devices have unique features that help make daily routines more convenient and enjoyable. But after looking at the definition for each above, this is what you can gather;
You should get a Bluetooth receiver if you own an old stereo system but can't dispose of it because of its stunning appearance or sound quality. This is because it's the best way to convert your wired stereo making it Bluetooth compatible. So, you can play music even from a stereo that works with tapes and records alone.
On the other hand, get a Bluetooth transmitter if you want to stream audio from a non-Bluetooth device like your TV. It works even more perfect if you get a new wireless speaker system that you can stream the audio effortlessly from your TV. Better still, it's excellent for those who prefer wearing headphones to enjoy their content.
However, a common problem for Bluetooth transmitters and receivers is the cross or loss of signals when there's interference from other Bluetooth devices nearby. Besides, even WI-FI can interfere with the Bluetooth signal you're using.
So ensure you buy any devices with a high tolerance of interference. Preferably, a 24-bit with aptX HD offers a more stable signal in cases of much interference.
In conclusion, there're many similarities between a transmitter and a receiver, but the difference lies in the signal. A Bluetooth receiver takes in and out signals, while a Bluetooth transmitter only sends signals.
FAQS
What Is The Work Of A Bluetooth Audio Receiver?
The work of a Bluetooth audio receiver is to establish a secondary source of wireless audio. This way, you can wirelessly stream music. Still, it offers a more extended range of operations. A Bluetooth receiver is ideal for both your home and your car.
Is A Bluetooth Receiver the Same As A Transmitter?
No. The major difference between a Bluetooth receiver and a transmitter lies in operation. A transmitter works mainly to provide audio output. But, a Bluetooth receiver offers both input and output.
How Do You Connect a Bluetooth Audio Receiver To An Amp?
Connecting amplifiers with Bluetooth audio receivers is quite effortless. Firstly, you must have an audio jack or AC output. Then, pair your Bluetooth receiver with either your phone, laptop, or stereo system. Voila, you're good to enjoy your music!
Conclusion
The top-rated selection above doesn't feature all the available options in the market. However, it's exhaustive enough to help you find the best Bluetooth audio receiver for your input and output requirements.
Most importantly, it has options that suit every budget without compromising convenience and overall performance. So, if you spend many days feeling lazy or exhausted after a long day's work, playing music through a Bluetooth audio receiver works magic. And, you don't have to bring your phone along!
Generally, a Bluetooth receiver is a small investment that bursts out so many possibilities for your enjoyment.
You may also be interested in:

About Post Author