The earbud experience doesn't get any better than quality TWS units. TWS earbuds have skyrocketed in popularity, especially with the Corona pandemic that's yet to be behind us.
As their name implies, true wireless stereo earbuds allow you to truly rid yourself of wires. You get total freedom which makes these earbuds the best for active use while also promoting their portability.
Also, losing the wires takes your audio listening session to a new level of comfort. You may even forget that you have them in your ears.
But even as you dive into this relaxing listening experience, you want your audio at peak performance.
TWS (True Wireless Stereo) Earbuds Comparison Table
Sony WF-1000XM4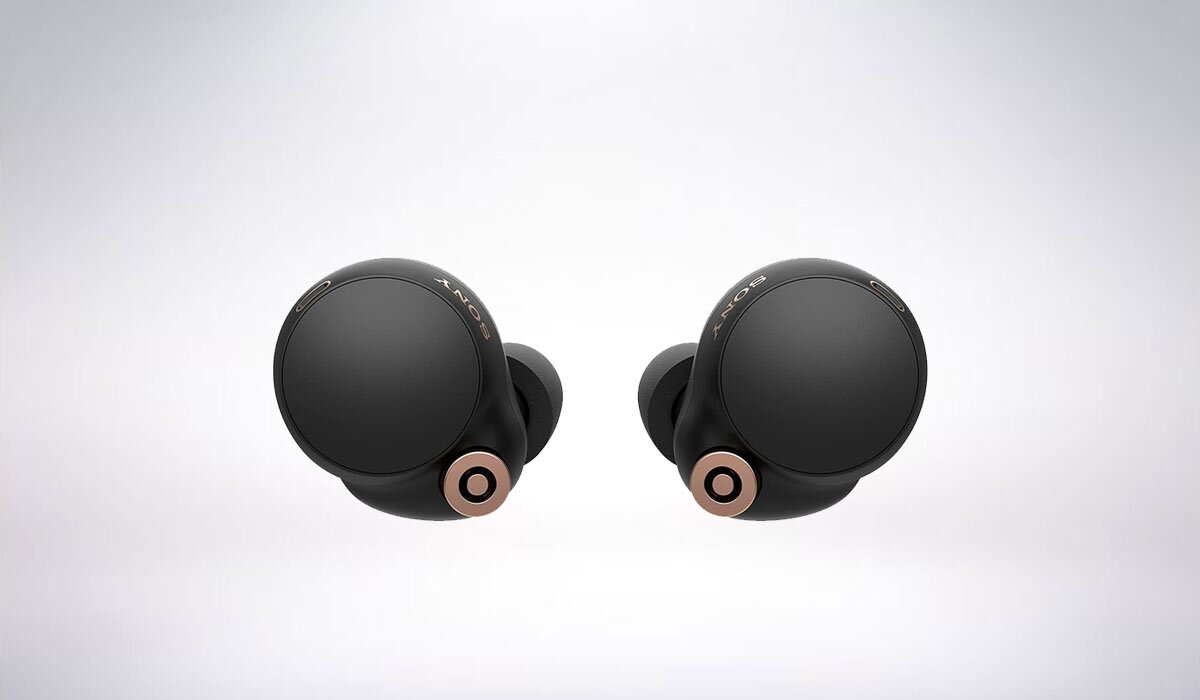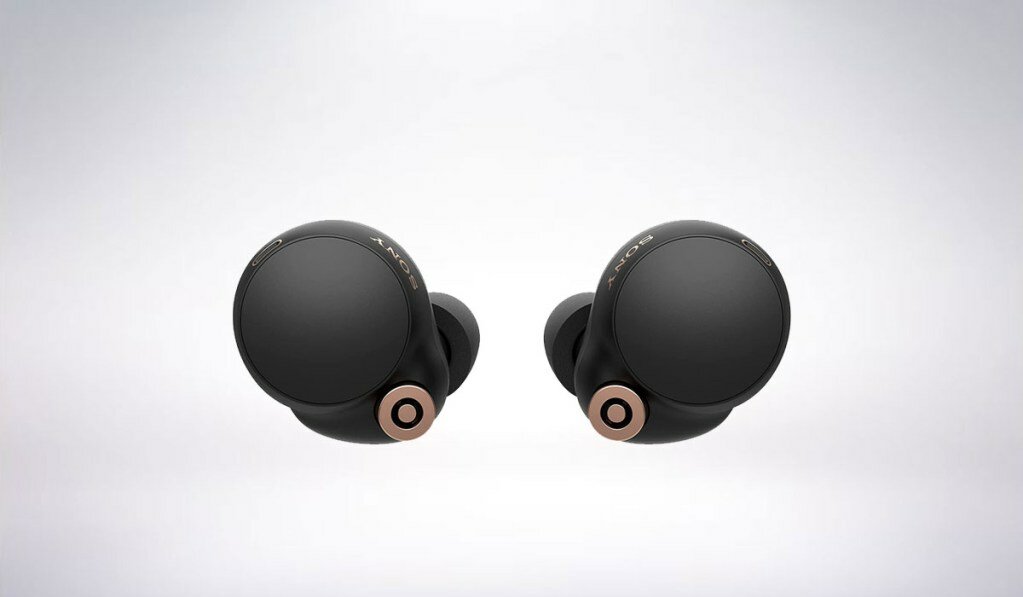 Design and Quality
The WF-1000XM4s have a great aesthetic as well as functionality. Being the successor to the Sony WF-1000XM3, they feature a couple of upgrades that bring them up to the level of Sony's WH-1000XM4 headphones. Firstly, the case is way smaller than the WF-1000XM3's, making it easier for you to slide it into your small pocket.
Their new integrated V1 processor promises better Bluetooth connectivity and noise cancellation power than the XM3's QN1e chips. You also get Sony's LDAC codec and High-Res support to improve the sound quality.
Additionally, the XM4s' design improves the ergonomics and fit, which was an issue with the XM3s. Rather than providing separate silicone and foam ear tips, the XM4s combine the noise isolation properties of foam with the silicone's comfort and fit.
Performance
While not the most long-lasting on the list, the Sony WF-1000XM4's internal battery life improves by two hours from its predecessor. You have up to eight hours to enjoy continuous music, which should be enough to serve the daily needs of even the most avid listeners.
You're still getting 24 hours of charging with the battery case like the XM3s. But isn't it excellent to have a bit more endurance while listening?
Thanks to their LDAC codec, the XM4s can handle audio streams peaking at 900 kbps, surpassing the AAC's 256 kbps maximum level. If you're an audiophile with an appetite for high-resolution music, you'll love this incredible LDAC support.
You can turn on the DSEE Extreme on the app to fit in the bits in the music that may get lost during Bluetooth transmission. This way, your music sounds more HI-Fi, providing a better listening experience.
Stand-Out Features
The redesigned ear tips provide better bass performance and improved noise cancellation. Besides, they are smaller and more snug, providing better comfort than the XM3s. With the added listening hours, the XM4s allow you to be outdoors more before requiring replenishment.
Pros
High-res and 360 audio support
Simple, highly-responsive controls
Excellent noise cancellation
The carrying case has a high battery charging capacity
Cons
Lacks Bluetooth multipoint, allowing only single-device pairing
Lacks aptX support
Master & Dynamic MW08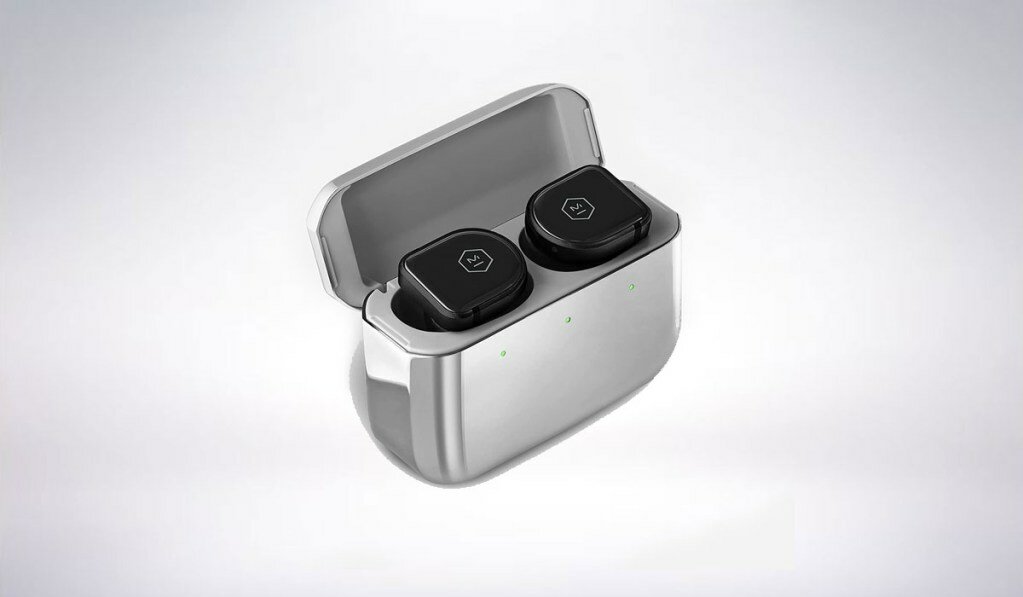 Design and Quality
Master and Dynamic are more popular for their MW07 Plus earbuds. Nonetheless, they're taking a massive step forward with the equally stylish MW08 noise cancellation earbuds.
Like the MW07s, this pair comes with a metallic case, setting them apart from the plastic cases of top competitors like Sony WF-1000XM4s. Besides, the case is flatter than the MW07 and most plastic cases, allowing it to slide easier into your pocket.
Still, the case retains the premium build quality and heft synonymous with the MW07. However, it loses the high-gloss exterior the MW07s have, which ensures you won't see your fingerprint dotted all over it.
It has a USB C port on the side for charging. Being a wholly metallic case, you won't enjoy wireless charging like you would on the WF-1000XM4s.
Rather than the MW07s 10mm Beryllium drivers, this pair upgrades to 11mm, making them quite thick. The earbuds also have a rear-side redesign to better house the upgrades. Plus, the redesign allows for a better fit without needing the stability fingers on the MW07s.
Performance
The MW08s are stretching the limits of how much you can use TWS earbuds before your next charge. With the earbuds able to run the entire day once fully charged, you're getting twice as much listening time as the Bose QuietComfort earbuds.
The battery case also features 30 chargeable hours letting you enjoy music in remote staycations longer than the other alternatives on the list.
Despite the ear tips not being plugged into your ear all the way, as with the Sony WF-1000XM4, their bass performance is outstanding. You get impeccable resonance, extension, and punch with some air.
Stand-Out Features
Although they are the priciest TWS earbuds on this list, the MW08 serve everything in terms of looks and performance to justify their cost. With up to 42 hours of charge time (internal and battery case), you have the best companion for an off-grid vacay.
Not to mention, 12 hours of non-stop listening is the most you're getting on this list and enough for your daily use.
Pros
Unparalleled battery life for extended use
Accurate, rich, and crisp sound quality
Superb noise cancellation
Easy-to-use controls
Cons
Priciest option included
The app lacks EQ
Jabra Elite Active 75t Truly Wireless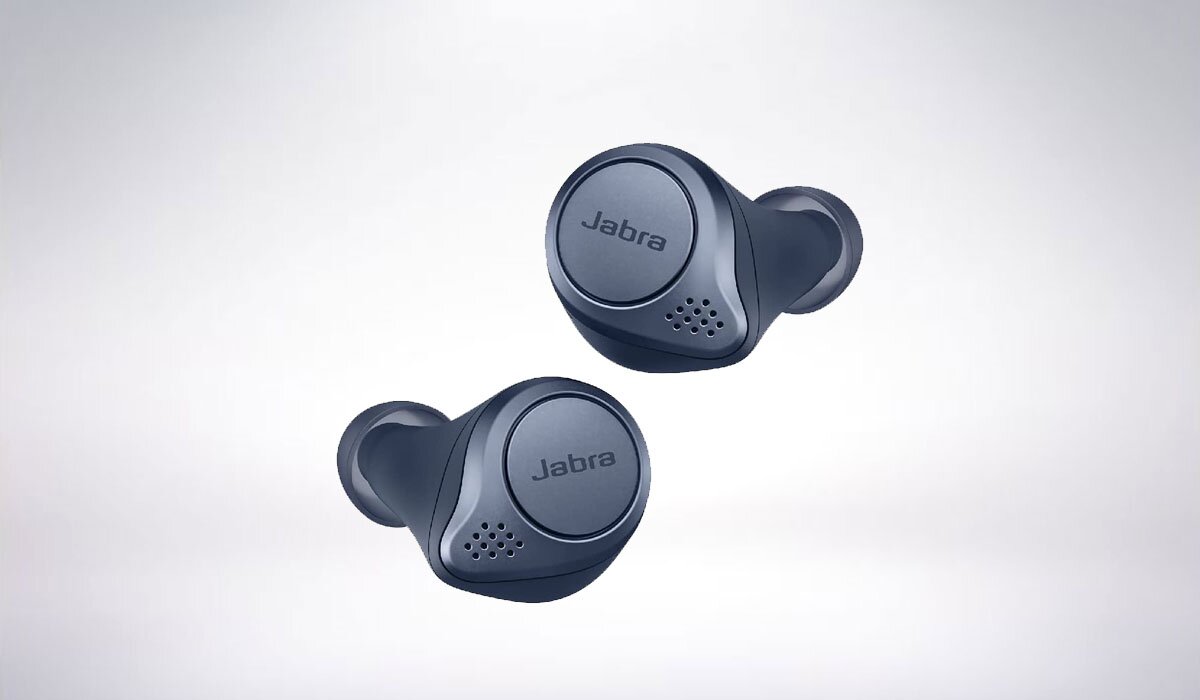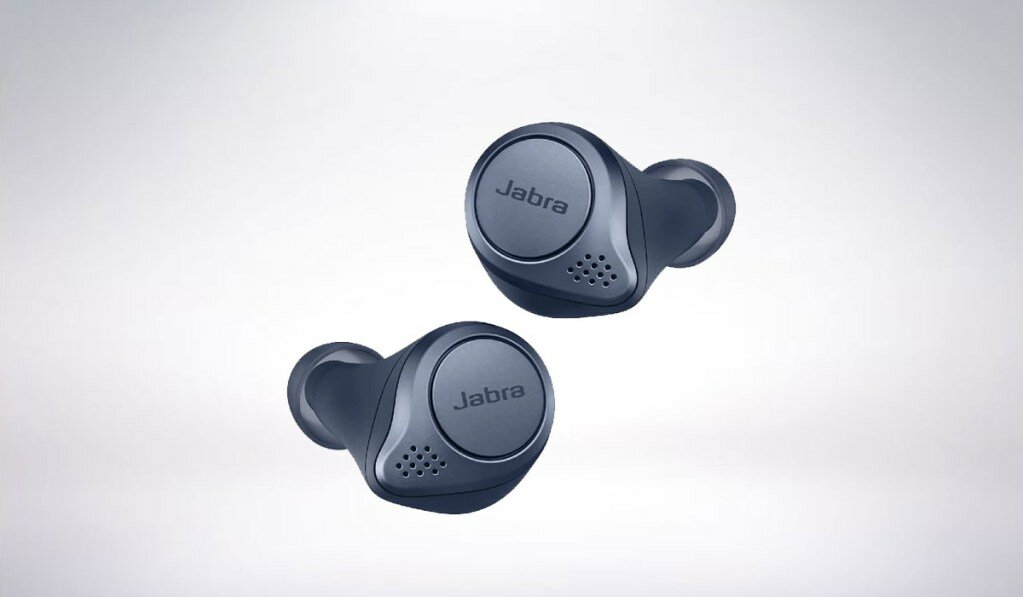 Design and Quality
The biggest difference between the 65ts and the 75ts when it comes to the design is sizing. For starters, the 75ts come in a more compact case which may seem subtle at a glance but makes an immense difference in pocket fit and portability.
Moreover, the 75t earbuds case is flatter than the 65t, allowing you to stand it on a surface without wobbling. Jabra also made the case much simpler to open than the predecessors.
While the 65t case came with a micro-USB jack, 75t features a USB C input. So, if you have an Android phone or USB C cable around, charging your buds is a cinch.
Whereas the 65ts appear small, the company upgraded their petite game with the 75ts, enhancing their comfort and portability. You can feel the weight difference, and the newer pair feels cozier to wear.
Performance
Even though the 75t earbuds get smaller, they improve in battery power, allowing you to listen for longer. With these earbuds, you get 7.5 hours of continuous music which is 2.5 hours more than the 65ts. The case allows you to enjoy a whole day's use of extra charge.
While there's a difference in the charging ports, the improvement isn't that much. Unlike the 65ts that provided an hour's use after 20 minutes of charging, the 75ts do the same in around 15 minutes.
The call quality is impressive, and you can block outside noises for clarity. The 75T also includes an option to hear your voice in the app, ensuring your calls go smoothly.
Although they lack active voice cancellation, their passive performance is one of the best. You're not going to hear a lot around you which allows you to get the juiciest details in your playlist.
As for the sound quality, the Jabra 75ts are an excellent pick if you want a booming bass. There's more compression on these earbuds than on their predecessor to enhance the bass.
Stand-Out Features
The bass quality is on another level. It's not the kind of performance you'd expect from these tiny rigs. Plus, they fit so snugly in your ears; hence the bass has nowhere to run.
Pros
Small and snug design
Ample dust, sweat, and splash protection
Excellent audio output from bass to crisp highs
The app supports Google Assistant and Alexa
Cons
No active noise cancellation
Doesn't support wireless charging
SBC and AAC are the only supported codecs
Sennheiser MOMENTUM True Wireless 3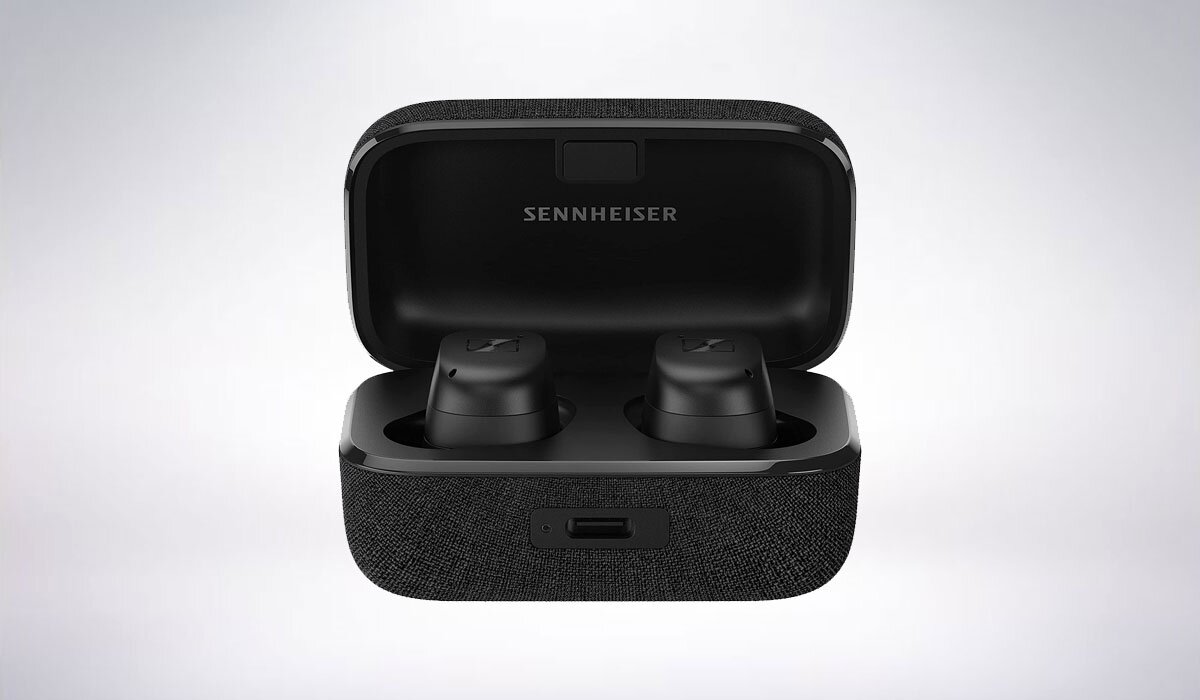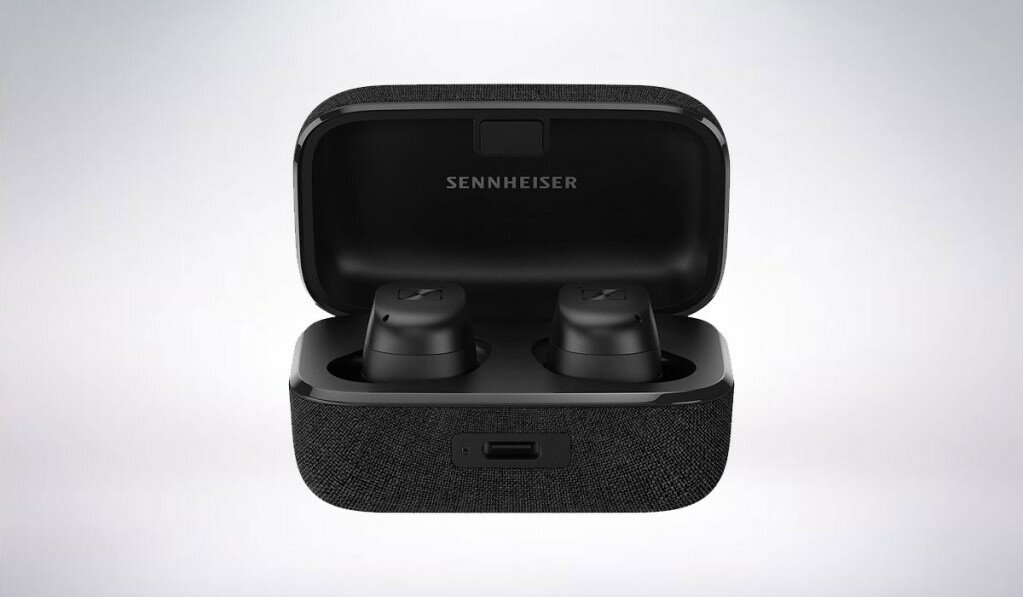 Design and Quality
The MOMENTUM 3s pretty much resemble the 2s in terms of the casing. You still get the fabric material covering the surface and the Sennheiser branding that combine stylishly. However, whereas the MOMENTUM 3s charging jack is at the case's front, the predecessor's is in the rear.
The biggest advantage and difference between the casings is the inclusion of wireless charging in the 3s absent in the 2s.
The earbuds also got an admirable facelift that adds a tad more elegance. While the MOMENTUM 2s had a circular design, the 3s come in somewhat of a square shape. Additionally, the 3s are a bit smaller than the 2s, hence less noticeable.
The silicone ear wing on MOMENTUM 3s is a nice redesign that improves the fit. These ear wings, plus the new shape, make an immense improvement in deterring the pieces from falling off your ear.
Moreover, the 3s include aptX Adaptive besides the SBC, ACC, and aptX available on the 2s. Whereas the 2s have Bluetooth 5.1, the 3s use the better Bluetooth 5.2.
Performance
Unlike the previous earbuds on the list, the 3s don't come with battery life upgrades, though you still get a good performance level.
The MOMENTUM 2 earbuds sounded great with a rich, clean, detailed output. You also have good bass and the ability to customize your EQ. When it comes to the 3s, the sound is better as expected.
Besides EQ customization, you also get a bass boost feature. It adds body to the bass, bumping up that end for enhanced quality. Also, the 3s provide a bit more maximum volume than the 2s.
Effective active noise canceling blocks your surroundings, allowing you to revel in quality sounds. The 3s deter noise better than the 2s and feature "Anti Wind " for wind noise reduction.
Stand-Out Features
The many small yet numerous improvements on the MOMENTUM 3s make this an excellent selection. You get wireless charging, a smaller case, smaller earbud sizes, a better fit, and improved sound.
In particular, the bass is really good, and the enhanced noise cancellation lets you take in all its excellent performance.
Pros
Good sounds from bass to clear mid and crisp highs
Responsive controls to ease use
Controls are customizable
Fantastic noise cancellation
Cons
In-app EQ is weak
No multipoint connection
Bose QuietComfort Earbuds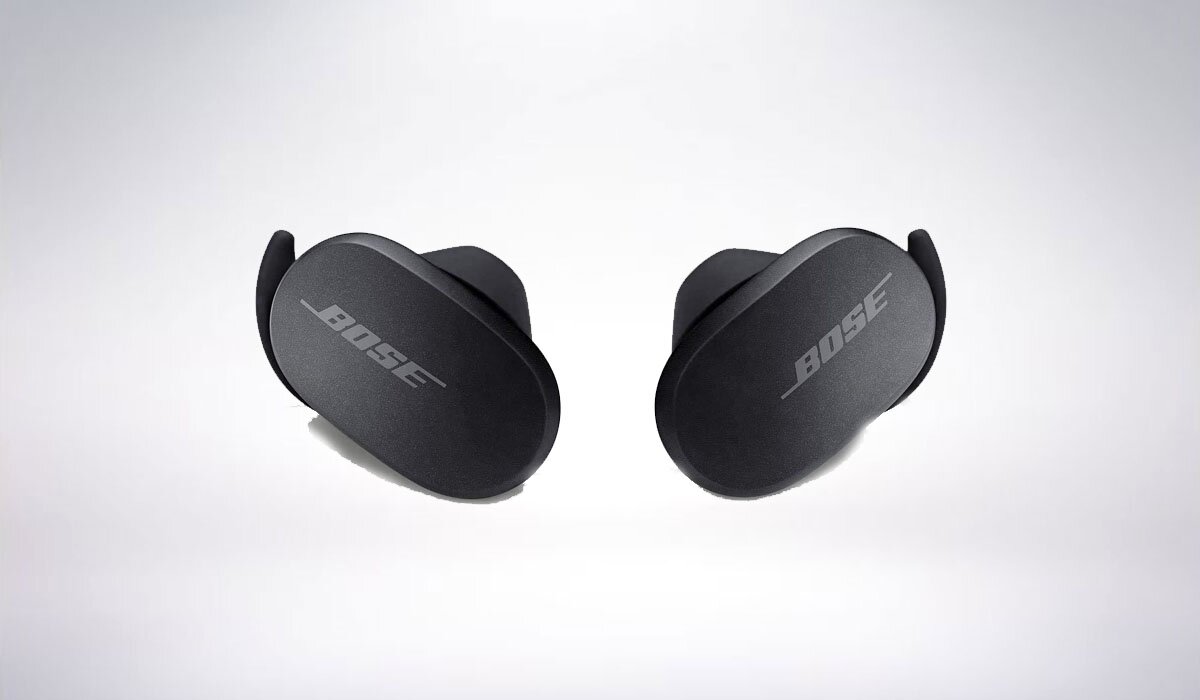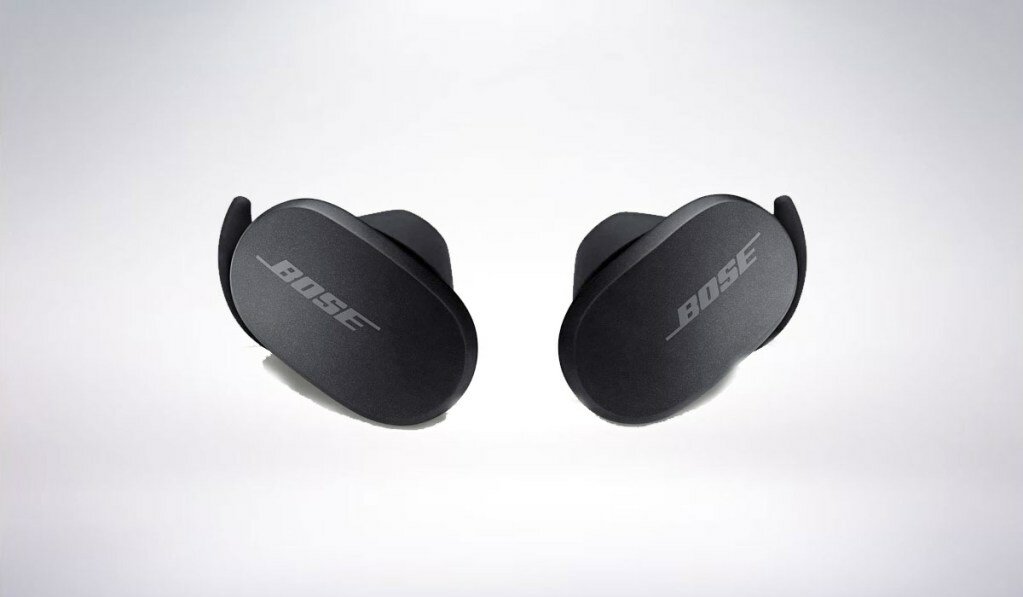 Design and Quality
Since the Bose QuietComfort Earbuds come after the wired QuietComfort 20, they have almost nothing in common. Probably, the only differences that matter are pricing, convenience, and sound.
Although the QuietComfort earbuds are slightly pricier, they outshine their wired sisters in almost every aspect.
The case, while sleek and simplistic, is quite large. So, it may not be the best to carry around your pocket. As with the case, the earbuds are quite large, though they are comfortable to wear.
The ear tips feature silicone construction to provide a tight seal for bass response and passive isolation. You also get three points of contact that provide a secure fit.
Performance
The QuietComfort earbuds provide six hours of usage and an additional two charges with the case. While it's an okay level, it's the least on the list and slightly disappointing considering the huge case.
Nonetheless, hours don't matter when you can get great audio, and that's an area they do shine. With ANC on, sounds like traffic, wind, and crowds are much quieter. These earbuds prove to be true to their endorsement as amongst the best noise-canceling earbuds available.
The QuietComfort earbuds provide weighty lows but don't give as excellent as the bass quality available on the MW08s. More noticeable is the treble, with more detail for a dynamic sound profile. The audio is clean with good depth and separation.
While the shape of the ear tips doesn't cause any uncomfortable pressure-like sensation, it means you also won't get impeccable passive voice cancellation.
Stand-Out Features
Despite providing less battery life than the other TWS earbuds, these units always allow you to keep tabs on how much you've got. With the five-dot battery life indicator, you can easily tell how soon you'll be out of charge.
The sound is fantastic, too, especially with their extraordinary active noise cancellation.
Pros
Impressive noise cancelation
Fit snugly in place
Supports wireless charging
The audio is balanced, rich, and clear
Cons
Limited customization and controls
Relatively heavy carrying case
Kef Mu3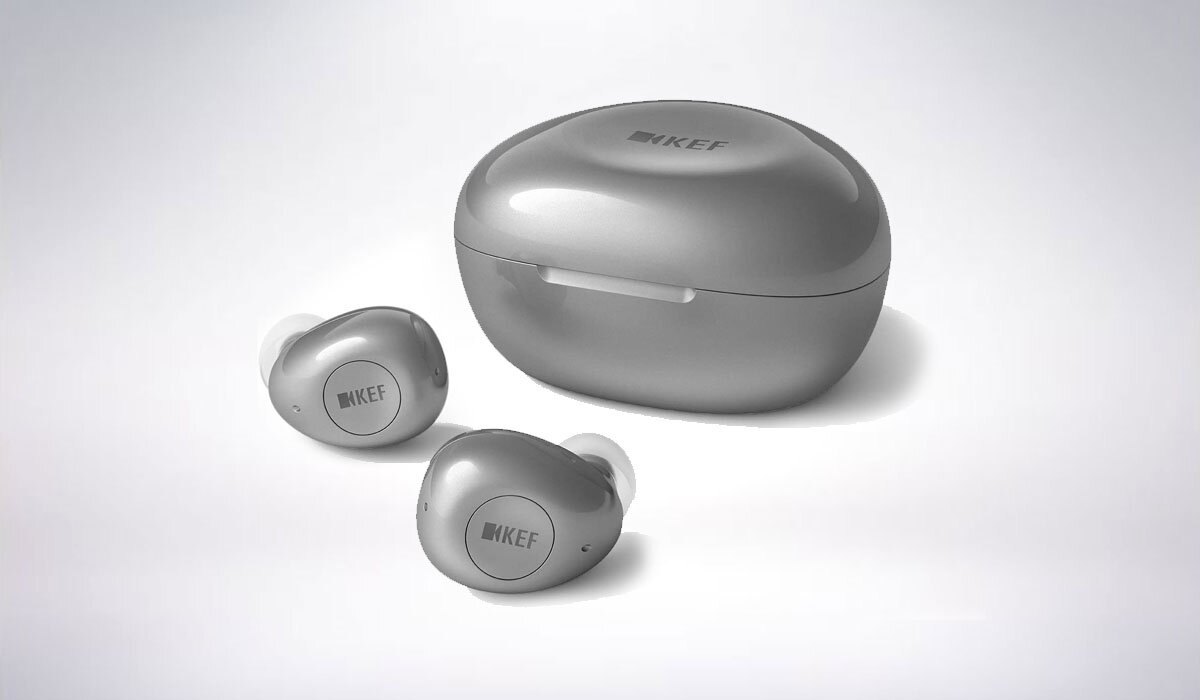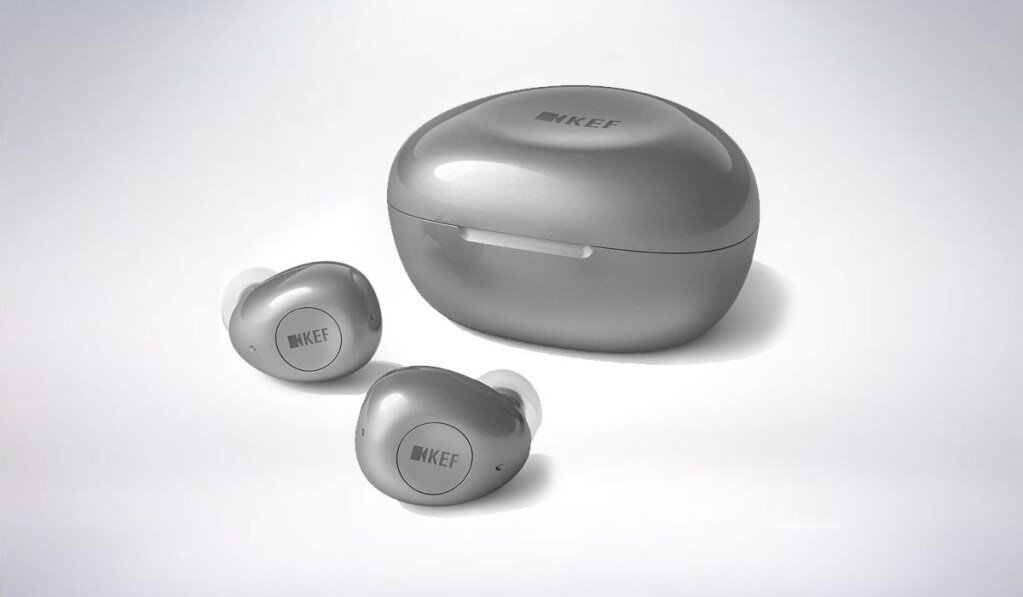 Design and Quality
Although coming in only gray and dark gray options, the Kef Mu3 earbuds are amongst the prettiest earbuds available. They look like miniature sculptures with all the small grooves and curves that make them attractive.
The build quality is superb, and they come with an IPX5 rating, so they're okay in all weather conditions. They feature four different-sized silicone tips, with the largest fitting quite nicely. Still, they aren't the best for exercising as the grip isn't the most snug.
Since the ear tips aren't too tight and each weighs 5.8grams, these earbuds ensure comfort over extended usage.
Most people won't consider the medium-sized case pocketable, though it's still a cinch to carry around.
They come with a USB C port, although they don't support wireless charging.
Performance
With up to nine hours of playing before charging, the Mu3s are only second to the MW08s on this list. You can stream your favorite music for ages, though you won't get as much charge storage on the case as most alternatives here.
Interestingly, you only need to charge these units for five minutes to get an hour of playtime. That is amongst the fastest level, being thrice as fast as the Jabra 75ts.
The sound stays balanced throughout the frequency range. They don't get crazily loud, and everything remains in control irrespective of volume.
Their call quality is good, with a clear, loud voice transmission. There isn't much noise cancelation, though understanding voices isn't challenging.
Stand-Out Features
The Mu3s, while lacking much customization, look super attractive, and their audio performance is top tier. There are no bright highs, overpowered bass, or recessed mids like many cheap products.
They have just the right amount of everything; the bass is detailed, deep, and powerful without the bloat. Also, the mid-range is tonally rich with ample air and detail in the high register.
Pros
Well-balanced performance
Superb bass quality
Sleek, sturdy build with IPX5 water resistance
App has customizable EQ
Cons
Lacks Bluetooth multipoint
Call quality isn't the best
TWS Earbuds Buying Guide
As with any audio product, sound quality and value for money are paramount in TWS earbuds selection. To narrow your choices, here are the top factors to analyze.
Comfort and Fit
Not all TWS earbuds fit snuggly in place. Based on how you plan to use your pair, you can decide whether any good-sounding ones are okay or if the fit is of key importance too.
For instance, some stay in place so nicely, allowing you to have them on while working out or jogging. However, others may be best while taking your bus or taxi or if you need them while chilling at home.
While some TWS earbuds sit in your ear, others stay deep in your ear or come with hooks that attach around your ear. Although those that sit in your ear are cozy to wear for extended durations, they tend to fall off during fast movements.
Meanwhile, those who sit deep or come with hooks may hurt you with prolonged usage but are more secure during fast-paced activity.
Battery Life
Without a doubt, an abrupt stop to your audio is going to disorient your activities. If your earbuds die in the middle of your workout, you may lose the motivation to complete your routine.
If you're on a long commute, you are either going to get bored or have to put up with the annoying noises you were avoiding.
So, before settling on an option, be sure that your TWS earbuds have an extended battery life that allows you to complete your activities without interruption.
Noise Cancellation
Noise cancellation comes in either active or passive forms. Passive cancelation or sound isolation tries to deter sound waves from reaching your ears, primarily with design aspects like silicone tips. While active cancellation is okay, it isn't sufficient for most cases.
Getting earbuds with active noise cancellation provides you with the best performance in detecting and blocking noises. Active noise cancellation uses a microphone to capture the noise in your surroundings. Next, the earbud's chip creates an anti-signal to counter the noise.
Active sound cancellation transports your listening experience to the heavens. Since the counter-signal is of equal magnitude to the surrounding noise, it ensures all you hear is pure music and nothing else.
Active cancellation isn't only beneficial while streaming your favorite hits. Do you work from home yet have noisy pets and daily members? Ensuring that your TWS earbuds have active cancellation gives you a smooth time to get your assignments done timely.
Bluetooth Codec
Bluetooth has a limited bandwidth amount to transmit audio. Moreover, multiple factors impact Bluetooth connectivity, like environmental factors, interference, distance from the source, and more. Hence the audio needs compression for transmission via Bluetooth.
Bluetooth codecs undertake the encoding and decoding for this transmission to happen. The type of codec your earbuds use determines what quality of sound you'll get and the latency involved in the transmission.
However, latency doesn't only depend on the Bluetooth codec but also on the signal strength and device processing power, among others. Hence, while you'll get average values on what latency to expect with a particular codec, the levels always fluctuate.
A superb Bluetooth codec allows you to have good bitrate, bit depth, latency, and sample rate levels for great sounds.
Bluetooth codecs to look out for as you purchase TWS earbuds are:
AAC
aptX
aptX HD
aptX LL
LDAC
aptX Adaptive
Controls
Quality TWS earbuds allow you to tweak your listening experience right on your earbuds. Look for TWS earbuds that allow you to lower or raise the volume, take calls, or move to the next song easily. Some earbuds even stop playing music as soon as they're out of your ears.
Besides the basic controls, you can do little to alter earbuds like the Mu3S. If adjusting the noise cancellation level, manually switching between the codecs, and more matters, look for superb controls.
Longevity
Getting earbuds that serve you during many listens is a no-brainer. Nowadays, more and more gadgets are incorporating water-resistant construction, and TWS earbuds are no different. If you want TWS earbuds to entertain you while enjoying your sports, these are an excellent pick.
Nonetheless, water-resistant earbuds tend to be pricey. So, if they are beyond your reach, seek at least a pair that provides sweat resistance.
Carrying Case
Besides having stylish earbuds with fantastic audio, consider the size and design of their carrying case. While large cases typically mean more power for your gadget, they aren't as portable. Consider getting a case that you can easily carry around in your pocket.
Additionally, check the simplicity of storing your earbuds in them when not in use. If you have to be too keen to get this right, your earbuds may fall off if you fail to secure them properly. Plus, improper positioning means they'll fail to charge and not be ready when you need them.
FAQs
Are TWS Earbuds Worth It?
Due to their wire-free simplicity, TWS earbuds are worth it for their clean look and convenience. You don't have to align cabling in a certain way, making them easy to use and carry around.
Since you can charge them in the case, you don't have to wait until you get home.
However, the absence of wires means all components go into the earpiece. Hence, they are generally larger than wireless and wired options, which you may find uncomfortable.
Also, the microphone is further from your mouth than wireless options, which impacts call speech quality.
What Does TWS Mean in Earbuds?
TWS in earbuds means that your equipment does away with wires, cramming everything into the earpieces. True Wireless Stereo earbuds let you insert them in your ears or hook them around the ears without a dangling wire connection like wireless earbuds.
How Long Do True Wireless Earbuds Last?
Good True Wireless earbuds last over five hours before needing a recharge. Getting a resilient pair lets you enjoy your music or podcasts for longer.
Conclusion
Undoubtedly, getting convenient performance doesn't only end with grabbing any TWS earbuds. Fortunately, we believe this should trouble you no more with the above purchasing guide.
That said, any of these best TWS earbuds promises impressive functionality. While there are many differences on this list, the biggest are pricing and design. So, if you love the look and can afford them, any of these earbuds are likely to blow you away.
You may also be interested in:
About Post Author