Let's face it – workouts are challenging and take more than a will to push through. But research has proven that music creates a positive mindset, puts you in the right mood, and can delay fatigue. Another study found that listening to music while running increases pace and the distance you can cover without feeling too tired.
However, a pair of ill-fitting, cacophonous, and hard-to-use earbuds or in-ear monitors (IEMs) can kill your workout vibe fast. But, you can avoid all that by having the right pair of wireless workout earbuds. The only problem is there are too many, and not all live up to their name.
That's why we set out to test, push to limits, and separate the best from the clutter. And now, get your favorite workout playlist ready as we present to you the eight best wireless earbuds for workouts and a selection guide to lead right to your perfect match.
Best Wireless Workout Earbuds Summary Table
Jabra Elite 85T


Design and build
Jabra Elite 85t earbuds are an upgrade of the Jabra Elite 75t. These truly wireless earbuds have excellent ergonomics famous in Jabra products, with a bit of tweak for a better fit. The buds are oval-shaped, which Jabra says helps prevent pressure build-up in the ears.
Rather than the usual circular ear tips, the 85t have oblong ear tips that sit a little further into the ear canal. And, there are three different-sized pairs of silicone ear gels included.
For control, there is a physical button on each bud, adorned nicely by the Jabra logo. These button controls are better than touch controls, especially when your hands are all sweaty.
Plus, you can reconfigure the controls in the Jabra Sound+ app for a better personalized experience. Overall, the Elite 85t headphones are compact and lightweight, with a six-microphone array and IPX4 waterproof rating.
Every pair comes with a versatile charging case that supports wireless charging over Qi charging mats or through an included USB-C cable. The case is plastic-made, with a magnet to snap shut and keep it closed. And for the color, you can Have Gold/Beige, Copper/Black, Black/Gray, Or the Initial Titanium Black option.
Performance
Jabra's headphones have a well-balanced sound, and the Elite 85ts are no different. They feature 12mm dynamic drivers that deliver immense volume with deep bass and average mids and highs.
You can tweak the sound in any direction through the tunable EQ in the accompanying app, as well as select your preferred voice assistant. Even with no customization, the sound output is well-balanced, clear, and natural sounding.
These headphones feature active noise canceling (ANC) technology, enabled through the left earbud's control. The ANC tech, or HearThru feature, uses feedforward and feedback noise canceling to either block or allow surrounding noise into your ears.
You will have no issue answering calls with Elite 85ts, as the microphones work perfectly fine.
You can connect up to two devices simultaneously to the 85ts. They run on Bluetooth 5.1 firmware and support the SBC and AAC Bluetooth codecs. With ANC on, you'll get up to 5 hours continuous playback on a single charge and 25 hours with the casing. The battery life will last longer with the ANC off.
Besides, it's dangerous to run wearing them with ANC on for obvious reasons. In our honest opinion, if you can afford these ear buds from Jabra, then get them, and your workouts will never be the same again.
Pros
Powerful audio performance
Superb noise cancellation
Good water-resistant design
Adjustable EQ and controls
Cons
Pricey
Sound signature lacks full accuracy
Jaybird Vista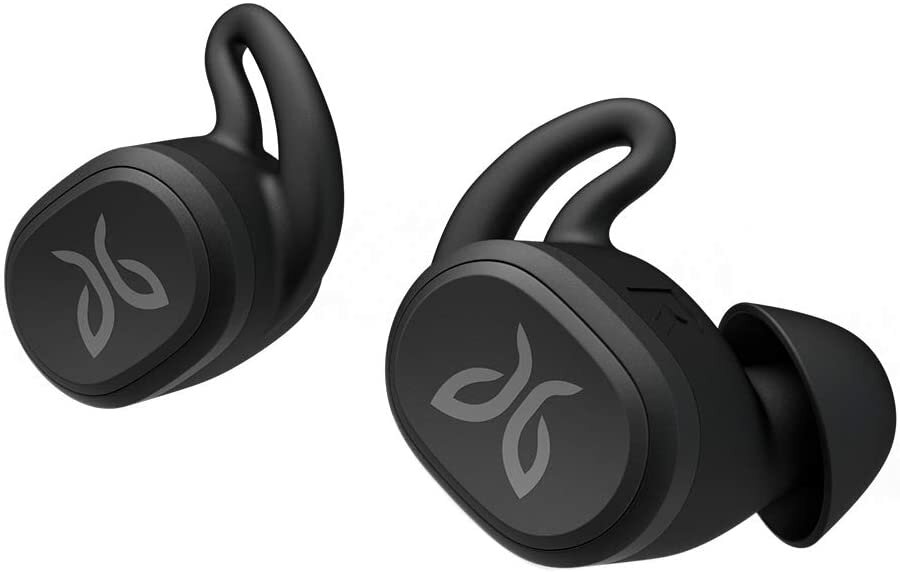 Design and build
The Jaybird Vista true earbuds have a round, blocky build, with sleeves to improve their snug. The angled nozzles ameliorate potential ear canal fatigue, though the housing is slightly larger for small ears.
The controls are through flat buttons on each bud, each adorned with the Jaybird logo. They offer basic calls and playback controls, which you can customize through the Jaybird MySound app.
The design is very appealing and feels sturdy. The IPX7 ratings mean these workout headphones can survive an accidental dip in the water, though they aren't swimmer-friendly. The earbuds come with a charging case, a USB-C charging case, and three different-sized sports fins and ear tips.
Performance
The Jaybird Vista stays put even in the hardest of workouts. The fit is comfortable and secure. You get up to 6 hours of playback on a single charge, with an extension of 10 more with the charging case. The compact case is light and easily fits in your pocket or bag, and a five-minute charge gives you a whole hour of playback and takes two hours to fully charge.
These ear buds feature the JBS1 chipset for easy pairing and intense, reliable lag-free audio for up to 10 meters connection distance. They run on Bluetooth 5.0 firmware, though they don't support high-quality Bluetooth codecs.
Sound isolation is superb, but these earbuds have no noise-canceling capabilities. The Vistas are excellent for noisy places like the gym, but it's safer to wear only one bud while running outdoors.
The sound is well balanced, but with a slight emphasis on the midrange and bass notes for an added oomph. However, the mic isn't that good, and you may sound gargled and unnatural due to the attenuated low-end microphone response.
Pros
Awesome sound quality
Firm and secure fit
Stereo playback
Good waterproof capability
Cons
Pricey
Average call quality
No EQ control in the app
Bose Sport Earbuds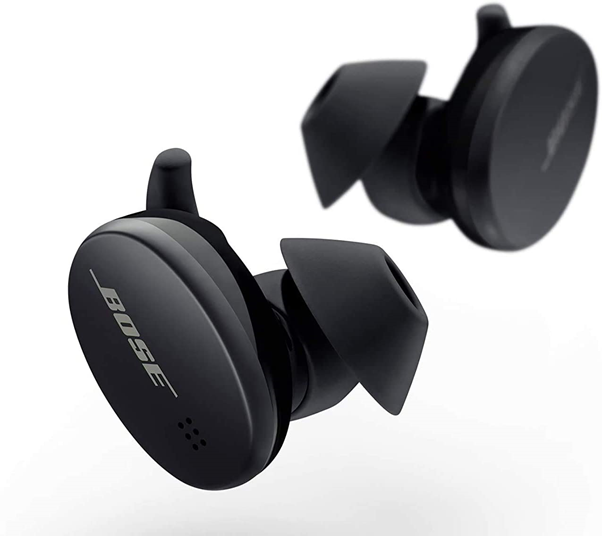 Design and build
The Bose Sport Earbuds came shortly after the Bose QuietComfort Earbuds, with slight differences in build and design. Bose ditched the ridiculous look of the QuietComforts and gave the Sports a rounder and subtle appearance. They still protrude from the ears but have a more rugged feel on their rigid plastic surfaces. You have three color choices: Triple Black, Baltic Blue, or Glacier White.
The silicone ear tips fit tightly, are comfortable for extended wear, and come in three different-sized pairs. The charging case is compact, very light, and is chargeable through a provided USB-C cable.
These workout headphones are IPX4 rated, with an accompanying Bose Music app for tweaking playback, connectivity, and calls settings. The controls are through a touch panel on each earbud's surface.
Better, the Bose Sport Earbuds run on Bluetooth 5.1 firmware and supports both the SBC and AAC Bluetooth codecs.
Performance
The Bose Sports Earbuds essentially deliver on sound quality. The sound stage is well balanced with slight enriching of the bass notes to add some oomph. Even so, the bass is only slightly louder than the midrange to ensure low-end sounds like kick drum are audible with no auditory masking in play.
The sound isolation isn't splendid, and these earbuds lack the noise-canceling feature of their predecessors. It's a good thing, though, as your workouts are safer when you're aware of your surroundings.
You get an average of 5 hours of battery life per charge, and the charging case adds another 10 hours. The charging case charges quickly with the USB-C cable, though, and a 15-minute quick charge gives two hours of playback. The case has a shut, and open button and battery level indicator LED lights.
The pairing lacks some smoothness, with the right ear bud exclusively mono. The mono listening means you have to use the two earbuds simultaneously, as the left won't work without the right bud.
These workout headphones work awesomely with iOS but will have issues with AAC streaming on Android devices. You'll need to enable SBC streaming via the developer settings of your android phone if the connections become too egregious.
Overall, these workout earbuds are a worthy addition to your collection of must-have workout companions.
Pros
Bright and well-balanced sound stage
Great audio quality
Secure and firm fit
Good passive noise isolation
Cons
Modest water-resistance
Clumsy control layout
No EQ control in the app
Sony WF-SP800N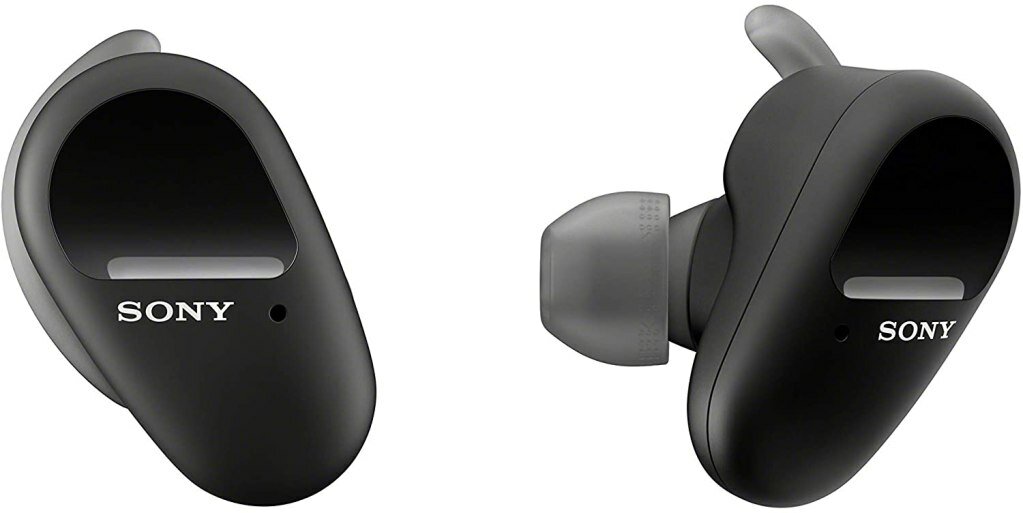 Design and build
As many headphones reviewers will tell you, the Sony WF-SP800N is an all people pleaser. They'll stick around for long-distance commutes and sit snugly in your ears as you hit the gym. Sony says they struck a balance between ear buds' connection, fitness, and battery life in the WF-SP800N, but the verdict on that claim is highly subjective.
For a start, the charging case isn't that compact and needs a dedicated pocket, or you carry it in your bag. However, the plastic material used doesn't feel cheap, and there is a tightly closing magnetic mechanism. It charges with an included USB-C cable.
The buds' control is through a touch-sensitive pad on each, which may be unresponsive at times, especially with sweaty hands. Also, the connection sometimes breaks, or music stutters and skips without any reasonable cause.
Luckily, the Sony Headphones Connect app has additional settings and tweaks to customize a few things, and the problems will go away quietly.
The Sony WF-SP800N earbuds have an overall nice built, with dust and sweatproof ratings of IP55. They fit comfortably and tightly in your ears, though they may feel loose under heavy workouts.
However, the extra ear tips and wingtips provided conform to different ear sizes, with the recommended twist-to-lock mechanism fitting them quite firmly.
Performance
The Sony WF-SP800N earbuds lack the quick pairing feature of AirPods or Pixel Buds, but the old-fashioned Bluetooth settings way works fine. The buds are ready for pairing right out of the charging case, though, they don't support Bluetooth multipoint. You can connect to two devices but not simultaneously, and you need to switch between devices manually.
But away with the pairing issues, the Sony 360 Reality Audio feature in these workout headphones is awesome.
It's an entirely new feature in headphones, where sound engineers uniquely tweak the sound to create the impression of instruments playing from different directions. The result is a live-performance-like sound stage, though you need to use the app to activate the feature.
The WF-SP800N buds offer up to 9 hours of constant playback on a single charge, with the casing adding another 9 hours. The microphone isn't that great, though. Your voice may sound slightly higher than usual, with most of the lower notes missing, but the other person can hear you.
The noise-canceling feature works amazingly and barely affects the battery life. Overall, the sound quality is neutral, leaning through midranges, with slight emphasis on the lower notes and de-emphasis on the upper mids and treble troughs.
Pros
Excellent battery life
ANC and EQ controls in the app
Powerful audio performance
Water-resistant build
Cons
Limited controls
Bulky charging case with a low power rating
Bang & Olufsen E8 Sport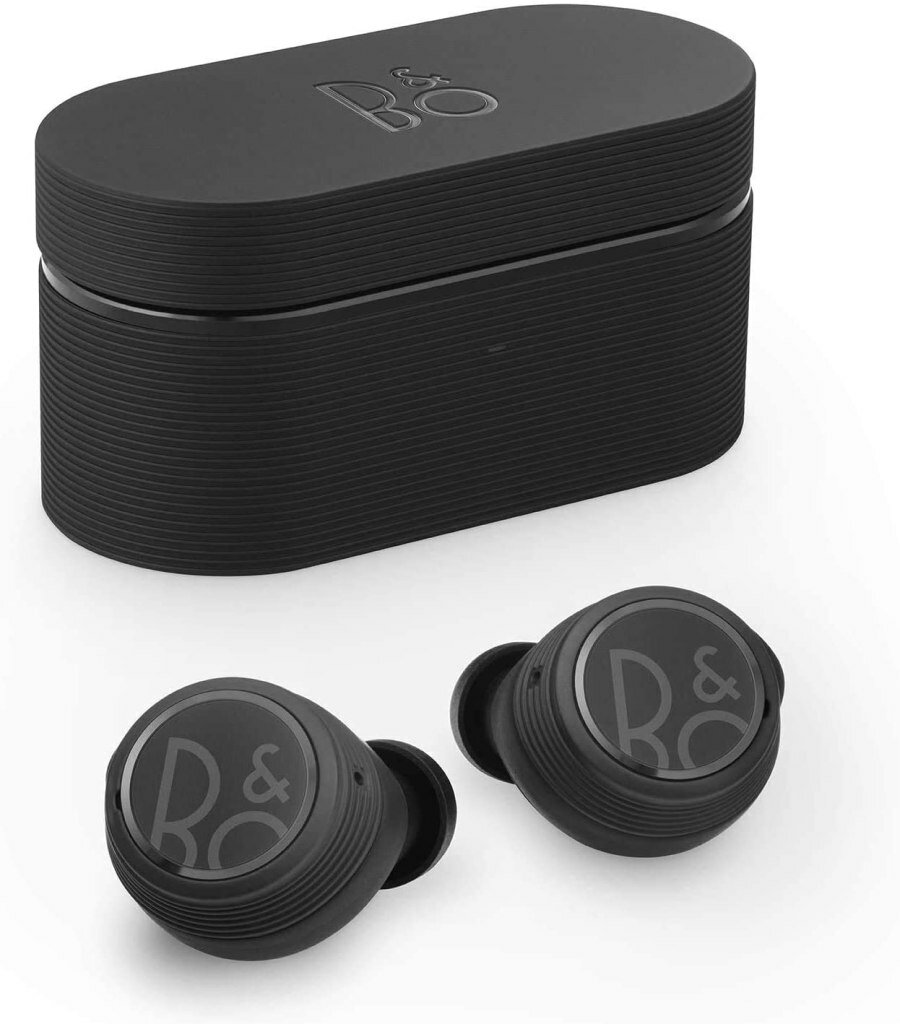 Design and build
Bang and Olufsen have a solid reputation in quality audio hardware and great matching looks. They made E8 Sport true wireless workout earbuds after their popular Beoplay E8 2.0 earphones. And honestly, this pair is pricey though you get value for every dollar.
They come in four model options: the standard Sport, Black, Oxygen Blue, and special Fernando Alonso editions. And, all feature round designs, made of a mix of polymer, silicon, and aluminum. They feel sturdy and fit nicely, with their 6.4g weight barely noticeable.
To make them fit for all ear sizes, they come with three extra pairs of silicone tips and Comply Foam tips for improved noise isolation.
These workout heavyweights are IP57 rated for sweat and water resistance and won't feel your profuse sweating, and can take a quick rinse under the tap. However, these are not swimming headphones.
The controls are through a touch-sensitive panel on the outer casing of each bud. The B&O logo on each panel adds to the aesthetics, with their sensitivity quite satisfying. The charging case secures the buds in place while charging or not in use.
Even so, it's not among the most petite cases around and maybe better in a bag than in your short pockets. For quick setups and other tweaks to the controls, download the Bang & Olufsen companion app on either iOS or Android.
Performance
The sound clarity and detail of the 5.7mm electrodynamic drivers, especially vocals and dialogue, and excellent instrument separation give sufficient warmth. You can steer the sound to any frequency direction using the app, but they generally sound great right out of the box.
These earbuds lack active noise cancellation, but the snug fit and silicone tips offer some passive isolation. You won't be blocked entirely from the world around you, nor are they the worst in keeping surrounding noise at bay.
You get up to seven hours of continuous playback off a single charge, which goes up to 30 hours with the charging case. The casing charges through a provided USB-C cable and takes 2.5 hours from 0-100%. The casing also supports wireless charging through a separately sold wireless charging pad.
A nice touch on the charging pad for 20 minutes gives you 1.5 hours of playback time. If you are after a good pair of wireless workout headphones with clear, detailed sounds, then Bang $ Olufsen E8 Sport could be excellent on you–if you can afford them.
Pros
Rich and detailed sound output
Stylish and sturdy build quality
Solid battery life
Useful app
Cons
Master & Dynamic MW07 Go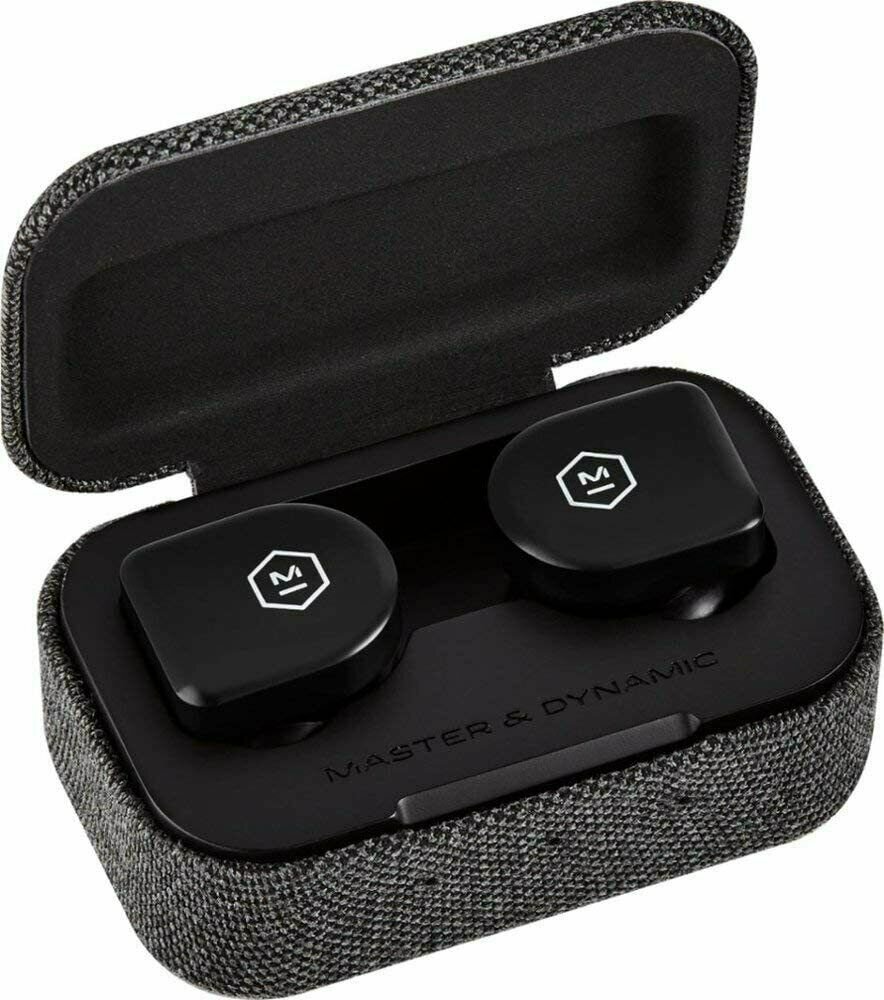 Design and build
The Master & Dynamic MW07 Go true wireless workout earbuds have a very sophisticated design but great value for money. Yes, they have their limitations, but for the most economical product from Master & Dynamics since launching in 2014, the pair is worth a buy.
The earbuds are D-shaped, with TR90 composite outfitting to give them an athletic look. The outfitting also increases durability cheaply. And for the colors, there are four variations: Electric Blue, Jet Black, Flame Red, and Stone Grey.
Each pair comes with a compact rectangular-shaped charging case and a USB-C charging cable.
These earbuds have angled nozzles with proprietary silicone wing and ear tips. The comb-like Fit Wings are of superior build and work with your ear shape rather than pressing against or into it.
If you wanted headphones that stay snug even at the wickedest of workouts, then MW07 Go won't disappoint. They stay put, with their featherweight barely noticeable all day long. With every buy, you get four addiction ear tips of different sizes to ensure you get the best fit.
The control buttons are two: a master button on the top edge of the right earbud, which enables virtual assistant and playback plus call controls, and a more petite rocker for volume control on the left bud. Further, these headphones run on Bluetooth 5.0 firmware that has a 30-meters connection range. And they only support aptX Bluetooth codecs.
Performance
You get a whopping 10 hours of continuous playback per charge, with the cloth-wrapped charging case adding an extra 12 hours of battery life. Both earbuds and the casing support fast charging, with a 15-minutes case charging giving five hours of playtime. Surprisingly, both the buds and container take 40 minutes to charge fully.
The MW07 Go buds have a neutral frequency response. Every frequency levels up, with no noticeable emphasis on either the lows, highs, or mids. Although, sometimes the auditory masking can make some vocal details seem absent. These buds have no active noise cancellation, but the passive works well if you have a good ear fit, which you can improve with memory foam tips.
The microphone isn't the best, but Master & Dynamic clarified that it's optimized for noise rejection rather than voice quality. To top it up, the MW07 Go has a water and sweat resistance rating of IPX6. And yes, we can safely say that the Master & Dynamic MW07 Go headphones are a worthy buy and a fantastic companion for workouts.
Pros
Strong audio performance
Easy-to-use controls
Reliable connectivity
Water-resistant design
Comfortable and secure fit
Cons
Slightly expensive for the features
No AAC support
Poor call quality
Anker Soundbuds Curve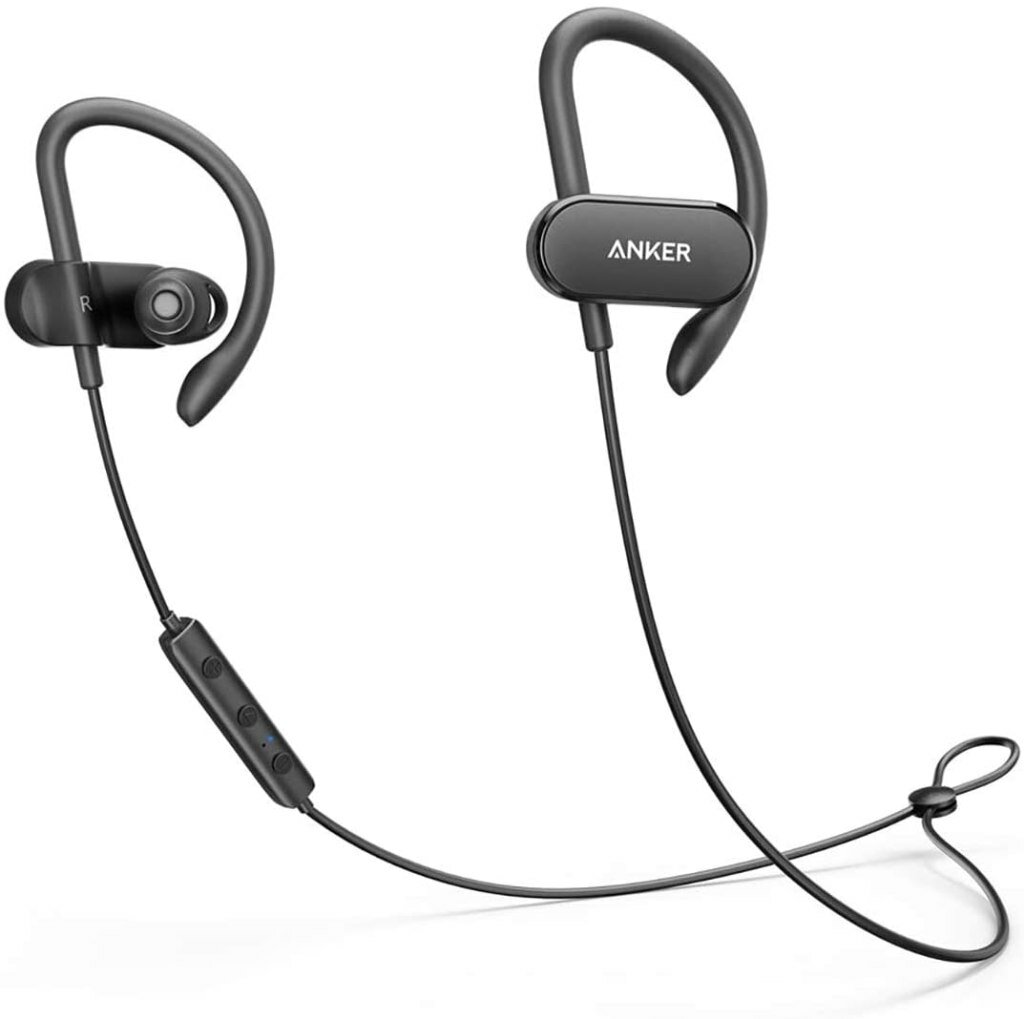 Design and build
You could mistake the Anker Soundbuds Curve wireless in-ear headphones with the Beats PowerBeats 2 or PowerBeats3, as they have similar designs. The main difference is the remote position, which is on the right side. The elegance and matte finish design give these neckband headphones an expensive look, though they cost a fraction of PowerBeats3 price.
They are small, with a small case that easily fits in your pockets. Though the original version and upgraded versions of Anker Soundbuds Curve have similar designs, their features have some variations. You get Bluetooth 5.0 firmware, IPX7 ratings, battery life of up to 18 hours, and AAC and SBC Audio codec support for the upgraded version.
On the other hand, the old version has Bluetooth 4.1 firmware and 14 hours of battery life with aptX Audio codec support. Both have CVC noise cancellation and 10 mm drivers. Also, none supports multi-device pairing, but the connection process is easy. All the controls are through the remote.
Performance
The upgraded version of Anker Soundbuds Curve headphones has the most extended battery life of up to 18 hours, with a 10-minute charge giving 3 hours of playtime. Of course, there is no charging case here, but the headphones come with a USB charging cable, six pairs of earbud tips, and three pairs of stability fins.
Overall, the SoundBuds Curve in-ears have excellent sound quality, good bass response, and enough justice to mids and highs. However, the CVC noise cancellation isn't as good as active noise cancellation, and you can hear some outside noise. The mic works relatively well, and the collar clip keeps the neckband stable when you're working out.
Pros
Great sound quality
Excellent water resistant ratings
Superb battery life
Secure and firm fit
Cons
Jabra Move Style Edition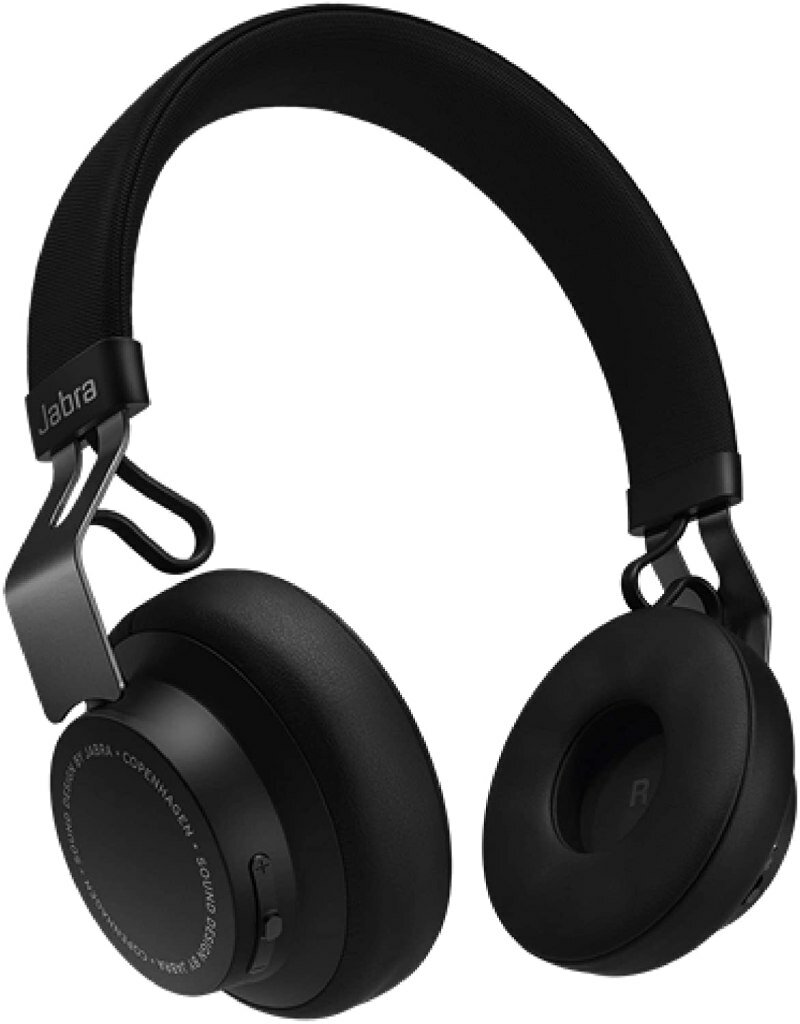 Design and build
If you want a good pair of wireless workout headphones and you have a limited budget, then you should consider the Jabra Move Style Edition over-ear headphones. The build quality is premium, with stainless steel headband cushioned slightly by cloth wrap. You can adjust the size through the smooth sliding mechanism of the headband.
Each plastic ear cup houses a 40mm driver. The PU leather-made ear pads are soft and comfortable to the ears, with an added 3.5mm jack input on the left ear cup. The main control buttons are on the right ear, together with a micro-USB charging port.
These over-ear headphones may be very uncomfortable for bespectacled people. Also, there are no manufacturer's details nor ratings on water resistance for this pair of cans.
Performance
Jabra Move Style Edition headphones clamp comfortably as you continue with your workouts. They provide up to 14 hours of battery life per full charge and takes 1.5 hours to charge fully through a provided Micro-USB cable.
These cans run on Bluetooth 4.0 firmware with a 10-meter connection range. Unfortunately, they do not support any high-quality audio codecs, so expect some audio-visual lag at times.
However, you can connect up to eight devices simultaneously, with seamless auto-connecting and easy device switching. If the battery dies on you while still at the gym, you can continue enjoying your music through a wired connection to your phone.
Jabra Move Style Edition headphones feature Jabra's proprietary DSP for clear sound output. The bass response has mild exaggeration, but the mids and highs are very clear. To get the best from these cans, ensure the ear cups are even on your ears for a firmer seal.
All in all, these Jabra Move Style Edition headphones tick all the right boxes for a pair of daily wireless workout headphones.
Pros
Premium build quality
Eight device pairing
Excellent battery life
Fairly priced
Cons
No folding hinges
Poor sound isolation
Uncomfortable with glasses
What Are Wireless Workout Earbuds?
Wireless workout earbuds are, well, wireless earbuds specifically designed for workouts. They have the ergonomics to stay snug amid the hardest of exercises and withstand the ruggedness of strenuous physical activities. In addition, they have waterproofing to withstand profuse sweating, rain, or water in swimming pools.
Different Classes of Wireless Earbuds
And onto some clarification here, not all wireless earbuds are truly wireless earbuds. Feeling confused, let's clarify that.
True wireless headphones, which are either in-ear monitors (IEMs) or earbuds, are headphones with totally physically independent right and left driver units. There is no cord connecting them, and each driver unit has its in-built controls, battery, and mic. A good example is the Jabra Elite 85t.
On the other hand, wireless headphones have a cord connecting the right and left units. They fall under two main categories: wireless IEMs and wireless over-ear headphones. For wireless IEMs, the neckband contains the connection wires, mic, controls, and battery unit. A good example is the Anker Soundbuds Curve.
Wireless over-ear headphones are just that, over-the-ear headphones with inbuilt controls, mic, battery unit, and they work wirelessly via Bluetooth. A good example is the Jabra Move Style Edition headphones.

Having trouble pairing your wireless earbuds? Try reading our guide on how to fix this very issue.
Best Wireless Workout Earbuds Selection Guide
Wireless workout earbuds are as many as workout types. While some can fit any form of workout, others simply cannot withstand some extreme conditions. For instance, there are headphones specifically for swimming, some for biking, and others for high tolerant marathon runs, while some fit any workout session.
Simply put, there are certain qualities wireless workouts headphones need to have to work as expected. You should consider the following factors when selecting the best wireless workout headphones.
Wireless or True Wireless Workout Earbuds: The Form Factor
Workouts are strenuous. And the last thing you want for headphones are uncomfortable wears or those that can't stay snug as you hit the treadmill, and it all boils down to their form factor.
As mentioned earlier, true wireless workout headphones come in two forms: in-ear monitors (IEMs) and earbuds. IEM's driver units have foam or silicone ear tips of different sizes, keeping them snug within canals of different ears.
You need to use the right ear tip size, and you got yourself some snugly headphones. On the other hand, earbuds come with one-size-fit-all driver units that sit on the ears' concha bowl. Thus, they may not hold on tight under heavy workouts.
But it doesn't mean IEMs can't slip off either, and that's why headphone designers came up with wireless IEMs. With a neckband, even if a driver unit falls out of the ear, it remains intact around your neck, and you can quickly put them back.
Wireless over-ear headphones are the most snugly during workouts, but only if the clamping force is reasonably firm. However, they are bulkier, and too much clamping force can make them very uncomfortable to wear for long. Also, they can make your ears over-sweat.
Check out our guide on the best audiophile IEMs available today.
Water/Sweat Resistance Rating
Water/sweat destroys electronics irreversibly fast, wireless workout headphones included. And bearing in mind, an average person can sweat up to 1.4 liters of sweat per hour of exercise. Then workout headphones are at a higher risk of debilitating. Hence, consider the sweat/water resistance rating before ordering a pair of workout headphones.
The Ingress Protection (IP) rating is the industry standard indicator for how sweatproof or waterproof a device is. For instance, IPX0 shows no water/sweat proofing, IPX4 offers a sweatproof device, while IPX7 and IPX8 show a device that can soak up to 3 meters in water for half an hour and be fine.
Battery Life
Battery life refers to the number of hours wireless headphones can run on a single charge. Usually, most workout headphones last between 4 and 8 hours, mainly depending on the size of the battery and the drivers' power consumption.
The baseline is you'll need enough battery life to last your whole sessions of workouts. And unless you spend entire days at the gym or run marathons back to back, 4-6 hours of battery life should be enough.
Sound Isolation
Wireless workout headphones should supply unending top jams to your ears and keep surrounding ambient noise away. Luckily, most wireless in-ear and on-ear headphones will have sound isolation capabilities by design. If they have active noise-cancellation, the better, but they should considerably dial back the noise.
Mic and Controls
What good are wireless workout headphones with suboptimal controls and a mic? If the controls are unresponsive and user-unfriendly, then such headphones do not deserve your ears.
If one has to stop jogging to adjust volume, control music playback, or answer or reject calls, what good is such a pair of headphones? Yes, the mic may not be superb, but the controls must be highly responsive and user-friendly.
You may be interested in our guide on mic monitoring and its impact on gaming.
Audio Codec Support
Audio codecs support can affect wireless connections and audio quality transmission between your wireless headphones and audio source. It's good to check if the headphones support high quality audio codecs like AAC, LDAC, aptX HD, among others.
Quality audio codec support means the headphones have higher bitrate transfer and can play higher compression quality audio files.
Final Word
Workouts are essential in our lives, and a good pair of wireless workout earbuds could not only motivates but aids convenience. And to make sure you don't spend days shopping, we have presented a list of the eight best wireless workout earbuds that deserve a listen.
Also, a comprehensive selection guide to lead you right into the good cans for your workout routines. Whether it be running, weight-training or rowing, the power to improve your workout now lies with you.
You may also be interested in:
About Post Author