It was previously impossible to link your smartphone to multiple devices over Bluetooth at the same time. This is now possible due to a number of applications. This is a great update to have, especially if you're in a party and want to play songs with decent sound quality. Clearly, a smartphone and speaker are incapable of providing high-quality sound to a gathering of people!
We now have numerous Bluetooth gadgets in our households than it has ever been, thanks to the rise of voice technology like the Google Home and Amazon Echo. Let's look at how to use Bluetooth to connect two or more speakers to a single device.
Methods for Connecting Multiple Bluetooth Speakers
You may now link your smartphone device to many Bluetooth devices to transmit the same synced music, courtesy to numerous apps and Bluetooth connectivity. So if you wish to throw an event at your home but don't have any connected speakers, don't be frightened. We'll go over how to link multiple Bluetooth speakers to a single smartphone device in this post, as well as which speakers are capable of doing so. So, let's get this party started!
Amp Me (App)
The AmpMe software enables you to sync bluetooth speakers and smartphones so that they all play the very exact audio track. You can use Spotify, SoundCloud, or YouTube to find music, or you can transfer it straight out of your personal media files.
Furthermore, you may use AmpMe to connect your peripherals to a limitless quantity of data transfer, all of which will transmit the exact same song that you could have provided them in time.
To activate AmpMe, all you have to do is get the gadgets you wish to be used as speakers tuned. You play the role of the presenter or DJ, while they play the role of the listeners. After you've downloaded the app and linked it to either your Google or Facebook account, you'll be able to check if any of your friends are using it, or you could just use location settings to discover someone nearby.
To get a party started:
1. Select the Plus (+) icon in the bottom right corner.
2. Select a service, such as Spotify or YouTube, and then press Connect.
3. Add or choose a playlist after logging in to your profile.
4. Make a playlist and listen to it online.
You can welcome people to come to your party in person or invite them to join virtually. You can use the app to enable other people to add audio to the collection.
As a DJ, use the "invite" option to accomplish this. Nevertheless, if you really want to maintain your audio monopoly, you can obtain music recommendations from other people via the app's "chat" option. It's also worth noting that the software enables other individuals to participate from afar.

Ultimate Ears
Ultimate Ears is a firm that has developed mobile speakers that can deliver sound to numerous speakers via Bluetooth technology. Boom, Boom2, WonderBoom, HyperBoom, and MegaBoom are their most well-known versions. PartyUp is a function on these speakers that provides connectivity more than 50 Boom, Boom 2, or MegaBoom speakers to your smartphone.
Bluetooth – Connect Your Ultimate Ears Boom:
1. Make sure your loudspeaker's battery is charged.
2. Hold down the Bluetooth button on the UE Boom until you hear an audio transmission.
3. Navigate to your smartphone or tablet's Bluetooth options and choose the UE Boom speaker.
4. Wait a few moments, and the speaker will be linked to your phone.
Add a second speaker to the Ultimate Ears Boom:
You can link your Ultimate Ears speaker to another UE brand speaker in one of two different ways.
As previously said, attach one of the two boxes to a playing device.
Now press and hold the Bluetooth and "Volume Up" buttons at the very same time.
Now, on the box which you also wish to link, hit the Bluetooth button twice in succession.
Within 10 seconds, the speakers should be linked up.
Additionally, you may get the UE Boom app and use it to connect the speakers. The technique is outlined in detail in the app.


Bose Connect
Only Bose speakers are compatible with the Bose Connect. As a result, you can use this application to broadcast synced audio to several Bose earphones or speakers. Go to the Google Play or App Store sites and install the Bose Connect app to find compatible devices in your area.
There are two modes of functioning available. You may use the following modes with your own Bose speakers by pairing them together and utilizing their application or the device keys:
Stereo setting (right and left speaker separated)
Party mode is available (right and left speaker all together)
Using the Party Mode feature
Ensure all the speakers are switched on before beginning to use the party option. Verify one of the devices is linked to your smartphone via Bluetooth®. Tap and hold the Volume + and Bluetooth keys on the speaker that is linked to your phone at the same time.
Disengage the Bluetooth and volume down keys on a second Bose device when you hear the notification.
Tap and hold the Volume and Bluetooth – keys on the second speaker at the same time. When the speaker makes a sound, let them go. After 10 seconds, both speakers will concurrently play "Party mode." The party mode has been turned on. You can now listen to songs on your phone through your two different speakers.
Position your speakers as follows for the optimum experience:
In the same room or in the open air
Make sure they don't interfere with each other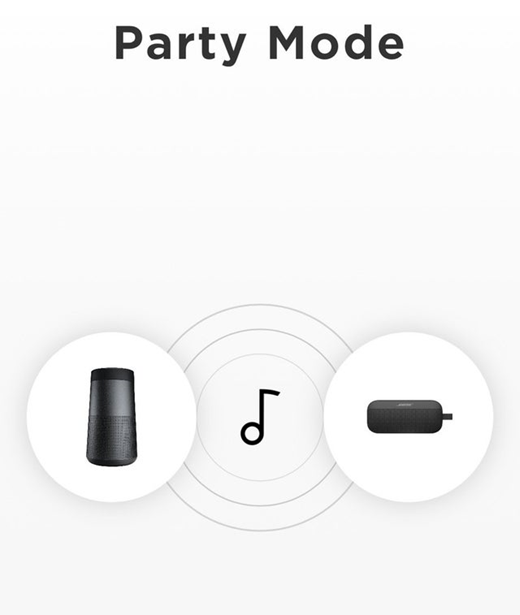 Using the Stereo Mode feature
To initiate stereo function, hold down the Volume + and Bluetooth keys at the same time on one of the speakers. When you hear the voice "Stereo mode," immediately release the buttons. On the left speaker, a "Left" indicator will be heard, and on the right speaker, a "Right" signal will be heard.
The stereo mode has been switched on. On your smartphone, you may now listen to stereo music. Follow the instructions outlined above. To go from party to stereo mode, concurrently click the Volume + and Bluetooth keys.
To turn off stereo or party mode under one of the speakers, do one of the following:
Simply click and hold the Bluetooth key button until the message "Bose speakers unlinked" appears on the screen.
To hear "Bose speakers unlinked," press and hold the Volume + and Multifunctional buttons together. 
To switch off the speakers, press Power.
Apple's HomePod Stereo Pair
Apple's HomePod Stereo Pair function, which is identical to Samsung's Dual Audio, allows customers to connect their iPhone, iPod, iPad, or Mac to HomePod devices. If you try to use a HomePod with some other person in the very same area, you'll be able to use the speakers as a stereo set. As a result of the stereo Pair capability, you can now broadcast music to several speakers.
You'll need an iPhone, iPod touch, or iPad with iOS 11.4 or later, as well as a Mac running macOS Mojave. iOS 11.4 or later is also required for two HomePod speakers.
Activate HomePod on your iPhone and Mac by following these steps:
1. Confirm that both HomePods are all in the same room using the Home app.
2. Go to the Home app, double-click HomePod, and then go to Settings.
3. Select Create Stereo Pair from the drop-down menu.
4. Add the second HomePod to the duo by selecting it. Double-click it to activate it!
5. Return to the main menu, then select Drone.
You can quickly connect additional Bluetooth speakers to the iPhone with HomePod Stereo Pairing.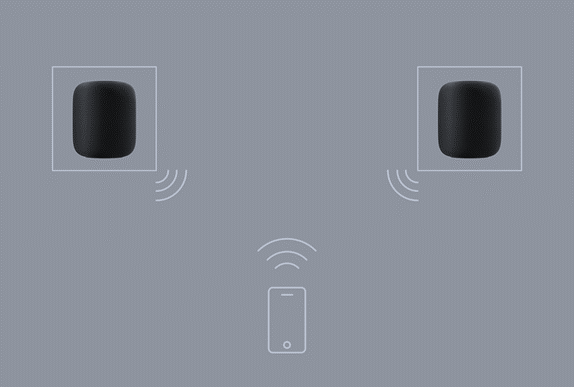 Samsung's Dual Audio
Samsung phones also offer a feature that allows two Bluetooth speakers to be synchronized. The Dual Sound function comes in handy here. It has fewer connected devices than other applications, but it is better than Ultimate Ears and Bose because it can link to any Bluetooth connection.
If you have a Samsung Galaxy S+, S8, or later, you can utilize Samsung's Bluetooth Duo Sound, which is compatible with many of these Bluetooth headphones and speakers without requiring Bluetooth 5.
Follow these instructions to enable Samsung Dual Audio:
1. Select Settings > Connections > Bluetooth from the drop-down menu.
2. In the top right corner, tap Advanced.
3. Toggle on Dual Audio from the drop-down menu.
4. Connect two headphones, two speakers, or even one of them to use Dual Audio, and the music will be sent to both.
5. The initial linked device will be deactivated when you add a third gadget.
If you link two pairs of headphones with your Samsung, just the first device can use the audio settings on the earphones or headphones to control playback. This function is most useful if you have speakers in separate rooms.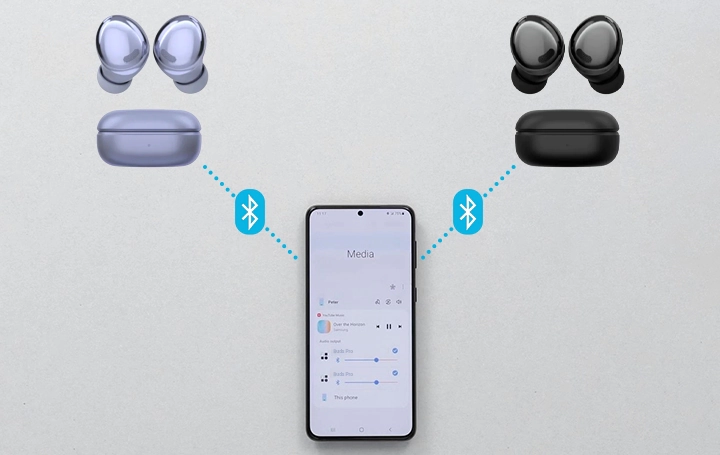 Bluetooth 5.0
Bluetooth 5.0 wireless speakers are twice as quick as Bluetooth 4.2 speakers in terms of rage and speed. More sound businesses are producing Bluetooth 5.0-capable speakers to stay up with market changes.
For the time being, Apple is the leader in this field. They've unveiled the HomePod small speakers, which are equipped with Bluetooth 5.0 technologies. This tendency will be followed by others.
Such type of technology has progressed over time, resulting in updates that have increased link reliability, energy consumption, or distance. The Samsung Galaxy S8 and S8 Plus, the iPhone 8, 8 Plus, iPhone X, iPhone 12, and the LG V30 were the very first smartphones to support Bluetooth 5.0. Following the Galaxy S9, S9 +, S10, S10+, you may expect new smartphone models to do the same.
You may purchase a Bluetooth 5.0 receiver and link it to your smartphone or speakers, despite the fact that this tech still seems to be new and few products have it.
JBL Connect
JBL is a well-known firm that manufactures wireless speaker devices. By charging the constructed battery and linking them through Bluetooth, you can utilize its speakers with your smartphone. The entire process takes just a few minutes and requires no technological expertise. In addition, if both the speaker and the smartphone contain an NFC chip, they can indeed be linked with just one touch.
JBL allows you to connect up to 100 speakers wirelessly through Bluetooth. A set of procedures must be followed in able to link via Bluetooth.
Connecting JBL Speakers to Bluetooth:
1. Place the gadgets that will be linked adjacent to each other.
2. Switch on the unit and simply wait for a light indication or a notification on the screen to appear.
3. Switch on the speaker's wireless transmitter. This is made possible by JBL technology's provision of a button command center on that you must press and hold the relevant key. Bluetooth is turned on by the flashing light. Other gadgets will be able to recognize the column.
4. You must go to the settings area of your smartphone. Locate a page with a Wi-Fi connection within it. Enable the Bluetooth device if it isn't already active. If the column was already set, the device will display the listing of eligible for pairing when you begin the search.
5. Choose a category from the drop-down menu. Sit tight for pairing to be created after activating it. It may take up to 5 minutes to complete this task. You can start listening to audio as soon as the speaker displays as a linked gadget in the phone's menu.
Conclusion
In today's society, Bluetooth devices are becoming increasingly popular. The reason is that now there are already Bluetooth devices with superb sound quality on the marketplace. Several Bluetooth speakers can now be effortlessly connected to one output courtesy to these numerous apps.
Bluetooth gadgets are ideal if all you want to do is unwind or have fun while listening to music. Only those with extremely sensitive hearing or audio experts can discern the changes in sound quality produced by Bluetooth speakers.
You may also be interested in:
About Post Author