What do you do when you want a powerful sound system but on a limited budget? Some time back, you had to forego some of the advanced features. Luckily, it's possible to find a cheap bookshelf speaker with some advanced features with the latest technology advancements.
But, you know what they say, cheap is expensive, right? Well, that's not always the case with bookshelf speakers. It's possible to find a good bookshelf speaker that balances quality and durability without breaking your budget. But they aren't easy to find.
To make it easier for you, below is a list of the best bookshelf speakers under $500 you can buy today.
BOOKSHELF SPEAKERS
PRICE
DRIVER
IMPEDANCE
SENSITIVITY
Edifier R2000DB
$249
Bass driver – 5″ alloy Treble driver – Φ25mm Ru-Fe-B silk dome
6W
Line in1: 800 mV ± 50 mV Line in2: 600 mV ± 50 mV OPT: 500 mFFs ± 50 mFFs
Polk Audio T15
$70
1x 5 1/4″ Mid/Woofer 1x 3/4″ Tweeter
6W
89db
Klipsch R-14M
$119
Tweeter – 1″ Aluminum diaphragm compression Woofer – 4″ (10.2cm) copper spun magnetically shielded IMG woofer.
8W
90db
Elac Debut 2.0 B6.2
$347
Tweeter – 1″ cloth dome Woofer – 6.5-inch Aramid fiber
6W
86db
PSB Alpha P5
$399
Tweeter – 3/4" (19mm) Black Anodized Aluminium Dome
Woofer – 4" (102mm) Textured Polypropylene
8W
87db
Yamaha NS-6490
$130
Woofer – 8″ cone Mid-range – 4″ cone
Tweeter – 7/8″ balanced dome
8W
90db
Edifier R2000DB
Best Overall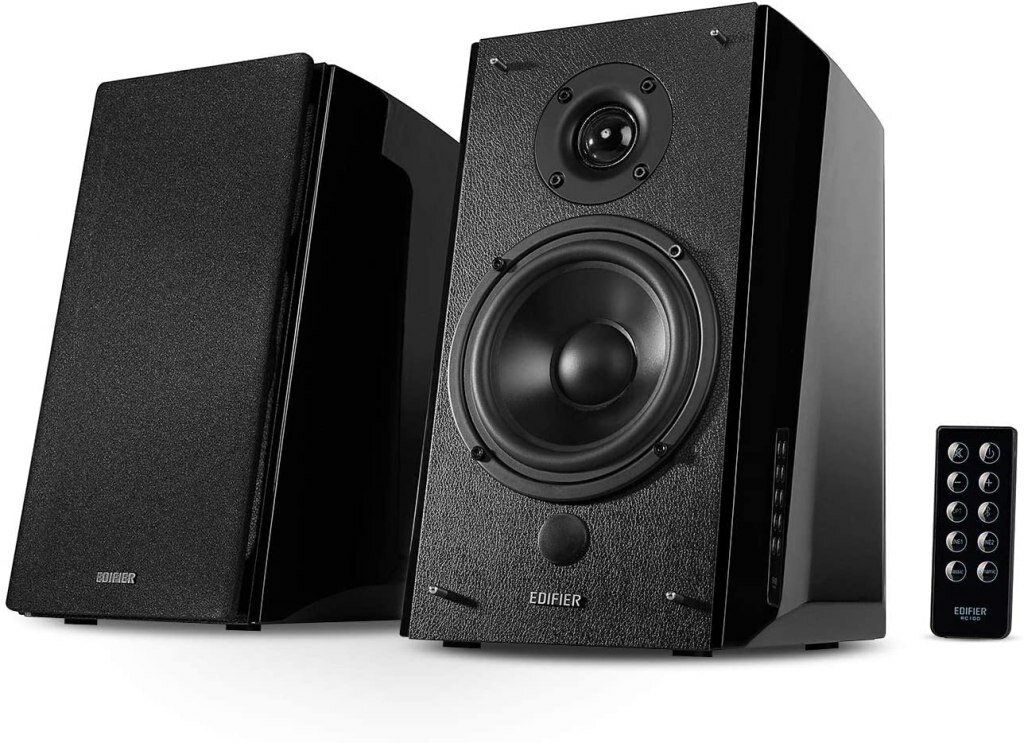 | | |
| --- | --- |
| Speaker type | Bookshelf |
| Amplifier type | Active |
| Input | Bluetooth, optical, RCA, and 3.5mm headphone |
| Dimensions | 9.5in x 11.25in x 7.5in |
| Frequency response | 55Hz-20KHz (±3db) |
| Design type | Rear-firing |
| Bass driver | 5″ alloy |
| Treble driver | Φ25mm Ru-Fe-B silk dome |
| Impedance | 6 ohms |
At the top of our list is the Edifier R2000DB. It has an elegant look, versatility, and durable build. Going for just $249, it has a sound output that matches the more expensive brands. Below is everything it has to offer.
Design
The Edifier R2000DB features a simple but elegant design – from the MDF enclosure that ensures a lower acoustic resonance to the high-gloss piano finish. This design ensures that it blends in with your home's decor.
And you have the option to choose between the black and the wood colors. In terms of size, it's large enough to be used as part of your home theatre system, but not too large, allowing you to place it at your computer table.
Connectivity
This bookshelf speaker is designed to work with a wide range of devices. It has a Bluetooth connection that allows you to connect it to your laptop, smartphone, or any other Bluetooth-enabled media device, for starters.
The second connection is the Optical input that allows you to connect your TV, HTPC, DVD, or gaming consoles. Enjoy the cool graphics of your visual devices without losing the sound quality.
And the last input is the 2 AUX inputs: the RCA and the 3.5mm headphone input. Better yet, you can connect up to 4 devices simultaneously. This device also comes with a convenient remote that makes sure you don't have to rise from your chair to operate it.
It allows you to change the bass, EQ, switch to standby mode, control the volume, switch between the devices, or even mute.
Sound Quality
This Edifier's bookshelf speaker is not lacking in terms of sound quality. This is thanks to the 25mm silk dome treble driver and the 5″ bass driver.
Both of these drivers output a 120 W sound with clarity at all frequency ranges. You can alter the bass based on the kind of music.
The gold-plated speaker inputs also enhance the sound quality. At the same time, the different types of cables allow you to place the speakers in any way you'd like for a better sound experience.
Pros
Excellent sound quality
You can use it with a wide range of devices
Practical and elegant design
2-Year warranty
Cons
Some users noted that the Bluetooth connection had a short-range.
The cables are also not that long.
Polk Audio T15 100 Watts Bookshelf Speakers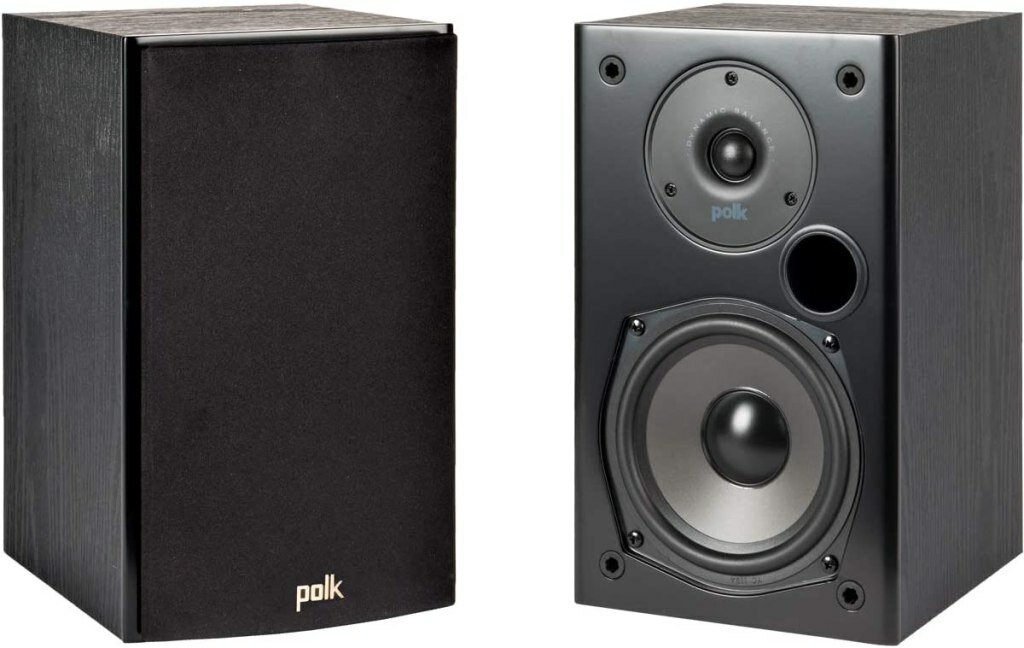 | | |
| --- | --- |
| Speaker Type/use | Bookshelf |
| Driver Size | 1x 5 1/4″ Mid/Woofer. 1x 3/4″ Tweeter |
| Frequency response | 60Hz-24kHz |
| Impedance | 6 ohms |
| Dimensions | 7.3 x 6.5 x 10.7 inches |
| Design type | Front-firing |
Polk manufactures a wide range of hi-tech audio systems – from $100 simple speakers to thousands of dollars worth of speakers. If you're on a meager budget with barely $100 to spend on a music system, Polk has got you covered with the Polk Audio T15. Let's see what it has to offer.
Design
The front of this speaker features semi-lustrous plastic, while everything else is enclosed in MDF. As mentioned earlier, Polk is a leading manufacturer in the speakers' industry. So they have the tech and resources to build high-quality systems.
They replicated the tech in their monitor loudspeakers to build the T15. This includes the Dynamic Balance tech, 0.75-inch silk dome tweeter, 5.25-inch composite driver, and a front-firing bass port.
A combination of all of these technologies ensures the lowest resonance.
Connectivity
The Polk Audio T15 is designed to work with a wide range of devices, including home theatres, stereos, TVs, Dolby, DTS, etc. Better yet, you can mount them on the wall, use them as front speakers, rear speakers, or surrounds as part of your sound system.
One user noted, though, that they have low impedance. The manufacturer states that they're 8 ohms, but they're approximately 6 ohms, speakers, in reality. Therefore, even though the manufacturer promises that they are compatible with most receivers, not all receivers support speakers with low impedance.
Check your receiver's acceptance range before purchasing this bookshelf speaker.
Sound Quality
Most users agree that this bookshelf speaker has a high-quality sound for its price, even in the lowest frequencies. From watching movies, playing music with hosts over or unwinding a long day, watching sports events, this speaker does it all.
However, one user realized that you need to set them up differently from other bookshelf speakers. Bookshelf speakers are designed to be placed in an elevated position. This means that to get the best clarity of the media you're listening to, the speaker needs to be at the same level/altitude as your ears.
But for some reason, you may have to place the Polk T15 a little bit higher or lower than the required position. This may not always be the case, but it's worth trying if you don't get the sound output you were hoping for.
Pros
It's very affordable
Supports a wide range of devices.
High-quality sounds.
Cons
Low impedance may make them incompatible with some receivers.
It lacks a functional cooling mechanism.
Klipsch R-14M 4-Inch Reference Bookshelf Speakers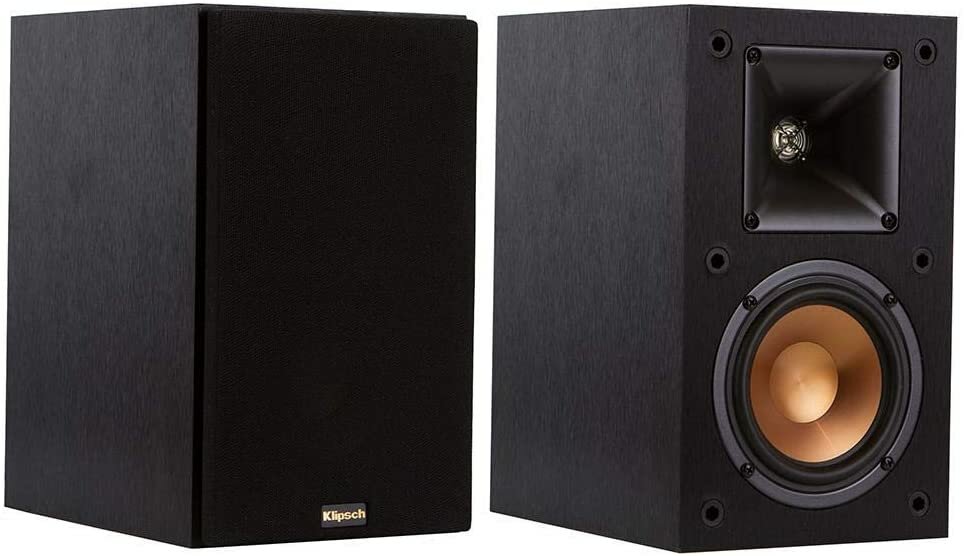 | | |
| --- | --- |
| Speaker type/use | Bookshelf |
| Amp type | Passive |
| Impedance | 8 ohms |
| Frequency response | 64Hz – 24kHz +/- 3dB |
| Dimensions | 7.5 x 5.9 x 9.8 inches |
| Design type | Rear-firing |
Klipsch is another reputable brand with both high-end loudspeakers and cheap loudspeakers for those on a budget. The Klipsch R-14M bookshelf speaker stands out from the rest with a unique design that enhances its quality and durability. It's also part of Klipsch's reference speakers' series.
Design
Klipsch is known for building some of the best enclosures for speakers. And they don't disappoint with this model. The R-14 features a brushed black polymer veneer. This explains the sleek and stealthy look. The enclosure is made of MDF which ensures durability and low resonance.
Measuring 10″ by 6″, this speaker is not bulky, making it suitable for people with smaller living rooms. Every part of this speaker's exterior is black, including the mesh grille.
The only contrast it gets is Klipsch's gold-colored logo. You can also choose to do away with the grille. But this is not advisable since you'll be exposing it to dust and dampness.
Behind the grille, you'll find the same veneer material. However, the speaker cone is made of metallic paper, which gives it a nice touch and a unique look compared to other speakers.
Functionality
Klipsch incorporates the following techs to enhance the R-14M's functionality and sound quality.
90*90 Tractrix Horn
The Tractrix horn combined with the aluminum tweeter extends the frequency response of this bookshelf speaker tremendously. This ensures that the sound you get from the music, movies, or any other media is as natural as it gets.
Linear Travel Suspension (LTS) Tweeter
The LTS tweeter is made of high-quality aluminum, making it more durable and more efficient than the silk makes. On the other hand, the 4″ woofer is made of copper-spun Injected Molded Graphite (IMG), which makes it light but strong. And it ensures clarity even at low frequencies with minimal distortions.
Rear-Firing Bass Port
The R-14M is a rear-firing speaker, which means that you should avoid placing it against the wall. Doing that changes the frequency response. This rear-facing port matches the drivers and the cabinet. And it comes with 5-way binding posts, which enhance its flexibility.
Sound Quality
The speakers are excellent at reproducing stereo sound. This makes them great for a movie night or for just listening to music. You may have a hard time configuring the EQ based on the type of media, but it's not that complicated.
It's important to note that these are passive speakers and not active. So you must connect them to an appropriate amplifier receiver to get the most out of them. If you want to connect them to a turntable, you will need to use an amplifier.
They also lack volume control and a speaker wire. But they'll surely enhance your subwoofer's sound.
Other than that, the R-14M makes a great addition to a home's sound system.
Pros
Cheap but effective speaker.
Advanced tweeter and horn design.
It's flexible, thanks to the 5-way binding posts.
Cons
It's a passive speaker.
It lacks volume control and a power source.
Elac Debut 2.0 B6.2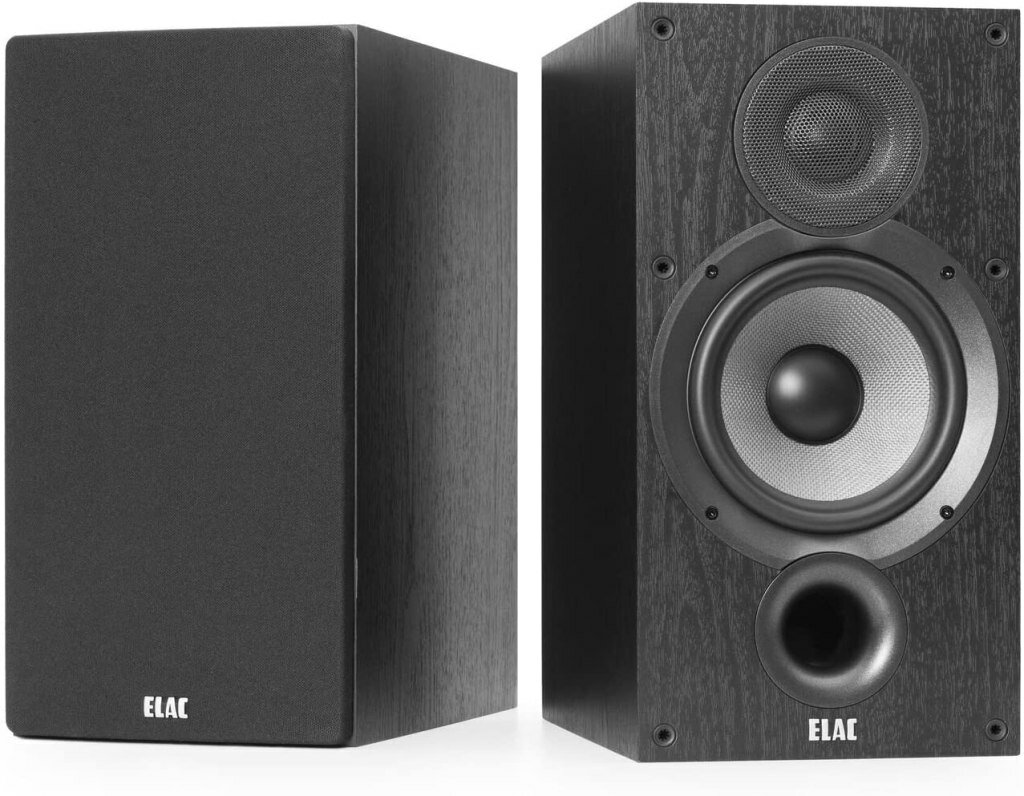 | | |
| --- | --- |
| Speaker Type | Bookshelf |
| Frequency Response | 44Hz – 35000Hz |
| Impedance | 6 ohms |
| Max Power Input | 120 watts |
| Dimensions | 7.09″ x 13.43″ x 9.21″ |
| Sensitivity | 86db @2.83v/1m |
| Design type | Front-firing |
Andrew Jones, the founder of the Elac speakers, took the sound engineering world by surprise in 2015 by releasing the Elac Debut 6 after leaving Pioneer. The speaker was an instant hit. Three years later, he released the Elac Debut 2.0 B6.2 as an improvement to the original which certainly carried on the torch of success.
Design and Functionality
Like the other bookshelf speakers, the Elac features a simple black vinyl finish and an MDF enclosure. They didn't change much of the design from its predecessor. It's also important to note that it has a front-firing port. Unlike the rear-firing ports, you can place front-firing speakers against a wall.
The front panel is protected by a mesh grille which you can detach when you need to. Behind the grille are the 1-inch silk dome tweeter and a 6.5-inch aramid-fiber woofer. The manufacturer also added extra bracing to reduce resonance in these speakers.
And at the back, you'll find 5-way binding posts which offer some connection flexibility.
Sound Quality
Whether you want heavy bass or low-frequency music, this speaker will take anything you throw at it and play it without overstretching or exaggerating. This is likely owing to its extra bracing, front-firing port and better tweeter utilization compared to its predecessor.
You can use them without a subwoofer, but it would be best to invest in a subwoofer (if you don't have one) and an amplifier for a better experience. They need a lot of power to achieve the desired sound.
Pros
Excellent sound
Durable build.
It's versatile
Cons
Not the best for low-volume music.
PSB Alpha P5 Bookshelf Speaker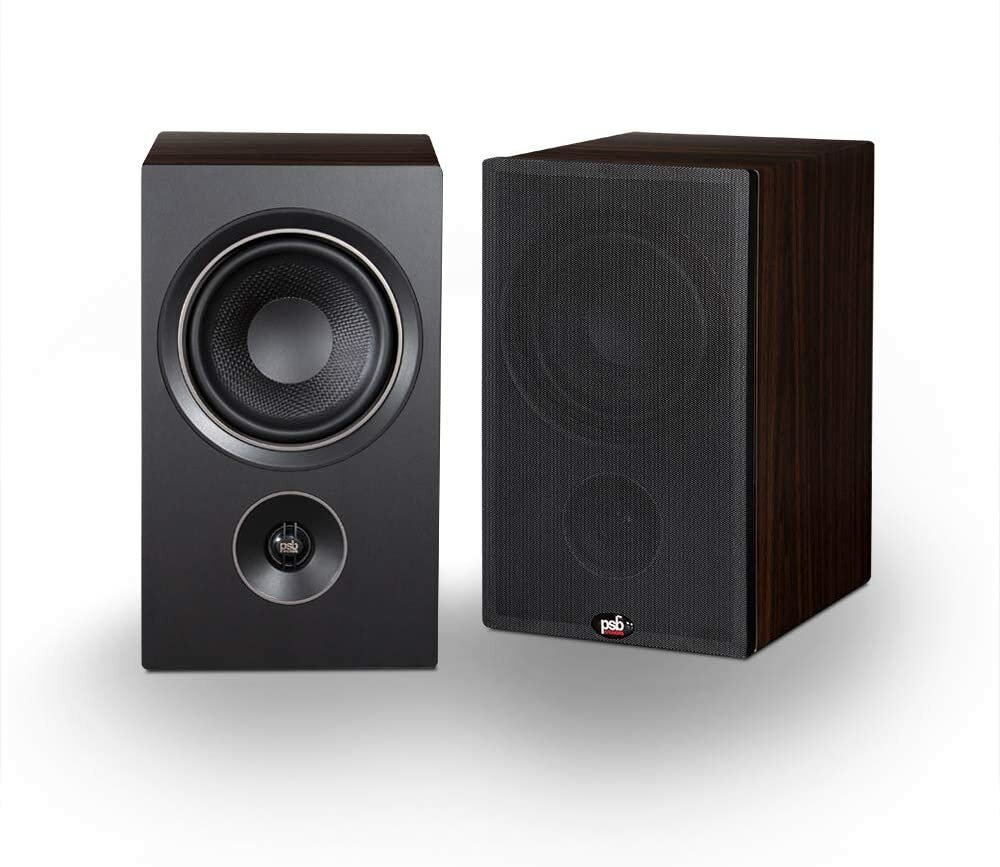 | | |
| --- | --- |
| Speaker type | Bookshelf |
| Frequency Response | 55 – 21,000Hz |
| Impedance | 4 – 8 ohms |
| Sensitivity | 85dB 87dB |
| Design type | Rear-firing port |
PSB has been manufacturing speakers for more than 40 years now. So, over the years, they have learned how to come up with the best acoustic sounds. The Alpha P5 is one of the newest models in the Alpha series, which they've been producing since the '90s.
And I think it's fair to say that, even though it's more expensive than the other models I've reviewed, it offers the best value of a bookshelf speaker under $500.
Design
The Alpha P5 comes in a classic woodgrain vinyl finish where you can choose either the black ash finish or the dark walnut. Unlike the ELAC, it comes with a rear-firing bass reflex port.  The only notable difference between these two ports is that the front-firing can be placed against the wall while the rear-firing port can't.
Below the port, you'll find the 5-way gold-plated binding posts.
At the front, there's the 5.25″ textured polypropylene woofer and a rubber surround. And at the bottom there's the 0.75″ anodized dome tweeter. A removable magnetic transparent mesh grille covers the front panel.
Functionality
The polypropylene material used to make the woofer reduces cone break up, leading to lower resonances and more precise sound. The dual-layer voice coils and the rear bass reflex port ensure a deeper and more articulate bass.
On the other hand, the tweeter is made of anodized aluminum, which ensures a higher frequency response, clearer sound, and minimal distortion than its predecessors.  PSB also utilized ferrofluid cooling to minimize the dynamic compression of the sounds.
And they included a magnet to increase the sensitivity of the speakers. And that's not all.
They placed a waveguide in front of the tweeter. Waveguides help direct sound waves through one direction, minimizing the loss of energy. They also strategically placed the tweeter just below the woofer for a better sound experience regardless of where you place it.
To lower distortion further, PSB uses the Linkwitz-Riley acoustic filter – combined with a 55-21,000Hz frequency response and 8-ohms impedance, and you get one of the best sound experiences.
Sound Quality
Based on sound tests, these bookshelf speakers stood up to PSB's reputation. They are great for low-frequency sounds, mid-range, and even high-frequency sounds. Thanks to the higher impedance, they work with most amplifiers and home theatre receivers.
Pros
Durable build
Higher impedance
High-sensitivity and high-quality sound
5-year warranty
Cons
The grille has sharp corners, which could cause injuries.
Yamaha ns-6490 3-Way Bookshelf Speakers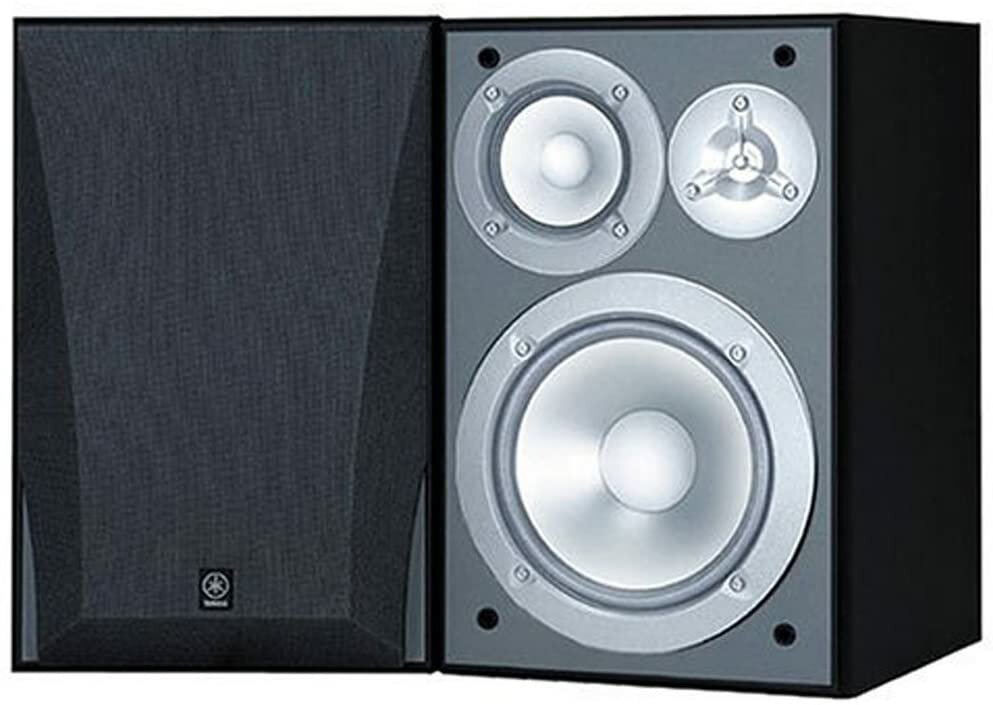 | | |
| --- | --- |
| Speaker type/Use | Bookshelf |
| Design | 3-way |
| Amp type | Passive |
| Impedance | 8 ohms |
| Frequency response | 45 Hz – 23 kHz |
| Sensitivity | 90 dB/2.83 V/m |
Yamaha is not new to the hi-tech industry, nor is the NS-6940. They've been manufacturing sound systems and other devices for more than a century and have gained a good reputation. The NS-6490 was released in 2003, but it still stands out among bookshelf speakers today. It's also a good option for those who want a vintage speaker that's as good as the modern ones. Please keep reading to find out what it offers.
Design and Functionality
For starters, these are 3-way speakers. And by 3-way, I mean that they generate sound using three different devices – a woofer, mid-range, and tweeter. Since they come as a pair, each speaker has an 8-inch woofer, 4-inch midrange speaker, and a 0.75 dome tweeter.
For bookshelf speakers, the NS-6490 is quite large (13 x 13 x 25 inches). This is normal for vintage speakers. The size makes it awkward to place them on a computer table or shelf. So you'd be better off with placing them on stands.
This can be a problem for those living in smaller rooms. Besides being large, they're also quite heavy (13 pounds each), so make sure you'll be able to move them around when necessary.
The cabinet is made of durable materials. And it's magnetically shielded to protect your TV and other devices from magnetic interference. Like in most bookshelf speakers, this model also features a removable magnetic mesh grille.
Sound Quality
Yamaha also utilizes the acoustic suspension tech, which encloses everything in the cabinet in an airtight enclosure. This design ensures an articulate bass and minimizes the loss of energy.
While some bookshelf speakers in this price range struggle to achieve a 60 Hz frequency on the lower side, these speakers offer a frequency response ranging from 45 Hz to 23KHz. And the 3-way speaker system is obviously better than the 2-way in terms of sound, clarity, and fuller bass. But you can always add a subwoofer if you want more bass.
This is a passive speaker, so you'll need to add an amp or connect it to a home theatre receiver. The only issue that I found is that these speakers lack acoustic tuning. You can fix this by strategically positioning the speakers. But if you want very detailed sound, this may not be the best speaker for you. The Yamaha NS-6490 is best suited for general applications.
Pros
Durable build
High nominal impedance
The 3-way system ensures high-quality sound
It's safe to use around other devices.
Cons
It's a passive speaker
It's quite bulky
Lacks acoustic tuning
Bookshelf Speakers Under $500 Buying Guide
What Are Bookshelf Speakers?
These are speakers that are designed to operate on an elevated surface. This could be on an actual shelf, on a table, or on a stand. Where you place these speakers influence the quality of sound you get from them.
While you can use them as stand-alone speakers, you'll get a better experience if you combine them with subwoofers or other powerful systems. To be honest, the bass you get from bookshelf speakers may not always be up to par.
This is because they are smaller, and bass may need a larger room for a better effect. But the front and rear ports are some of the ways manufacturers try to solve this problem.
What to Expect In Bookshelf Speakers under $500?
Nowadays, it's easier and cheaper to produce hi-tech systems or any other device than it was a few years ago. Therefore, unless a manufacturer wants to omit some features deliberately, you don't have to spend thousands of dollars for a bookshelf speaker.
Generally, a $500 or cheaper speaker will have everything an audiophile needs. If you're looking for a general performance without the need for unique sound settings, they are the best for you.
They also have excellent crossovers, classic minimalistic cabinet designs, and decent frequency response. But if you want more powerful systems or systems that allow you to optimize the sound output further, you may have to spend more.
With that in mind, below are some features.
Factors to consider when selecting a bookshelf speaker
Just because you're on a budget doesn't mean you should go for any speaker with a lower price tag. Below are some aspects that you should check before making the purchase.
Wireless vs. Wired
Wired speakers are the oldest design, where you connect them to an amp using wires. Wireless speakers, on the other hand, have an inbuilt amp. Once you connect them to a power supply, you'll be good to go.
Wired speakers may be a bit clumsy due to the wires, but they often have the best sound output. On the other hand, wireless speakers are more convenient since you don't have to deal with wires.
However, most bookshelf speakers may not have a wireless connection. So for a basic system, I would go for the wired speakers.
Stands and placement
As mentioned earlier, bookshelf speakers should be elevated from the ground. However, you might find some users suggesting strict measures on how and where to place the speakers.
Well, not everyone has the technical know-how on the angles and all of the placement technicalities. Besides, stands will come at an extra cost.
Some of us just want to place the speakers and switch them on. And manufacturers are now acknowledging that.
Therefore, you can place these speakers in an actual bookshelf, a coffee table, or any other elevated place and still get a decent sound quality.
What you should worry about is the size. Make sure they aren't too large for your table or shelves. You should also give them some space away from the wall, especially if you're using speakers with a rear port.
Amplifier
Most of the bookshelf speakers in this guide are passive. This means you'll need to pair them with an appropriate amplifier.
The first step of matching a speaker with an amp is checking the wattage. If a speaker has a wattage range between 30 and 120 watts, you should find an amplifier with the same wattage range.
Matching the impedance also helps, but it's not always necessary. As long as you match the power output, you'll be good to go.
Conclusion
Bookshelf speakers are a fantastic way to transform an ordinary area into a multimedia and home theater experience. Don't let your budget limit you. Whether you have $500, $300, or $100, there's a bookshelf speaker out there that will suit your needs.
You may not have as much customization as you'd get from more expensive systems, but you'll get a decent sound quality. The Edifier R2000DB is great for those looking for a wireless speaker.
The Polk Audio T15 is great for those looking for a basic bookshelf speaker for less than $100. Have you found there to be great bookshelf speakers under $500? Let us know in the comments below.
You may also be interested in:
About Post Author