Sometimes all you need to complete a home entertainment system is a good soundbar. A good soundbar improves your viewing experience by making movie dialogues clearer, the music crispier, and the effects of video games punchier. However, not just any soundbar packs the sound quality you want for your big room.
The great soundbars will give you instant goosebumps, but the best will knock your socks off. But with hundreds in the market, finding the best soundbars for big rooms can be challenging. Luckily, this guide will only deal with the best to help you make the decision quickly.
We have already done all the testing tasks for you. Dig in and feel free to choose any of the best soundbars for big rooms on our list.
Comparison Table For The Best Soundbars For Big Rooms
| | | | | | |
| --- | --- | --- | --- | --- | --- |
| Model Name | Size | Power/Wattage | Subwoofer | Inputs/outputs | Wireless |
| Sonos Arc | 45 x 4.5 x 3.4 inches | 600 | NO | Ethernet; HDMI ARC, optical digital | Wi-Fi, AirPlay 2, Spotify Connect, Sonos S2 App |
| Bose Smart Soundbar 900 | 4.21 x 41.14 x 2.29 inches | Not Specified | No(Optional) | HDMI eARC; Optical digital; Ethernet port; ADAPTiQ; Subwoofer out | Chromecast, Bluetooth 4.2, Airplay 2 |
| Bowers & Wilkins Panorama 3 | 47.7 x 5.6 x 2.9 inches | 400 | Integrated | HDMI, eARC, Digital optical; Ethernet | AirPlay 2, Spotify Connect, Bowers & Wilkins Music App, Bluetooth 5 (aptX adaptive) |
| Sony HT-G700 | 38.6 x 4.38 x 2.63 inches | 400 | Yes | HDMI eARC, HDMI input, optical digital | Bluetooth |
| Samsung HW-Q950A | 25.6 x 2.3 x 3.9 inches | 616 | Yes | HDMI, eARC, Optical Digital | Bluetooth, Spotify Connect, AirPlay 2 |
Why Buy A Soundbar For Your Big Room
We agree that your TV speakers could use a sound boost to fill the room to your taste. But why go for a soundbar? For a start, soundbars come as self-contained packages that nicely sit in front or below your TV. They will add oomph to your sound without lots of huge hardware and wiring clutter. If the sound is not big and beefy enough, you have the option to add wireless surrounds or subwoofers to deepen and widen the sound.
Soundbars are designed for convenience and affordability and are mostly plug-n-play ready. You get all the tech to experience quality sound, such as Dolby Atmos, packed in a sleek and stylish bar. With a soundbar, you'll add great aesthetics to your entertainment setup and an immersive sound experience. In addition, soundbars offer music streaming options via Bluetooth and Wi-Fi and voice control through Alexa and Google Assistant.
Now that you're convinced a soundbar is what you need, let's find the best for your big room. Also, stick around to the end for a buying guide to help you better get what you want. Enjoy!
Best Soundbars For Big Rooms
Sonos Arc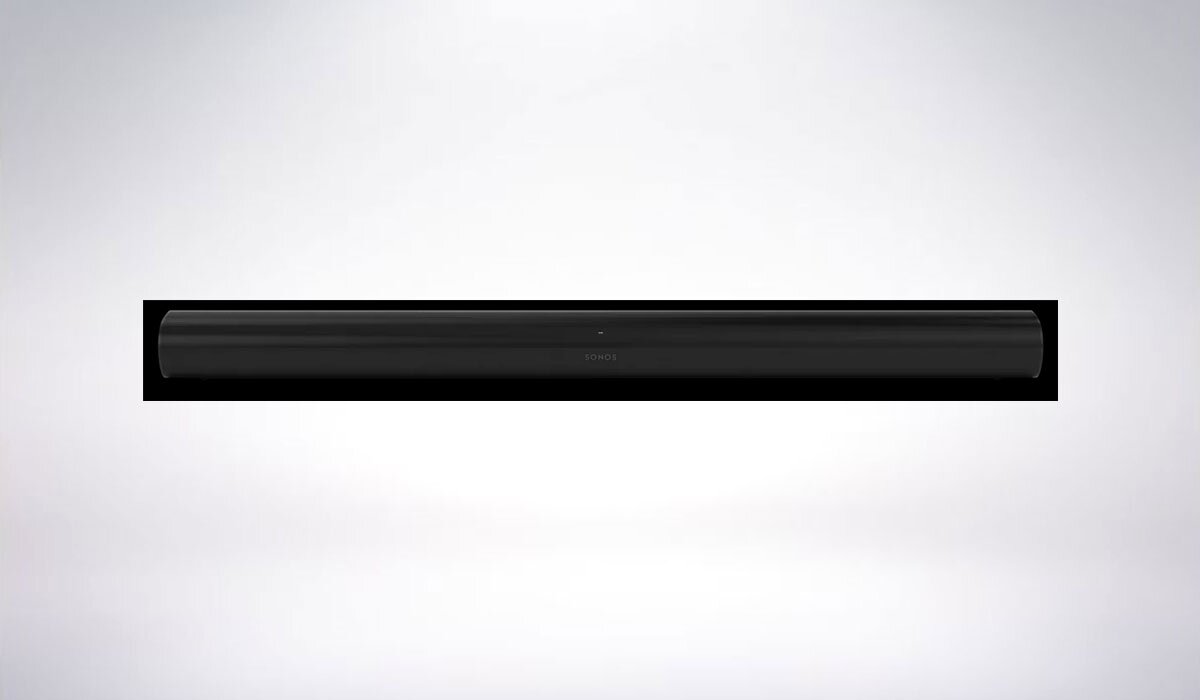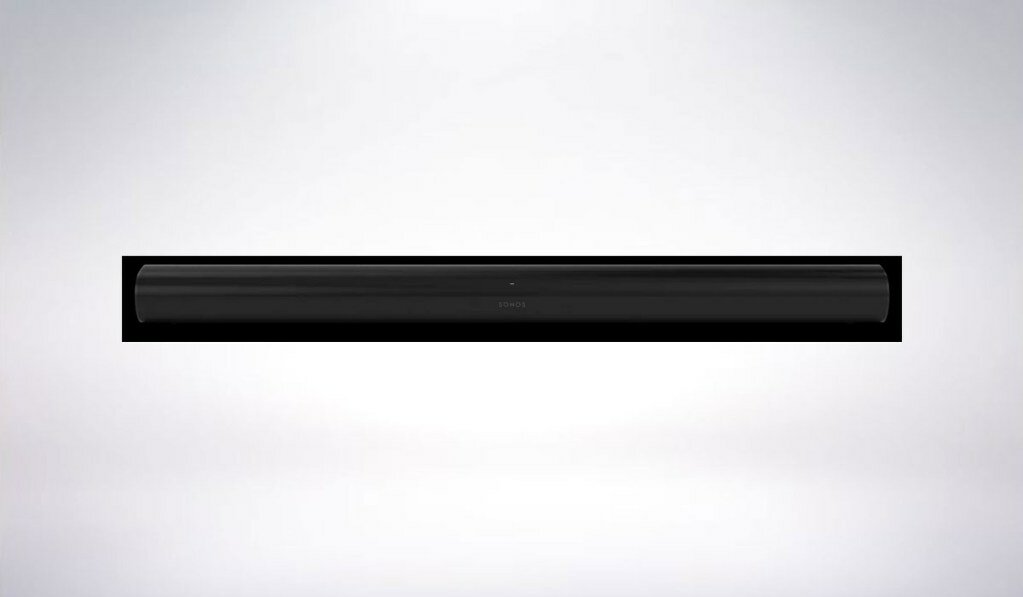 Design and Quality
Sonos Arc came around in 2020 as a Dolby Atmos supporting upgrade to the Sonos Playbar. It came in a different design and with more functionalities. Rather than take the Playbar's chunky square shape, the Arc has more aesthetically appealing smooth curves and elliptical ends. The new body makes the Arc look similar when placed flat on the table and under the TV.
Though slightly heavier and bigger than Playbar, the Arc fits just fine under the 55-inches or larger TVs. Sonos has retained the Playbar's intelligent position sensors to enable the Arc to adjust the sound signature relative to the position. In addition, the Arc comes in either black or white, unlike the Playbar, which comes in black only.
While both soundbars connect to your home network either through an Ethernet port or Wi-Fi, the connections on the rear are different. The Arc comes with an eARC-capable HDMI, while the Playbar has only the optical digital input. It's an understandable futuristic upgrade since most recent TVs come with HDMI ports that support ARC or eARC technologies. Even so, the Arc comes with an optical audio adapter for people still using an older TV.
Performance
The Sonos Arc outperforms the Playbar by far. Ideally, comparing the performance of a 9-drivers Playbar to an 11-drivers Arc is unfair. The drivers' arrangement is also different, with the Arc's positioned to deliver a 5.0.2 experience in Dolby Atmos while the Playbar is optimized as a 3.0 system.
The Arc is built as a self-sufficient unit. Its bass is punchy, and the mids and highs come out impressively well. The soundstage is wide enough for big rooms, though your audio source needs to support eARC to enjoy the Atmos experience. However, just like the Playbar, the Arc's soundstage is expandable with Sonos surround speakers and a subwoofer.
Compared to the Playbar, the Arc is relatively smarter. Yes, the Playbar connects to the Sonos App as the Arc does, but the optical port limits its communication with the TV to receiving audio-only. On the other hand, the Arc's eARC HDMI gives it more capability. It provides the Arc with enough bandwidth to play Dolby Atmos soundtracks and to communicate with the TV such that they can be controlled via one remote. Besides, the Arc doesn't come with remote control. Further, the Sonos Arc supports voice control and assistance, which you can summon through the four built-in far-field microphones.
Standout Features
The redesigned and improved Sonos Arc has better performance and aesthetics and is smarter. On top of its notable features are the HDMI eArc support, built-in Alexa and Google Assistant, and Dolby Atmos support. Whether you choose a black or a white Arc, you'll like the punchy bass and clear and easy-to-hear mids and highs. Also, the Arc supports expansion by adding surround speakers or a subwoofer.
Pros
It offers clear and focused sound
It has strong bass even without an external subwoofer
Built-in Alexa and Google Assistant
Supports Dolby Atmos
Cons
It takes up considerable space on a TV stand
Pricey
Bose Smart Soundbar 900


Design and Quality
Bose made the Smart Soundbar 900 to upgrade the sound performance of the Smart Soundbar 700. Since the users were already happy with the sturdy build and slim and sleek design, the manufacturer focused more on the performance. The result is a soundbar with more drivers and thus a slightly elongated body, making the 900 better for 55-inches or larger TVs.
On top of all the features of the 700, the 900 supports Dolby Atmos, Dolby Digital Plus, and TrueHD. However, this model misses support for DTS, which is a step behind. Even so, the model's room calibration and Voice4Video work as great as in 700 and comes in handy in-room sound setup.
The soundbar has a remote control like the older model, though it's an IR non-backlit type with fewer buttons. The 900 model relies more on the Bose music app for advanced settings and control. Also, the 900's remote can't control other connected devices, which is a downgrade from what the 700's remote can do.
Performance
Bose smart sound bars 900 and 700 could have similar looks, but performance puts them in different categories. Unlike the 700, the 900 comes with two upfiring speakers that change its surround sound game. The whole driver setup with Atmos turns the 900 into a 5.0.2 configuration, which outperforms the 3.0 setup of the 700 by far.
Although it lacks DTS, the sound is intense, immersive, and prominent. You'll like the cinematic and lifelike soundstage while watching movies or gaming with the 900. However, the 900 dialogues become brighter sometimes and could use some tweaking with the Bose app.
The 900 supports Bluetooth, Wi-Fi, voice control, and the rear HDMI eARC and optical connections. You'll need an HDMI eARC-compatible TV to enjoy Dolby Atmos effects with the 900. You can use the 900 as a stand-alone unit or expand with surround speakers or a subwoofer.
Standout Features
Without a doubt, the Bose Smart soundbar 900 has the looks and performance to impress many. Coupled with support for Dolby Atmos, Dolby Digital Plus, and TrueHD, the 900 soundbar is fun to listen to all day long. On top of that, this unit is built to last for a long time and is future-proofed with expansion capabilities.
Pros
Slim and sleek design
Supports Dolby Atmos
Has automatic room correction
Overall good movie sound quality
Built-in Alexa and Google Assistant
Cons
Bass is better with an added subwoofer
The sound quality of the music could be better
Bowers & Wilkins Panorama 3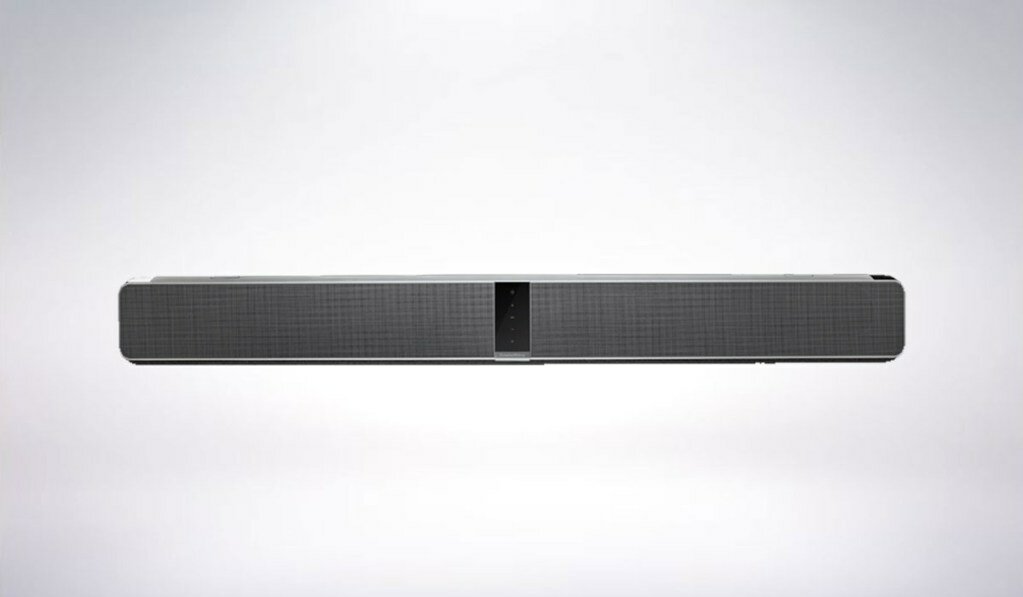 Design and Quality
While the Bowers & Wilkins Panorama 3 soundbar comes from a manufacturer known for quality sound equipment, it bears little resemblance to its sister, the Panorama 2. Besides, it's the first Dolby Atmos supporting soundbar from B&W. It features the usual sturdy build but has a slim and sleek design that spells sophistication from all angles. The body is a blend of fabric, glass, and plastic, tastefully mixed into a low-slung hexagonal shape.
The Panorama 3 is built as a self-sufficient unit with no expansion options. And sure enough, this unit packs a punch in sound quality. The 13 individual drivers powered by ten amplifiers turn the system into a powerful 3.1.2 configuration.
At the back, the unit features a single HDMI eARC port, an Ethernet port, a power slot, an optical digital port, a reset button, and a USB-C port. And like the Sonos Arc, the Panorama 3 comes with no remote control. More soundbar controls can be done using the Bowers & Wilkins mobile App or voice Google Assistant and Alexa.
Performance
The Panorama 3's internal is where the magic happens. There are 13 individual driver units uniquely positioned to fire sound forward, sideways, and upwards. The audio performance is solid and exceptional and quickly fills the biggest rooms without max volume.
The unit has a good lower, mid, and high frequency response. Movie dialogues are clear and focused, and the Dolby Atmos recreates a near-cinematic experience from their effects. The sound quality remains consistent while playing music or watching TV.
However, a slight problem comes from how Panorama 3 powers each channel. The drivers lack individual-level controls, and you have to pump the volume to get the most from the height channels. The Dolby Atmos height effects become less pronounced as lower the volume and the overall virtual surround sound effect diminishes.
Standout Features
Even without the option for expansion, the Panorama 3 packs enough power to fill a big room easily. The 3.1.2 system balances the bass, mids, and highs well, and the Dolby Atmos effects come out pretty well. The body design is excellent too, and you won't quickly notice it in the height of movie action or gaming.
Pros
Awesomely useful touch and app control
Great sounds with music
Lively, beefy, and expansive movie sounds
Sleek low-profile design
Strong low-end bass
Cons
Pricier than rivals
Lacks expandability
Dolby Atmos not so pronounced
Sony HT-G700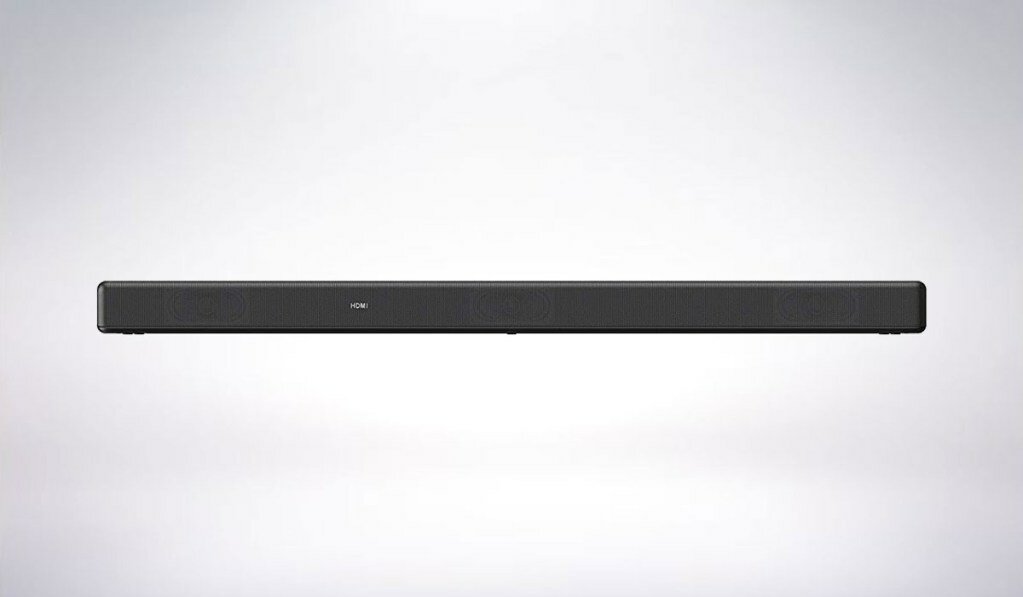 Design and Quality
The Sony HT-G700 resembles its sister, the Sony HT-S350, and comes in two units, a soundbar, and a wireless subwoofer. The two components have a simple black grille and matte black color finish.
Like with the HT-S350 soundbar, the HT-G700 control buttons for power, volume, input selection, and Bluetooth mode switch are along the top. The unit has a remote control with dedicated sound mode buttons for other settings. The soundbar and subwoofer pair automatically, without further audio calibration. In addition, you can adjust the subwoofer volume independently, though the default levels work just fine.
The HT-G700 gets an audio signal through an eARC HDMI port for TVs that support eARC standards or an optical digital port. The unit also has a dedicated HDMI input for full Dolby Atmos and DTS:X support and will handle Dolby Digital Plus and True HD formats, which is lacking in the HT-S350.
There is little setup required, and the unit automatically detects connected devices and processes signals as expected. Also, a dedicated night mode lowers bass and dynamics to keep your neighbors happy at night.
Performance
Sony HT-G700 is a 3.1 channel soundbar with a power output of 400W. With three drivers, this unit lacks genuine surround sound drivers. However, Sony uses the Immersive Audio Enhancement technology to achieve the Dolby Atmos effects, and the results are impressive.
The tech combines the S-Force Pro Front Surround tech that emulates virtual back speakers and Vertical Surround Engine tech that emulates virtual height speakers. And true to Sony's claim on their website, the combined techs automatically upscales the 3.1 unit to a 7.1.2 surround sound system virtually.
The sound engages with an exciting tight bass, and an average ear can't tell if it's virtually recreated. Overall, Sony delivers Dolby Atmos effects as promised, but the soundbar plays music better with the sound techs switched off. Also, the unit lacks voice control and a variety of streaming options.
Standout Features
The Sony HT-G700 delivers sound, simplicity, and value. The wireless sub significantly boosts movie sound effects and adds needed oomph to music. Though virtually recreated, the Dolby Atmos effects are awe-inspiring in this soundbar of choice.
Pros
Impressively wide and beefy sound
Supports Dolby Atmos & DTS:X
Impressive Atmos soundstage
Solid and stylish design
Cons
Lacks the dynamism of pricier models
No streaming functionality and voice control
Samsung HW-Q950A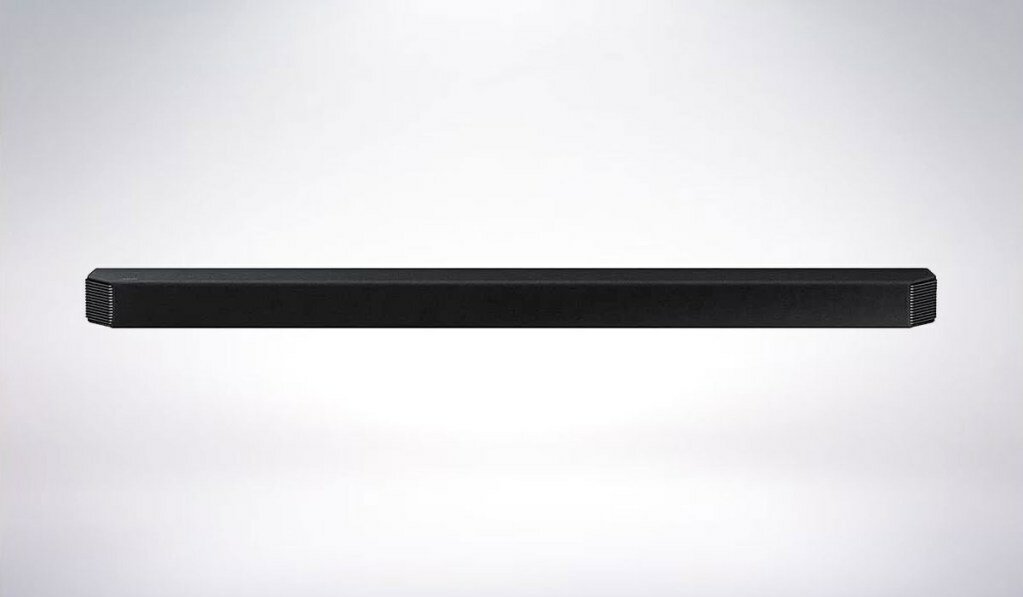 Design and Quality
With 22 drivers in an 11.1.4 surround sound setup, the Samsung HW-Q950A has the largest number of channels in the soundbars market. It was made as an upgrade to the massive 9.1.4 Samsung HW-950T. Both units have four physical parts, the main soundbar, two surround speakers, and a subwoofer, with the two extra drivers in HW-950A tucked in the surround speakers.
Samsung retains the fuzzy LCD of the HW-Q950T model in the HW-Q950A soundbar. We understand how things are tightly packed in this central unit, but the display misses the mark. Even so, the display comes in handy while using a remote control, and you can also control the unit through the Samsung SmartThings app.
Recessed at the back of the central units are two HDMI inputs and one eARC output, an optical-in port, and a power socket. The top houses the volume, microphone mute, and power/source controls. Further, the unit features a Wi-Fi switch button and manual connections to the sub and surround units on the bottom side.
Performance
The Samsung HW-Q950A plays in the big league of soundbars and is the priciest on our list. Having the largest number of drivers helps it push more air physically than its predecessor HW900A. And consequently, have a better immersive sound.
Though the unit has an 11.1.4 setup, you won't get the full experience under Standard Sound mode. You'll need to select either the Game Pro, Surround, or Adaptive sound modes. But you can as well activate the individual drivers using the mobile app. The HW-950A triumphs the HW-900A easily in performance when effects are turned on but go head to head at standard mode.
For a soundbar built for action, the HW-Q950A delivers as promised. Its ability to recreate the cinematic experience with room-quaking bass and enveloping surround sound is impressive. The main unit drivers have clear and exceptionally clean dialogues, while the side drivers bounce the sound everywhere in the room. However, the sub sometimes sounds like it's overpowering the other drivers with plenty of low-end punches as the action intensifies, a problem its predecessor shares.
If you feel the sub overpowering other drivers, you can switch back to Standard Mode to kill the side-firing drivers. But overall, the Q950A is enjoyable to listen to for long periods. The sound is sharp, detailed, and delivered 360 degrees to enhance the viewing experience. The audio quality remains the same while playing music, though the tonal distinction isn't clear when instruments double each other.
Standout Features
Undoubtedly, Samsung HW-950A has the drivers and technology to top the soundbar's game. Its Dolby Atmos soundstage is the closest we have from a soundbar compared to existing home theatre systems. Even with four physical units, the auto-calibration makes setup easy for this massive system. However, Samsung should do something about the LED display placement.
Pros
Huge and powerful movie playback
Well rounded Dolby Atmos soundstage
Excellent feature set
Supports Dolby Vision and HDR10+ Passthrough
Cons
Soundbars For Big Rooms Buying Guide
The best soundbar has to offer more than great sound and affordability. It needs to have the right size to blend in nicely with your entertainment system settings for aesthetics. Also, it needs to offer the connectivity, expansion, and streaming options that fit your needs. So, how do you easily choose the best soundbar for your big room? Here are several things to consider.
Where You'll Keep The Soundbar
Soundbars have placement versatility when it comes to installation. You can place them under, over, or in front of your TV or hang them on a wall. However, your soundbar's location influences the sound-firing direction and, consequently, quality. Also, the position where you place your soundbar can significantly affect how the whole system blends. In short, you need to consider where you'll keep the soundbar to pick the one that fits right in.
Soundbar Size
Mostly, soundbar size will matter for aesthetic purposes only. It'll look odd to have a longer or shorter soundbar than your TV. Ideally, soundbars should be equal in size to the TV or have slight differences.
However, the size of the soundbar you pick is solely under your discretion. Just ensure it fits the location you intend to keep it and can connect to your TV input and output options.
Active Vs. Passive Soundbars
Active soundbars are plug-n-play units with built-in amplifiers and channel processors, like all soundbars in our list. On the other hand, passive soundbars have no built-in amplifiers and thus need an external receiver or amplifier to work.
Technically, passive soundbars are more costly and need extra components, but they have better sound quality than active soundbars. We recommend you go with an active soundbar as it's cheaper and easier to set up.
Channels
Channels refer to sound sources or the number of individual speakers. But unlike in a typical home theatre system, soundbars have the center, right, left, and back speakers within one unit.
Ideally, the more channels a soundbar has, the better and more immersive its sound output. So, get a soundbar with as many channels as possible for a merrier and better sound experience.
Connection Options
Soundbar connections refer to the audio signal input and output ports. Most soundbars come with wired options such as HDMI and optical digital and wireless connectivity like Bluetooth and Wi-Fi.
Go for the soundbar that has many connections to enjoy better flexibility. Also, many connection options help when using your soundbar with several devices like TV, gaming consoles, and streaming music online.
Controls
Different soundbars will come with different ways to control them. Most come with a remote and a control panel on the soundbar, while some have an app and voice activation controls. Also, others can use your standard TV remote, especially the soundbars made for specific TV models.
We advise you to go for a soundbar with more control options as you'll have more freedom and backups.
Expansion Options
Expansion refers to the possibility of adding a subwoofer or surround speakers to the soundbar. If the soundbar can allow the addition of several other speakers, the more room you have to better the sound quality.
Expansion can also allow you to have a satellite speaker in another room powered by the soundbar. Therefore, consider the possibility of adding speakers to a soundbar before you buy.
FAQs
Are Soundbars Good For Big Rooms?
Soundbars are good for big rooms. They come with high-quality inbuilt speakers designed to fire sound in different directions to cover extensive areas. Some have integrated or stand-alone subwoofers, multiple speakers, and an inbuilt amplifier to ensure you're getting enough sound for your big room.
In addition, they allow you to add surround speakers and subwoofers to boost the sound to your taste and room needs.
How Can I Improve My TV Sound In A Large Room?
You can improve your TV sound in a large room by either adding a soundbar or a surround sound system. But a soundbar is more advantageous as it comes as a single plug-n-play unit and is more affordable.
They have less hardware and wiring clutter, and setting them is a no-brainer. However, if your budget and setup time allows you to, go for a surround sound system. However, you'll need to consider your room's size and shape specifics to see what's possible.
Does The Soundbar Have To Match The TV Size?
The size of the soundbar doesn't have to match the TV size. However, it is aesthetically appealing to have a soundbar with a matching or comparable size to the TV's size. Having a too small or too big difference won't result in the best-looking entertainment system.
Also, small soundbars won't pack big-enough speakers to fill a large room with sound.
Conclusion
Soundbars are an excellent option for improving audio quality in a big room. They offer superior audio quality, are affordable, and are extremely easy to set up. In addition, they come without the hardware and wiring clutter popular with home theatre systems.
If you're looking for the best soundbar for a big room, feel free to pick any in our list above. It will give you a guarantee of home theater experience right from your living space.
You may also be interested in:
About Post Author