High quality ceiling-mounted audio systems are a sure way to impress your guests with an immersive sound experience free of wires.
Having discreet speakers onboard can be a perfect for all spaces with the convenience of great sound without interruptions of cords.
Even with various options, the installation process remains straightforward. From wireless audio streaming to movie nights, here are our selection of the best bluetooth ceiling speakers for your home needs.
Comparison Table for the Best Bluetooth Ceiling Speakers
Herdio 5.25 Inch Ceiling Bluetooth Speakers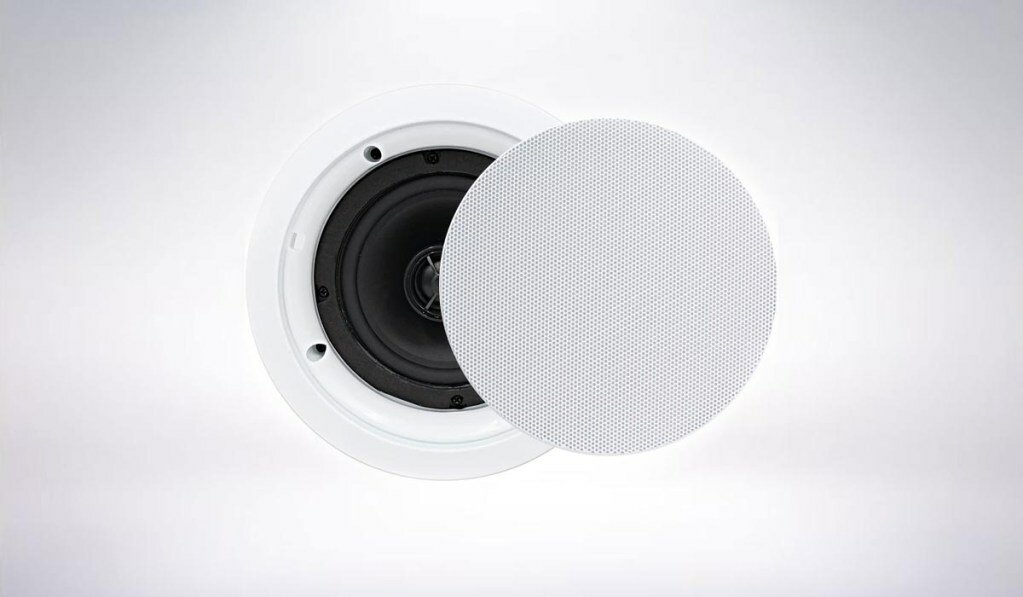 Design and Quality
First, these two round speakers look pretty and solid. Also, they are rubber surrounded polypropylene cone woofer and a high-quality tweeter.
Also, the swiveling tweeter allows you to choose an ideal position for the best listening experience.
Furthermore, the heavy-duty material of construction is durable and moisture resistant. So, you can use them in the Sauna, kitchen, or bathroom without causing any damage.
Installation is also effortless since it comes ready with cut-out templates. Since the speaker's diameter is 8.46 inches and the template's diameter is 7.3 inches, the speaker's frame fits well even without measuring anything.
Remarkably, the rotary CAMs in the speakers enable easy installation. So, it's easy to screw in the three screws and secure the speakers after running the wires.
Performance
Each speaker produces 150 watts, and since they come 2 in the box, you get a maximum peak power of 300 watts.
Moreover, the speaker's power output of 80W allows uniform sound distribution. Thus, you can arrange the speakers as you like and still tell where the sound is coming from.
A sensitivity of 89dB is tolerable yet powerful enough to cover the space with excellent frequency. Also in these speakers, there are two drivers that create an excellent frequency of 60 Hz to 20 kHz.
In addition, the speakers also feature an in-built Bluetooth receiver, which enables no outlet wall installation.
With the advanced Bluetooth 5.0, you get a stable wireless streaming ability and a sound processing amp. This makes it possible to stream music from all your favorite devices.
Stand-Out Features
The 5.25" speaker size comes solidly built for durability. Also, the pack of 2 speakers is not only value for money but also has two drivers for each speaker. An output of 150 watts for each speaker totals 300 watts, which is quite decent for any space. The frequency response range of 60 Hz to 20 kHz is stable and allows your ears to pick every sound.
Pros
Advanced and quick pairing 5.0 Bluetooth connectivity
Heavy-duty and moisture-resistant construction
Easy to install
Two speakers with powerful maximum output
Excellent sound quality
Cons
Pyle Pair 8" Bluetooth Speaker System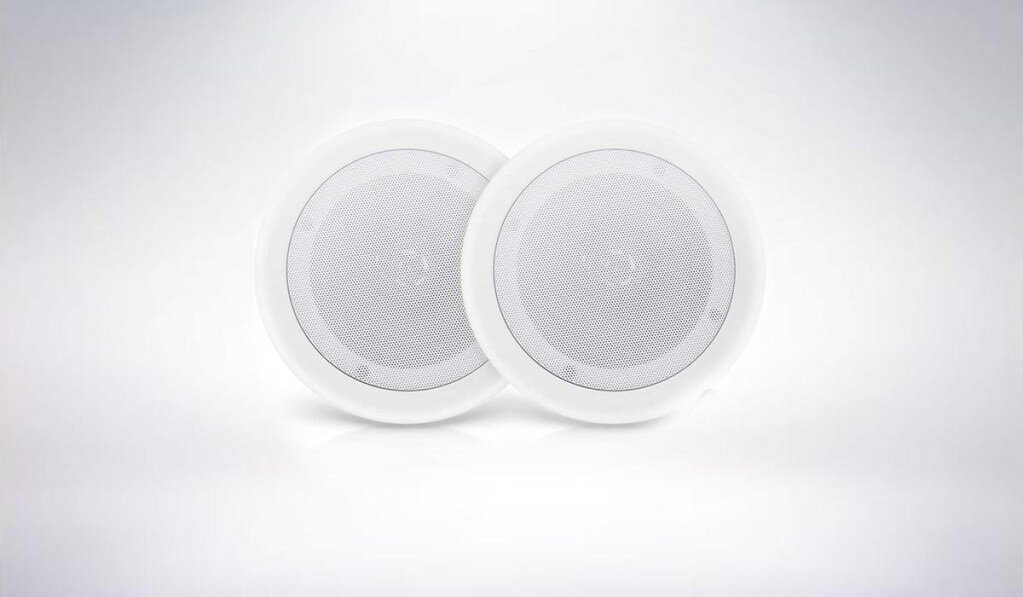 Design and Quality
Pyle pair 8" 2-way speakers are great if you're looking for an excellent sound system and want to save space. Most importantly, they're ideal for hardwood or tile flooring homes to enable easy installation.
These speakers are white and made from a high-quality polypropylene cone with a polymer tweeter. The 8" speakers produce a decent sound quality for the size.
Still, the top-grade ABS construction includes mounting hardware that enables hassle-free installation. The flush mount design has pre-cut speaker openings that make installing on the wall or ceiling easy.
These Pyle speakers feature an in-built round stain-resistant speaker grill that matches your space's current flush-mounted designs. Besides, the grilles can detach magnetically, making it relatively easy to hook up any audio device to these speakers.
Performance
The Pyle 2-Way is a mono speaker that comes as a pair. An active speaker holds the amplifier and the Bluetooth receiver, whereas the other passive speaker needs the active one to function.
Remarkably, Pyle allows you to daisy chain multiple passive speakers with the system to get like a separate surround sound system.
Also, the peak power for each speaker is 125 watts. Since they're two speakers, you get 250 watts total output and impressive bass performance.
Apart from the two drivers included in each 8-inch speaker, you also have an excellent frequency response of 40 Hz to 20 kHz in medium-sized rooms.
These speakers are compatible with Bluetooth 3.0 technology, offering a more stable connection to make things more interesting. So, you can easily pair the in-built Bluetooth receiver with your smartphone, tablet, and laptop.
Stand-out Features
The 8" speakers offer decent sound quality without cracking or distortion. A total output of 250 watts for both speakers is suitable for most people. Also, the frequency of 40 Hz to 20 kHz delivers some decent bass performance. The two speakers and two drivers produce incredibly crisp sound, playing where you desire.
Pros
Crisp and crystal clear sound
Stable Bluetooth connection and easy pairing
Compatible with daisy-chaining multiple speakers
Easy to install flush mount design with the hardware
High-quality construction
Cons
No IP rating; hence not moisture-resistant
Acoustic Audio CS-IC83 Home Theater Speaker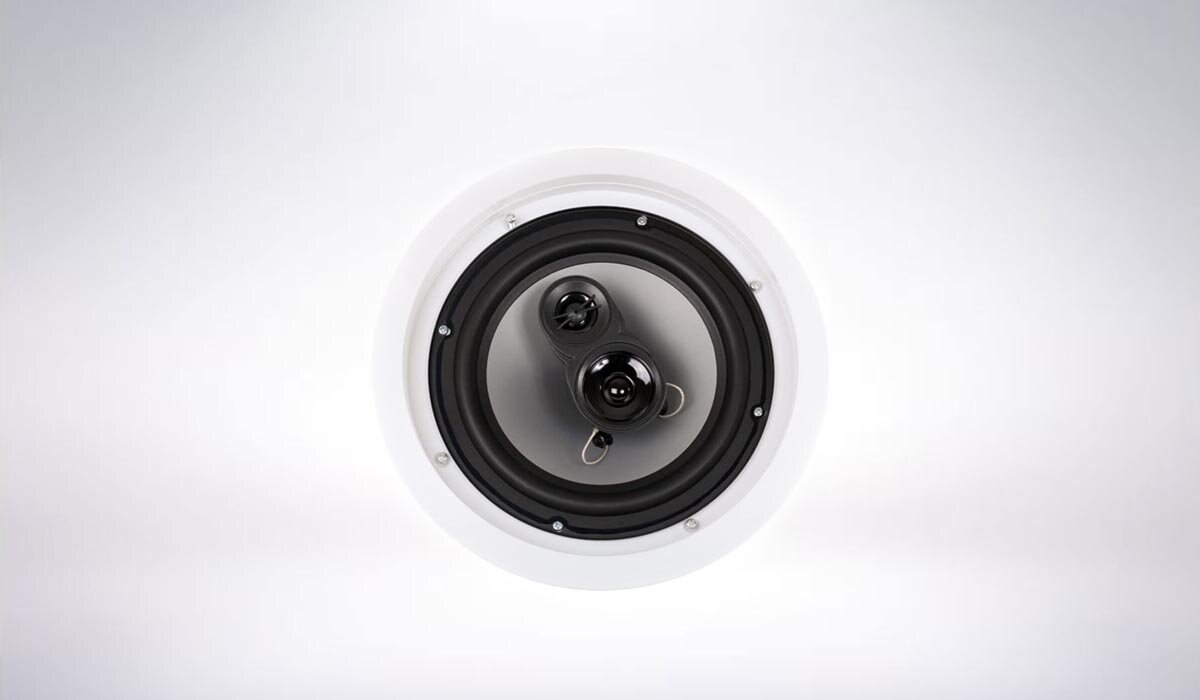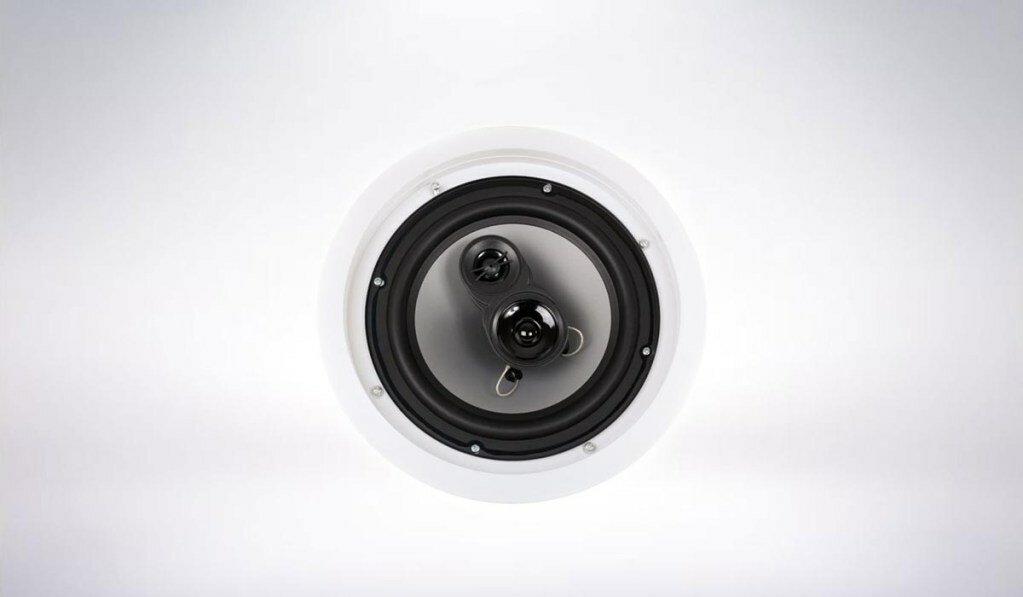 Design and Quality
Acoustic audio is among the high-end option available when you're looking for durability and excellent audio quality.
First, it features 8″ woofers, plastic high-quality ABS construction, and long-term usage.
The durable and removable ABS housings and grills are paintable, giving you an easy time maintaining and matching your décor.
Aside from the cut-out template, the manufacturers also included spring-loaded speaker wire terminals and a manual for easy installation.
Remarkably, these speakers have a color that easily blends with the ceilings and the overall aesthetics of any space. Nonetheless, the design is nothing compared to its performance.
Performance
Acoustic audio offers an excellent maximum output power of 350 watts, starting with the audio quality. And because it's a pack of 4 speakers, their total power output is 1400 watts.
Moreover, it has electronic ingredients comprising 3-way passive crossovers, butyl rubber surround, poly mica midranges, cones with advanced spiders, and 13mm soft dome tweeters. All these play a significant role in its unrivaled fidelity.
The 8" size also ensures the excellent audio quality. Plus, the 3-driver design produces a steady frequency response of 40 Hz to 20 kHz.
Stand-Out Features
The impressive 8" woofers aren't just eye-catching and provide a peak power output of 350 watts per speaker. The 4 speakers come with three drivers that each produces a reliable frequency response of 40 Hz to 20 kHz.
Unlike most similar products, Acoustic Audio has a pressure lock mounting system that tightly clamps to drywall. The speakers' progressive spiders and butyl rubber surround are other unmatched ingredients worth noting.
Pros
Mounts easily and tightly
Tremendous and steady sound quality
Easy to maintain and match with décor
Powerful output per speaker for detailed and clear sound
Aesthetically designed
Eight speakers provide value for money
Cons
Grills are hard to fix after falling
Difficult to maintain a stable connection with other devices
Lithe Audio Bluetooth Ceiling Speaker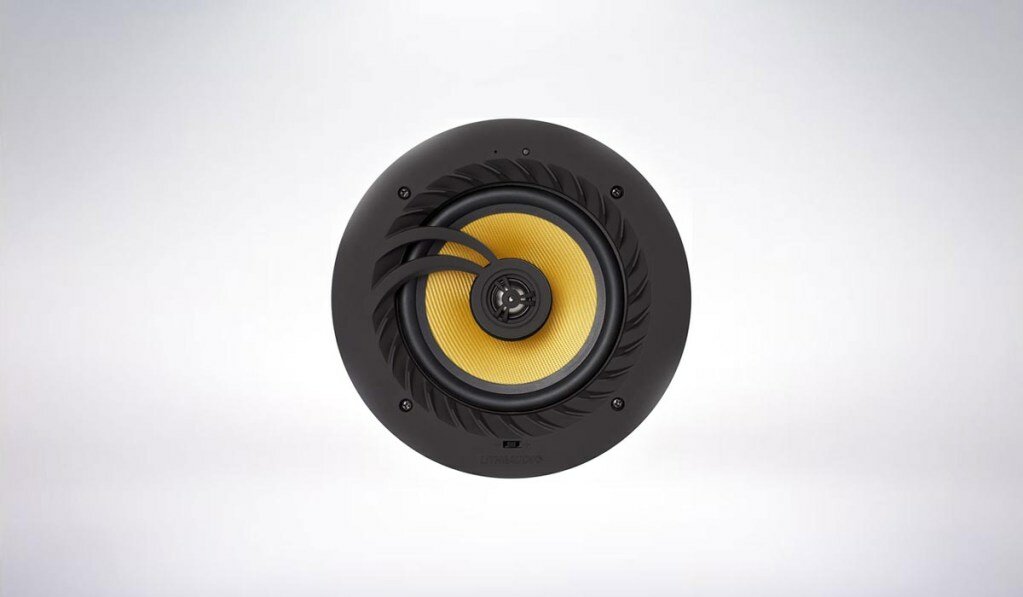 Design and Quality
The Lithe Audio Bluetooth ceiling speakers are a true gem to find. They feature to combine a Bluetooth amp and receiver with a top-grade speaker to produce an excellent deep and clear sound.
Furthermore, I liked that these speakers were straightforward to install. Better still, the frameless protective aluminum grilles magnetically attach to the speaker.
This Bluetooth ceiling speaker is a product of quality materials. The tweeter has a construction of a 9.75" titanium core, and the whole speaker operates using a digital class D amplifier.
Performance
These Bluetooth ceiling speakers feature the newest Bluetooth 5.0, which offers a 30m connectivity range.
The built-in amplifier and Bluetooth work together seamlessly to discourage the need for an AV receiver. You connect the speaker to a plug socket, and that's it!
When it comes to wireless connectivity, Lithe Audio Bluetooth ceiling speakers work with an aptX low latency chipset offering high-quality sound transmission.
The output provides an extra passive slave speaker for an expanded setup if you wish to have more speakers. Still, Lithe audio works with Echo dot and Google Home Mini right after purchase.
These speakers also have 50 watts RMS power output, producing adequate volume for medium to large spaces. Nonetheless, the volume cap reduces the peak output volume by 50% to avoid crazy loud sound interference.
Stand-Out Features
The advanced 5.0 Bluetooth connectivity, Echo dot, and Google Home Mini put Lithe Audio above several products in this list. The speakers also have a 50 watts power output that emits adequate volume that features a volume cap in case of interferences. This Bluetooth allows you to connect to other compatible devices from 30mm. The amp and Bluetooth ensure no buying of an extra AV receiver.
Pros
Flawless compatibility
Easy to install
Produces high-quality sound
Volume cap feature to control volume
Cons
Yamaha NSIC800WH 2-Way RMS Speaker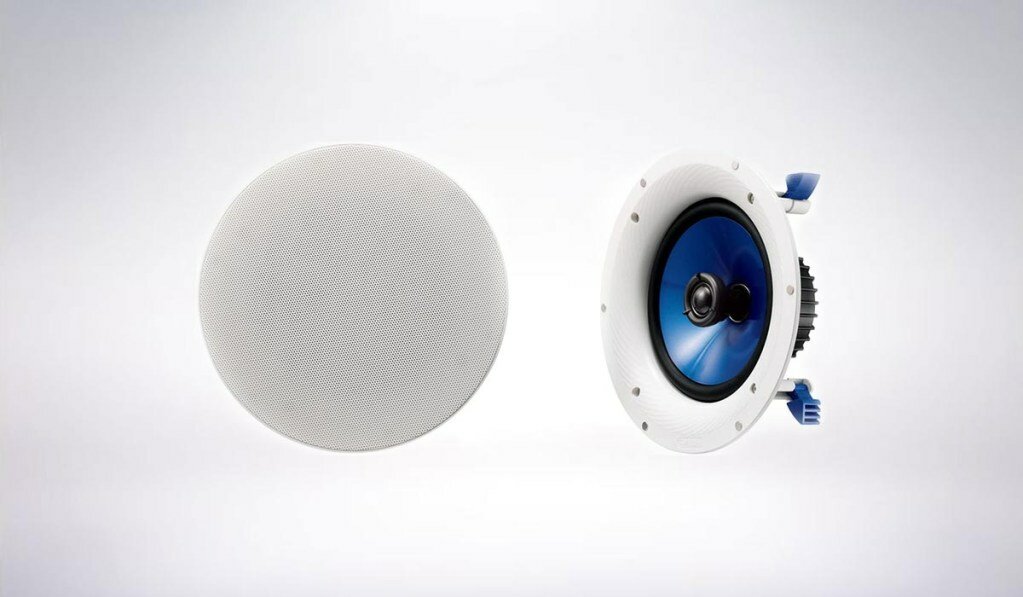 Design and Quality
The design of Yamaha Bluetooth ceiling speakers makes it a winner compared to other products in its category.
Apart from delivering uncompromised audio output, the NSIC800WH also has improved aesthetics in the interiors.
The blue polypropylene Mica cone woofer and tweeter upgrade the general design. The soft-dome tweeter can rotate to help you find the best spot for high-frequency output.
Thanks to the paintable metal grilles, you can have them fit any décor easily. Still, they have a slim fringe design that conceals after installation. The grills are also magnetic, enabling hassle-free installation and maintenance.
Still, the mounting clamp on these speakers is large and slip-resistant ensuring they stay in place after installation.
Lastly, the sealed rear cover has an IP rating that's dust and moisture resistant, to maintain the high quality.
Performance
Notably, Yamaha's sound is rich and exceptional from any part of your space. These speakers also feature an acoustic baffle with a grain finish, whereby its spiral pattern disperses the sound naturally. You get an immersive sound effect for the best movie experience.
The large 8-inch speakers offer 2-way sound production wherever you need them.
Stand-Out Features
Looking at the Polypropylene Mica woofer and acoustic baffle, you'll notice unmatched sound quality. Here's how.
Polypropylene mica woofer, a vital feature in these speakers enables high-performance sound reproduction. Additionally, the grain-finished spiral-structured acoustic baffle tops at sound dispersion than several competitor products.
Pros
High-quality sound reproduction
Protective rear cover with dust and moisture resistance
Effortless installation
Easy to maintain and fit into your décor
Attractive slim profile design
Cons
Audio quality isn't compatible with some speakers
Fragile mounting claps that break easily
Micca M-8C 2-Way Ceiling in Wall Speaker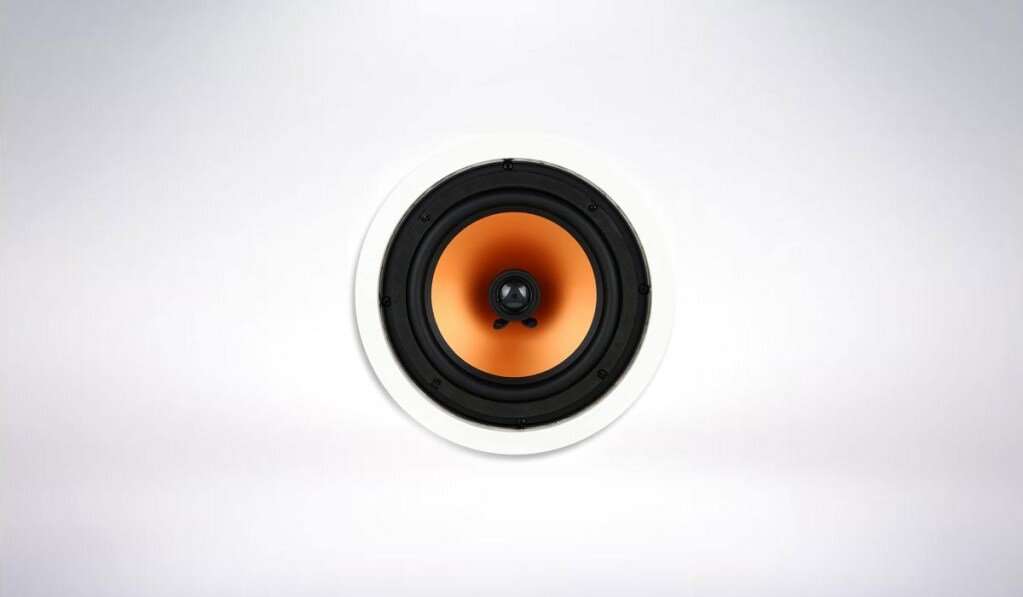 Design and Quality
The Micca M-8C ceiling speaker provides a unique sound experience compared to most speakers. This speaker is quite powerful but not overpowering.
Micca features an 8" polypropylene cone woofer and a silk-dome tweeter. The tweeter rotates to face the direction you desire to listen to your music from. Besides, it consists of a 6dB crossover network making it a comfortable sound.
The design of this 2-way speaker allows easy installation thanks to the pre-cut templates that fit, hiding any imperfections. Though wiring takes time, you won't have more problems.
Remarkably, you can match Micca to suit your décor because the aluminum grilles are paintable. Also, the mounting tabs at the speaker's back offer a secure and stable fit.
Performance
Micca produces a maximum output of 100 watts which is average and suitable for many users.
Similarly, the one speaker is affordable and ideal for people on fixed budgets and small spaces.
The relatively large cone woofer has excellent audio quality making a deeper but crisp clear sound with sensitivity rated at 90dB.
Because of the two drivers in the speakers, there's a fair and impressive frequency response of 40 Hz to 20 kHz.
Furthermore, the Micca M-8C ceiling speaker has a system that enables the connection of the speaker to your home's sound system. It directly sends sound from your entertainment unit to the speakers, so you only use the speakers.
The sound is excellent. Though the bass isn't strong, the midrange is crystal clear, and the highs are relatively steady.
Stand-out Features
Looking at the 8-inch speaker, you get 100 watts for reliable bass response and low distortion. Additionally, the 6dB crossover network enables a smooth transition between the tweeter and woofer.
The pre-cut mounting design allows the proper positioning, ensuring the cables are out of sight. Even though it's one speaker, two drivers produce a high-quality frequency of 40 Hz to 20 kHz for excellent sound quality.
Pros
Most affordable rate for large and high-quality speaker
Dual drivers that produce fantastic sound quality
Simple cut-out mounting for hiding cables
Allows connection with home entertainment unit
Cons
Weak bass output
Difficult to detach the grilles
Bluetooth Ceiling Speakers Buying Guide
Many people are on the fence about deciding if getting a Bluetooth ceiling speaker is worth the investment. Here are some factors of consideration before you make a purchase.
Clean Aesthetics
Undoubtedly, Bluetooth ceiling speakers installed on the ceiling bring out an attractive look. The clean white grill allows repainting for you to blend the color perfectly with your ceiling. This way, your guests won't even notice the speakers enabling the magic to happen out of your way.
Ceiling speakers remove nothing from your space. The music fits right into the background without you noticing where it's coming from.
Space-Saving
The lack of wires and clutter, makes Bluetooth ceiling speakers save a lot of space in your room.
For this reason, they work perfectly for family homes where you don't want kids knocking over speakers.
Besides, having floor-standing speakers requires a dedicated space which you may not have. So, installing ceiling speakers eliminates the stress to find space.
Good Rear Surround Sound System
If you're looking for that home theater setup with a rear surround sound system, ceiling speakers are your best shot. In most homes, there's no adequate space for floor stands behind a seating area.
So having your rear speakers up in the ceiling would help immensely. Also, installing the surround sound above helps add immersion, especially when watching movies.
Flexibility
Bluetooth ceiling speakers have a wide range of models and costs. There's something for everyone in the market.
Even though Bluetooth ceiling speakers come with an inbuilt amp, you still have the challenge of deciding on the best model for your needs.
Nonetheless, some people are cautious about getting Bluetooth ceiling speakers because they think the price is high. Yes, there are options for people willing to spend on bigger budgets. But still, some options have a more accessible cost.
Furthermore, speaker switches allow you to have an indoor and outdoor zone that you can use however you desire. This works well.
Versatile Options
Without lighting, your ceiling looks empty. So, thanks to Bluetooth ceiling speakers, you can direct the sound to any other room to create an excellent stereo sound.
Preferably, arrange the drivers of your ceiling speakers downwards to achieve a balanced sound in the whole house.
The thing about ceiling speakers, they work not just for entertainment but also for making audio announcements to employees.
So, if you're going with the best Bluetooth ceiling speakers, the convenience isn't just exceptional, and the connection to the speakers is effortless.
Making that particular choice matching your needs and preferences can be tricky. Thanks to the buying guide below, you can make a quick but excellent choice. This is an additional push to the details and specifications of the above top-rated products.
Design
If you want a product that's a cut above the rest, design should be the first thing to check. That's why many companies are taking the design of their products seriously to please the consumer.
When buying the Bluetooth ceiling speakers, you want to look up and feel happy appreciating the perfect design.
So, the shape of your Bluetooth ceiling speaker matters a lot. You want a unique, eye-catching look and not a distraction.
The design should easily blend with your current décor and still allow you to use the speakers without any problem.
Ease of Installation
You can buy the most expensive Bluetooth ceiling speakers, but if it's too difficult to install, your experience will probably be awful from the start.
Most importantly, if you're not tech-savvy, it would help get speakers that are easy to set up. Besides, you don't want to mess with an expensive unit!
Additionally, avoid speakers that have numerous parts, as this takes time to complete the connection. Instead, look for an easy setup process with a manual that's clear to understand.
Response Time
Response time comes in Hz. Like human ears, speakers can also interpret sound in a specific frequency. Hence, a wide range equals more sounds for the speakers to interpret and richer audio quality.
Therefore, you should search for speakers with a broader scope.
Most importantly, note that speakers with a higher than 20000Hz won't serve you because your ears can't pick sound beyond 20000Hz.
So, always set your limit at 20000Hz for your choice of Bluetooth ceiling speakers.
IP Rating
IP66 is the least IP rating to ensure dust and water-resistant. Such types are great for busy and open spaces with pets and kids.
Better still, getting a suitable IP rating allows you to use your Bluetooth ceiling even in the bathroom. Besides, it's water-resistant, so you can even install it in the shower if you like.
Audio Sensitivity
This is yet another essential feature to consider, and it measures in decibels.
Typically, sensitive audio speakers require less energy to transmit loud sounds. Thus, it's true that speakers with higher audio sensitivity are energy-efficient compared to their counterparts.
Speaker Type
Your choice of the type of speaker matters a great deal. Usually, however, there are two main types of speakers- mono and stereo.
Mono Speakers: This type can only play one sound at a time. Primarily, they work in cases where you just need functional and not high-quality sound. So, if you prefer to enjoy your music only when you exercise, a mono speaker is more appropriate.
Stereo Speakers: These enable you to listen to multiple sounds simultaneously. So, you can have both your podcasts and music on stereo speakers. This makes them ideal to use in different rooms at the same time.
In addition, you should note that stereo speakers need two places for speaker wire installation lest you end up with a dud!
Bluetooth Connectivity
Last but not least, Bluetooth connectivity is also an important consideration. Bluetooth connectivity allows you to connect your speakers with your devices for wireless streaming.
Mainly, a single frequency band works for companies where it can't connect to other devices.
On the other hand, the option allows many compatible devices to connect for more options.
The best Bluetooth ceiling speakers should be compatible with even five devices and have an easy setup.
Frequently Asked Questions
How Do Bluetooth Ceiling Speakers Power Up?
Bluetooth ceiling speakers need power from an amp or a separate wire connected to the speaker.
Power is crucial since these speakers come with an inbuilt receiver, amplifier, and adapter.
Should You Get An Amplifier For Bluetooth Ceiling Speakers?
Yes, it would help to buy an amplifier as well.
Don't just get any amp, but go for a Bluetooth amp. It must remain plugged in throughout with the speakers connected to the amp as an essential part.
How Should You Arrange Your Ceiling Speakers?
Background music requires all your speakers to be in a central location of the listening area. They should be about 2-3 meters between the walls and other speakers to offer even sound coverage.
Three speakers at the front channels and two behind for the home cinema would be ideal.
Conclusion
As you can see, it's clear that finding the best Bluetooth ceiling speakers doesn't need to be a burden in getting a great system.
Wherever you want to enjoy your music, be it in the shower, bedroom, or living room, it's pretty easy to reach your goal.
With the help of this thorough guide, I hope that you're in a better position to understand what to look for. You're unlikely to go wrong by choosing from the list above.
Finally, prioritize your budget among the critical fundamentals of the perfect Bluetooth ceiling speakers.
You may also be interested in:
About Post Author