Entertainment is becoming the in-thing for many, especially families. Home theaters are the perfect way to get the best type of entertainment and get relaxed. Long gone are the days when people used to go to discos and have fun or to the stadiums to watch football. Technology has brought entertainment to people's homes, and with the best home theatre system, you can have lasting memories in the comfort of your home.
Have you been considering buying a home theater ? There are many types of home theaters, and they vary in various ways. In this article, we shall look at multi-channel home theatres. These sound systems can handle multiple audio channels with great sound effects that leave you excited as you watch your favorite movie and favorite music.

You may also be interested in:
How Many Speakers Does a Multi-Channel Home Theatre Have
Any modern multi-channel home theater boasts at least five speakers. They include the left, right, centre, and surround. However, you have the option of adding a bass subwoofer to boost the quality of your sound.
The number of speakers you add depends on your space, budget, and ability to stand the high sound. There are many places where you can install this type of home theater, including the ceiling and walls, which are the areas where most people mount their speakers. This enhances an equal distribution of sound.
Parts and Features of a Multi-Channel Home Theater
Although speakers are the main parts of this home theater, they are not enough. Here are other essential parts of the Speaker that you need.
The Source
This is the part that offers support to the surround system's format that aligns with your Speaker's system. Failure to get a source that will work your system is tragic. For instance, if your system is 5.1, you should get a source that matches that output range.
AV Receiver
A receiver is an integral part of your home theater. It is a device that processes your audio tracks and ensures that all speakers are supplied with power. The receiver's effectiveness depends on your home theater's size.
If it is pretty big, you will have to get an AV receiver that is more compatible. Other factors that rotate around the receiver's reliability include the amplification you require and the wattage for the speakers. The cost of these receivers also varies on the size of your home theater system.
The source and AV receiver are the main parts of a multi-channel home theater. However, it is indisputable that you must have the speaker wire and interconnects. See our list of best AV receivers under $500.
Types of Multi-Channel Home Theater Systems
Different kinds of multi-channel theater systems are classified by digits which are separated by a decimal point. The first digit represents the number of satellite units. The reproduction of each unit is done on a single speaker.
Mostly, these are the speakers that can support a frequency of between 100 Hz to 22 kHz. On the other hand, the second digit represents the Low-Frequency Effect whose presence is felt on a subwoofer.
Here is a list of different types of multi-channel home theater systems.
2.0 Stereo System
This type of multi-channel home theater system features two sound channels on the left and the other on the right. The other feature is a pair of stereo speakers which you can place beside your television. An amplifier or receiver powers this speaker. In case the system has wireless connectivity, it will not need a receiver to amplify it.

Another fact about the 2.0 stereo systems is that you can compact them with several mobile devices, TV or DVD. They also don't support subwoofers, and setting them up is easy. You can use it for a start, and it will still give your TV or mobile device an improved and clear sound.
2.1 Stereo Systems
This type of home theater also has two speakers on the left and right sides of the TV. However, they have separate subwoofers, which are perfect for providing bass and a deeper sound. It is the best way to get simple, affordable, and excellent content from your tablet, TV, or movies.
The system has a downside because it doesn't have surrounding speakers. This hinders you from getting an experience of an engulfed surround sound. However, if your home is not highly cluttered, you will get to enjoy a low-frequency sound as you relax during your day off.
5.1 Channel Home Theater System
This is a more authentic surround sound system, and it is the most common configuration. It features five speakers and a subwoofer. The right and left speakers are responsible for providing a sense of direction and any action taking place on the screen.
The other speaker is the center one, and it's for music vocals and movie dialogue. The other two speakers are placed around the rear spacers, and they reproduce unique sound effects.
On the other hand, the subwoofers are responsible for the reproduction of the lower frequencies. When combined with the five speakers and the subwoofer, you will have an irresistible all-around sound in your house.
The best way to set these speakers is by having two of them at the front. Ensure they are seated at an angle of 30 degrees from the centre speaker. This will make the sound more balanced in your home. The other two speakers should be placed at an angle of 90 degrees from the centre speaker.
The best part of the 5.1 channel home theater system is its compatibility with movie theaters, DVDs, play stations and TVs.
6.1 Channel Surround Sound Systems
This is the advanced type of 5.1, and its setup is the same as the 5.1 system. However, instead of five speakers, it has six. When arranging, there will be three speakers on the front. The extra speaker will be adjacent to the rear center. This multi-channel sound system has excellent imaging of sound and is accurately positioned thanks to the extra Speaker. Also, it has more defined moving sound effects, that is more precise than the 5.1 system sound.

7.1 Channel Surround Sound System
The 7.1 channels are the upgraded version of the 6.1 system through an additional speaker. In your arrangement, you will have three speakers on the front, followed by the two surround speakers and the two rear channels, plus the subwoofer.
Since the two surround speakers can't reproduce the rear and surround sound, there is an alternative. The rear speakers enable the reproduction of these two sounds by giving an overall and full sound. You can be sure to have the best entertainment experience with the 7.1 multi-channel home theater system.
In addition, the 7.1 systems feature THX processing which ensures the sound is more authentic. However, you might experience challenges when wiring the system, but you can't compare the effort with the kind of sound that will fill your home. You might have your neighbors joining you for the entertainment.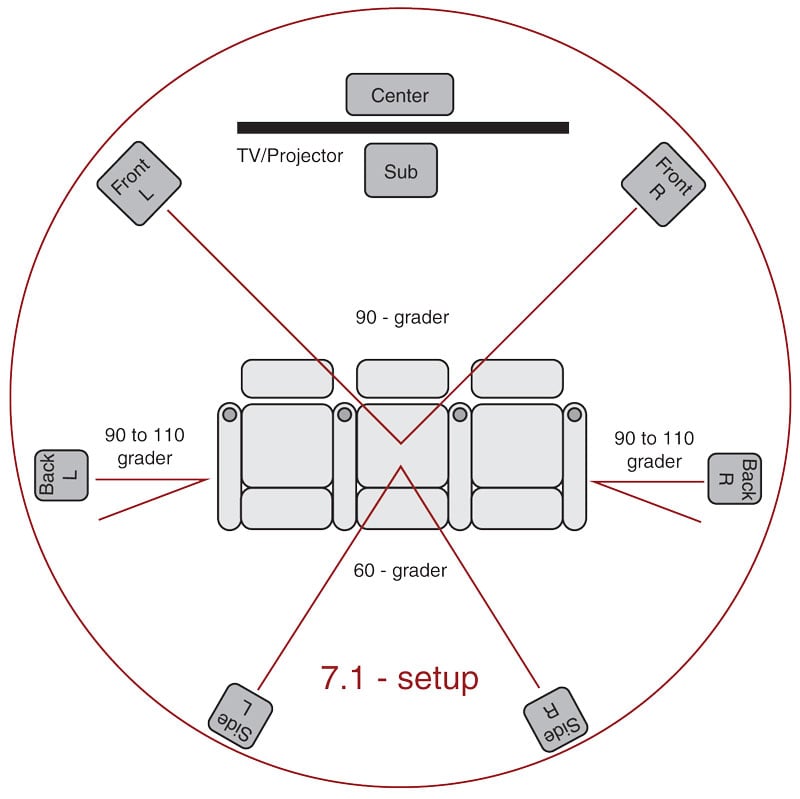 10.2 Multichannel Sound system
This is where the future of the multi-channel home theater system lies. Featuring the incorporation of THX, this system is two times better than the 5.1 version. There are twelve speakers in this system, with five of them being on the front. With this system, you can be sure to be running home after work for a moment of country music in your sitting room.
Formats of Multi-Channel Home Theater Systems
Dolby Digital
Dolby Digital is a format of the multi-channel system that is responsible for high quality and authentic sound. The Dolby corporation develops this audio sound format which is also known as Audio-Corde-3. The format gives a 5.1 system sound experience, and it's best when it comes to creating Blue-ray movies and DVDs. Also, it has some units of play stations and video games in it.
Dolby Surround
This format of multi-channel home theater system was introduced in 1982 and handled hi-fi and stereo audio. The Dolby surround format has a decoder that helps recreate a Dolby multi-channel sound system with four channels.

Dolby ProLogic 11 X
Dolby Prologic format is used to expand the 5.1 system to either 10.2, 7.1 or 6.1 sound systems, and it has a listening mode for movies, games modes, and music. This format offers a deep and rich sound effect compared to the typical home theater systems. You can decode it with play stations, HVD, DVD, BRD, and HDTV.
Dolby Digital EX
This is the kind of format that comes with a more realistic sound experience whenever you switch on your system. It is an upgrade of the Dolby digital format and boasts an additional multi-channel sound unit. This surround sound format can support the channel playback of the 7.1,6.1, and 5.1 systems. Additionally, it is compatible with a DVD, PlayStation, blue ray, DTV broadcasts, and HVD.
Choosing a Multi-Channel Home Theater
As mentioned earlier, home theaters come in different types and sizes. Choosing a good one might be tricky, especially if it's your first time. It would be best if you had an idea of selecting a system that will suit your needs and give value to your money. Here are some buying tips for a multi-channel home theater system that can help.
Installation Room
Where you intend to have your home theater is a crucial factor because it determines the size and features. Measuring the size of your room is the best way to know the type of home theater to pick. Also, the size of your room will guide you in buying the system. If your room is small, you have no business buying a massive multi-channel home theater system. Remember, some speakers are designed to hide in the walls and ceilings, so you need to blend the room factor with your preference.
Number of Speakers
As earlier mentioned, there are different types of multi-channel home theater systems. They vary in the number of speakers, and that's why this is a factor. However, this depends on the dimensions of your house. To be on the safe side, you can contact the dealer for clarity or even invite them to your home to see your room and make a suggestion. However, the best multi-channel home theater has five speakers.
Television
Without a good television, there is no need to buy a home theater. However, if you have one, you can proceed to find a multi-channel theater system that will be compatible with your TV. The latest systems feature the 4K HDR system, and it is compatible with smart TVs. They boast several connectivity options, and you can use them with gadgets that will be introduced in the future.
Reviews and Recommendations
It is always said that word of mouth is an excellent form of advertisement. This is why you need reviews from people who own multi-channel home theaters. Another tip is by getting manuals from different companies. The manuals will highlight the features and prices of every system. With such details, you can compare and pick the one that suits your needs and budget.
Ease of set up
As much as home theater installation is part of the buying process, it would be best to consider the ease of setup. This is because, at some point, you might need to change its position. Therefore, you must be taken through an installation demo to ensure that you won't be stranded if you want to change the position. You don't want to keep calling customer care whenever you want some changes.
Benefits of Having a Multi-Channel Home Theater
Multi-channel home theaters are a package of several benefits. If you are wondering why you should buy one, here is what you stand to gain.
Increased Home Appeal
This is a unique benefit of a home theater. Besides having a great entertainment experience, home theaters increase the appeal of a home. Also, they increase your home's value which will be a plus if you wish to sell your home. This is more so if you install a premium system of multi-channel home theater.
You Can Tailor It to Your Specifications
You have the freedom to design a multi-channel home theater to your specifications. This way, you can make movies, and concerts to be only viewable to your family. This means that there is privacy whenever you need it. Also, with a home theater, you can know how to arrange your furniture uniquely.
A Sporting Event Experience
Having a multi-channel home theater presents you with an opportunity to enjoy sports classically. The big screen and authentic sound system gives you a stadium feel. You will feel like you are part and parcel of the football team you are cheering for.
Make You a Better Host
Having some time to sit down and watch a series on Netflix is refreshing. However, it is more refreshing when your friends come to your home and are treated to a trending movie. This will leave them with lasting memories, and they will want to be hosted by you time and again. Your house might become a movie joint if you have a good home theater system.
Disadvantages of A Home Theater
Loud Sound
Multi-channel home theaters have loud sounds. This can affect your ears and that of your loved ones if it is not controlled. The leading cause of this is poor setting.
Distractions
This happens if there are different people in the room. Chances are, not everyone will be interested in watching a movie. Some will want to chat on their phones or play board games silently. However, this might not be possible if the system is on. They will be distracted, and that might cause some disagreements.
Time Consuming Installation
Installing a multi-channel home theater is not a walk in the park. You will be required to plan well because it is time-consuming. The wiring is hectic because you must ensure the wires are appropriately fixed and hidden. This requires some level of expertise which you might not have.
Price
Multi-channel home theaters are costly, especially if you go for modern and advanced ones. They are a significant investment, and you will be required to plan and budget.
Conclusion
Multi-channel home theaters are taking over the entertainment world by storm. They enhance quality family and friend moments through watching movies or playing games. They also increase the value of your home and make you a good host. Additionally, you enjoy a quality sound in your home. However, buying a home theater is costly.
It will also take you much time to install, and if you opt for professional help, you will have to pay a considerable amount of money. If you have been considering buying a multi-channel home theater system, this article has been ultimate for you. It has discussed everything you need to know about it.
You also know the factors to consider when buying the system. Additionally, you now know the different types of home theaters that you can buy all depending on your budget and preferences.

You may also be interested in:
About Post Author