Headed by Andreas Schmitt, InEar is a German brand with a 38-strong team with over 25 years of experience in the manufacture of both audiophile and professional in-ear solutions. All products are carefully assembled by hand with the use of special CAD software and 3D exposure systems. Although InEar have special expertise in developing OEM products for business partners, their in-ear monitoring systems have served both musicians and consumer-grade audiences alike.
Some within audiophile communities may recognize the InEar ProPhile 8 – a studio reference 8 balanced-armature monitor with an adjustable frequency switch. The model was well-received and a testament to InEar's meticulous product design and tuning. More recently, the company have released a flagship monitor touted the InEar ProMission X – a 10 balanced-armature driver IEM enclosed within a unique hybrid wood/resin finish. The earphones employ a 4-way crossover integration and retail for a considerable €2089 or $2499.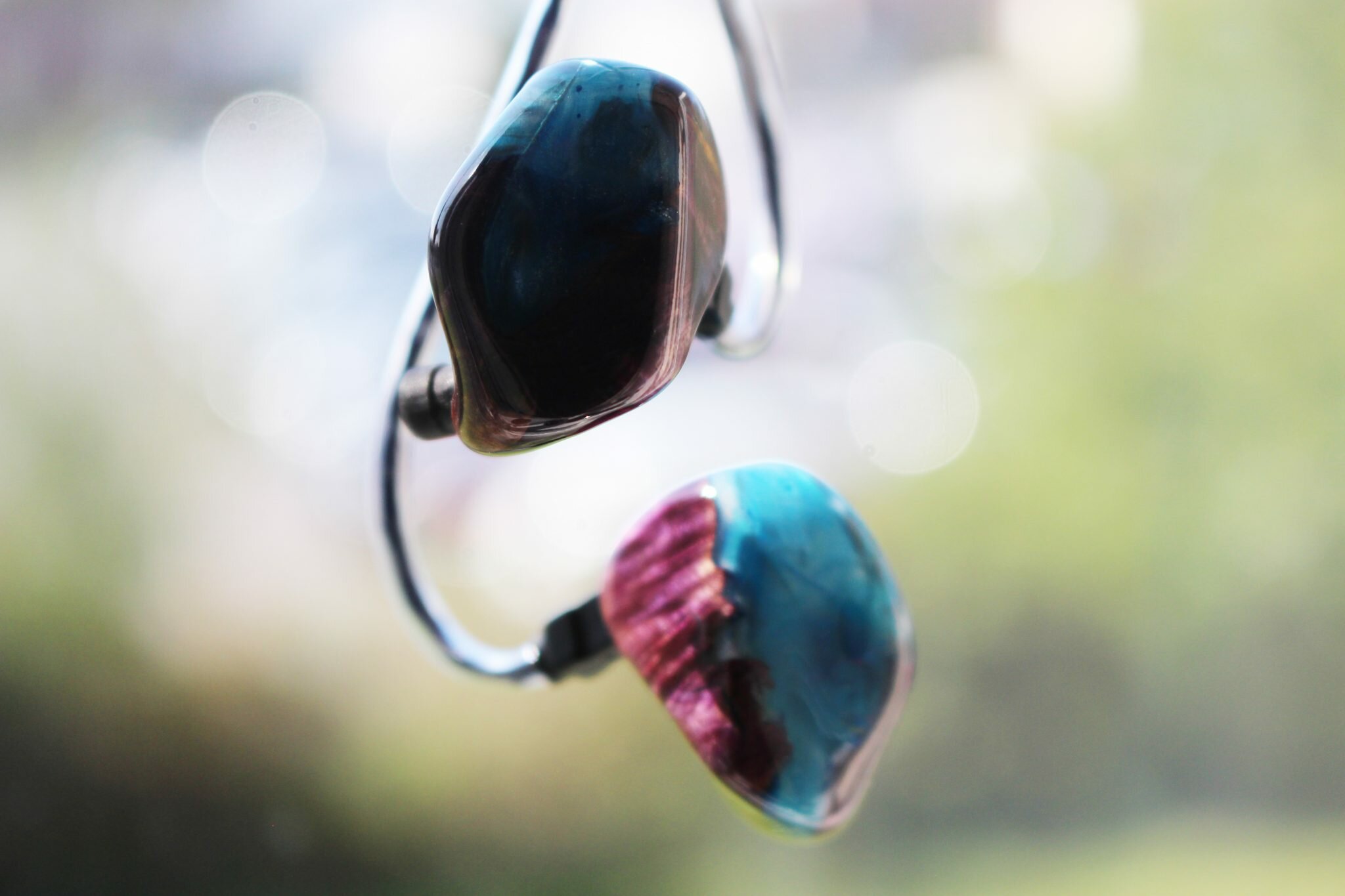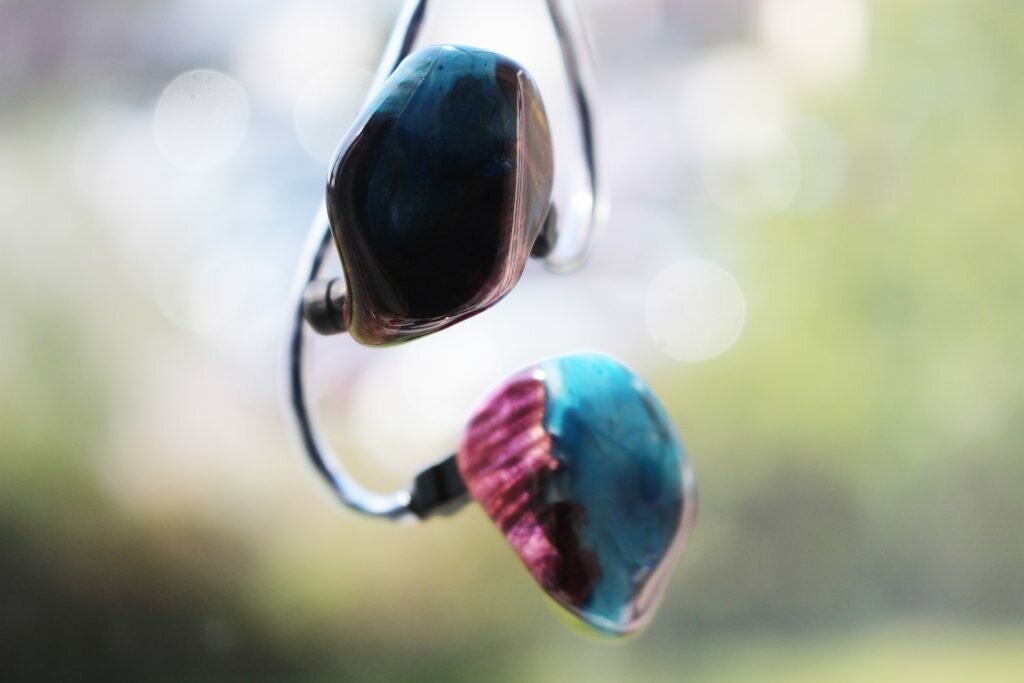 The Packaging
The packaging of the InEar ProMission X is relatively subdued – with the in-ear monitors arriving in a simple black magnetic latch box.
For a flagship product, perhaps InEar could have given the packaging a more premium vibe to truly make the product stand out. Once the box is opened, users are greeted to a circular leather case with alternating brown and black outer rim stitching. The case is very elegant and more in keeping with a premium product – I do prefer the material employed here compared to Ultimate Ear's metal one.
Also included are 4 pairs of silicone ear tips (ranging from XS to L), 3 pairs of Comply TS400 foam tips (S,M and L), a gold-plated ¼ inch adapter, 3 cleaning cloths and a cerumen filter set H3. The filter sets are merely replacement and not designed to alter sonic acoustic properties as may be noticed in other IEM sets.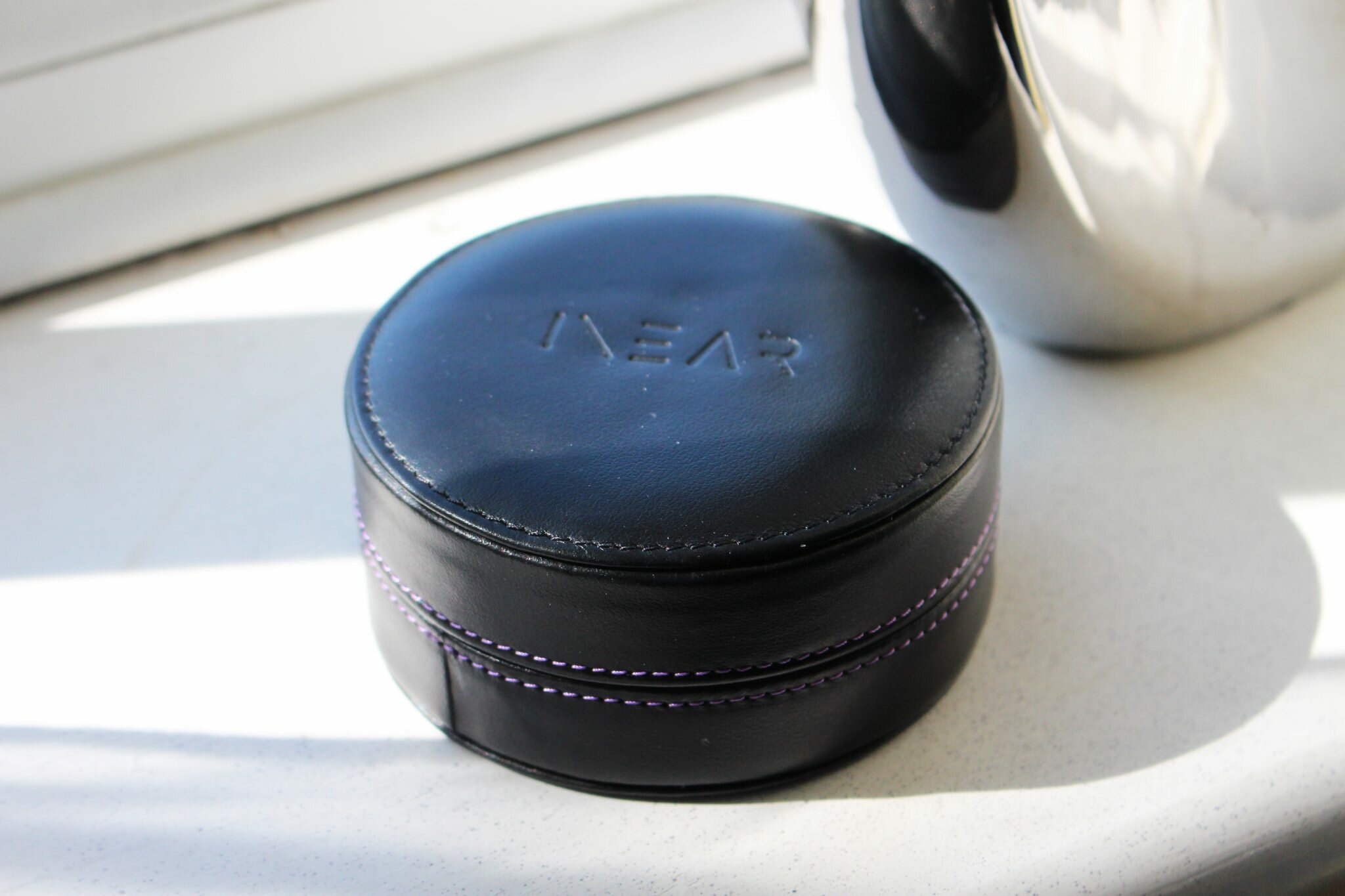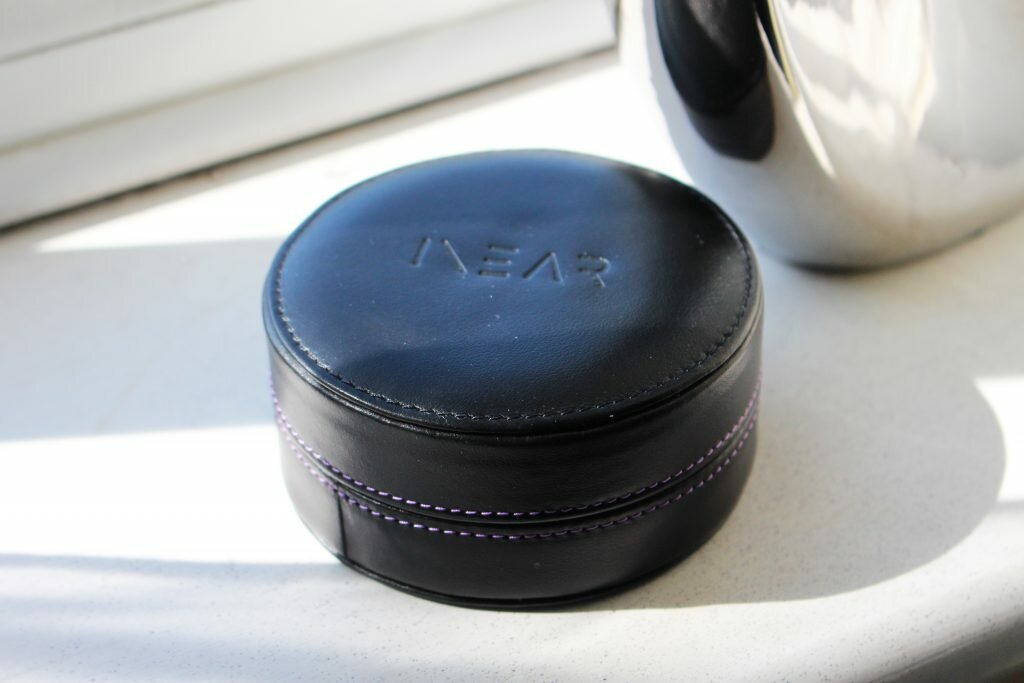 Build & Design
The ProMission X is stunning in appearance with InEar utilizing a jet-black violet hybrid wood and acrylic in a shimmering mother-of-pearl sky-blue aesthetic. The design is rather exotic and as InEar say, an homage to the universe and the swirls of our surrounding galaxies. It is also looks rather like a custom in-ear monitor with its smooth and curvilinear contours.
There are traditional 2 pin connections and a pliant cable with plastic sheathing which sits neatly over the ear. The stock cable is a dual-braid design with a simple circular y-split and terminated in a 3.5 mm TRS gold-plated L-shaped jack.
Driver configuration
ProMission X includes a 10 balanced-armature driver design in a 4-way crossover configuration. There are no official specifications on the driver split per frequency type but the ProMission X drives at 10 ohms with 120 dB of sensitivity. This, in theory, should allow the ProMission X to play well with simple set-ups without the need for a dedicated portable player.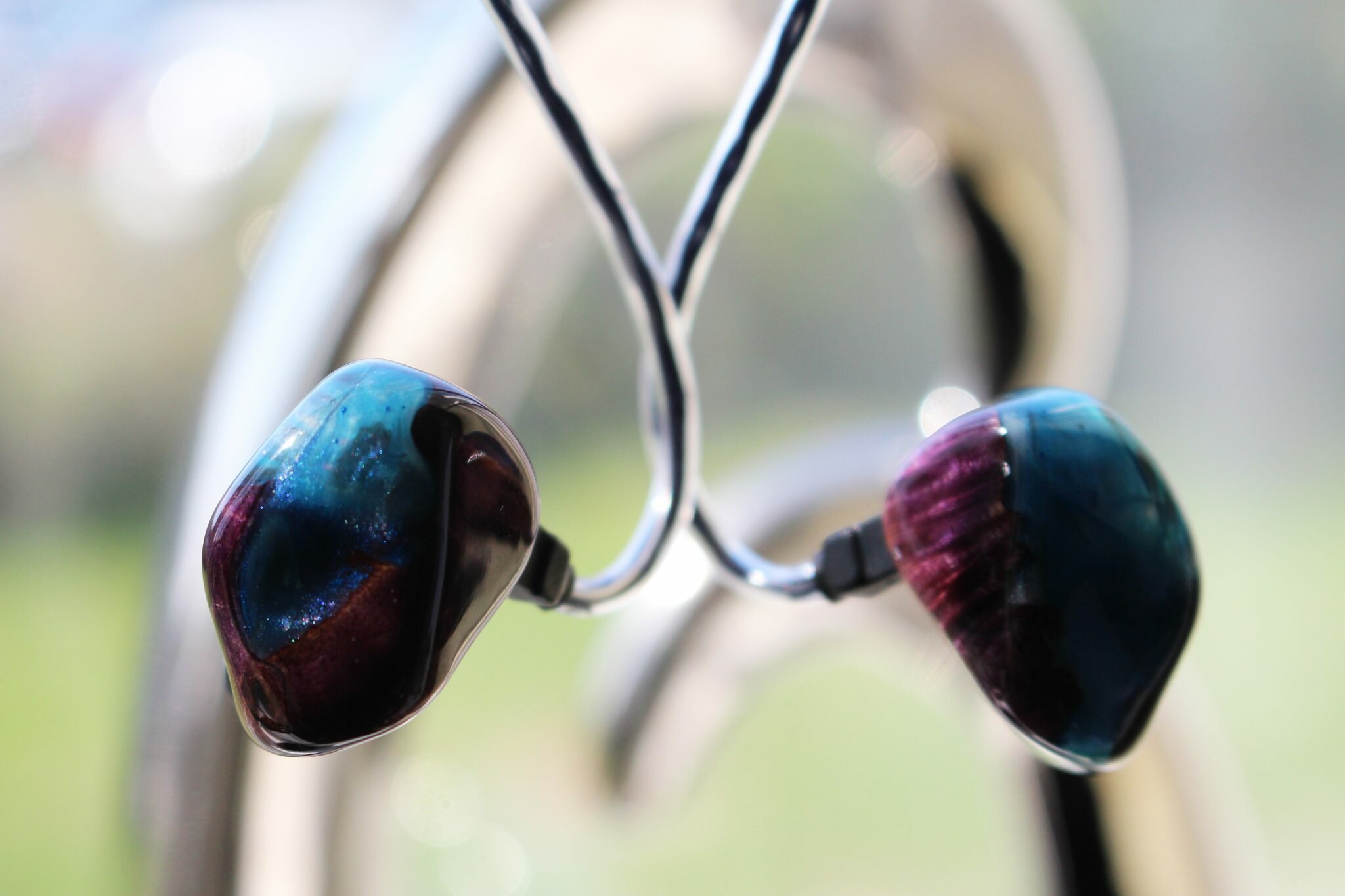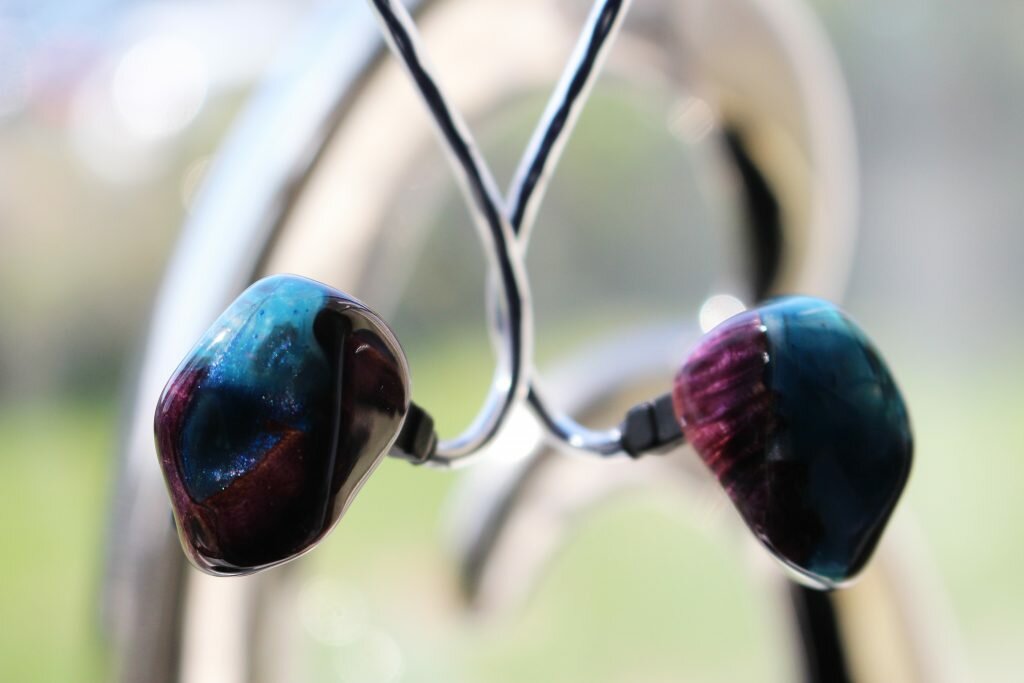 Fit & Isolation
The ProMission X delivers the best fit I have ever experienced in any in-ear monitor to date. Interestingly, InEar have defined the universal shape through the generation of hundred of custom-in ear impressions and averaged it into one. The result being a snug fit with a deeper insertion which does not wedge with jaw or head movement.
Isolation levels as a result are beyond average and ambient noises are easily drowned out.
Sound impressions
Lows
The ProMission X draws on BA-driver influence to craft a bass with articulacy and swift decay. There is no doubt that the low-end is well-extended with a tendency towards a mid-bass bias. The signature is tilted with some warmth despite its technical prowess allowing bass to sound natural. Compared to traditional dynamic driver types, the ProMission X is not as well-versed in authority and rumble but does favor quality over quantity.
In 'Lace' by Random Rab, the underlying bass currents are delivered with precision and accuracy which never interfere or lean into the lower midrange section. Next to Campfire Audio's Solaris 2020, the ProMission X feels slightly less textured but faster in nature.
Midrange
InEar's flagship has a delicate midrange timbre which is below what some may consider an average note size. Interestingly, the leaner signature is infused with some warmth keeping the sound natural as possible. Where some monitors strive towards a clinically orientated sound, the ProMission X is sweet and precise sounding. There is a mild u-shaped imposition allowing the vocals to sit further back in the overall mix.
Headroom and instrument separation are beyond average as both music and tracks are able to be dissected into their individual elements. The overall tonal signature is pleasant and there is a nice balance between speed and musical elasticity. To this extent, vocals appear liquid without resorting to defined transients or edginess.
Treble
The treble of the ProMission X demonstrates great level of control and carries forward that slight sense of warmth to make them non-fatiguing. Detail and extension are also impressive. While not as revealing as Tia Fourte's upper-end, the ProMission X imbues technical qualities into a clear and liquid tone. Rarely, does it ever show signs of sibilance which is commendable for a 10 balanced-armature driver configuration.
Soundstage & Imaging
The soundstage of the ProMission X is demonstrably spacious but is not the largest sounding in-ear monitor. It excels in separation with good layering between vocals and instruments. Perhaps dynamism could be improved on the macro-dynamic front to make the soundstage more compelling from the outset. However, there is realistic projection of cues within the overall soundscape.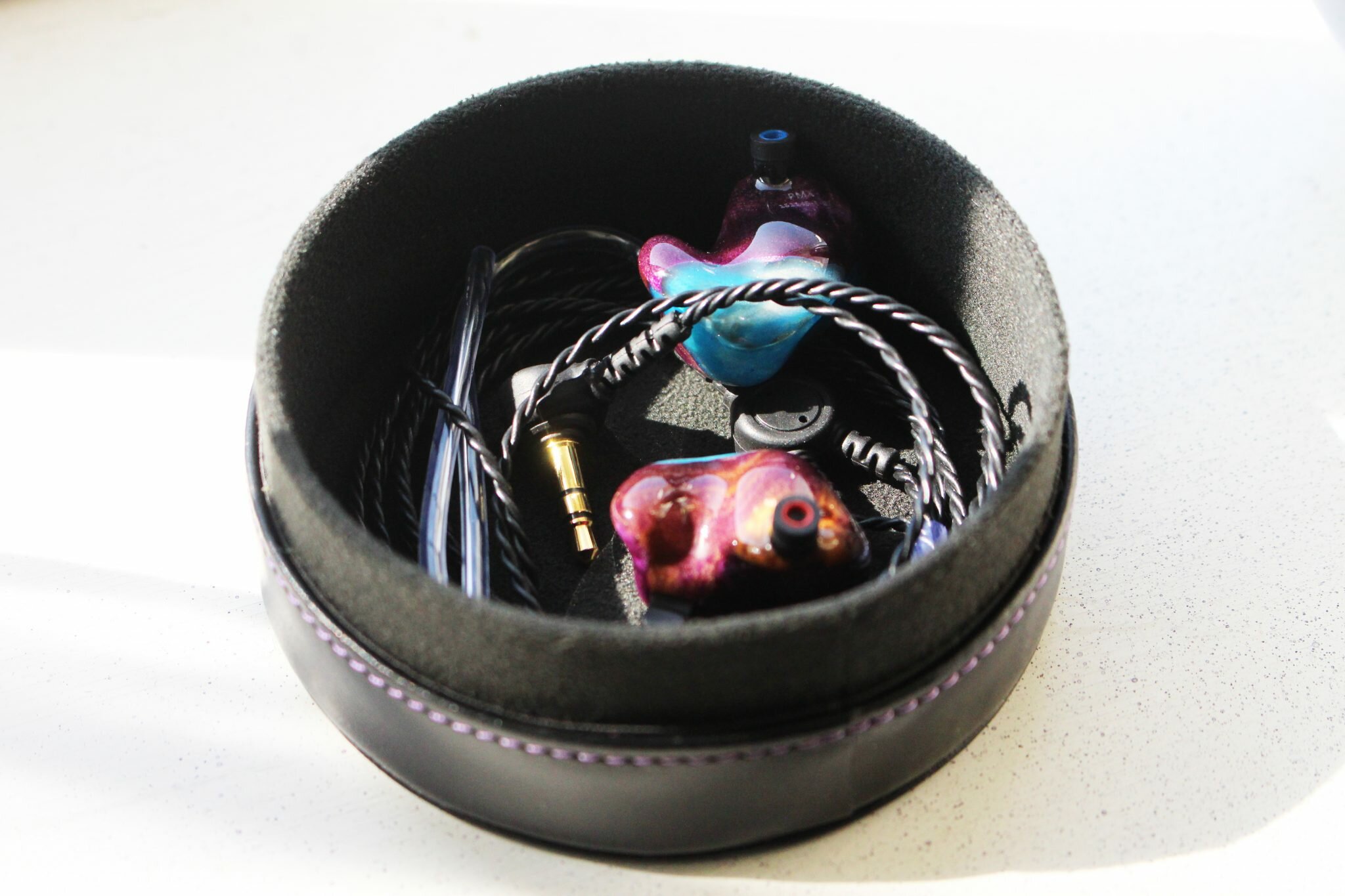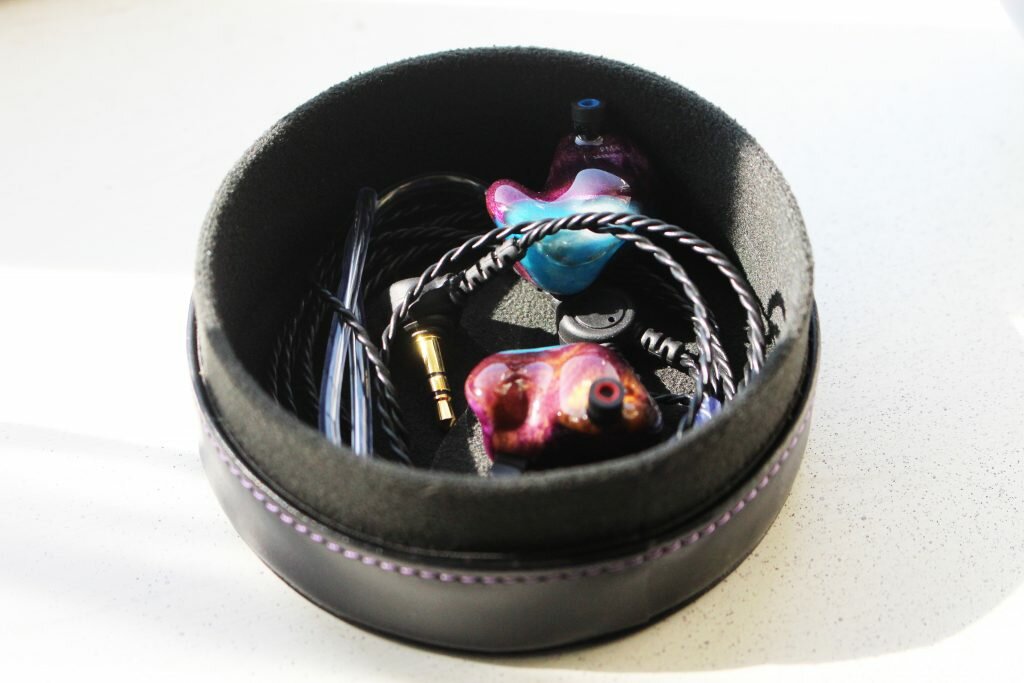 Comparisons
Dita Audio Fidelity ($1299)
The Dita Audio Fidelity and ProMission X share some similar characteristics in the form of a balanced, articulate and linear tonality. Where they differ, however, is that the Fidelity has more heft and extension in the sub-bass regions albeit a bit slower in decay than that of the ProMission X. Both have great technicalities, but the Fidelity has more impact on the macro-dynamic scale whereas the ProMission X does sound relatively flatter.
Timbre wise, the ProMission X offers a more open and fluid tonality whereas the Fidelity leans towards the colder side of the tonal scale.
64 Audio Tia Trio ($2299)
The Tia Trio is a hybrid universal monitor which employs a single dynamic and dual balanced armature system whereas the ProMission X is a pure 10 BA monitor. As a result, the Tia Trio has a richer and more impactful bass whereas the ProMission's is lighter albeit more articulate.
Both display good levels of detail, but the Tia Trio adopts a richer and more rounded tonality with thicker note weight than the ProMission X which crafts a more liquid and finessed midrange. The Tia Trio experience is more visceral whereas the ProMission X is pacier.
Campfire Audio Andromeda 2020 ($1099)
The Andromeda 2020 is a refined version of the classic Campfire Audio Andromeda. As such, the five balanced armature driver represents a fierce contender in the arena of neutral-bright offerings. Compared to the ProMission X, the Andromeda 2020 offers a greater sense of spaciousness with a higher upper-end tilt.
As a result, tracks sound livelier with more emphasis on sharper decay. The ProMission X, on the other hand, restores slightly more control with a treble that does not edge towards stridencies or fatigue. Although both IEMs excel in detail retrieval, both do lack the strong macro-dynamism of other flagships.
Conclusion
The InEar ProMission X could be considered the lyric coloratura soprano of in-ear monitors with its agile, fast and softly warm tonality. It is a unique sound and does stand out in the marketplace of high-end in-ear offerings. At €2089, the ProMission X is not the cheapest and does represent a sizeable investment. However, where fit and craftmanship are concerned the ProMission X easily delivers with one of the best fits I have known from a universal monitor.
At this price point, the sonic signature is certainly open to personal preferences. What the ProMission X does well in, though, is artfully striking a balance with precision and a lightly emotive quality to tracks. Coupled to this, users are greeted with a wealth of accessories including a very well-made soft leather case.
Perhaps InEar could work on refining the unboxing experience and provide users with a tuneable switch as with their predecessor products.
InEar ProMission X
€2089 / $2499
Available from InEar / Audio46
About Post Author