FiiO are a brand that has secured a well-established presence in both consumer markets and audiophile ones. Part of their charm has been their push for value-for-money propositions which have earned them a significant following over the years. Some examples include their FiiO X3 DAP and FiiO Q1 USB DAC/amp which still stand well today where price-performance aspects are concerned. This time, the Chinese audio brand have released another budget-friendly pair of in-ear monitors titled the FiiO FD1.
The $59.99 FiiO FD1 IEMs feature 10 mm beryllium-plated dynamic drivers which is especially surprising seeing that this material is usually employed in mid-tier to high-end offerings. Beryllium has become a sought-after material in transducer design owing to its acoustic properties (lightweight with rapid recoil). Hence, already the FiiO FD1 stands to do well in the arena of in-ear monitors within the sub $100 category.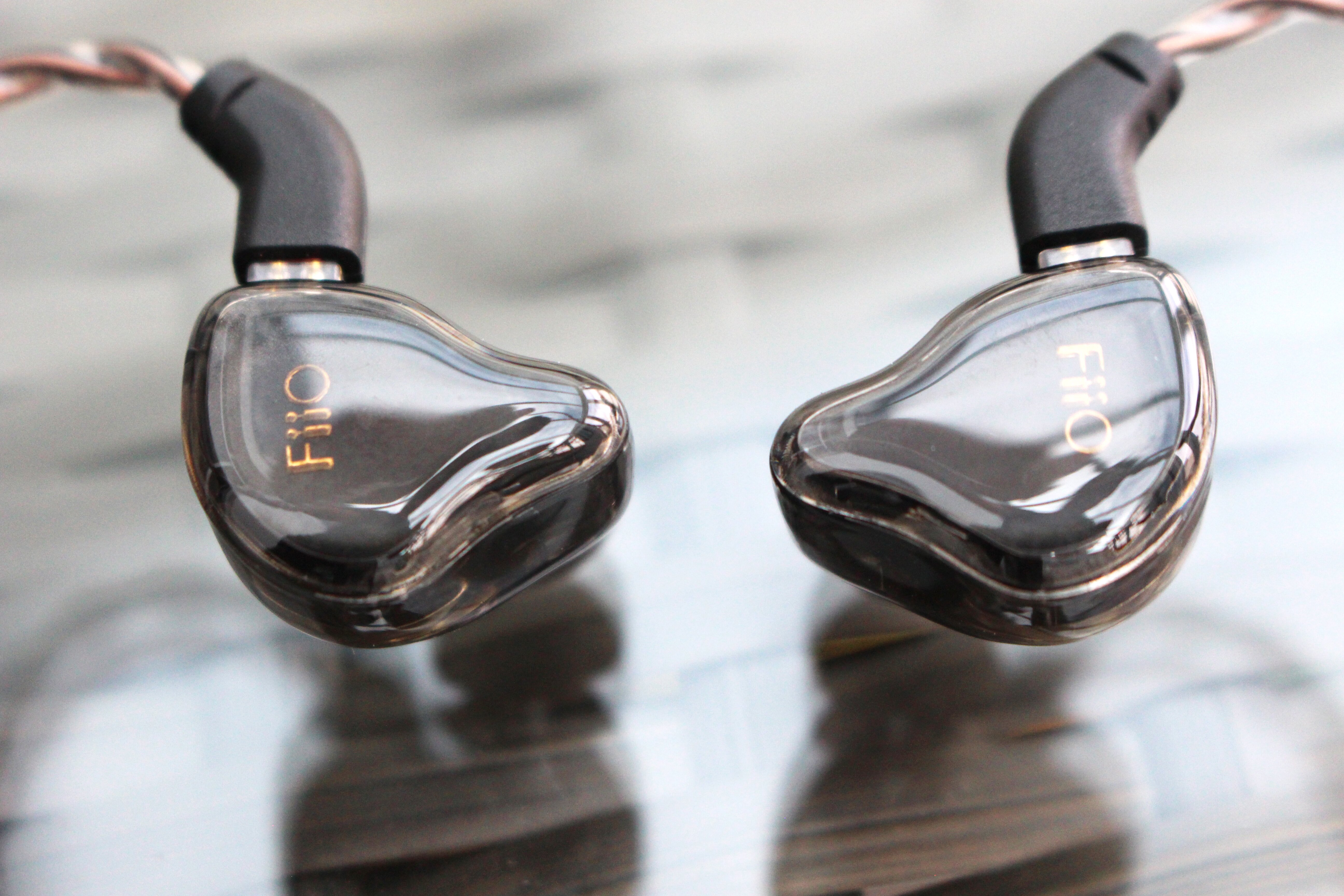 The Packaging
The FiiO FD1 arrives in a compact black box with a lift lid mechanism to reveal the internal foam housing of the earphones. The outer sleeves depict a graphic of the in-ear monitors with a 'Hi-Res Audio' emblem located in the upper right corner of the box.
Accessories include ear tips (of balanced, bass and memory foam nomenclature) as well as a HB1 carrying case. The case is rather unique in that it has a transparent prism interface allowing you to easily peer in.
Overall, FiiO have perfected their brand image and achieved a simple yet communicative design.

The Design & Build
The outer case of the FD1 earphones is rather unique in that it incorporates celluloid materials with a special glossy finish that has a subtle high-end feel. This is enhanced by the golden logo as well as the gold-plated retaining ring which can be seen on the underside of the transparent housing.
In terms of sound propagation, the beryllium-plated dynamic driver relies on a two-way magnetic circuit design allowing for a robust and full bass response. The N50 circuit propels sound with more magnetic field intensity than standard circuit designs allowing what Fiio claim to be better transient and energetic bass performances.
As if this were not enough, Fiio have thrown in patented balanced pressure relief technology to keep sound distortion to a minimal. Again, it is very refreshing to see a pocket-friendly IEM pack in a host of FiiO's innovation and premium grade technologies.

Comfort, Isolation & Cable
Each earphone unit weighs a mere 4.5 g and can be worn comfortably for hours on end. This is helped by the ergonomic design allowing the earphones to sit flush against the conchae of the ears.
Despite the balanced pressure relief technology, isolation levels are beyond average and ambient noises disappear as soon as music is played to adequate levels.
FiiO have an included a high-quality monocrystalline copper cable made of braided 4-strand Litz wires with 30 cores within each strand. Microphonics are kept to a minimum and the cable feels supple in the hand with a cylindrical FiiO-branded Y-split. It is also nice to see that the cables are terminated in a L-shaped finish which always prevents unneeded stress and strain when accidently tugged during transport.

Sound impressions
The Bass
Beryllium-coated drivers are something of a welcomed innovation within the audio industry. While traditional dynamic drivers capitalized on authority and rumble, the beryllium-coated drivers also capture the essence of the speed and agility of balanced-armature (BA) design.
As a result, the FiiO FD1 outputs the best of both worlds; a deep and authoritative low-end response with the decay and control one may expect from BA in-ear monitors. An example of this can be heard in 'The Boss' by The Carters, where bass response is not only incisive and well-disciplined but also with plenty of heft, texture, and authority.
In 'Blinding Lights' by the Weekend, the low frequencies which can get bloated in lesser in-ear monitors are kept controlled with good contouring and texture with the FiiO FD1s. Overall, there is more of a sub than mid-bass bias which does work well in tracks rooted with deep and extensive bass.
The Midrange
Clear, vivid and engaging are a few descriptors which depict the FiiO FD1's midrange tonality. Note size is larger than average and vocals are slightly forward in the overall mix. Instrument separation and depth is fantastic with excellent left to right panning.
The overall tonality leans towards neutral-bright with some upper midrange sheen experienced. While this added boost in frequency does add some extra perceived clarity, some may experience some stridence in upper midrange/treble-orientated tracks. However, this level of energy is attenuated with the included foam tips which also adds an extra layer of smoothness.
Compared to the Rock-it sounds R-50, the FD1's upper midrange does come across as slightly hotter (with the silicone tips). However, with the foam tips – the upper midrange approaches similar levels of vibrance.
The Treble
Akin to the midrange, the treble is linear and extensive. There is a good level of detail and sparkle which prevents tracks from ever sounding laidback or overly smooth. Again, the included foam tips do help to attenuate some energy of the treble region for those overly sensitive to the out of box frequency ranges.

Competitors
Sennheiser Momentum IEMs ($99)
The Momentum IEMs sound more v-shaped next to FiiO's FD1. While the Fiio FD1 has better texturing and decay compared to the bass of the wired Momentum in-ear monitors, the latter presents bigger and more authoritative bass. The FD1, like the Momentum, has great treble extension but the former displays better levels of detail and a slightly more natural sound.
Rock-it Sounds R-50 ($119)
Both the FiiO FD1 and Rock-it Sounds R-50 gravitate towards a neutral-bright presentation. However, the R-50s possess a smoother and more extensive upper treble. The FD1 demands attention with its upper midrange presence and rooted bass. Compared to the FD1, the R-50s have a thinner note presentation with the FD1 sounding larger and fuller overall. However, both share great levels of instrument separation.  
The Soundstage & Imaging
The FD1 achieves great amounts of air and spatial separation in its delivery. This is impressive since it achieves this from single dynamic drivers from each housing. The overall note size is larger than average and there is adequate spatial cue localization within tracks.
Final thoughts
The FiiO FD1 IEMs provides astonishing value for money – it is admirable that FiiO have packed these $59.99 IEMs with flagship grade materials and technologies. The beryllium-plated dynamic driver delivers a crisp, clear, and engaging sound with fantastic texturing and sense of space. In addition, the high-quality cable combined with a range of accessory materials provides users with a large amount of choice from the get go.
For audiophiles wishing to experience a taste of high-end from the sub-$100 category, the FiiO FD1 are a very easy recommend for its pleasing and energetic sound. They also synergize well with FiiO's very own entry-level M3 digital audio player and even their mid-tier FiiO M11 Pro.
FiiO FD1 IEMs
Check Latest Price on Amazon
Manufacturer: FiiO
About Post Author