Numerous considerations influence which home entertainment system is best for you. You'll want to locate the exact system that is perfect for your home stereo needs based on pricing, wattage, sound quality, connections, intended usage, interoperability, and many other factors.
Home stereo systems are making a huge comeback with many of the prominent audio brands such as Bose & Sony launching their own innovative systems.
Dive into the seven best home stereo systems chosen with these aspects in mind, but here's a quick rundown to get you started.
Bose Wave SoundTouch Music System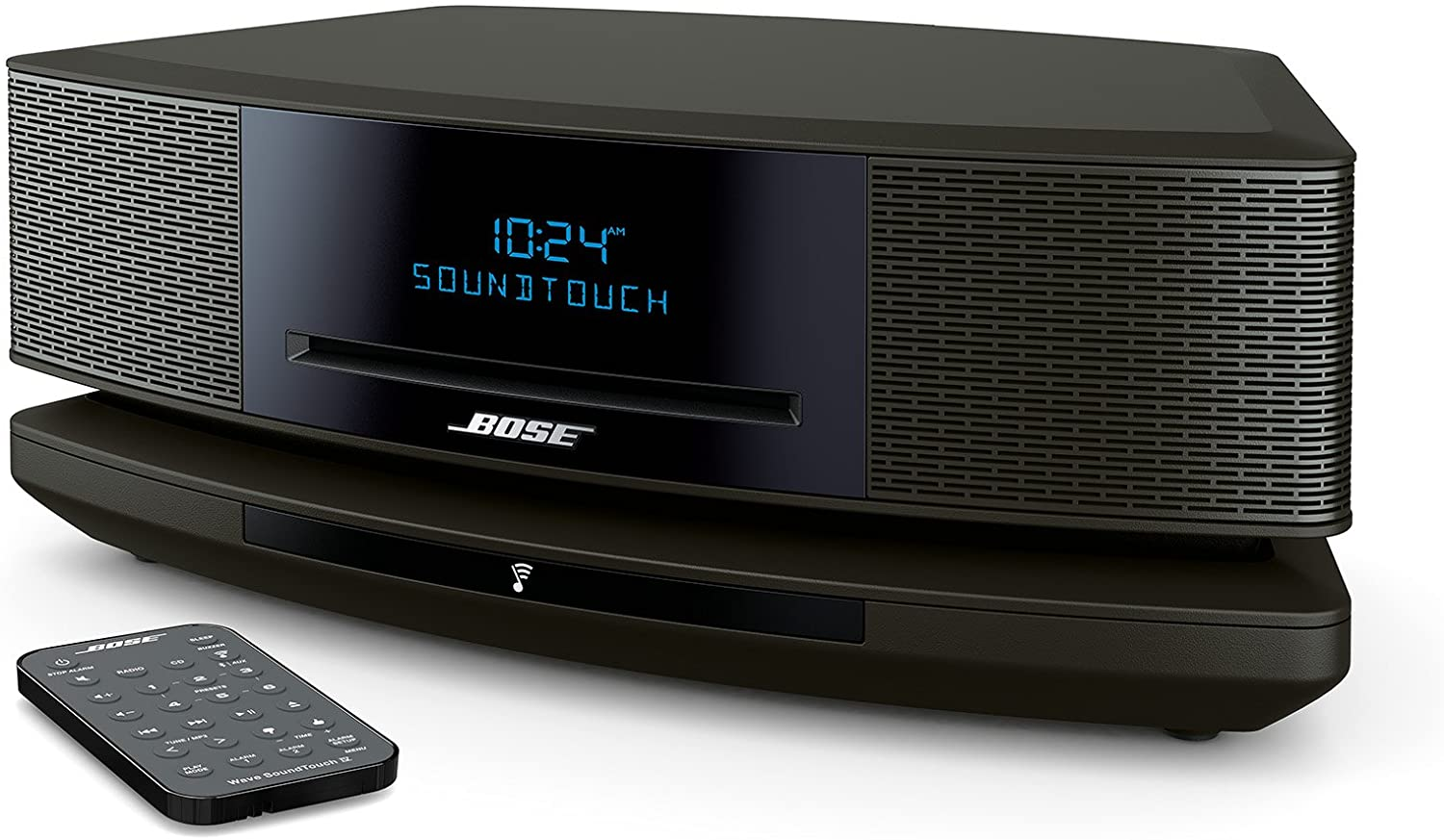 Design and Quality
While it's the priciest option included, the Bose Wave IV is your best shot at getting a room-filling system infused with lots of intuitive elements.
Crafted in espresso black and platinum silver, you can select the color that best suits you. With its relatively small, flat design, the simplistic colors are ideal if you need them to blend with your black, silver, or white walls.
It provides more connection abilities, unlike the other system on the list limited to Bluetooth. You can wirelessly stream music on it using Bluetooth or Wi-Fi from any compatible device.
You can listen to those hilarious or inspiring presenters from your favorite radio station with the built-in radio. Plus, you don't require an external antenna for seamless radio enjoyment.
Thanks to the dual-alarm function, it conveniently wakes you up if you need to get going earlier or later than your partner.
Though there is no start button, it's a breeze to use. You only need to tap its top to get it ready to play whatever you want.
Performance
Using their WaveGuide Technology, the SoundTouch IV produces pristine room-filling sounds. This technology is a string of passages running from the speaker driver to the grill that directs air through two folded wave guides.
With such a build, the Soundtech IV produces an impressive sound like a more extensive stereo setup. So, it's the perfect go-to unit when you need superior sounds in smaller spaces.
The sound is uniform throughout your space. Whether you place it at a central position or the corner, you can't tell where your sound is coming from.
It has a crisp, loud quality, but its bass is quite strong like many Bose products. Nonetheless, you can tone down the performance through the settings if you don't like a strong bass.
Pros
Excellent audio quality, providing aspects worth its pricing
Superb voice recognition
Versatility in listening sources
Cons
Relatively steep pricing
Somewhat challenging to set up
Sony CMT-SBT100 Micro Music System


Design and Quality
Compared to most vintage home stereo systems, the Sony CMT-SBT100 is a reasonably lightweight rig. At 5.73lbs, it's only second to the Sony CMTSBT20 on this list, making it an ideal choice if you like moving your system often.
Its look is nothing too fancy though the silvery touch breaks the monotonous black build. While it appears like brushed aluminum, the unit features a plastic exterior.
It has AM/FM support, ensuring you don't miss out on your frequented stations. The included CD player is handy if you are one of those people that can't do away with those songs acquired two decades ago.
At the right corner is a USB port that allows you to play music from devices like your MP3 player. You can also charge your phone, tablet, and more.
It doesn't cram too many buttons on it, making for an aesthetically clean appearance. You have a function button, Bluetooth-pairing dial, pause/play, stop, track back, and track forward controls. With the EQ button, you can boost or cut the bass or treble, depending on your preferred sound.
There are also a headphone jack, CD, and volume controls on it.
Performance
Once you start the Sony CMT-SBT100, it takes quite some time to begin playing. Its performance is, however, impressive.
The volume is pretty good, though not nearly as high as what you'll get in a complete stereo system. That said, it has plenty of power for a bedroom, living room, or PlayStation area.
The CD has excellent sound quality and bass. Audio from audiobooks and podcasts sounds terrific as well.
Turning on "bass boost" enhances overall volume and bass intensity without overpowering the sound profile. Of course, you may manually tune the treble and bass settings to your liking.
Pros
Multiple connections to suit many: Bluetooth, USB, NFC
Allows CD playing while supporting FM/AM channels
Sleek, lightweight design
Cons
No Wi-Fi
Clunky remote control missing some buttons like CD eject
PHILIPS Bluetooth Stereo System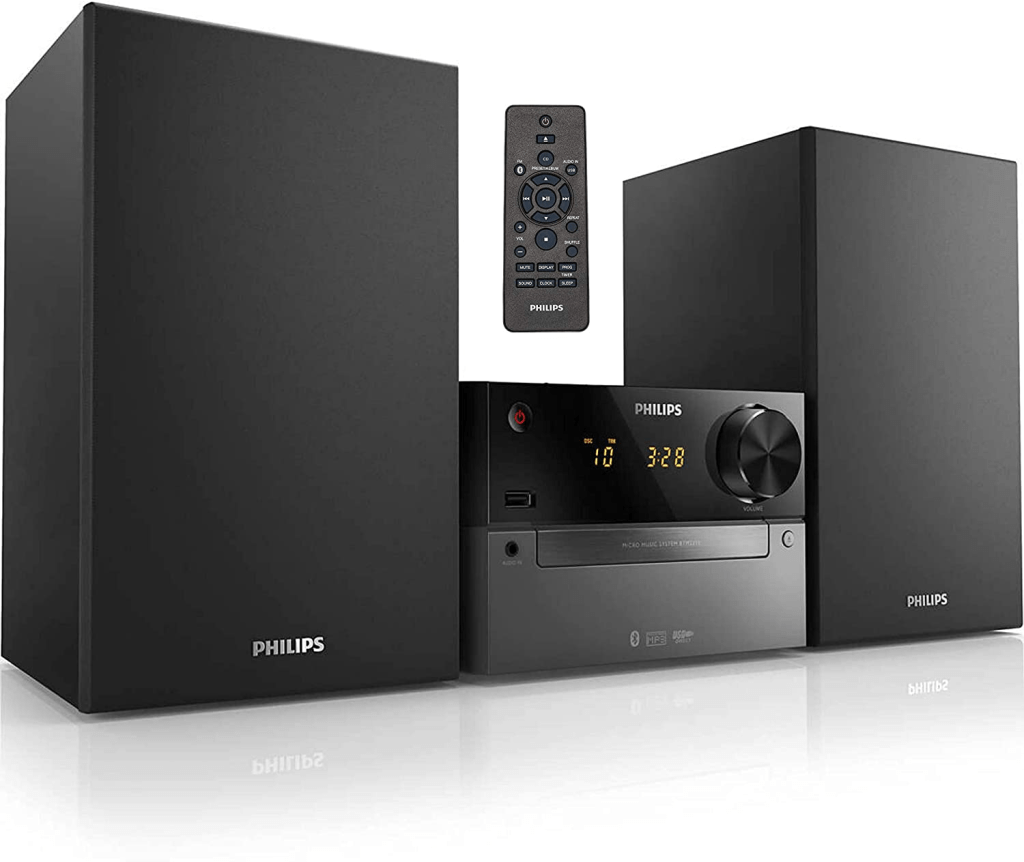 Design and Quality
This tiny micro stereo system is simple to operate and straightforward. There is no need for long user manuals, but you can still use that. It has an FM radio, CD player that scans MP3 disks, Bluetooth, a USB, and a headphone connection for audio input.
Most operations require the use of the remote control, which is a minor disadvantage, although the remote is beautifully built. Plus, its remote has nicely organized buttons to ease usage. It also features a good size, so you won't struggle grasping it or punch commands to perform different functions.
There's also a DSC sound enhancer letting you choose between clear, balanced, warm, powerful, and bright sound.
Bluetooth connects quickly to Android phones, iPads, iPods, laptops, and more.
These speakers are nothing exceptional, but they are enough for such a small setup. It has a relatively clean, straightforward design, so it doesn't look like some crazy transformer toy cramming your space.
Performance
This system has a tiny footprint with a maximum output power of 15 Watts. The speakers aren't particularly loud, but they deliver reasonably undistorted, accurate audio at all levels and don't feel tinny. The system works well with classical music, spoken word,and rock among others.
For those acquainted with subwoofers, you may not like the bass as it isn't at the same level, but that's expected given its specs.
While the DSC enhancer offers many tweaking options, the differences between the sounds are so slight that you may as well ignore them.
A typical MP3 disk can contain 200 tracks. Sadly, there's no simple way to reach the desired track. When you shut it and turn it on again, the system doesn't recall the track you were playing.
So, if you need to get to song 144, you must remember it and push the forward key 144 times. That's quite tedious and not user-friendly. Besides that, there's little to complain about.
Pros
Energy-efficient performance
Relatively budget pricing
Supports Bluetooth, USB, and FM, hence versatile
Cons
Not Wi-Fi supported
Lacks last-track-played memory
Denon D-M41 HiFi System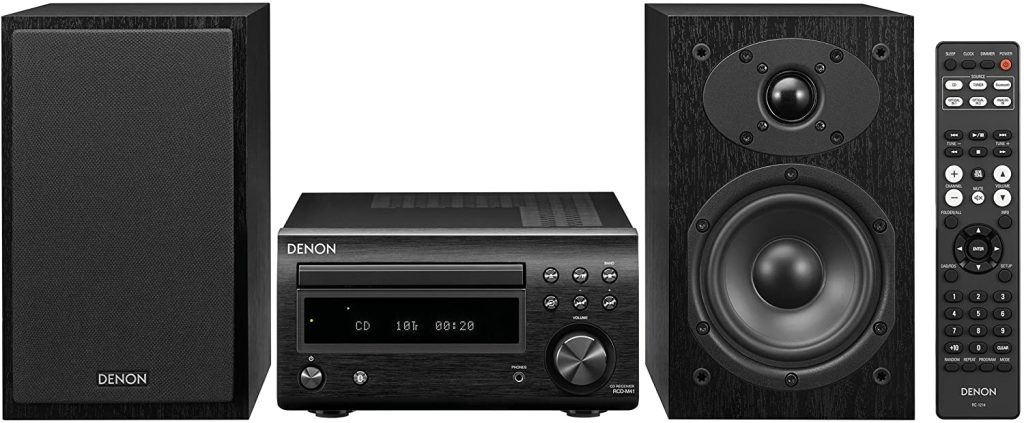 Design and Quality
Upgrading almost every aspect its predecessor boasted, the Denon D-M41 takes your stereo system game to another level. Unlike the D-M40, it also includes Bluetooth functionality which, while not a striking aspect on the list, allows smooth wireless connectivity.
The general design isn't too different – it's still a rectangular metallic box with ventilation grilles on top and sides. The front is brushed aluminum, with softly textured buttons and a volume knob.
Moving away from the D-M40, it comes with a much larger screen that fits flatter on the unit's front, making for a sleeker design. The Denon D-M41 is a micro hi-fi system designed to save space. Its footprint is tiny enough to fit in your kitchen, bedroom, or home office.
Its build quality is superb. The volume knob rotates smoothly, and the disc tray glides out without a squeak.
The unit comes with a remote like most home stereos for quick commands.
Performance
Compared to a D-M40, you'll notice the larger soundstage and more detail. The dynamics are more expressive and insightful. While its design may appear simplistic, its performance proves otherwise.
The balance is lovely, but it jumps into the changing beats with vigor.
Irrespective of how you play this system, the tonal character isn't lost. The D-sonic M41DAB's excellence remains unchanged from Spotify stream to CD.
While it's light on finger-picked acoustic guitars, it remains impressive on the vocals.
For a home stereo system at this price, the mix of low-end solidity with dynamic sensibility results in surprisingly excellent output.
Pros
Solid construction that lasts
Adequate volume without distortion
Easily-usable dials and controls
Cons
Not easily portable
Some functionality is only available on the remote
Onkyo CS-265(B) CD Hi-Fi Mini System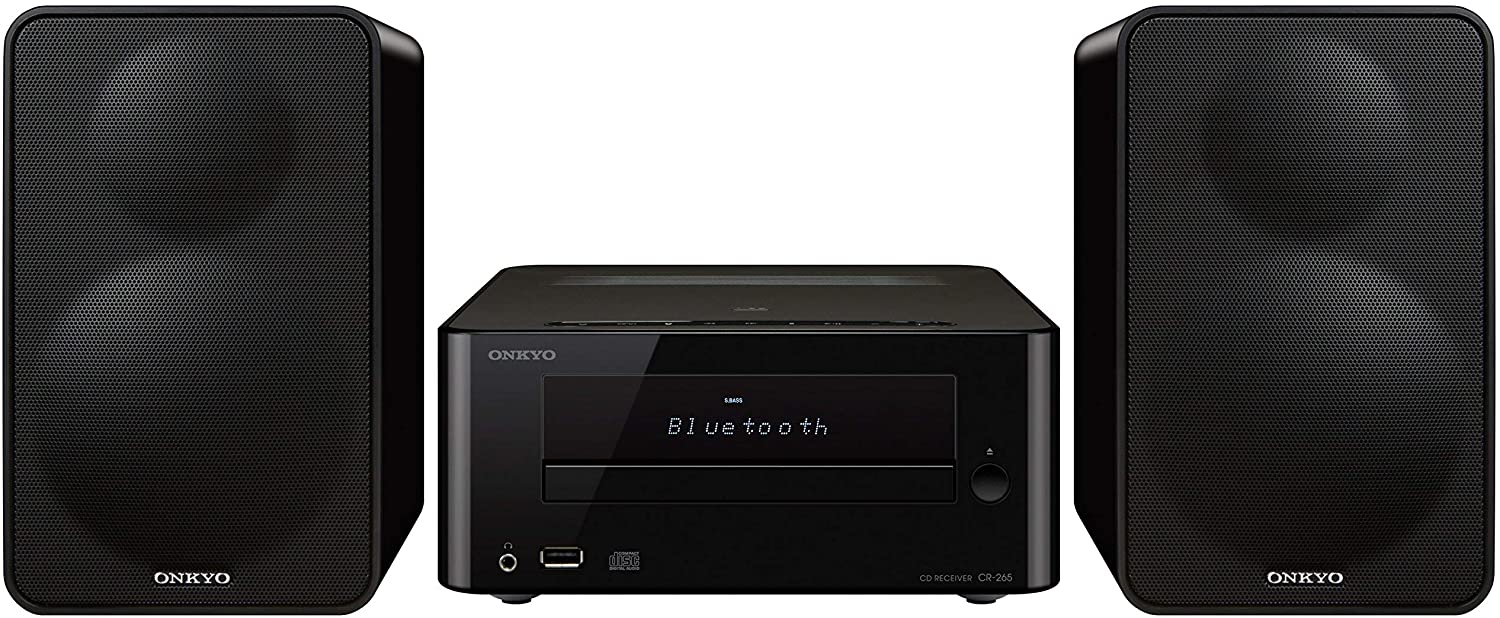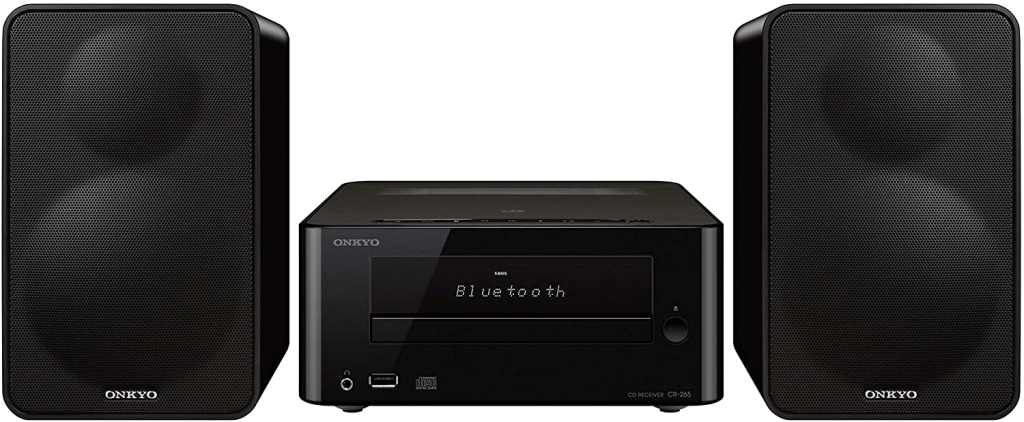 Design and Quality
The Onkyo CS-265(B) is a nice little unit perfect for anyone looking for a petite and light bookshelf stereo system. While minimalistic, it doesn't sacrifice versatility.
Like many home stereo systems, it includes a USB input to let you listen to audio from multiple devices or charge your communication gadgets. On the back is a line input that allows you to hook analog devices. But if you plan to hook up something like a vinyl player, ensure it has a preamp built-in.
When you don't want noise spilling out your room, you can use the headphone jack for an immersive experience.
While it has multiple ways to enjoy music and other audio, its CD player may be its best aspect. CD Loading times are short too.
There is a nice display indicating what you are listening to. Its appearance is excellent and comes in various colors to suit your space.
Performance
It's interesting to find a tiny system that sounds decent and has all of these capabilities at this price. The Bluetooth connection is excellent. The radio works perfectly and takes up stations with ease. The USB port accepts playing from flash disk and MP3 players with ease.
Moreover, the CD player is fantastic, performing admirably, unlike the cheaper CD systems on the market today. It won't fail within a short while or deliver a mediocre sound.
Furthermore, this system has a great and clean sound for a system this compact, much alone one with a CD player.
Mids, highs, and lows are all clear. Now, don't expect to hear strong thumping lows because this system lacks a subwoofer. However, the bass is quite good. Overall, this tiny stereo system features a superb sound, matching its quality.
Pros
Small, easily-portable design
Support multiple playing options including Bluetooth, AM/FM, USB, ad NFC
Good sound for its size
Cons
Sony Micro Hi-Fi Stereo Sound System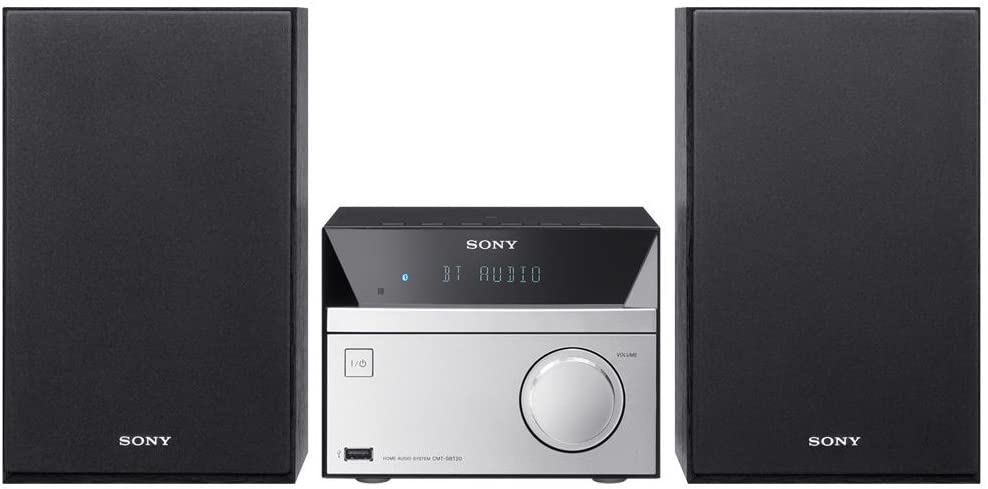 Design and Quality
At a mere 2.87lbs, the Sony CMTSBT20 is the lightest option included. It's perfect for anyone looking for impeccable portability without sacrificing performance.
Complementing its merger mass is the small design that makes it disappear into your walls. Were it not for the brushed metal appearance layered onto its mainly dark look; it could easily blend well with a dark background.
Powering on the unit only requires you to press the button on the system. It takes relatively more time to get going than most systems reviewed but soon does.
On the downside, the wires are so short. Their range is limited, and you may not get them to rest where you need without customization. You can consider splicing the wires and extending the speakers' physical reach.
Performance
The sound quality is impressive, especially on the mids and highs. It feels the room quite nicely and delivers a considerably unobstructed performance.
However, this isn't the best system for those listening to EDM or some current tunes with bass-heavy sounds. Even with MegaBass, the low end is weak.
You can't just put a CD in the tray and walk away. Afterward, you have to press "enter" and allow 20 seconds for it to "read" your CD. Only after "reading" may you hit "play." This horrendous delay may be a deal-breaker, but the CD play sounds excellent.
Pros
Ultra-light, easily-portable construction
Support CD playing, FM, Bluetooth, and USB, hence flexible
It doesn't consume too much power
Cons
Connectivity wires are pretty short
Requires US users to buy an adapter
PHILIPS FX10 Bluetooth Stereo System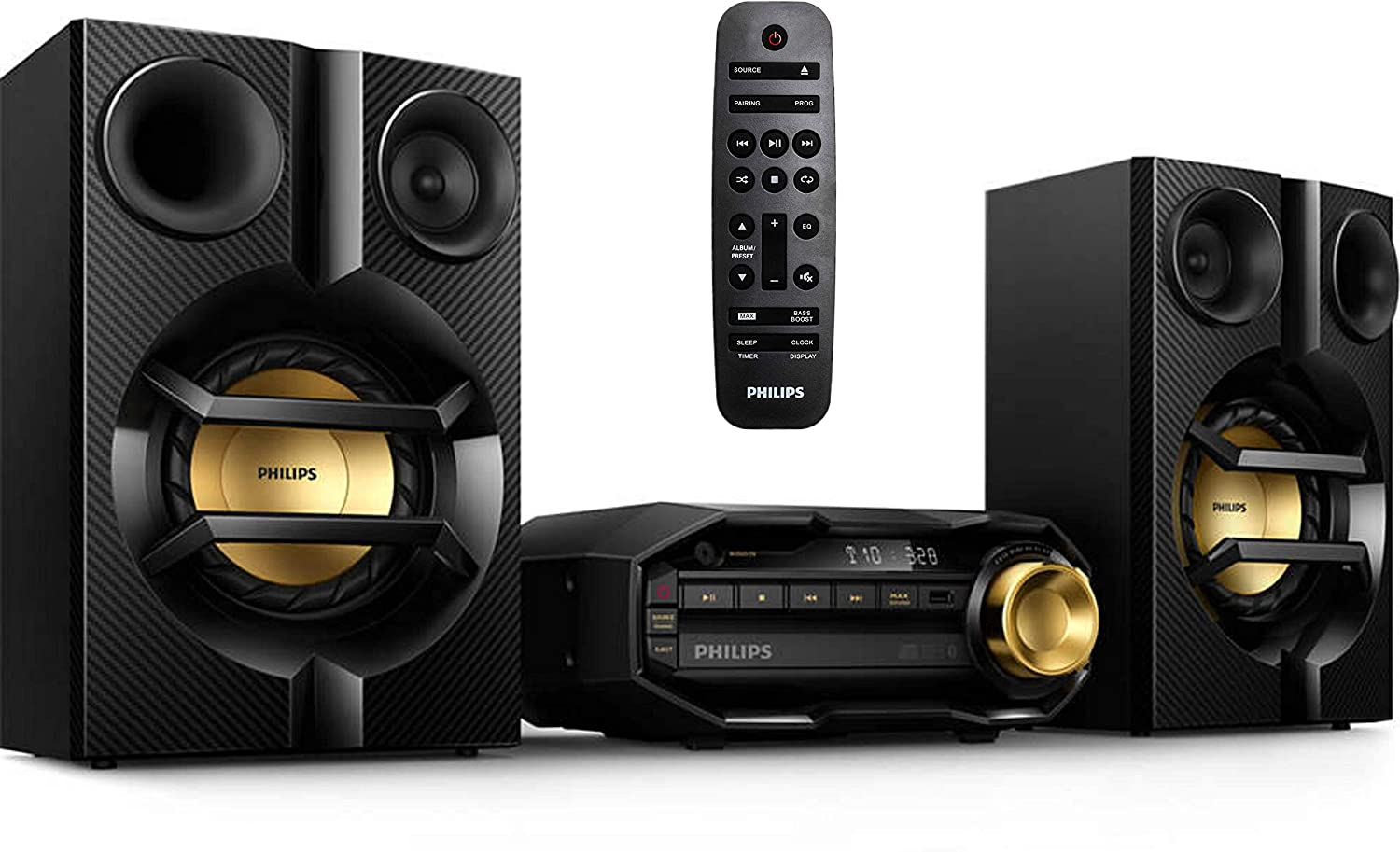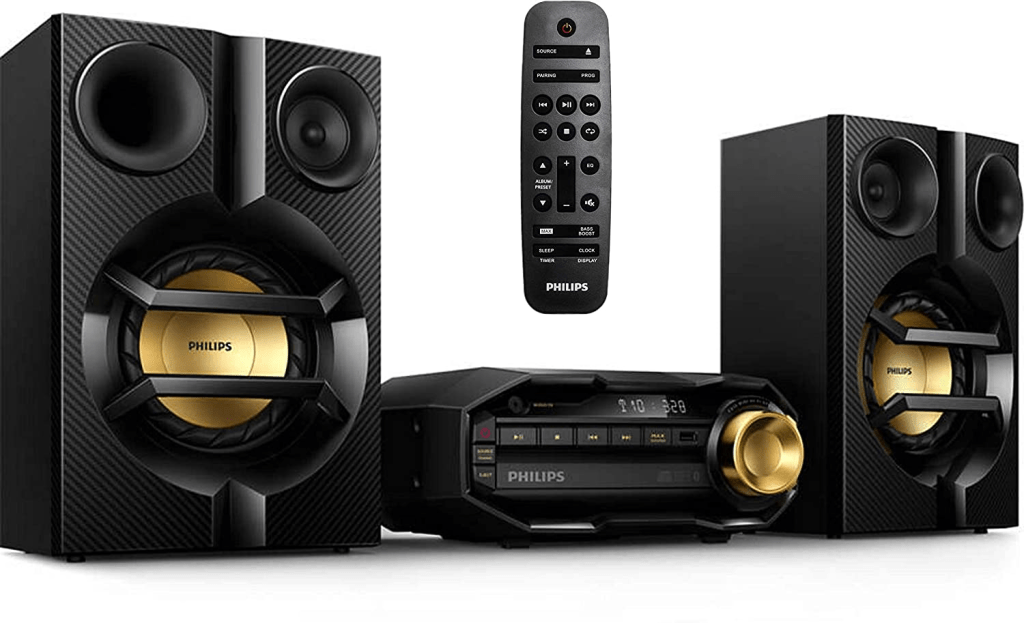 Design and Quality
While its two speakers use a wired connection, each speaker has a dedicated wire. Essentially, you are getting a tweeter and subwoofer. But instead of the tweeter and subwoofer combined, there are separate tweeter wires and separate sub wires.
The unit is a 230W sound system with Bluetooth connectivity ensuring you can enjoy a fantastic wireless connection across many devices.
Also included is a "max boost" button if you need to enhance the bass. There are also basic controls like the skip, stop, previous, and play, clearly labeled to ease your usage. The power, source, parent, and CD eject button have visible labeling and click as you press.
There's the audio input button at the front where you can insert your headphones. At the rear are auxiliary inputs that allow you to hook up things like turntables.
You have the USB input for your MP3 player, flash, smartphone, or tablet. Additionally, it includes an audio jack where you can affix your headphones.
When it comes to looks, the PHILIPS FX10 is a masterpiece. It features a black exterior all the way around save for the preset button, volume buttons, and subwoofer draped in an inviting gold finish. As you enjoy bass-rich tunes, the speaker bobs around, giving the set a really cool appearance.
It looks really nice and small, allowing you to set it up at almost any location.
Performance
Thanks to the wired yet dedicated connection, the sound comes out clear. It's like having dual speakers in earbuds, ensuring the sound is impeccable.
With the max boost button, you get intense bass and treble, both combined in one function. Still, the bass is rich even before boosting. You get a bit of highs and mids, but the 10X gives you a bass-heavy output.
Its room feeling sounds are superb for lighting up the mood in your gaming space, living room, bedroom, and so forth. Essentially, it's an excellent buy for anyone looking for a stereo system with an in-your-face bass performance.
Pros
Offers quick usage
Supports CD playing and allows quick loading
Impressive bass for the size
Cons
Require high power input
Short speaker wires, limiting setup positions
Home Stereo System Buying Guide
As you upgrade your home's listening setup, you need a system that won't compromise on sound quality, longevity, and usage. Here's what to check in a home stereo system:
Audio Quality
You need a system that delivers deep, rich bass with crisp highs and flavorful mids. EQ choices are also helpful. The more you customize the sound, the happier you'll be.
The speaker's quality, numbers, connections, and acoustic calibration technology affect sound quality. A competent system can blast high-quality audio in any location.
There's no need for 1000 watts of power for your home system unless partying or watching a movie loudly.
Power Handling
Speakers have a specified power range. This range tells you how powerful your amp can be.
The higher number indicates the highest wattage the system can withstand while permitting long-term use.
Sensitivity
The sensitivity of your system informs you how well it converts power into volume. The more the sensitivity, the louder the stereo system plays.
A few decibels (dB) in sensitivity immensely affect what you hear. For instance, a system with a 3dB-higher sensitivity rating than another requires half the wattage to produce the same sound.
Opt for rigs with high sensitivity values (90dB or over) to get the most out of a low-powered amp.
To illustrate, here's the wattage different ratings give:
91dB 25 watts
88dB 50 watts
85dB 100 watts
Construction
Drivers can be metallic, paper, plastic, rubber, and more. Each construction has its sound qualities. For instance, tweeters with softer materials like silk produce a smoother sound.
Most manufacturers pick driver materials that are lightweight (for better movement) and strong (for crisp, non-distorted sound). Premium materials often sound better than cheaper materials.
Impedance
The system's impedance reveals its electrical resistance to an amplifier. This feature is complex because a system's impedance fluctuates when playing music. Speakers typically have one nominal impedance rating to facilitate model comparison.
Notably, low-impedance systems (4 ohms) may pose issues with amplifiers or receivers not designed to supply significant quantities of constant current. Verify your amplifier's compatibility with the stereo system you're considering.
Size
If you desire a system to move around with, remember that larger systems are also heavier. Similarly, if you don't have enough place for an extra pair of speakers plus a subwoofer, you'll need to get smaller sizes.
But while a smaller system allows quick maneuverability, it often has lesser features.
Connectivity
All modern home stereos feature wireless connections and should also enable USB connections. However, wireless connectivity isn't as dependable as USB and RCA.
Wireless systems are excellent because they don't have cords all over the place. They allow quick moving of speakers around the room to customize your listening experience.
Apps add to your convenience during installation and navigation.
Channel Abilities
Today, every fantastic stereo supports wireless connectivity. But, if you want AM/FM radio or a CD player, purchase a stereo with such abilities. That way, you can enjoy talk radio or stay current with the newest radio hits and buzz.
Even the best playlists require attention from time to time. The radio feature is convenient because you can tune it and forget about it. The more your system can perform, the more alternatives you get. Ensure the stereo you buy has all the extras you need.
Frequency Response
The frequency response of a speaker, expressed in Hertz (Hz), denotes its tonal range capabilities. The first number shows the speaker's bass range. On the other hand, the second number denotes its high frequencies. A greater frequency response provides a fuller sound.
Style
Design is only significant if you wish to match your decor. Luckily, companies are producing systems that are current and aesthetic. Your system's sound quality and your home décor skills should please the family and guests too.
Frequently Asked Questions
1) What's the Best Way to Listen to Music at Home?
No matter how good the underlying content is, poor speakers limit your enjoyment. Luckily, you can get good speakers for a little over $100. You need external speakers with excellent audio to make your space a terrific place to enjoy music.
You can revel in tunes, podcasts, plus more audio entertainment, in multiple rooms simultaneously with a cordless multi-room system.
2) Is Stereo or Surround Sound Better?
There is no simple answer. It depends on the user and money. Nonetheless, a 2.1 stereo system featuring a subwoofer is enough for TV shows, music, comedies, and dramas. This arrangement allows for future upgrades.
If you enjoy action, sci-fi, or thrillers and want a cinema-like experience, 7.1 or 5.1 surround sound is for you. If you have the budget, get Dolby Atmos for one of the greatest immersive sounds.
Here's a breakdown of the two to help refine your choices:
| | | |
| --- | --- | --- |
| Aspect | Stereo | Surround |
| Channel number | Two | Five or more |
| Room size | Best upto medium | Ideal for large spaces |
| Cable management | Little | Requires proper management |
| Popular configuration | 2.1 | 5.1 and 7.1 |
| Installation difficulty | Low | High |
| Price | Budget, though premium options exist | Pricey, demands a good amplifier |
| Best for | TV shows, music | Games and movies |
Conclusion
While focusing on fundamentals is key on a budget, premium stereo systems offer the immersive that takes your games, movie, and music a notch higher.
Home stereo systems have a come long way since the outdated designs of the yesteryear generations. With big companies aiming to get in on the action, innovation is inevitable as can be seen on our selection of the finest on the market.
You may also be interested in:
About Post Author