Are you in search of a high-quality pair of headphones that do not break the bank? Well, look no further as this guide gives the low-down on some serious performing headphones at a fraction of top-tier prices.
The market has a vast choice of classic headphones out there and it is no wonder that someone can get easily overwhelmed when making their first purchase. We aim to make it much simpler by choosing the best budget audiophile headphones with both accurate sound reproduction and excellent build.
What Is an Audiophile Headphone?
Audiophile headphones are generally made using the latest technology and with materials whose quality is unmatched. They are specifically made for those in search for high-fidelity and accurate sound reproduction.
Sennheiser HD 600


If you are a true audiophile, then these headphones got you covered. They will slide you into your world with its clean sound with minimal disturbances. This device is engineered with your needs in mind. They offer an incredible transient response thanks to the aluminum voice coils that are light in weight.
The sophisticated design of the headphones will make a statement wherever you go with the gray and black finish sparkling around.
Sound Quality
The Sennheiser HD 600 have a neutral sound profile with fantastic coherence from bass all the way to the treble. There is a reason this pair is a trusted pair for audiophiles for many years – and it is due to its great balanced sound with good detail retrieval and resolution.
The midrange is slightly forward in the mix with a natural sound and well-reasoned bass.
Features and Benefits
Design
Sennheiser HD 600 headphones are designed to fit in your ears perfectly. They have aluminum voice coils and magnets that are optimized by computers. These two features ensure that you get a clear and clean sound at the beach or on the streets. Also, with its diaphragm design, you won't have to worry about any unwanted content in your sound.
Functionality
This audiophile headphone features a magnetic system of neodymium ferrous. The system is meant to give the device optimum sensitivity to any kind of sound disruption. Also, it helps the device provide a dynamic response to such disturbances.
The metal grills are there to ensure that the sound you get is unmatchable and extremely clear. If the headphones stop functioning, you can return them to the dealer since there is a warranty for two years.
Versatility
The Sennheiser HD 600 headphones are not limited to some type of audio. You can use them to listen to any audio content, unlike some headphones. Whether you need casual or serious listening, these headphones will give you the best experience. The open speakers will make any sound natural for you. This device is dependable at any place with excellent results.
Pros
Classic and elegant headphones
High sound-quality
Comfortable for the ears
They have an open back
Cons
HIFIMAN SUNDARA

Sound Quality
The HiFiMAN Sundara is a compelling offering with its neutral and linear bass, balanced midrange and well-extended treble. It offers an overall cleaner sound with hints of upper treble shine giving notes a leaner sound. The soundstage is also excellent as with most of HiFiMAN's other offerings.
Features and Benefits
Design
The headphones are structured with a friendly design. This is more so on the headband, which features a head strap. The strap is meant to help distribute the weight of the headphones over your head whenever you have them on. This headband design does not only give you comfort, but it also gives the headphones an elegant look.
Efficacy
You have got much to gain from these headphones because they are made to serve you well. The device features a top-notch diaphragm which is significantly thinner than the one found in other headphones. As a result, the diaphragm makes the headphone have an extended frequency response, a detailed sound, and faster transients.
Durability
You will get value for your money when you buy this audio device. It is built to last, and you won't be going back to the shop anytime soon. The earpads have been enhanced to last long, and they can therefore withstand the daily tear and wear without looking tattered. On the other hand, the headphones come with a recently improved cable that is made of a strong OFC wire.
Pros
Valuable and quality sound
Fairly priced
It gives a comfortable fit
A well-extended bass
Cons
The cable isn't reliable
The earpads may be mismatched
Beyerdynamic DT 990 PRO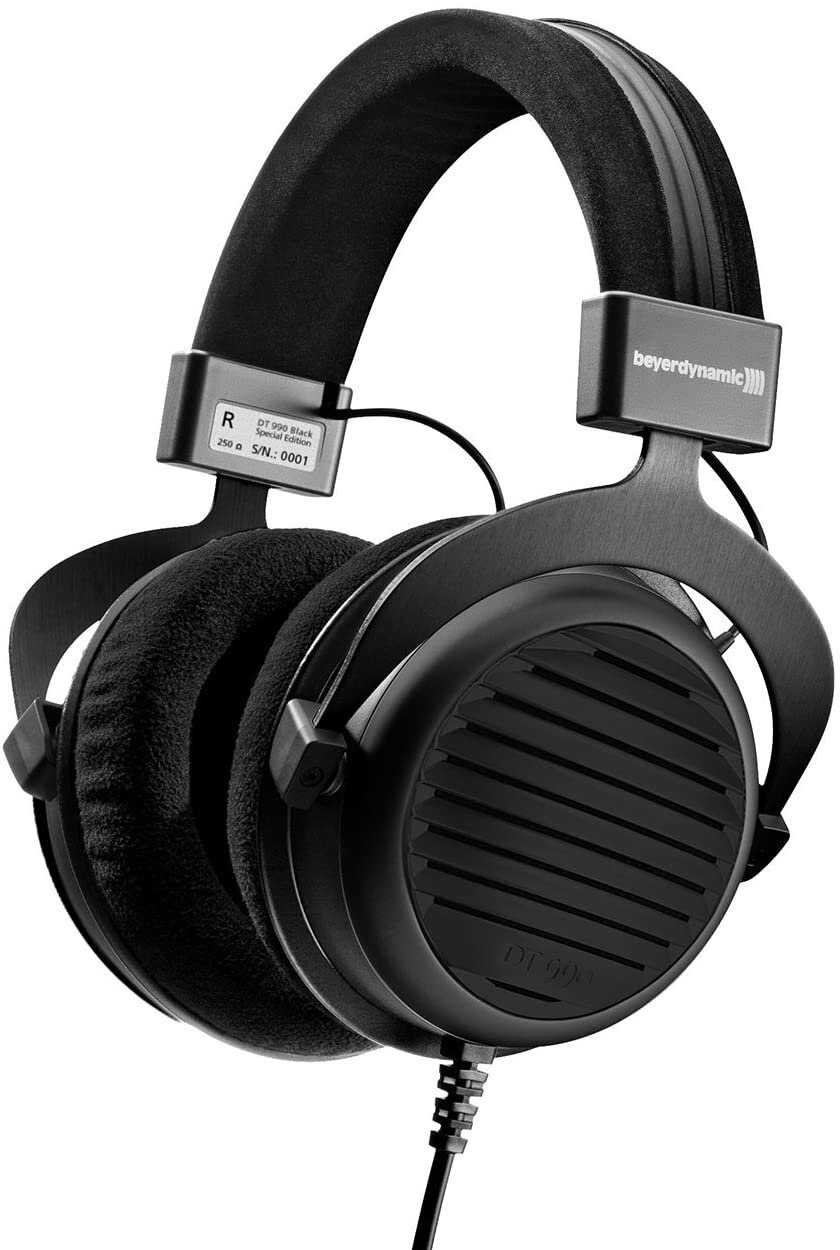 If you have been searching for a device that will meet all your audio needs, the search comes to an end here. Whether it's music you are listening to, playing games, or doing some recording in a studio, these headphones are perfect for all that. Keep on reading to know why you should buy them.
Sound Quality
The Beyerdynamic DT 990 Pro adopts a v-shaped signature with heightened bass and treble. It leans towards the brighter side of the spectrum with plenty of shine in the upper treble regions. They have an excellent open quality with great detail retrieval which works very well in orchestral tracks and operatic recordings.
Features and Benefits
Compatibility
Having a headphone that's compatible with your phone brings a lot of conveniences. This is why you should consider buying these Beyerdynamic headphones. You can use them with your mobile phone because it has a power handling capacity of 100mW.
Also, it has an impedance production of 32 ohms. This makes it ideal for phones or mp3 players that have a lower output.
Additionally, the headphones come with a blue coil headphone amp that has four channels. Each channel has a volume knob and switchable stereo, and therefore, you will conveniently connect them with your mobile phone or MP3 player. Also, the extension cable is long enough and will reach your headphones without interfering with the sound quality.
Efficacy
These headphones don't struggle with the reproduction of a strong and clear sound. They can do that at a low frequency because the response is wide. This way, you can be sure to get that signature sound when recording in your studio. The sound is also well balanced and detailed.
Comfort
They are also made with your comfort in mind because the headband is padded and rugged. You can also adjust it to get a comfortable fit. On the other hand, the ear cups are cushioned, and therefore you won't feel any discomfort even after wearing them for a whole day. These headphones are professional and best for all audiophile's needs.
Pros
Has an amplifier
They offer a balanced sound stage
Compatible with car speakers and phones
Cons
Highly-priced
Noise isolation is not perfect
Meze Audio 99 Classic


You will be grateful that you bought these headphones for yourself. They are uniquely constructed with a mic, and you can also adjust the headband. The device dramatically passively cancels noise, and you can be sure to get the kind of sound your picky ears won't resist.
Sound Quality
The Meze Audio 99 Classic offers a more musically orientated signature with its well-rounded notes, mid-bass emphasis and smoother sound. This helps it evade harshness and glare where users are treated to a more relaxed listening session.
Features and Benefits
Design
These headphones are built sturdily and assembled classically. You will love the ear cups because they are made with adequately finished wood grain. The makers of the headphones used wood technology and took enough time to shape and give the ear cups the irresistible and flawless finish that they boast.
The wooden ear cups look classic and professional and enable the headphones to isolate sound effectively. This is a feature that further qualifies the headphones to be used for monitoring podcast, video editing, and studio recording.
Compatibility
This is another outstanding feature of the Meze 99 classic headphones. You must be aware that not all headphones are compatible with mobile phones, PC or amplifiers. This is why you should not hesitate to purchase this one because it is compatible with all these devices and still offers you a quality sound for whichever music you are listening to.
Comfort and Adjustability
A good headphone should be comfortable not only to your ears but also when you are moving. This is a feature that you won't miss in the Meze classic headphones. The leather headband is made for all head sizes and equally spreads out its weight over your head. The self-adjusting headband feature distinguishes the device.
On the other hand, it has a headset that's light in weight, and you will listen to your music for hours thanks to the softly padded ear pads. All these features make them the best for instrument players and music producers, and lovers.
Accessories Included
You will get a carrying pouch for these headphones to keep them when it's not music time. Also, there is an OFC cable with a remote and a microphone, whose length won't change your sound quality. Additionally, there are replacements for all parts of the headphones.
Pros
It offers a signature sound
Light in weight and portable
Have a closed back for an enjoyable listening experience
Good for the price
Cons
Bass is sometimes too overpowering
Shure AONIC 50

Enjoy an incredible music experience with the Shure Aonic headphones. They are designed to serve you well in your studio with personalized features. The definition of this device can't be complete without mentioning its durability and the comfort that it gives. With the Shure headphones, you can be sure to get lost in the music world from wherever you are.
Sound Quality
The Shure AONIC 50 are a classic audiophile wireless headphone which revels in its neutrality, clear sound and excellent instrument separation. It is a highly transparent sound with a sound that is crisp and rich in details.
Features and Benefits
Durability and comfort
Buying a headphone that is uncomfortable to your ears is tragic and will interfere with your listening. However, the Shure headphones are made for your ears with all comfort features included. Whether you are on the train, trekking to work, or in an airplane, the device will accord you utmost comfort.
The ear cups are strongly built and will serve your ears for a long time. You can fold the headphones when you want to take a break from music.
Bluetooth
You can keep the headphones connected to your phone, PC or tablet because it is Bluetooth enabled. The connectivity can cover 30 feet range and remain stable. This feature makes them ideal when you are driving because you can receive a call without holding the phone.
The Bluetooth technology also doesn't interfere with the signal or frequency of the headphones, and therefore you can be sure to have the same quality sound. In addition, the headphones have a USB charging slot which also gives them high resolution.
Design
The Shure headphones are wireless, and therefore you can use them anywhere. They are also designed in a way that you can control them with your fingertips. This makes it easy for you to receive phone calls, adjust the volume, or stop the music by pushing a button.
The headphones are also made to serve you for a long time, and you can enjoy long hours of nothing but music thanks to their long battery life.
Pros
Easy to control
Balanced sound quality
Great in noise-canceling
Foldable and portable
Cons
Small carry case
Not light in weight
Audio-Technica ATH-R70x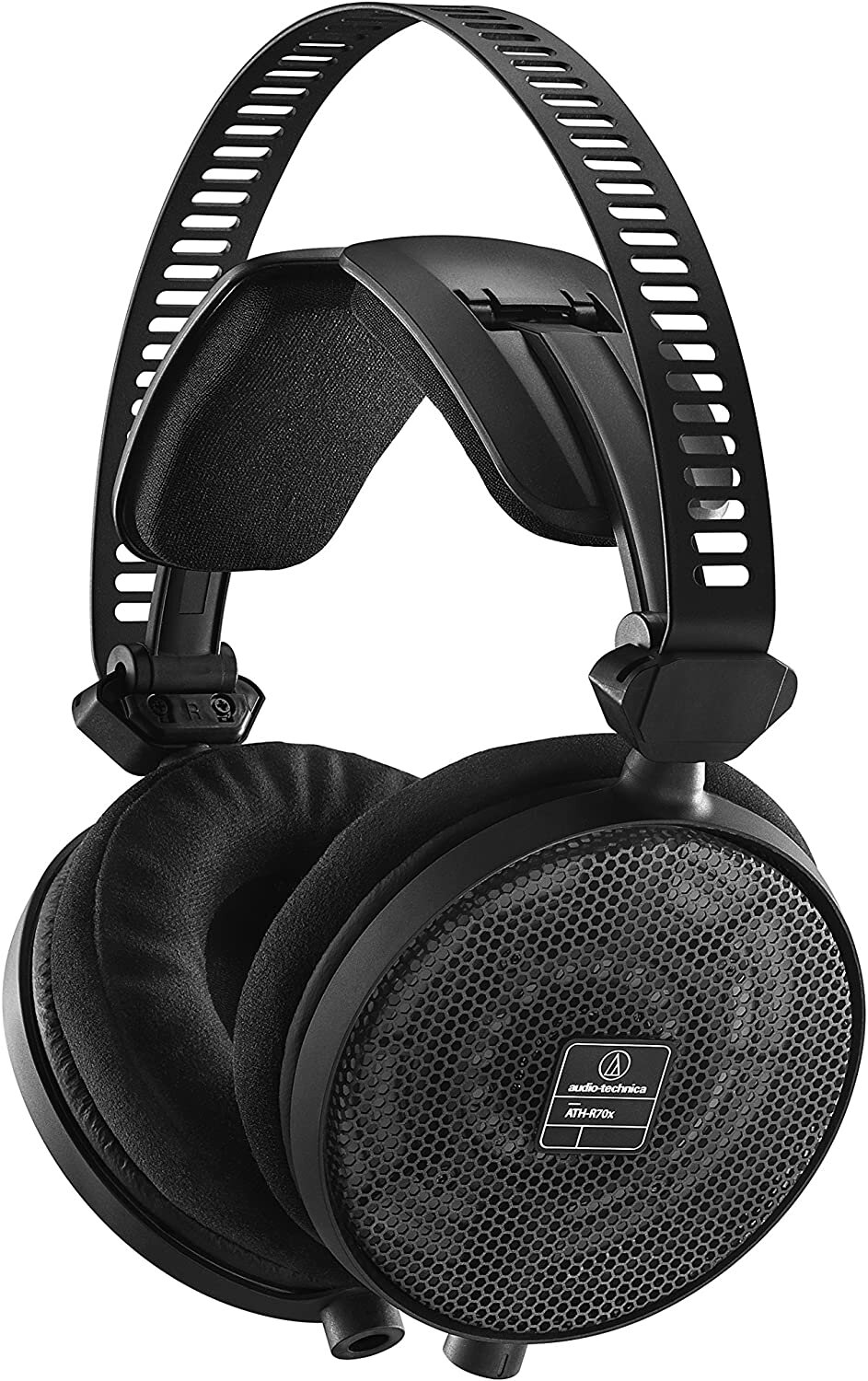 Comfort, audio clarity, and convenience are the defining features of these audiophile headphones. You will love them for the professional touch that the manufacturers gave them. This is confirmed by the lightweight and strong construction of headphones.
Sound Quality
The Audio-Technica ATH-R70x are studio grade headphones with a finesse for detail retrievals and acoustic transparency. However, they add an element of smoothness making them pleasurable to listen to for extensive hours. The midrange is slightly recessed which may take some engagement out of it but adds to the more open sound.
Features and Benefits
Design
The Audio-Technica ATH-R70x headphones are made to give long-lasting comfort. The earpads are made using a piece of breathable fabric, and they boast updated wing support so that you can wear them for a long time.
They also feature a housing of honeycomb-mesh, which has acoustic transparency. This feature gives you an open-back sound that is spacious and natural.
Functionality
You can depend on these headphones anytime for a clean and accurate sound. This is enabled by the design of the magnetic circuit and the magnets that ensure you get the most precise sound and the response of high frequency.
The carbon composite resin inside the headphone helps the device get a full transient response by improving the rigidity of its structure. Another benefit that comes with this headphone is the excellent stereo orientation. This is made true by the locking cable, which is detachable and two-sided.
Balanced and Versatility
You enter a store to buy a pair of headphones because you want good sound. Fortunately, these headphones are the best you can have because they boast a sound that will impress you no matter the genre you are listening to. On the other hand, you can use the device for watching movies, gaming, or production.
Pros
Reliable and strong
Adjustable headband
Durable headphones
Made for any environment
Cons
Small pad cups
Requires a strong amp
Noisy pads when headphones move
Beyerdynamic Amiron

Let your music follow you wherever you go with the Beyerdynamic Amiron headphones. You won't have to struggle with cables, and your music sound will be authentic. It is made in Germany using unmatchable materials, and therefore you won't be going to the stores anytime soon. Pick these headphones if you are choosy when it comes to sound.
Sound Quality
The Beyerdynamic Amiron are a reliable pair of headphones with great deep textured bass, smooth mids and controlled extensive treble. It is a sound which emphasizes the sub-bass regions allowing smooth and warmer music with undercurrents of authoritative bass.
Features and Benefits
Durability
You can trust the longevity of these headphones because the materials that make them are high quality. You confirm this with the first touch on the headphones. Everything about the devices 'making is flawless, and it will remain that way for long. You will never see the headphones fade, especially the headband, because it is made using high-quality aluminum.
Versatility
These headphones do not limit you when it comes to movement. You can use them in the kitchen, study room, or on the road, and music will be with you. This is because it's wireless, making it easy to use thanks to the touchpad and Bluetooth technology. You will still have the same quality sound from Amiron regardless of where you are or what you are doing.
Design
The headphones are designed for your convenience. You can efficiently operate them by switching them on and off using a button. There is an LED light that indicates the status of the headphones. Additionally, a microphone is found in the ear cup, making your conversations easy and direct.
On the other hand, if you want to change the media playbacks or receive a call, the device has a touchpad on the ear cup that you can use. All these features are meant to make the use of the headphone easy for you.
Pros
Compatible with other devices
It has a USB charging slot
The midrange is superb
Cons
SIVGA P-II


Spending $399 on these headphones is a worthy step because it is detailed to give you the kind of music you want. It is classically designed and will offer you a better listening experience. The sound is super, and you will appreciate the comfort it gives you. Continue reading and get more reasons why you should purchase this device.
Sound Quality
The SIVGA P-II hosts a warmer liquid sound with emphasis on cleaner dynamics and leading edge transients which are softened. It is an addictive sound with fantastic detail retrieval and great treble control.
Features and Benefits
Durability
It took SIVGA technicians almost three years to come up with these headphones. Their main focus was on using quality materials and coming up with an appealing design. The wood used had to be processed and furnished, and fortunately, their efforts bore fruits because the device is solid and durable.
The shell of the headphone chamber is the most elegant part, and since it's wooden, you can have the pair for a long time. Besides, the technicians used traditional craftsmanship hence the sturdy construction.
Design and Comfort
SIVGA P- headphones feature a two-sided diaphragm that acts as the driver. However, for the unit to function well, the diaphragm must work together with the sophisticated sound properties of the walnut chamber. On the other hand, you will appreciate the comfort that comes with these headphones. Both the earmuffs and headband are made using high-quality leather to give you utmost comfort and bring the earphone closer to your head.
Pros
Nice frequency response
Amazing sound
Reliable audio cables
Cons
Buyers Guide for The Best Budget Audiophile Headphones
Several questions cross people's minds when it is time to get a pair of headphones. The size, type, color, and other aspects are the most confusing ones. They don't know that there are more important details that should be considered before buying headphones.
It is for that reason that we have come up with this buyer's guide for you. It covers every detail that you should have on your fingertips before purchasing any headphones.
Purpose
Why are you buying the headphones? This is the first question you should ask yourself. Do you want them for listening to music, studio recording, or keeping yourself awake? The purpose you have for the headphones will help you choose the right pair.
For instance, if you want an audiophile headphone for studio use, you must get something with high-quality and well-amplified sound.
Price
Cheap audiophile headphones should not have to make compromises such as build quality and sound. In fact, the options above are example of more affordable solutions which many people would be happy to keep for many years. Large scale production and R&D are some ways in which larger audiophile brands can lower down the price for future production models.
Comfort
This is another critical factor that you must look into before purchase. A good headphone should be comfortable on your head and also your ears. You don't want to have scars due to protruding cables that hurt your skin.
The standard headphone should have a cushioned headband and well-padded ear cups. Also, it should be easy to use with automated features like on and off buttons, volume, and microphone controls, among others.
Additionally, check on the weight of the headphones. You don't want something that will overwhelm your head, especially when you are in motion.
Wired/Wireless
Headphones are either wired or wireless, and this is another factor that you should consider. Suppose you are a busy person or like to listen to music while on the road, the wireless is the best for you.
They are Bluetooth-enabled and can be compatible with your phone, tablet, or other devices. Maybe you are wondering about the quality of sound.
There will be no change; you will still get the natural sound you desire even without cables.
Design
Headphones are available in different sizes and shapes, and the features keep on changing now and then. The many designs in the market might confuse you. Therefore, it is crucial you make your mind and decide on the design you want your headphones to have.
Choose a headphone that has an aesthetic appeal and will not make you shy off from the crowds. However, if you choose a sophisticated design, be ready to spend more on it.
Frequently Asked Questions
1. Which are the best audiophile headphones?
The best audiophile headphone is a subjective answer but one that should ideally have outstanding high-fidelity sound, excellent quality build and a signature liked by the majority of audiophiles.
2. How long should one wear headphones?
There is no specific time that one should wear headphones but it is not advisable to have them for more than five hours without taking a break.
3. Which is the best between wired and wireless headphones?
It depends on your preference. However, wireless headphones are more convenient and easy to use.
Conclusion
This guide has discussed the eight best budget audiophile headphones available today. What they have in common is high-fidelity sound which goes the extra mile compared to standard consumer headphones.
In addition, they do so without breaking the bank and giving you plenty of mileage for seasons to come. Hence audiophile headphones do not have to be synonymized with high cost but can have plenty of bang for buck.
Choose wisely and happy listening.
You may also be interested in:
About Post Author