Good headphones let us hear music the way it was intended to be heard. But for the music to be as good, sound engineers and musicians need some quality studio headphones in the production process. Typically, music producers will test music using many studio monitors, car stereos, and Bluetooth speakers to feel how it sounds in different systems.
But the best studio headphones have a flat frequency response with minimal sound coloration to allow the producer to mix and master sounds with accuracy, for easy balancing and fine-tuning.
Though the sound quality is very subjective, a good pair of cans can help mix and produce music that sounds epic on any system. And the good thing is, studio headphones will serve well in the studio and everyday music listening duties.
To help you make a choice, we've described everything you need to know about studio headphones and recommended a list of the best studio headphones you can buy.
Best Studio Headphones Summary
| | | | | | |
| --- | --- | --- | --- | --- | --- |
| Headphone | Type | Frequency response | Impedance | Driver type | Connection |
| Sennheiser HD 820 | Closed-back, over-ear | 12Hz-43.8kHz | 300 ohms | Dynamic, 58mm | Wired |
| Sennheiser HD-206 | Closed-back, over-ear | 21Hz-18kHz | 24 ohms | Dynamic, closed | Wired |
| Sony MDR-7506 | Closed-back, over-ear | 10Hz – 20kHz | 63 ohms | Neodymium, 40mm | Wired |
| Beyerdynamic DT 1770 Pro | Closed-back, over-ear | 5Hz-40kHz | 250 ohms | Dynamic tesla neodymium, 45mm | Wired |
| Audio Technica ATH-M50x | Closed-back, over-ear | 15Hz-28kHz | 38 ohms | Neodymium dynamic, 45mm | Wired |
| AKG K371 | Closed-back, over-ear | 5Hz-40kHz | 32 ohms | Titanium-coated dynamic drivers, 50mm | Wired |
| Sennheiser HD 650 | Open-back over-ear | 10Hz-39.5kHz | 300 ohms | Neodymium, 40 mm | Wired |
Sennheiser HD 820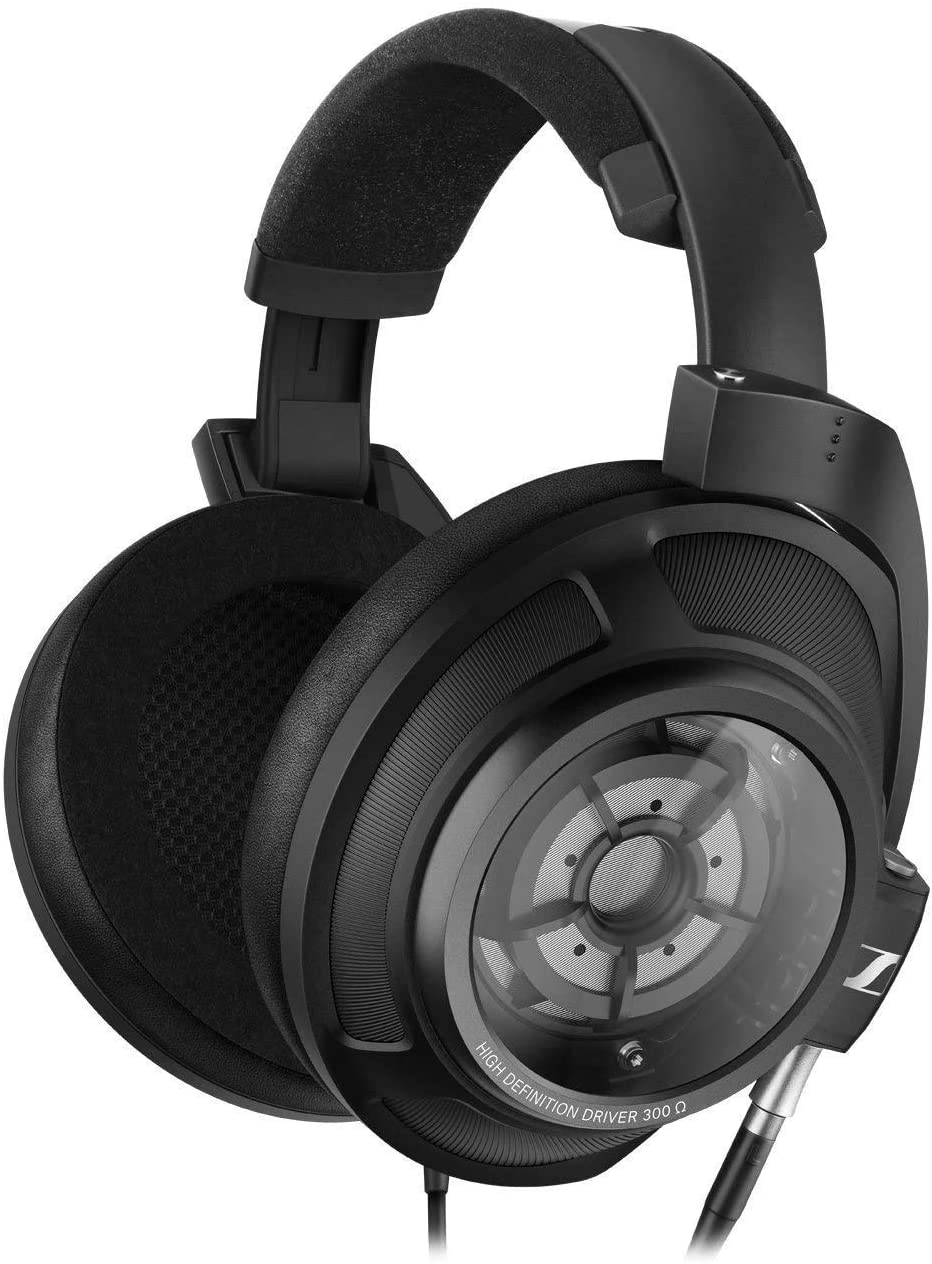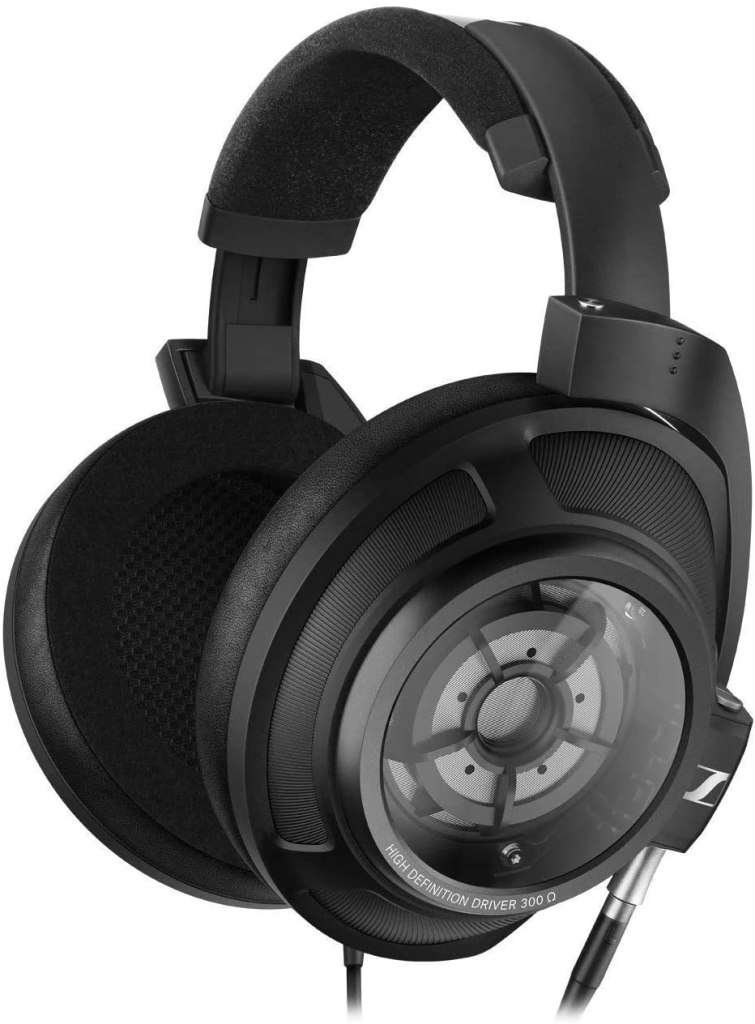 Comfort and Build
The Sennheiser HD 820 is a pricey pair of closed-back studio headphones. But a glance at the design says you're in for a treat. These headphones feature the typical Sennheiser's well-made classy, and sturdy build. The earcups are in plastic, the headband is metallic, and the earpads are made from microfiber.
Everything feels durable, with a topping of Gorilla glass coverings on the elegantly made drive unit. The drivers are an excellent version of the ones used on the open-backed units.
The HD 820 looks big but not particularly heavy at 360g. Put them on, and you'll appreciate the comfort of the well-balanced clamping pressure and the carefully shaped ear cups. These cans are for comfortable all-day extended use without heating your ears.
They come with three connection cables, each three meters long: a convectional 6.3mm jack cable and balanced XLR4 and 4.4mm Pentaconn standard cables.
Sound Quality
For a start, these cans pack a powerful punch and are seriously power-hungry. To get the best from them, get a powerful headphone amp/DAC combo such as the Sennheiser's HDV 820. While either cable options connect well to your amp/DAC combo, the balanced connections give the HD 820 a bolder and crispier presentation.
Once all set up and running, the HD 820s are easy to appreciate. Sennheiser fans can easily recognize the company's sonic signature trademark. As the headphones warm-up, the tones become smoother and full-bodied, with an outstanding balance in transparency and sonic agility, for a sound palatable for hours on end.
These headphones tell you if the recording is good or bad, with the frequency range of 12Hz-43.8 kHz giving enough room for vocals articulation and crisp expression. You can mix every instrument without losing composure, and they help in the organization.
If you can afford the HD 820s, then go for them right away. The comfort, well-engineered build, and hugely talented and rare sound quality are worth every dollar.
Pros
Robust, full-bodied, and detailed sound
Powerful, agile bass
Solidly made
Cleverly engineered
Cons
Pricey
Absolute performance
Sennheiser HD-206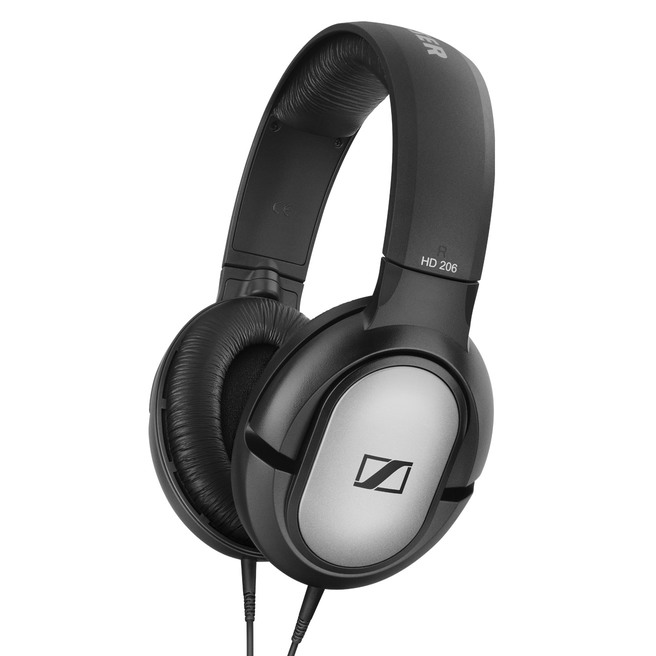 Comfort and Build
Sennheiser HD-206 replaced the HD-201 in 2017. They're affordable entry-level closed-back, over-ear headphones. Physically, the HD-206 closely resembles HD-201, with the signature black and silver color scheme, track-shaped identical earcups that fully enclose the ears, and a generous soft leatherette padding.
The extensive vertical adjustment is the same, with a small degree of lateral swiveling ear cups to comfortably fit all head shapes. Furthermore, the headband tension is well-judged for just enough firm seal around the ears while keeping the ears as sweat-free as possible.
You get the same non-detachable, twin-core cable, splitting below your chin to feed each can.
Sound Quality
The fundamental difference between the 206s and 201s comes to life once they are set up and running. The 206s frequency response range of 21Hz-18 kHz allows for a tweaked bass and a more present and punchier sound. It leaves the 201s sounding rather boxy, with over-emphasized upper mids and low bottom ends.
The 206s cans suffice all studio-related tasks, from recording vocals to numerous instruments and programming to mixing.
The upper-mids are creamier. And the stereo soundstage is more excellent and broader, with plenty and impressive details throughout the frequency range. In addition, the closed-back design does an excellent job of keeping noise out and preventing spills.
The 3-meter cable allows for easy movements within the studio, but some users argue it's too long for use on the go. If you're within a strict budget but still want some good studio headphones, go the Sennheiser HD-206 way. The sound won't win any competition but is punchier for its price.
Pros
Incredible value
Lightweight and comfortable
Great sound for the price
Cons
A little cheap feeling
Some people complain that the cable is too long
Sony MDR-7506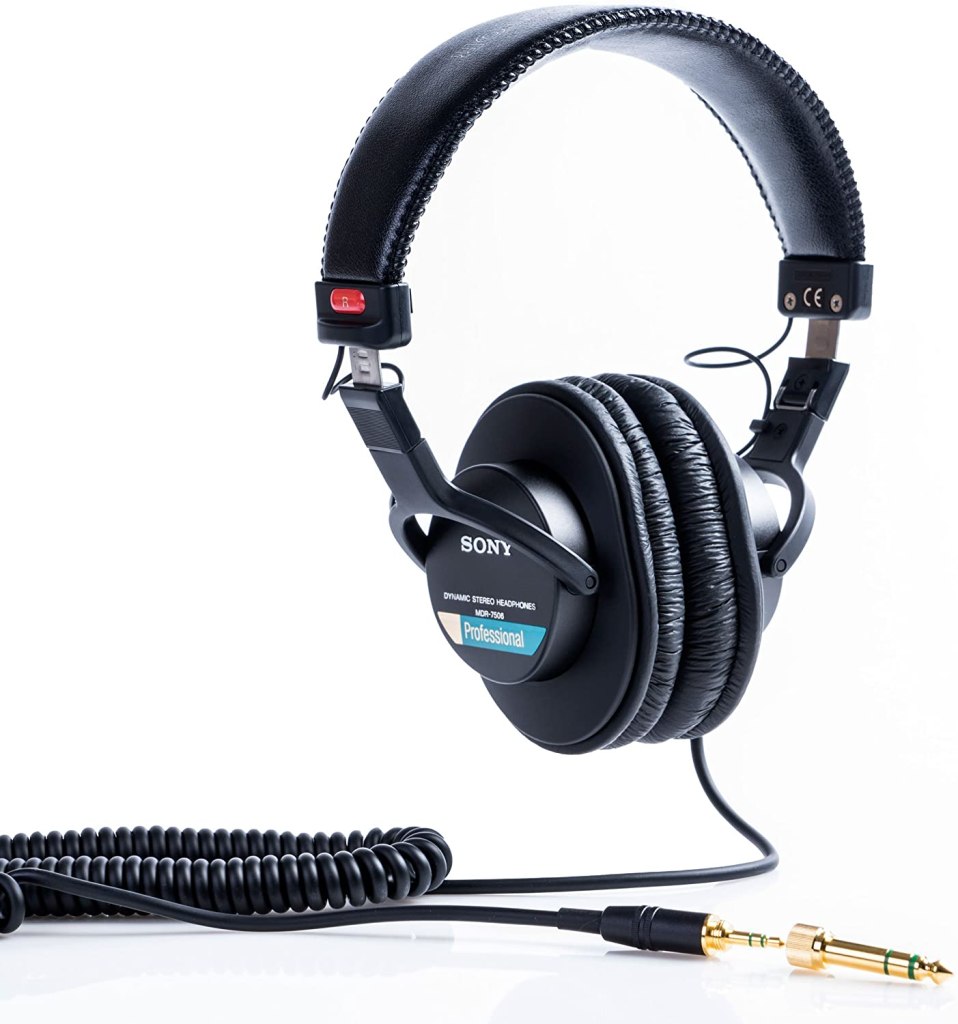 Comfort and Build
For less than $100, you get to own the Sony MDR-7506 cans. On build quality, you more or else get what you pay for; entirely plastic-made headphones. It's not a bad thing, though, as they are lightweight for all daylong usage, but they aren't very durable.
They are foldable for a more compact footprint, with a soft carrying case for added protection. To enlarge them, pull the ear cups towards you while the headband is away from you. The headband pressure lacks good balancing, and they may feel uncomfortable to use over extended sessions.
The ear cups lack the more comfortable plush memory foam padding and may clamp down on your ears a little harder. The super thick and durable-looking cable is non-removable but adds a nice heft that inspires confidence and terminates with a 3.5mm gold-plated jack.
Sound Quality
If you know your way around headphones, you know why Sony MDR-7506 couldn't miss our list. It's simply an industry standard, which people in recording studios, video production, and newsrooms have over their heads religiously. They have an impedance of 63 ohms and will need a power boost to perform optimally.
Even so, a simple dongle is enough to drive the Sony MDR-7560 cans with any smartphone.
But the main reason for almost everyone in the industry having a pair of Sony MDR-7560 studio headphones is their usability in sound production. The 40mm drivers pump out sound within its frequency response of 10Hz – 20 kHz, and at the same pressure level. It reproduces the "flats" and "neutrals" as audio producers want them.
The low ends are pretty flat, emphasize the mids and highs, and reach as low as 10Hz without bringing the bass to the forefront. These cans favor comfort and performance for recording on the go, in the studio.
Pros
Good sound for mixing
Nice sound isolation
Solid cable
Fairly priced
Cons
Not for bass heads
The heavy cable reduces portability
Plastic build
Beyerdynamic DT 1770 Pro

Comfort and Build
The Beyerdynamic DT 1770 Pro studio headphones don't have that classy look, but the sturdy feel and materials used show it means business from the word go. The drivers in this closed-back, over-ear headphones are in an aluminum housing, well secured to minimize movements.
The two cans connect to the upper headband through an adjustable support bar. And the leather headband has dual-layered memory foam padding lining, which is comfortable but taut. The whole setup is solid and secure and promises durability.
There are two swappable ear cups included; velour and leather. Though somehow challenging to swap out, each provides phenomenal noise dampening and comfort. Beyerdynamic DT 1770 Pro headphones won't seem in place if worn to the gym or in town as they are noticeably big, though not huge.
The gorgeous soft-touch rubber connection cables are removable, and the options are either a 3-meter cord or a coiled studio-style wire.
Sound Quality
For starters, this pair of cans is pricey but with specs worth every dime. They have a frequency response range of 5Hz-40 kHz, 250 ohms of impedance, and Tesla Dynamic tech transducers. By all means, Beyerdynamic DT 1770 Pro studio headphones are audio heavyweights. They are specifically meant for mixing and tracking, with well-balanced sound across the audio spectrum.
The mids are free from audible phase shift, and the sound stage is full-bodied with highly detailed surround sound production and clarity essential for professional use. These cans are power-hungry and require a quality amp/DAC combo for sufficient juicing.
But when up and running, the discrete reverb amidst a busy mid-range, with tiny distortions and clips, delivers any signal type thrown at it with precision.
Pros
Beautifully crafted soundscape
Sleek design
Reasonable price for the quality
Work with portable players
Cons
They're a bit bulky
Pricey
Audio Technica ATH-M50x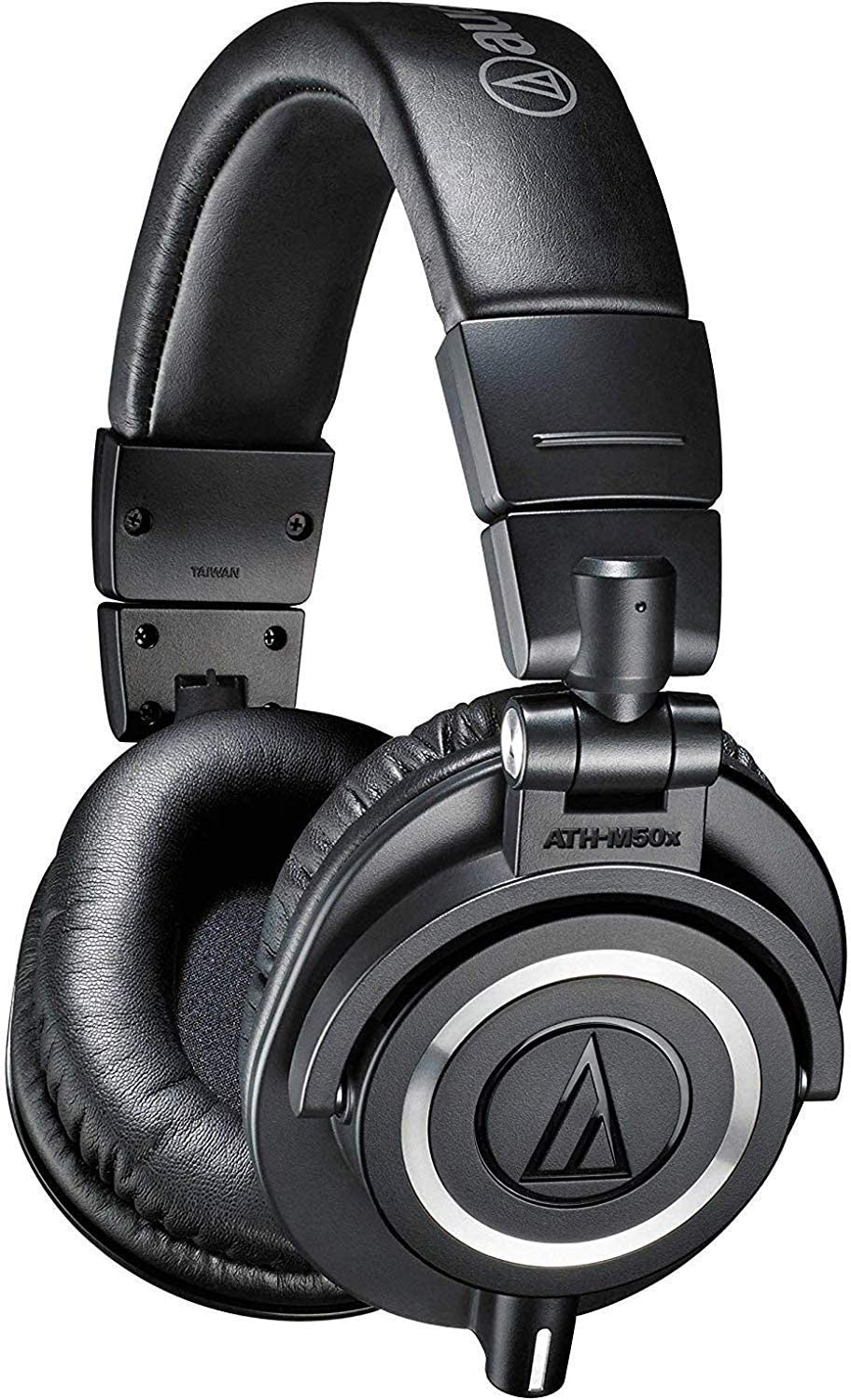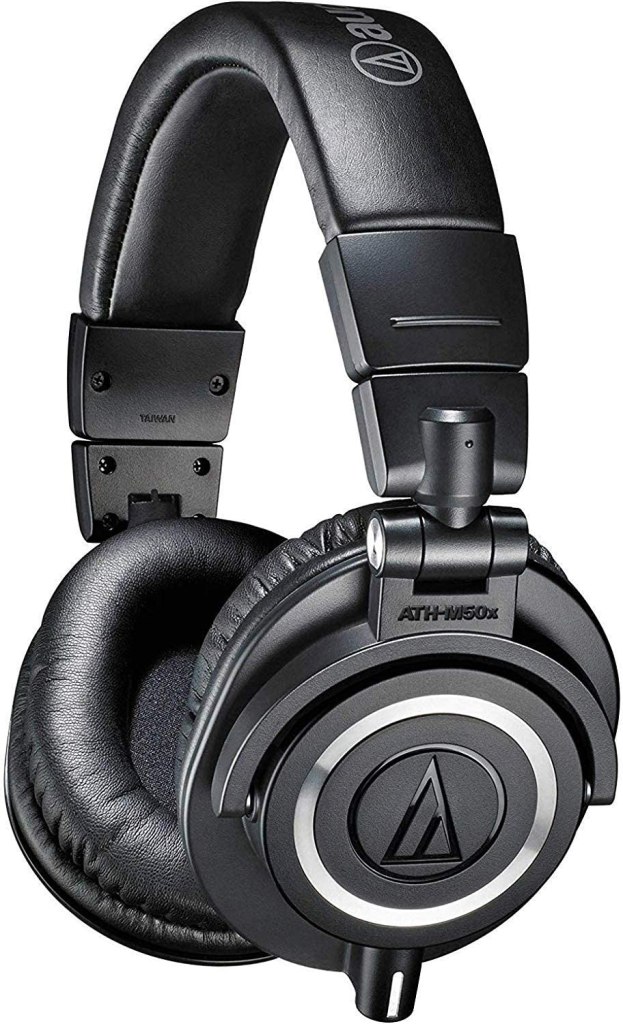 Comfort and Build
The build quality of the Technica ATH-M50x is right on point, not too flashy to draw unwanted attention, but stylish enough to stand out easily. You have different color options, such as subtle dark blue with tan leather and stealthy black. The entire build is plastic but very sturdy. It's lightweight at only 285 grams and comes with plush padding for added comfort for all-day-long listening sessions.
The ear cups rotate 90 degrees to give you more space to find the sweet spot where they fit comfortably. However, the padding reduces good airflow. Thus you may need to take them off occasionally to avoid sweaty ears.
There are three cables included, all terminating with a 3.5mm jack. In addition, you get a quarter-inch adapter for use with higher-end audio gears.
Sound Quality
The Audio Technica ATH-M50x studio headphones have an all-around sound performance. The frequency response borders neutrality, with a slight emphasis on lower frequency notes. Whichever music genre you throw at these cans, the sound clarity and subtleness are exceptional.
The mids and highs come with a bit of auditory masking, and shy away from detailed, airy high-frequency tones. The 38 ohms of impedance makes this pair of cans very easy to drive. ATH-M50x headphones impress easily, both in the studio, recording on the go, and casual listening.
Pros
Great looking
Great build quality
Excellent sound
Long cords provided
Cons
Cord is proprietary
Soundstage is lacking
AKG K371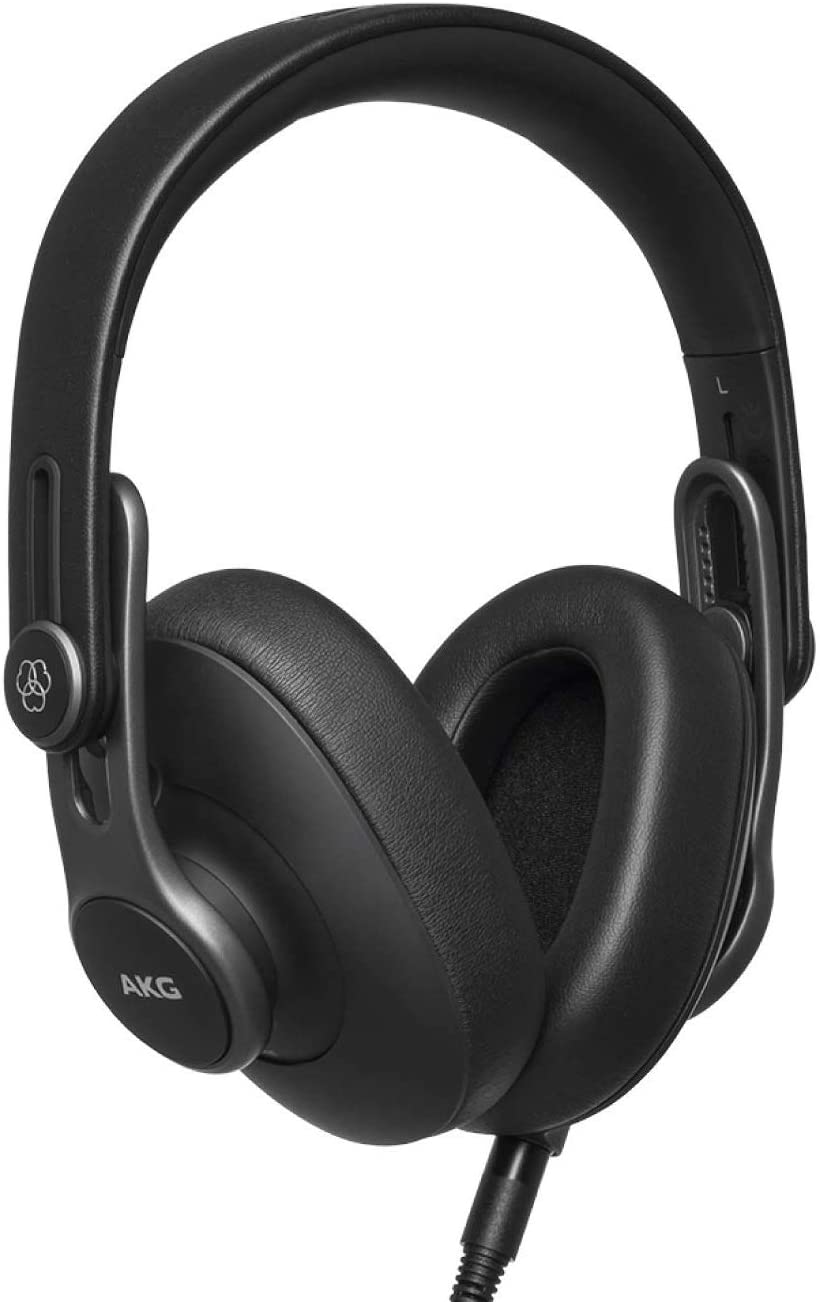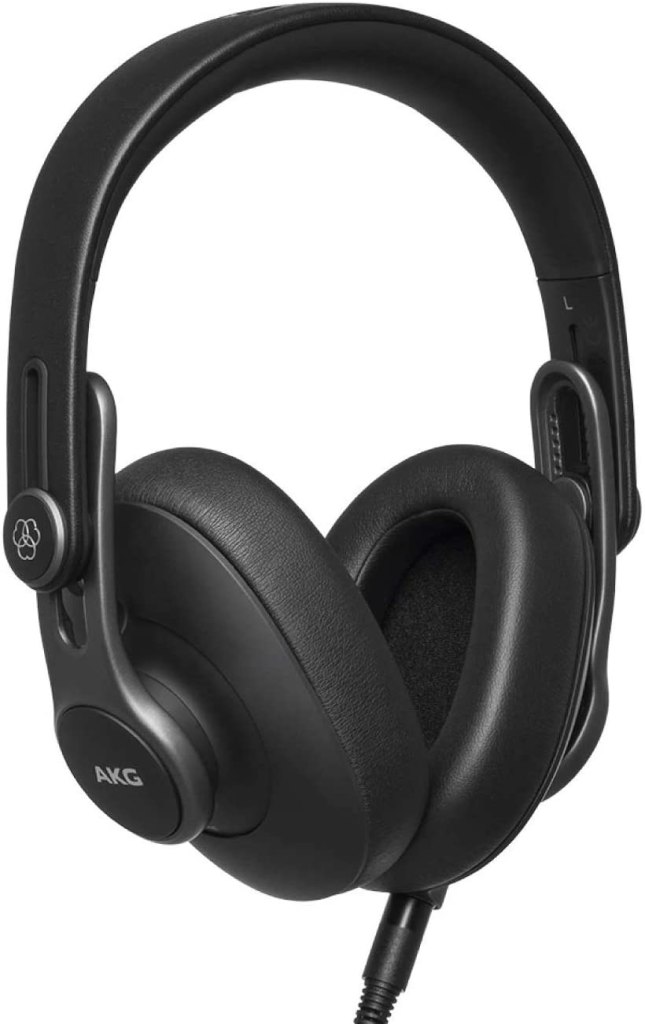 Comfort and Build
AKG K371 are middle-tier professional studio headphones, fabulous for audio engineers, DJs, podcasters, and people who wear glasses. The performance of this closed-back over-ears is way over its price class, with accompanying great build.
The ear cups rotate 180 degrees upwards for the easy articulation of either ear cup to hear surrounding noise. A metal bracket connects the cans with the headband and holsters an adjustable plastic piece. Even so, this pair of headphones has a proven sturdiness.
The soft memory foam earpads feel comfortable to touch and are well fitted for use by people with or without glasses. The two ear cups are identical, featuring a refined plastic, and only differentiated by the left-side mini-XLR input port, with a circular input cable lock.
The headphones come with three cable options: a 4-feet straight cable, a coiled cable, and a 10-feet serial cable, all terminating with 3.5mm TRRS plugs.
Sound Quality
AKG K371 features 50mm, dynamic drivers for extreme accuracy and a frequency range of 5Hz-40 kHz. Generally, most music fundamentals fall under this frequency range, making this pair reproduce heavy metal, acoustic, rap, classical, and other music types with great accuracy. The sub-bass is emphasized, and the mid-bass is de-emphasized to bring out a slightly muted bass response.
The low notes are apparent, while the bass-to-midrange auditory masking is avoided. Simply put, the bass notes come out clearly without any degradation to instruments and vocals. The clamping force is well judged to offer the right firmness for enough isolation while avoiding being too dense. You can keep these headphones on all day long.
Pros
Excellent Sound quality
Comfortable with or without glasses
Plenty of accessories
Replaceable ear pads
Articulating ear cups
Cons
Sound Isolation is just ok
Sound leaks
Sennheiser HD 650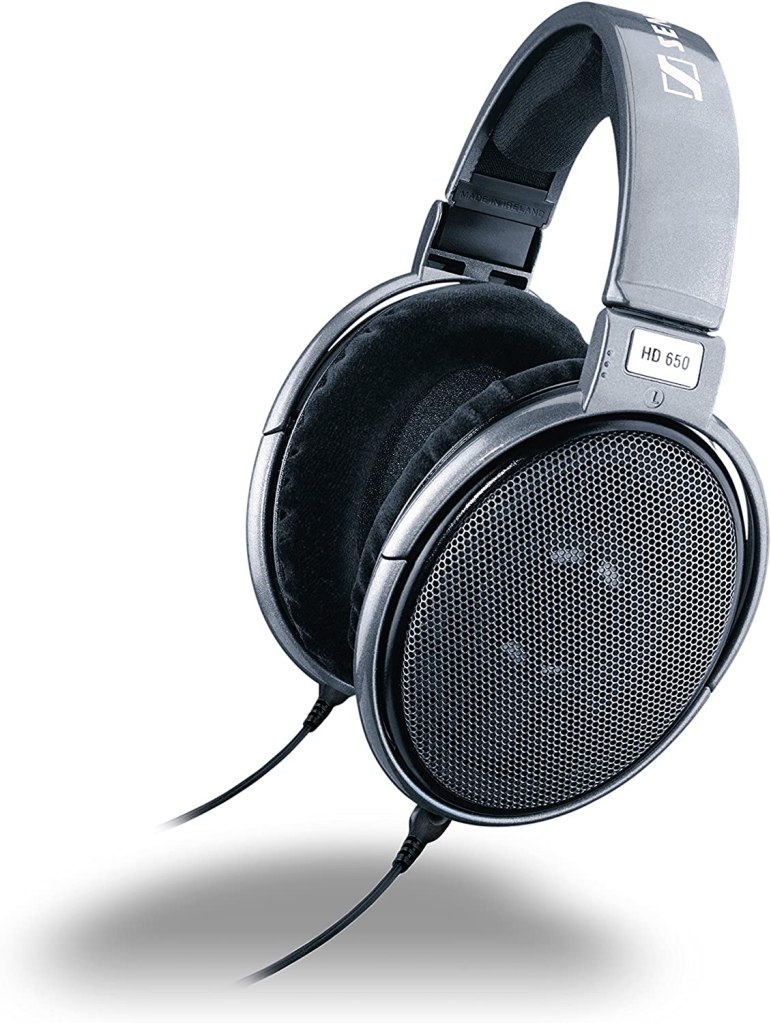 Comfort and Build
The Sennheiser HD 650 feature the signature Sennheiser's giant squashed oval ear cups, tilted backward on each ear for a firmer fit and natural look. They're open-back over-ears, with a metal mesh cage to protect the drivers. The design looks professionally done, with no flashy colors to draw unnecessary attention.
Unlike the speckled blue Sennheiser 600, the HD 650 is simple and tastefully designed. The focus seems to be more on Sound quality, but the design is adequate. The setup is simple; just plug-and-play right out of the box, provided you have a powerful amp/DAC to juice them up.
The ear pads feature soft and velvety material, with firm and springy foam on the inside. They feel comfortable to the ears, with no possibility of warming up your ears. Besides, they're open-backs.
The plastic-covered headband is rigid and sturdy, with an assuring durability feel. In addition, the whole setup is size adjustable, with a well-balanced clamping force.
Sound Quality
The Sennheiser HD 650 studio headphones are specifically for audiophiles and professional producers. The easiest way to understand the Sound quality potential of the HD 650 is through its frequency response range.
They will cover any tone within the 10Hz to 39.5 kHz to present all the extra bass below the 20 Hz lower range of the human ear. And the high impedance ensures all the sound accuracy and details are delivered to you as they should, unless you don't juice them up with a sizeable amp/DAC.
There is no bass accentuation or cuts on the highs like in consumer headphones. Instead, the HD 650 delivers sound very close to what is presented in the mix for high accuracies in critical listening.
The open-back design allows the aluminum voice coils to produce a fast transient response with no air pressure build-up. The sound stage is realistically wide and refreshing, allowing producers to capture any rough edges on music while mixing.
If accuracy and detail are what you're after, then the HD 650 serves in satisfying portions. Even so, this pair of cans is pricey but worth it and with added features like acoustic silk and a more significant frequency response.
Pros
Great audio reproduction
Well-built design
Comfortable and stable design
THD to 0.05 percent
Cons
Tight, clamping fit
Hyper-specific use case
High price tag
Studio Headphones Buying Guide
Studio headphones are the ultimate music listening tools, and they come in all shapes, sizes, and prices. But just like any other consumer product, marketers have a way of selling even the absolute crap of headphones.
The clutter quickly crowds the good ones, and headphone shopping can turn into frustrations very fast. Simply because the packaging has the word "studio" slapped on it doesn't necessarily mean the headphones are suited for studio work.
But fret not, as here we cut the hype and present to you important things to consider while choosing a pair of cans. Sit tight as we clear the confusion.
What are Studio Headphones?
Studio headphones are different from headphones meant for consumer listening. They are primarily for creating, mixing, recording, and mastering music, for overall sound accuracy. To be precise, they're for critical listening rather than entertainment uses like gaming, watching movies, or working out.
They have a flat frequency response to minimize sound coloration by artificially boosting the bass and treble, common in consumer headphones. With such sound honesty, artists can record or create a track without any frequency undergoing any injustice like underrepresentation or overrepresentation.
And if the music sounds excellent without any colorations, then the producer knows the music will translate well in whatever system it plays on, such as loudspeakers, earbuds, among others.
Main Types of Studio headphones
Studio headphones have three main design categories: closed-back, open-back, and semi-closed headphones. And this categorization bases on the appearance of the headphone's can-backs. The can backside is fully open for open-backs, save for the grills or perforations to protect the drivers and allow airflow. Closed-backs are fully sealed, and you can't see the drivers from the backside of the cans, while semi-closed are somewhere between open and closed backs.
In terms of sound isolation, open-backs offer none, while closed-backs have the best isolation. The semi-closed will have slightly similar isolation as open-backs. However, open-backs and semi-closed headphones have little pressure build-up and thus produce a more accurate sound than closed-backs.
If you're after studio headphones for mixing and programming duties, then open-backs are the best. For situations where sound leakage should be minimal, such as recording or listening to music on the go, closed-backs fit the bill nicely.
How Comfortable Are Studio Headphones?
Irrespective of how great your headphones sound, you may not be able to use them for long if they're not comfortable on the head and ears. No one would enjoy headphones that dig into their head during long sessions. Therefore, the best studio headphones should have padded ear pads for comfort and acoustic exclusion.
Plus, padded ear pads make the listening experience profoundly inclusive to enable you to focus more on the sound's fine details rather than extraneous noise from the surroundings. Also, ensure the headband and ear cups aren't too tight for hygiene reasons.
Go for headphones with a design that won't make your head too sweaty, as studios can be hot and stuffy at times. Besides, you wouldn't want to share sweaty cans with other studio users.
Frequency Response
Human ears can hear a sound within a frequency range of 20Hz to 20,000Hz. And different pairs of headphones have varying designated frequency range responses. In essence, the headphone reproduces the tones' bass, mids, and trebles within its defined range.
For studio headphones, they need to have a relatively neutral frequency response range, to allow for accurate and consistent mixing of the required tones.
Keep an eye for headphones with a relatively flat frequency response curve, as their drivers don't emphasize or de-emphasize particular notes more or less than others. Remember, the goal of studio headphones is to get as accurate as possible to the ideal studio response and thus sound epic in most consumer headsets.
Intended Use: Mixing, Recording, or Both
Do you want studio headphones for recording, mixing, or both? And, which music genres are you planning to produce? The intended use, music genre, and experience level determine the best studio headphones for you. For instance, if you're an electronic dance producer with average experience, and like to travel and produce on the go, then open-back headphones won't serve you that well.
They are very delicate and leak too much sound. In your case, some durable pair of closed-back headphones with an excellent Sound quality should suffice your recording works well.
But for a quiet home studio, then open-back cans would be the best. You will perfect your mixes even late in the night without waking up your roommates. Ideally, it would be convenient to have a pair of open-backs for mixing and a closed-back one for producing and recording, and a couple of other pairs for testing your mixes.
But such a collection would be very pricey to acquire and mostly impractical. Your purchase decision should focus on your priorities.
Do You Need An Amp Or DAC?
Well, good studio headphones require an external amp or DAC to perform optimally. They need enough juicing as they demand to keep the tones as neutral and accurate as possible. And good for you, amps and DAC are in plenty. There are many excellent and easy-to-use USB interfaces to choose from – see our best portable DAC/Amp Combos for more inspiration.
Budget
Your budget decides the best studio headphones you can buy. Generally, there would be a significant sound quality difference between a $300 pair of cans and a $100 pair. But the jump is mainly noticeable every $100 or so, and the difference gets minimal as the prices go higher.
If you're after buying your first pair of studio headphones, it won't make a lot of sense starting with a $500 pair, unless that's your budget.
To notice the sound quality difference and enjoy what each pair brings to your ears, have a gradual quality change. For instance, if you started with a $100 pair, buy a $150 pair like the Audio-Technica ATH-M50x, then upgrade to a $200-300+ range next time.
And lucky for you, some of our studio headphones' recommendations hit above their price-quality range, thus offers more value for money.
Conclusion
All sound engineers, DJs, audiophiles, and lovers of great music have one thing in common–they own a pair of high-quality studio headphones. These headphones have sound accuracy and detail uncommon in consumer headphones.
And they handle studio duties as well as recording on the go and casual listening just fine. Do you want to join the league of quality sound consumers? Or, you want to upgrade your studio headphones?
Then, you got our expert opinion and top recommendations for the best studio headphones. Feel free to share your thoughts.
You may also be interested in:
About Post Author