The world of music has continued to evolve, with lots of platforms coming up. The transition has been real, and anyone can access music at their comfort and on different platforms. Gone are the days when one had to be glued to the television or radio for them to enjoy music.
If you are a music lover, you must have heard about Spotify. However, if you are hearing it for the first time, the article is timely for you. Spotify is an online streaming of music and listening to podcasts service. The streaming is legal, and the company pays the music owners a particular amount depending on how many times their music is played.
Despite Spotify being one of the most popular services for music streaming, it has notable competitors. The alternatives have come in handy for many music lovers. If Spotify is not your thing, and you want another alternative, this might be the perfect read for you. Keep on reading and know what other Spotify competitors are out there. The knowledge will help you know what will work best for you.

Tidal
Tidal is known for quality sound and the best combination of usability and music selection. If you have a special place for high-fidelity audio, then Tidal is ideal for you. It is a competitive music streaming service boasting a music catalog of over 60 million songs. It also has a variety of podcasts, live concert recordings, music videos.
There are many devices on which you can access Tidal, including smartphones, tablets, computers, Android TV, and Apple TV. The wide accessibility is what makes Tidal the most famous when it comes to music streaming.


What Is the Cost of Tidal
Tidal has two packages: HiFi and premium. The amount of money you pay for any of these tiers depends on your qualification for Tidal's discounts. However, this company has no subscription levels, but you will get a 30-day free trial offer if you are a new subscriber. Also, you can get a six monthly subscription at $4 for both the HiFi and Premium packages. Let's look at what each package has.
Premium
Once you subscribe to the premium, you get unlimited music without ads across various devices. You are also given access to the live events of Tidal. In addition, this package allows the importation of existing playlists, creating playlists, and downloading videos and songs to listen to or view when you are offline.
HiFi
This subscription has the same features as those of the premium package. However, the CD-quality is lossless for all the songs you stream through FLAC. Also, you can get a limited Dolby Atmos music tracks and 360 reality audio selection from this HiFi package.
Spotify
Since its launching in 2008, Spotify has continued to take a popular position in the music arena. You can access the online library of this music streaming service instantly. The service is easy to use, legal and allows you to listen to any content you wish at any time.
At Spotify, you will be spoilt for choices since the service has millions of songs. They vary from artists and genres, and it's an excellent platform. This service has everything you need to be entertained and boasts up to 50 million subscribers and over 100 million monthly active users.
This service is supported by smartwatches, game consoles, and TVs. Also, it is supported on the web by Opera, Edge, Safari, Firefox, and Chrome.
How Much Does Spotify Cost
This service comes in two versions, with the basic one being free. The free version has advertisements and gives you unlimited access to full podcasts and music catalogs. Nevertheless, this version has its package of challenges, including the intrusion of ads.
The breaks could demotivate you if you were keen on the music. Also, the audio quality is low, and you are limited to a certain number of songs.
The other package is the Spotify premium, and this one comes with lots of benefits. First, you won't have interruptions in between the music. Here are some of the reasons you should consider the Spotify premium package.
The quality of the audio is super.
You can download songs to listen to when you are offline
Your playlist is not shuffled, and you can also skip the songs you don't want to listen to.
See Spotify Free Vs Premium for more details.
Deezer
This service is a vast collection of music in your pocket, and it will give you a personal discovery of the soundtrack. Deezer is a great competitor of Spotify and boasts nearly 50 million licensed music tracks and over 25,000 radio channels. This service allows you to listen to music freely and enjoy any other content from anywhere.
You also have the privilege to pick and play your preferred songs from your best artists through a single tap. You also have the option of creating your playlist by adding podcasts and music. Generally, this service meets all your music needs.
You may be asking what devices are compatible with Deezer, and they are pretty many. To stream music through the internet, you will need browsers like Google Chrome, Explore, Safari and Mozilla. The service is also supported by mobile phones, tablets, cars, TVs, desktops, and Apple watches.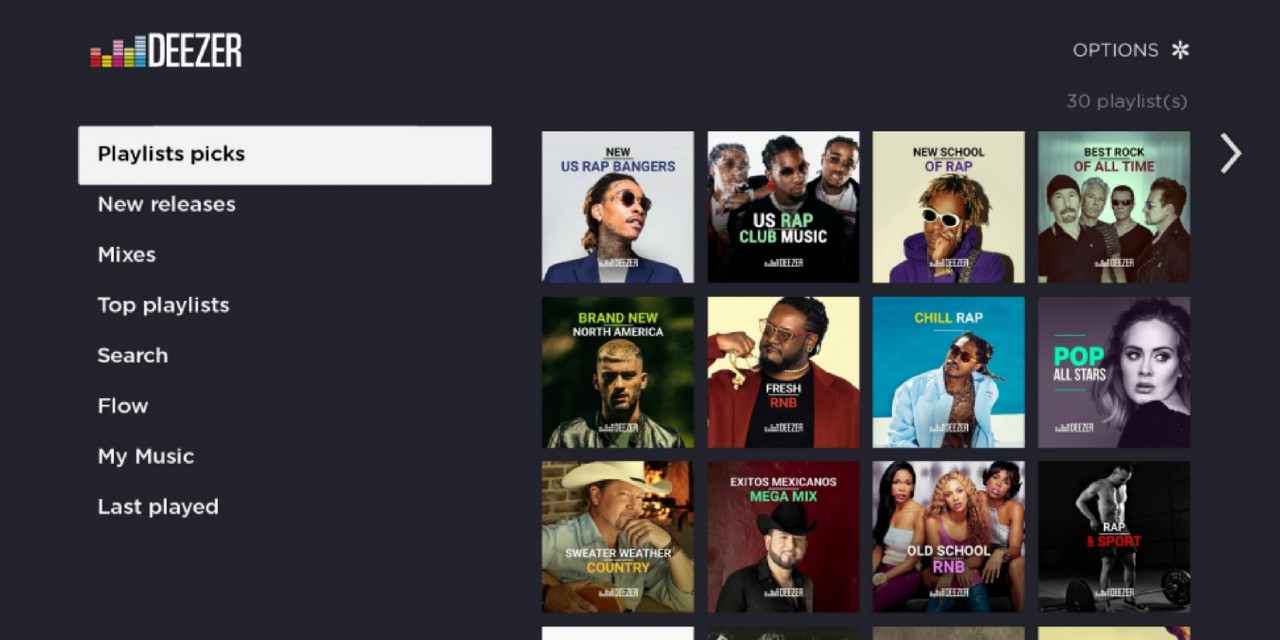 How Much Does Deezer Cost
Deezer is available in two packages, and here is a discussion of each.
Deezer Free
With the Deezer free package, you get lots of music from your tablet or PC device. However, there will be several interruptions from advertisements. The other downside of this package is that you can't rewind or fast forward songs, neither can you skip more than six songs per hour.
Deezer Premium Plus
Unlike the Deezer free package, this one doesn't have ads. You can also streamline your music from any device, including your mobile phone. Also, it allows you to rewind, fast forward, and skip tracks as much as you like. Additionally, the premium package gives you the freedom to download music and listening to it whenever you are offline. The audio quality of Deezer premium is unmatchable and will increase up to 320 kbit/s. You can subscribe to this premium by paying $12 per month.
Deezer Family
This package is specifically made for families that love music. Six people can access a single account. However, each user must log in using their profiles. This package is limited to people who stay in the same place, and it goes for $18 per month.
If you would want to use Deezer premium but you want to try it first. The company usually has a trial for 30 days that is specifically for new users.
Qobuz
This is a French service for music download and streaming that was formed in 2007. You will love the experience of Qobuz for its artistic and irresistible sound. The service is available in various countries across the globe despite the user accounts being linked to its country of origin.
How Much Does Qobuz Cost
There are two main packages for Qobuz, and it is upon you to choose what works for you. Here is a highlight of the two.
The sublime plus – This package allows you to enjoy quality streaming. It also comes with a discount of 60 percent, and therefore you can pay $249 per year since there are no options for monthly subscriptions. This plan gives you the freedom to stream and download your music and watch it when not connected to the internet.
Studio premier – In this subscription, you will stream your music in the FLAC format. The CD quality is excellent, and you can stream up to 24 bits for up to 192kHz for $150 per year (See our article on sample rates & bit depth for more information).
The company allows new users to test the service by giving them a free trial for 30 days. Once you like the service and would want to continue, the plan you choose when signing up is the one that will be used to bill you. However, when signing for the new trial, you must give the company a valid payment method. There would be no charges on your side even if you cancel the subscription before the lapse of the trial offer.
What You Get from Qobuz
There is a lot of content you get from Qobuz, and here is a list of it.
Panoramas – These are articles made to make your experience of music and the artist better. It covers the label, genre, and period.
News – If you love music, you must also be interested in music news, and Qobuz offers that. Through the service, you learn about what's happening with artists in their profiles and interviews.
Music – This is the backbone of the service because Qobuz can stream or download up to 40 million songs. This includes more than 200,000 albums.
Pandora
This is an American music streaming service that is available on the internet radio. The radio station works by curating songs for its listeners depending on what they want. This service has over 80 million listeners per month, which is a great mileage compared to Spotify and other streaming services that came before.
The secret behind Pandora's mass following is that you start playing the music with a few clicks, unlike other services. For instance, for you to listen to music on Spotify, you must search through a list, but in Pandora, you will be serenaded by your favorite music with one tap.
How Much Does Pandora Cost
This service is available in two tiers: the free Pandora and the Pandora plus. The Free Pandora is a digital radio service that is supported by ads. It allows you to earn as per your listening. For instance, if you listen more, you will earn more.
Also, the radio station is adjustable, and therefore you listen to your favorite tunes by rating them. The devices that support Pandora include Android TV, Amazon Fire TV, and Alexa devices.
Pandora plus – This package offers you nonstop podcasts and music. You can also download the music and listen to it in remote places where the internet is unavailable. Additionally, this tier allows you to skip tracks as many times as you wish. You will love the audio quality of Pandora plus and an extension of time-out periods. This package goes for $ 4.99 per month or $55 per year.
Pandora premium – This package goes for 60 days for $ 9.99 per month, but it can be canceled anytime. With this premium, you get to enjoy all the benefits of the Pandora plus, and you can also search and lay your preferred song. The subscribers of this package also have enjoyed unlimited music when offline, and they can also share their customized playlists. With the package, you will also enjoy the higher audio quality and have longer time-outs than the Pandora plus package.
The other Pandora packages include:
Pandora premium for military
Pandora premium for students
Both these packages come with special offers. If you wonder which subscription is best for you, it would be wise to try the free Pandora on your desktop or tablet. Considering the fee option and the features discussed, you might want to try Pandora.
SoundCloud
This is another great Spotify competitor that allows its users to upload, promote, stream and share podcasts and music. It is a platform for audio streaming and distribution which is supported by Android mobile apps and desktops. This platform was founded in 2007 and has continued to define the music industry in its ways.
One of the remarkable things about this great competitor of Spotify is that it allows its creators to connect with their listeners. There are various sharing tools where fans can connect and even leave their comments on the commenting feature. All these views are seen by all users who are listening to the track. It is indeed an exciting platform.
How Much Does SoundCloud Cost
There are different types of subscriptions, but they depend on how you want to use SoundCloud. The packages are broken into two categories, one for the creators and the other for the listeners. Here is a discussion of each of them:
Creators
This category has two subscriptions: The Pro Unlimited and Repost by SoundCloud.
Pro unlimited – In this package, you enjoy access to SoundCloud repost and sharing tools for your music. This is the best platform if you want your music career to grow beyond this service. You pay $ 144 per year for this package and get an unlimited upload time for any audio. In addition, you can pin up to 5 playlists or tracks to your profile's top with Spotlight. Another fantastic benefit of this package is that you get the eligibility to promote your music on SoundCloud with your DIY tools.
Repost by SoundCloud – The annual subscription for this tier is $30, but it will be waived thanks to your subscription to pro unlimited. This means you will have your 100% royalties on SoundCloud. In this package, the subscriber is given a distribution licensing term of one year. You also have the freedom to monetize your music with content from YouTube if you have an ID. There are also some promotional tools that you can use in this package. You stand to enjoy lots of benefits with this tier of SoundCloud without breaking your bank.
If you want to enjoy the benefits of all the tools and features that come with Repost by SoundCloud, you must get an account for it and agree with their terms.
Listeners
This package is for listeners only, and they get to enjoy offline listening with no interruption of ads. Also, they get access to the entire catalog of SoundCloud. The audio quality in this package is high, and there is an integration of DJ tools.
Amazon Music
Amazon Music was formerly called Amazon MP3, a music streaming platform as well as an online music shop part of the larger Amazon group of services. It was founded in 25 September 2007.
The Amazon Music Player integrates with Prime and Unlimited digital music streaming services – as well as functioning as a music shop for purchasing of music. Both Amazon Music and Spotify offer freemium versions of their platforms (which includes support for advertisements, no option to skip ad playback and ability to skip up to six songs per playback.)
How Much Does Amazon Music Cost
The premium version of Amazon Music Unlimited costs $9.99 per month for non-Prime members and $7.99 per month for Amazon Prime members. Subscribers to Amazon Music Unlimited have the opportunity to stream millions of songs in HD quality (up to 850 Kbps, 16-bit at 44.1 kHz and over 7 million songs in Ultra Hd quality up to 3,730 Kbps.


People Also Ask
1. What Is The Number 1 Streaming Service For Music?
First launched in 2008, Spotify is arguably the pioneer and most well known streaming service in the music industry; it also has the most number of subscribers. It holds a huge library of more than 70 million tracks and 2.2 million podcasts.
2. What Streaming Service Is Better Than Spotify?
It is still open to debate whether Spotify is the best streaming service as users will place different priorities on which features they value most. For example, a user may love Spotify's outstanding AI and new music discovery while another may wish for FLAC quality music served from the likes of Tidal.
Conclusion
After the launching of Spotify, their standard was highly set. There seemed to be no competitor in sight, but that was not to last for long. Other music streaming companies have come up, and they have turned out to be a significant threat to Spotify.
Some of these competitors boast equal or higher abilities than Spotify, and their platforms have improved features, thus making their streaming unique.
This article has discussed the highest of Spotify competitors, including Tidal, SoundCloud, Deezer, Pandora, and Qobuz. All of them boast a significant number of monthly users, with Spotify leading with over 70 million users from across the globe.
The services have different subscription packages, and it's upon the user to choose what works for them. However, each company has a free trial offer that runs for 30 days. This offer is meant to help new users to decide whether the streaming services suit them or not.
With all this knowledge, you can now choose a music streaming service that suits you. All of them are good, but your preference is a factor and will no doubt influence your choice. You no longer have a reason not to enjoy music from wherever you are.
You may also be interested in:
About Post Author