Born in 2005, Earsonics are a French specialist in-ear monitor brand with strong foundations in stage music, sound engineering and more recently, the discerning audiophile community. Their products have cultivated a loyal following with most of their line-up hailing from their own in-house lab in Montpellier. With many luxury products emanating from the country's manufacturing plants, it is no surprise that Earsonics stands in the same vein with its vigorous product testing and engineering processes.
With a few speaker brands releasing their own take on true wireless stereo (TWS) earbuds, it was only a matter of time when in-ear specialists such as Earsonics jumped aboard the fast-moving train. The Earsonics AERO is the company's first foray into TWS in-ear monitor and retails for a cool €199 / $299.
Featuring a special graphene 6 mm dynamic driver, the AERO combines Apple-esque aesthetics with its own unique flair stemming from years of research & development. Without further ado then, let the review begin.


The Packaging
The Earsonics AERO arrives in an ultra-compact white box with a clean interface depicting a single earbud along with various certifications on its side profile. Inside, users are greeted to a soft clamshell carrying pouch, charging case, user guide, USB-C charging cable, 4 silicone tip pairs and the earbuds themselves.
The charging case adopts a pill-like form factor which opens from its mid-body in a vertical fashion. It includes an integrated battery which allows two additional charges and up to 21 hours of listening time. A set of four LED lights indicate the battery status of the earbuds and there is fast charge capability of 2 hours listening time with just 15 minutes of charge.
While the exterior of the case feels pleasant to the touch, the charging case does not evoke the same high quality as Master & Dynamic's MW08. Perhaps, this is an area where Earsonics could home in on to truly separate it from other TWS options out there.


The Design & Build
Reminiscent of Apple's AirPod Pro form factor, the Earsonics AERO adopts a stem design with ergonomically angled inner housings and ear tips. This is an interesting choice as many audiophile TWS IEMs have decided to forgo the 'stem' for an even more compact offering. However, the obvious advantage of the stem is more room and optimization of both electronic and acoustic components.
The AERO weighs in at a very lightweight 5 grams per shell which allows it to be worn for extended periods. While it seems the use of plastic here has undoubtedly shaved off some proportion off the weight, there does appear to be room for improvement where a premium and luxury feel are concerned. Again, Master & Dynamic are a company which have 'mastered' the use of premium materials such as acetate, aluminum and stainless steel yet have not compromised on lightweight ergonomics.
If the Earsonics AERO is to differentiate itself as a premium entry to mid-level proposition, it should look at the use of such materials in future products. Nevertheless, the noir aesthetic coupled with the concentric ridges add some necessary design texture to uplift this product.


The Technology
Under the hood of the exterior AERO shell, Earsonics have rather cleverly implemented a touchscreen interface. This interface lies directly beneath the 'ES' logo for quick and convenient functionality. The HiFiMAN TWS800 also adopts a touch control capacitive interface but the Earsonics version is far superior in terms of overall responsiveness and intuitiveness.
However, it may be difficulty remembering all the different combinations of taps and holds to elicit volume down, volume up or skip track etc. Though, muscle memory should work in favor for the end user once the AERO has been accustomed too and used for a long while. My natural preferences do align towards small tactile separate buttons but many people will enjoy the touch control interface that these IEMS offer.
Beneath the touch screen panel is a Qualcomm AptX processor which supports Bluetooth 5.0 technology and makes use of AEQ (active audio processing) technology enabling real-time equalization of audio signals. This enables high-performance and balanced sound at all volume levels.
A special 6mm single graphene dynamic driver outputs the audio frequencies from the Earsonics AERO while a 55 mAH battery (x2) provides the necessary power. Each earbud has the ability to be used independently and two integrated microphones enable clear hand-free calls. The AERO has also been made with the modern-day user in mind with full integration for voice assistants such as SIRI, Alexa & Google Assistant.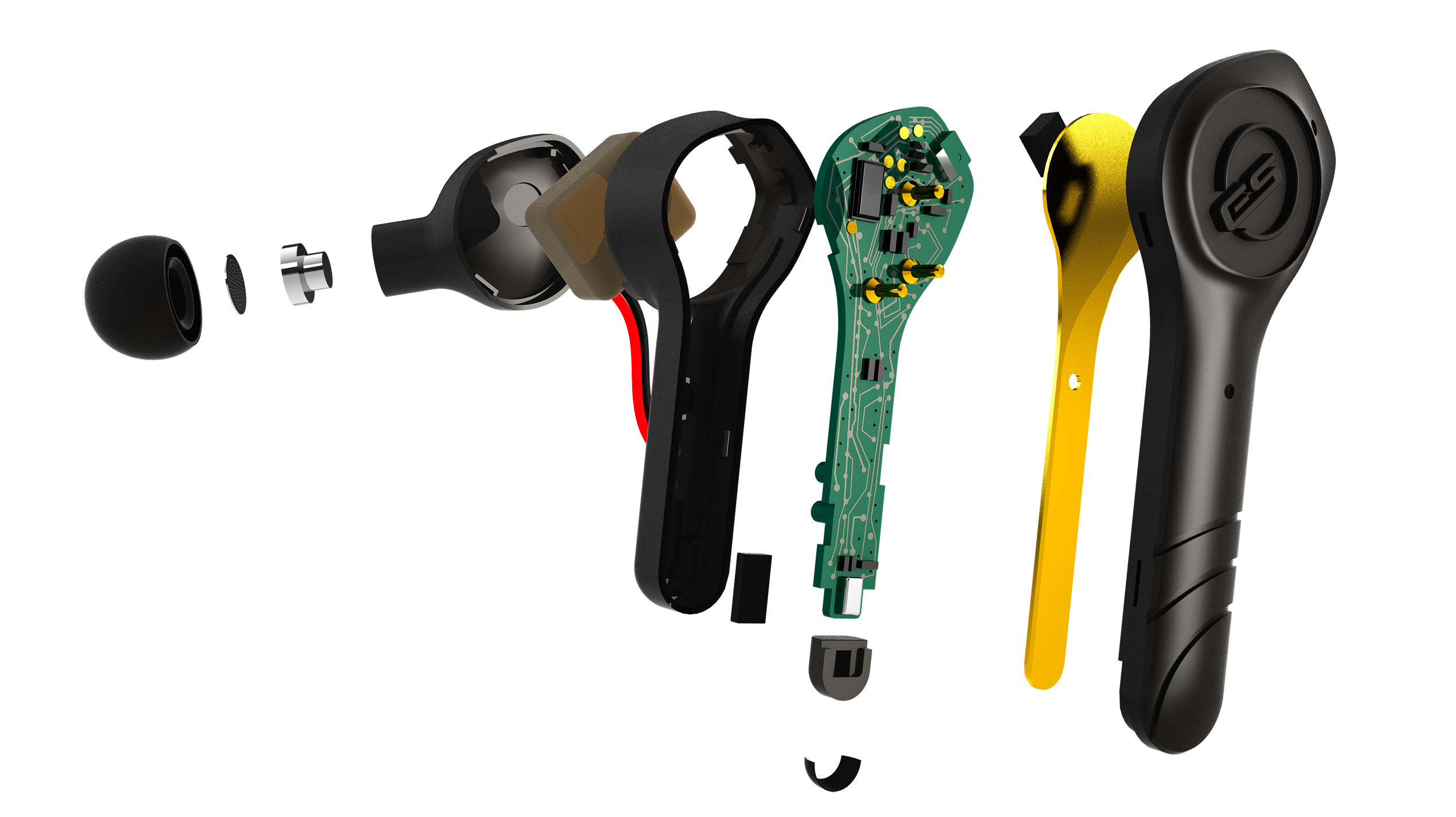 Comfort & Isolation
Owing to its lightweight, the AERO offers supreme comfort for prolonged listening sessions. The angled enclosures may not be the best fit for everybody however and hence mileage may vary. Overall, the Earsonics AERO does stay in place but it is not the most secure TWS out there since some models have specialized ear hooks and more ergonomic fits.
The Earsonics AERO does not come equipped with active noise cancelling technology (ANC) and is a passively isolating model by default. Isolation levels are not the best here and those seeking for top tier levels of isolation from ambient noise may be best served elsewhere.


Sound Impressions
Tonality
The AERO retains that classic Earsonics house sound with its elevated bass, rich body and slightly darker tonal profile. The sound signature comes across as smooth in nature with a vocal-centric presentation and full-bodied tonality. Despite its larger note size, the Earsonics AERO retains a good level of instrument separation with decent background/foreground contrasting of notes.
The Bass
Like the MW08, the Earsonics AERO favors mid-bass over sub-bass frequencies. The mid-bass in particular has good body, texturing and engagement factor. The moderately enhanced bass profile promotes a decent level of punchiness and there is good amount of low-end rumble. Granted, the AERO does not have the fastest bass and it may not the speed you can expect from a snappy BA driver or even a beryllium-coated dynamic driver.
The relatively lingering decay does suit the overall tonal profile of the Earsonics AERO and it not a monitor which claims to be the last word in technicality or discipline. While the sub-bass extension does extend low, it does not have quite as palpable an impact as the mid-bass territories.
Having said that, the Earsonics AERO offers a musical sound with its warmer characteristics and cohesive bass without resorting to 'bass-head' levels of low-frequency reproduction.
The Midrange
The Earsonics AERO adopts a mid-centric tuning with its enhanced 1K to 4K regions. This allows vocals to be more upfront and forward sounding in the overall staging. Despite this, the AERO manages to retain a good degree of space and air; notes neither sound too congested nor too 'intimate'. In fact, there is excellent holographic stereo panning from the right to left monitors which sounds more unified than the staging of other TWS IEMs such as the MW08.
Note sizes lean towards the thicker side of the spectrum and the timbre can be described as smooth, warm and laidback. The AERO is a very pleasant listen and the soundstage coupled with the tonality offers a compelling experience over a prolonged session. Again, there are better options out there for sheer detail retrieval but the AERO does well to maintain resolution across different listening volumes. This is likely helped by its digital processor which processes audio signals in real-time for a balanced sound.
The Treble
The AERO adopts a relatively dark tonal profile with its curtailed treble beyond the 4 to 5K territories. It is evident that cymbal crashes do not possess as much sizzle or decisive transient response as the HiFiMAN TWS800 or Master & Dynamic MW08. However, this does make it a mellow and easy-going sound signature that can be listened to for hours on end. At louder volumes, some more details can be teased out of the AERO with a touch more sparkle.
Soundstage & Imaging
As mentioned, the Earsonics AERO has excellent stereo panning from both monitors with an overall cohesive soundstage. Despite the mid-forward inclination, there is decent instrument separation and sonic cues can be perceived at different layers from the fore- and background positioning. There could be some improvements in the elements of height but width and depth have adequate projections.


Comparisons
Master & Dynamic MW08

($299)
The MW08 from Master & Dynamic is the latest iteration of their TWS in-ear monitors which comes complete with active noise cancelling, ambient noise technology and the latest in Bluetooth connectivity. Comparing the two, the AERO is the darker sounding monitor with softer impact transients next to the MW08's more disciplined and taut notes.
The AERO does host a larger soundstage with a sound that is more enveloping and unified compared to the more MW08's more distinct presentation of sound. In terms of detail retrieval and definition of notes, the MW08 wins out but the AERO is the more fatigue-free IEM.
Undoubtedly, the MW08 has the better feature spec list and is one of the most complete TWS IEMs in terms of pure functionality.   
HiFiMAN TWS800

($299)
The TWS800 is the revered audio brand's latest stab at the TWS marketplace. Featuring discreet internal amplification and a topology diaphragm which makes use of nano-particles, the TWS800 positions itself as a high-fidelity listen. Next to the AERO, the TWS800 demonstrates greater levels of macro-dynamic slam and detail retrieval.
Interestingly, where the AERO invokes a more mid-forward sound, the TWS800 goes the opposite way with a u-shaped imposition in the midrange frequencies. At the higher frequency ranges, the AERO makes use of a rolled-off lower treble whereas the TWS800 adopts an elevated one.
While both IEMs strive for a more lush than neutral sound, the TWS800 offers a more refined listen whereas the AERO delivers quite an engaging mid-forward, laidback and fatigue-free sound.
Conclusion
The Earsonics AERO is a unique take on a familiar TWS form factor design with its in-built AEQ processing, touch control functionality and 6 mm graphene dynamic driver. The sound follows a darker tonal character with an engaging mid-forward presence and smooth full-bodied timbre.
While not the most detailed or analytical sound, the AERO impresses with its three-dimensionality and spatial positioning of sonic cues. There are some improvements, however, that could addressed including lack of premium material choice as well as the counter-intuitive multi-touch control functionality.
The pairing process also feels slightly cumbersome and could also be more streamlined when used across multiple devices. Nevertheless, the AERO's ultra-light weight and smooth listen undeniably adds to its affable qualities and it is a valiant first effort from the well-respected French audio brand.
Earsonics AERO Specifications:
Single Dynamic Driver
Bluetooth 5.0
Qualcomm aptX
AEQ Active Processing
Touch control
Vocal Assistant (Google Assistant, Alexa, SIRI)
Waterproof IPX4 protection
21 hours of listening time (with the case)
2 microphones (1 for the noise canceling on calls)
Available from:
Earsonics
About Post Author