With an original fervent passion for tube amplifiers, EarMen was borne out of a legacy to bring world-class sound to the masses. Headed by Milomir Trosic, the brand is designed exclusively to enhance portable listening with powerful audio components.
The company have set up shop in the United States with products manufactured in Europe to ensure the highest standards of care in their manufacturing process.
The subject of this review is their latest offering, the Earmen Angel – a 'reference-grade' fully balanced DAC/Headphone amplifier with a Pre Out option. The portable source features ESS DAC chips and supports up to 768 kHz/ 32 bit PCM processing with a price tag of $799.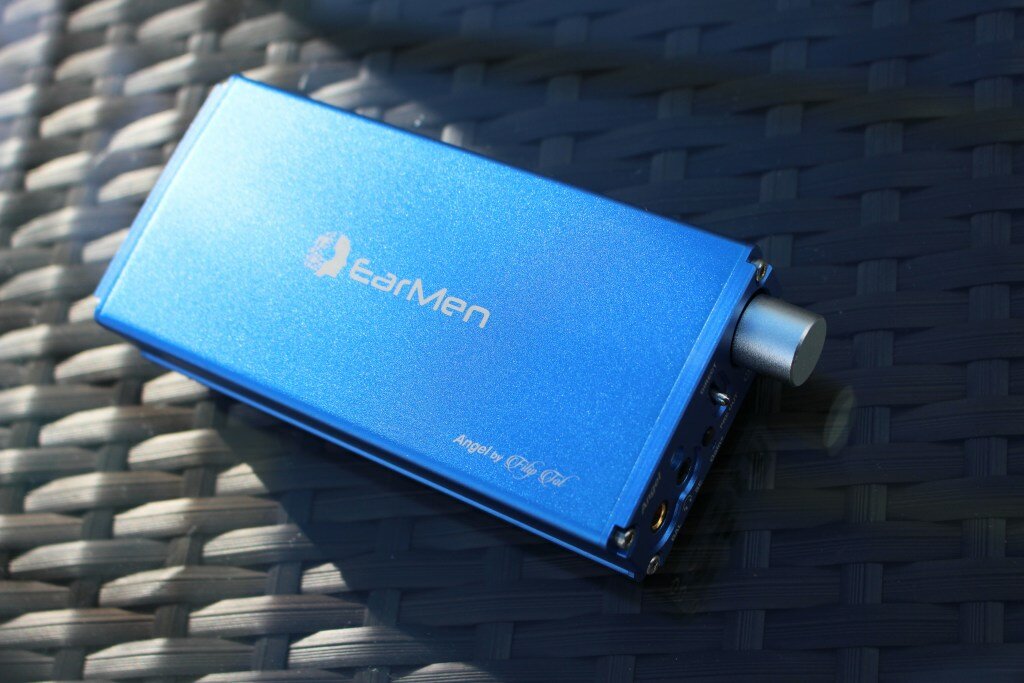 The Packaging
The EarMen Angel arrives in simple packaging with a white & black render of the DAC/Amp in top and side views. The EarMen moniker is also simple yet effective. Unveiling the outer sleeve, users are greeted to a user manual with simple instructions to follow. The device is nested in a simple foam insert cut out with a opening underneath housing the USB Type C cable, S/PDIF Coax & S/PIDF Toslink Adapter.
While the packaging is that of a no-thrills one, some may welcome the brief and 'to-the-point' presentation. However, there certainly is room for more accessories especially given its price point.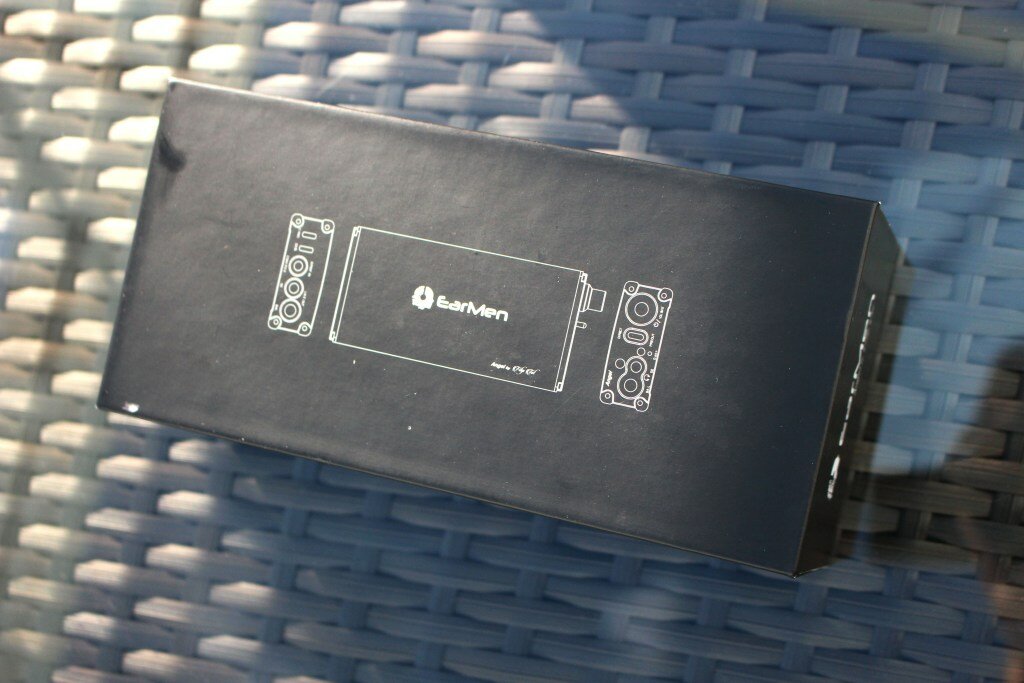 The Design & Build
The EarMen Angel derives some of its design philosophy from the EarMen TR-Amp with a compact and 'mint-tin' structure. However, the Angel is more elongated with a strikingly blue aluminum finish while the TR-Amp adopts a more subdued finish.
The Amp/DAC feels quite hefty and weighty for its size and is well-supported with 4 rubber feet offering protection against movement.
At the front of the device, the Angel hosts both a single-ended (3.5 mm) and balanced input (4.5 mm). While the majority of users will welcome these standard input options, some may miss the 6.35 mm SE input. However a capable adapter Above the device, there is an LED which glows different colors dependent on the current sample rate being played.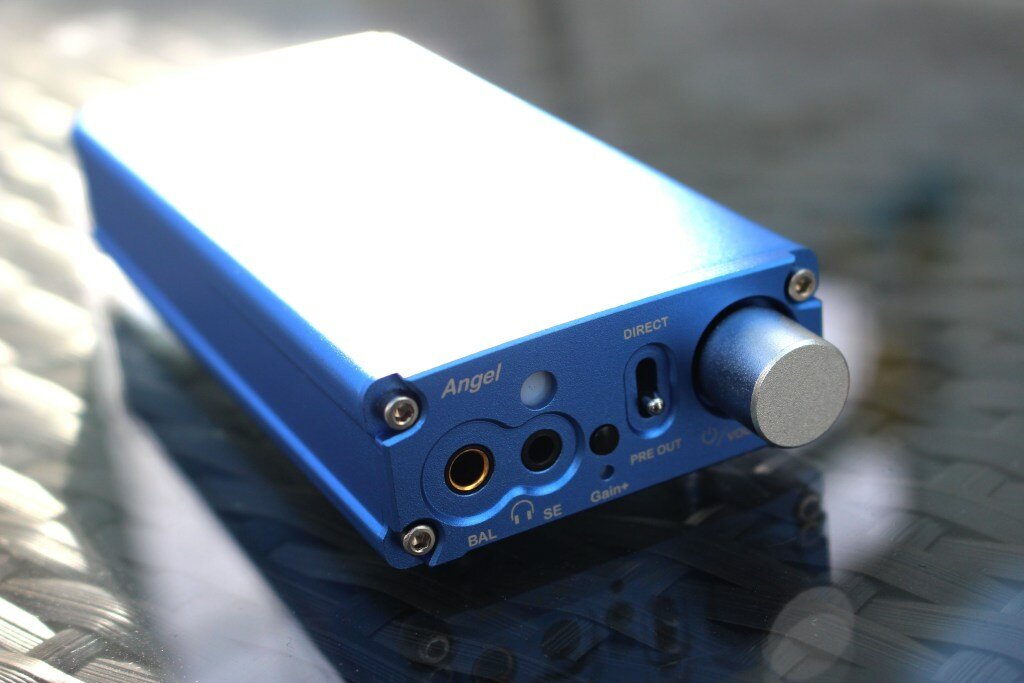 This is a refreshing touch which has been incorporated in digital audio players before and allows users to know what quality of file they are current playing. The LED also flashes green when you adjust the volume, turns blue in charging mode and indicates red when battery is below capacity.
Adjacent to the input options, the Earmen Angel allows users to choose between a fixed and variable output (Direct and Pre Out respectively). Besides this is a stepped digital potentiometer which different from the smooth analogue one on the EarMen TR-Amp. The dial also serves multi-purpose as a power on/off and mute button.
At the rear of the device, there is a USB-C charge port, USB-C data port, S/PDIF (COAX/TOS) input, 3.5 mm single-ended line out and finally, the 4.4 mm balanced line out. Since the Earmen Angel does not accept traditional coaxial or TOSLINK cables, they have helpfully included adapters for each.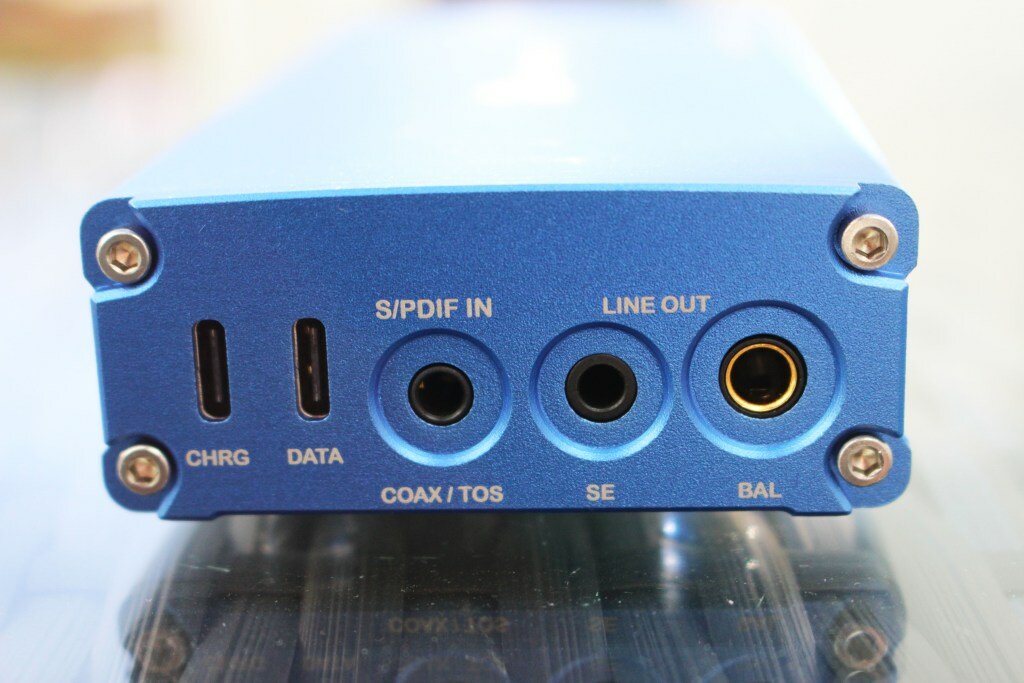 The Internals
The EarMen Angel adopts an ESS DAC chip with model ES9038Q2M – which supposedly has great SNR and THD + N characteristics compared to its competitors. While the ESS chip can be abundantly found in other devices, Earmen have always utilised great implementation to extract the best of sound. Within the Angel, there is the latest XMOS USB receiver which is capable of decoding up to 768 kHz/32 bit PCM, DSD256 via DoP and MQA Studio.
The amplifier is fully balanced with the Angel providing plenty of power from both single ended headphone out (7.2 Vrms) and balanced headphone out (8.5 Vrms).
The Battery
The EarMen Angel is powered by two 3000 mAh lithium polymer batteries. Together with the charge time of 3 hours and a separate port for charging, the Angel is capable of long listening sessions away from the power source. In real life testing, the Earmen Angel is capable of 6-8 hours worth of playback. One disadvantage is that the Earmen Angel does not support the use of fast charging which can mean having to spend 3 hours waiting for it charge. One advantage, however, is that the Earmen Angel is able to hold its charge well. The separate USB-C ports for data and charging allows users to be listen to the device on the desktop without the battery running out.
The Controls
Inundated with a host of controls, the Earmen Angel certainly gives buyers plenty of choices when it comes to their audio needs. The LED indicator, for example, changes color according to different factors including sampling frequency, volume range and battery level.
Users are able to employ the toggle switch to choose between pre-out and direct while a Gain+ button allows more output power and dynamics for more demanding headphones.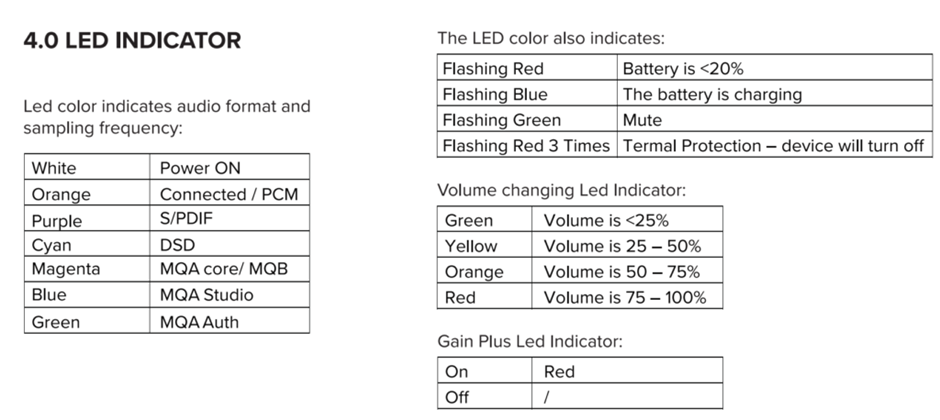 Sound quality
The Earmen Angel positions itself as a reference quality DAC/Amplifier – which roots itself in transparency and detail. At times, it is hard to distinguish the Angel sound from that of a fully-fledged desktop amplifier – given its established and mature sound. While I was initially hesitant with the choice of ESS chips owing to the well-known ESS Sabre 'glare', the Earmen tactfully addresses this with a close to neutral sound.
At the lower-end, the Angel delivers a well-rounded performance with impactful and extensive bass. Both IEMs and headphones are allowed to shine without resorting to artificially taut bass or blooming thunderous lows. True to its form, the Earmen Angel perfectly complements low-end dynamics here with a natural timbre.
The Gain+ mode can be a bit temperamental with certain transducers. For example, overly sensitively IEMs can be negatively impacted from bloom – however the Gain+ mode fantastically caters for larger impedance devices. This gives much needed voltage swing to power larger driver headphones.
Given its resolve for a reference signature, the Earmen Angel produces stellar imaging with exacting and precise notes with a natural left to right soundstage. A particularly strong suit of the Angel is closed-back headphones where the Angel lends some headspace promoting an enhanced soundstage and three-dimensional imaging.
At the higher end of the spectrum, the Angel instils some brightness delivering a clean and lively performance. Impressively, the device allowed transducers to handle tracks with rapid dynamics and convoluted instrumental passages with ease.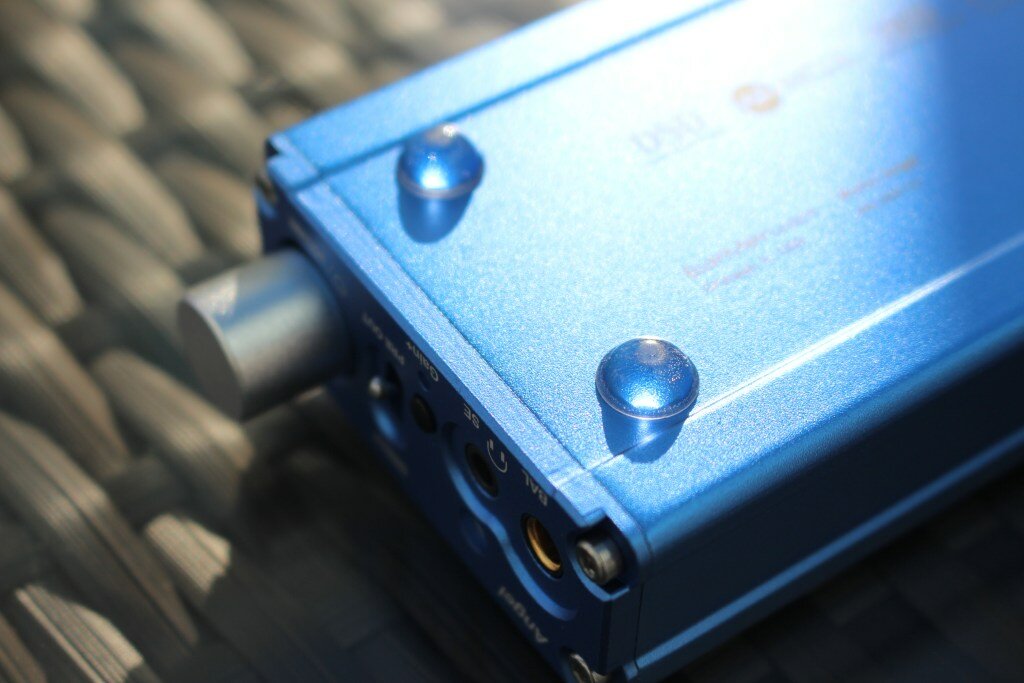 Comparisons
Chord Mojo 2 ($725)
The Mojo 2 represents the company's popular portable DAC-Amp with fulfils a smaller footprint than the Earmen Angel before it. While both share notable similarities owing to their strengths of technicality and transparency, there are some slight differences. For example, the Angel renders a more impactful and taut bass with a more visceral and fuller bodied lower end. At the higher end of the spectrum, the Angel delivers a slightly leaner and brighter treble section. As a result, there is a slightly more perceived open and spacious soundstage.
However, the Chord Mojo is able to craft slightly better 3D dimensionality and there is slightly better separation in both the width, height and depth domains. The Mojo 2 is the slightly more musical sounding of the two with a more analog-like performance.
Cayin N8 ($3599)
While the original Cayin N8 aligns itself to the 'Digital Audio Player' category, both the Angel and N8 can fit in the 'transportable' group. Comparing the sounds, the Earmen Angel delivers a more characteristic solid-state performance with its emphasis on neutrality, linearity and clean notes. The N8, on the other hand, has a richer and slightly softer tonality with its tube analog warmth and macro-dynamic prowess. Both devices are capable of handling a wide variety of devices from those with moderate sensitivity to those with higher impedances.  
Pairing
The Earmen Angel handles a wide variety of devices; its strength particularly lies with planar magnetic headphones although it also works well with a range of dynamic offerings. While it also handles a wide variety of in-ear monitors (IEMs), the Angel may be a bit overkill for Campfire Audio's set of super sensitive IEMs.
Conclusion
The Earmen Angel provides a stellar solution as both a stand-out DAC as well an amplifier to serious audiophiles. While the product is weighty, it leans more towards the 'transportable' category than the 'portable' one.
However, it defines a niche with those looking to upgrade their own laptop or computer DAC while also representing a smaller footprint to fit into a smaller desk. The signature adopts a reference sound with a natural-neutral tonality with great imaging and separation. With an abundance of features and controls, the Angel not only serves delightful aesthetics but represents a serious tool in any audiophile's arsenal. A highly recommended purchase.
Specifications

:
DAC: ES9038Q2M
Input: USB-C x 2 (Data & Charging), S/PDIF (Coax/Tos)
Headphone output: 3.5mm, 4.4mm
Lineout: 3.5mm, 4.4mm
Audio Format: Native DSD512, up to 768kHz DXD, up to 768kHz PCM, MQA
Battery: 2xLi-Po 3000mAh
Charge: Use 5V >= 2A adapter
Dimensions: 152 x 27 x 66mm
Weight: 340g/0.75lbs.
About Post Author