Convenience continues to be a significant deciding factor in most purchases. In music mainly, it's undeniable that fans want to carry and play their music wherever they go.
Fortunately, the past decade has experienced a significant vinyl rebirth applying more convenience to the record players.
Subsequently, the several digital options have helped put behind the outdated idea of lugging around a whole record player.
Thanks to the best portable record players, you can host away parties or simply sit outside listening to your great classic collection. If you want one, the top-rated list below provides a complete guide. Some important features used in determining selection include: vinyl speed, quality, inbuilt speakers and modern functionalities.
Best Portable Record Players
Victrola 50's 3-Speed Retro with Bluetooth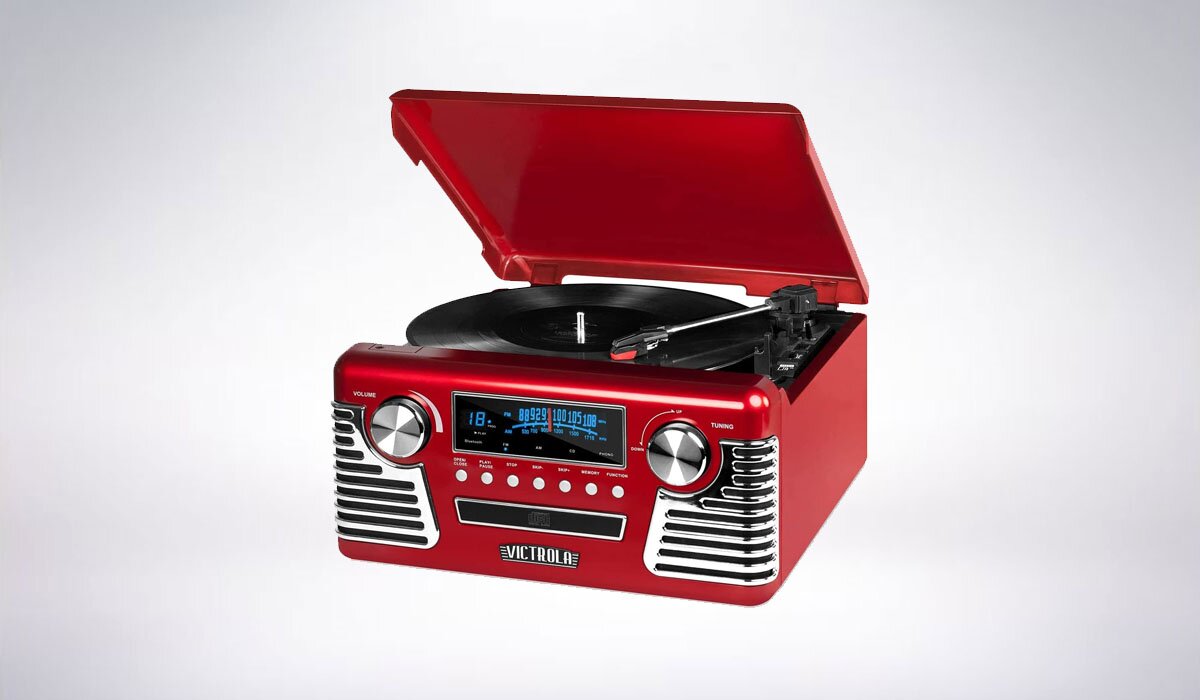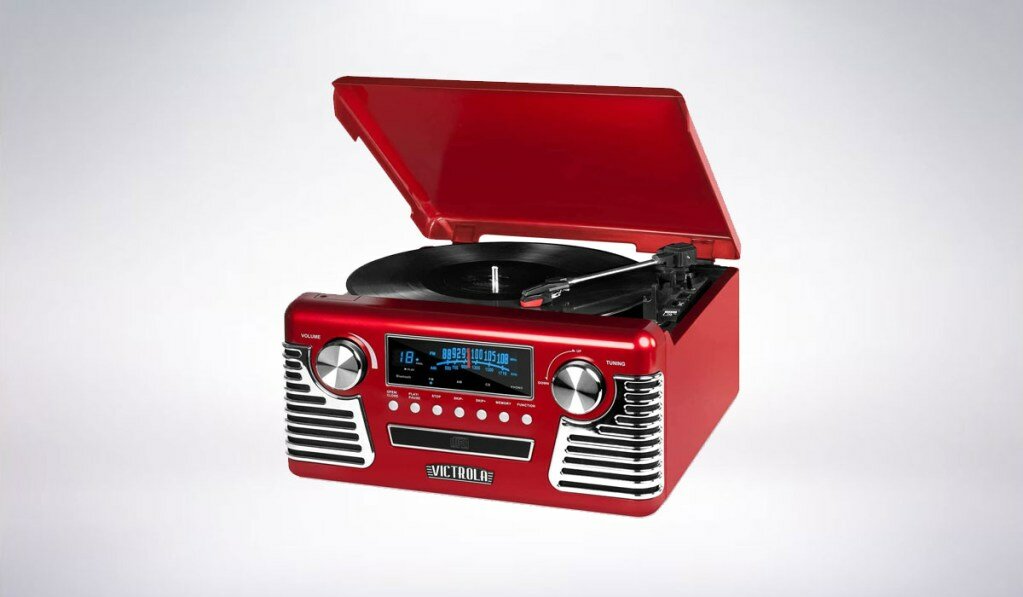 Design and Quality
If you own an extensive music collection in many formats, you'll love this portable record player. Its design features a classy chassis, chrome, and shiny with red color dominance.
Also, it features several buttons for the CD player, an input select button, and a volume and FM tuner knob. The screen turns on in blue LED light, and the controls feel friendly and easy to use. The entire look presents the trendy 50s!
The Victrola 50's Retro is a multimedia record player featuring high-quality Stereo speakers, an LCD screen, FM/AM radio, and a CD player. And still neatly compact!
With a weight of 8.65 pounds, no handles, and a locking system, this record player is somehow tricky to be portable. However, the advanced features make the performance worthy to carry everywhere.
Performance
Firstly, its turntable is 3-speed featuring 33 1/3, 45, and 78 RPM. Since each record comes with a specific set speed, you can use this record player to play a vast collection. It comes with a CD player option and AM/FM radio. So, why use one format while you can enjoy several?
Also, Victrola 50's Retro allows you to reserve your collection by recording music from vinyl records and converting it to digital MP3 formats.
The outputs include RCA, a 3.5mm Aux-In, and Headphone Jack. Besides, it comes with reliably clear separate speakers built with huge retro radiators. So, you won't need to buy extra speakers.
Moreover, it comes with a Bluetooth function with an extended range of up to 33 feet. Thus, you can easily change tracks while using your mobile phone in another room.
Pros
3-speed turntable
Bluetooth function with 33 feet long range
Converts vinyl to digital formats
Several output features
It comes with separate speakers
CD player and AM/FM radio
Strong build quality
Cons
It's slightly on the heavier side
The CD player has issues working well
Crosley CR8005D-WS Cruiser Deluxe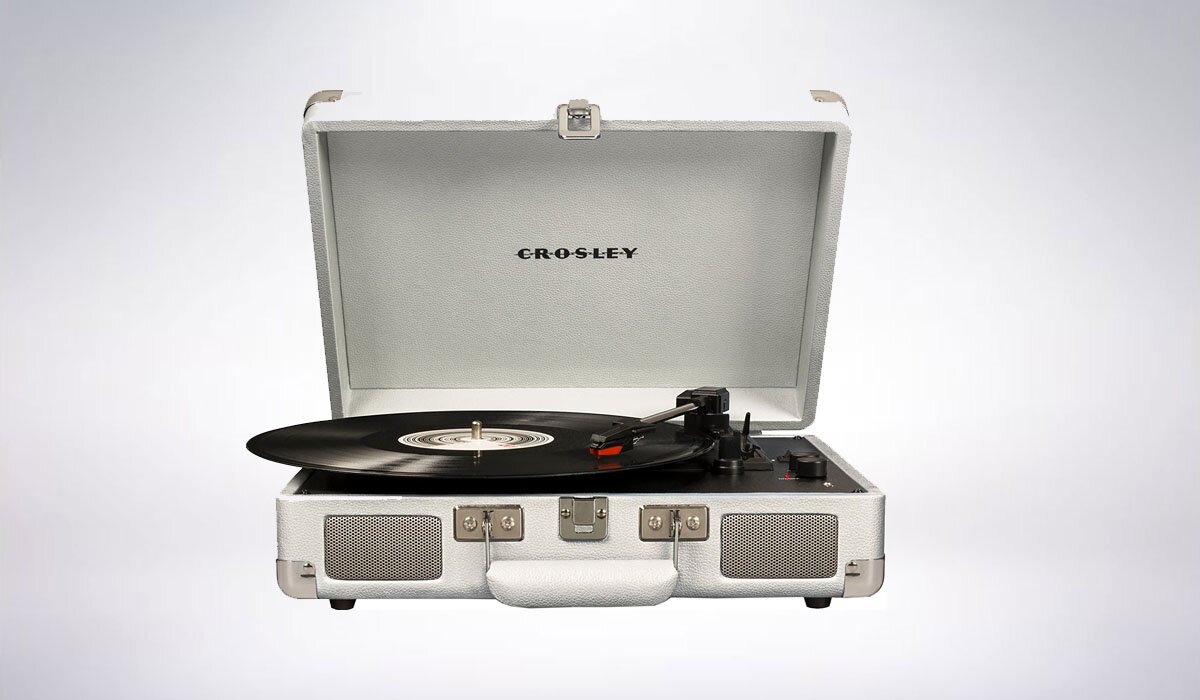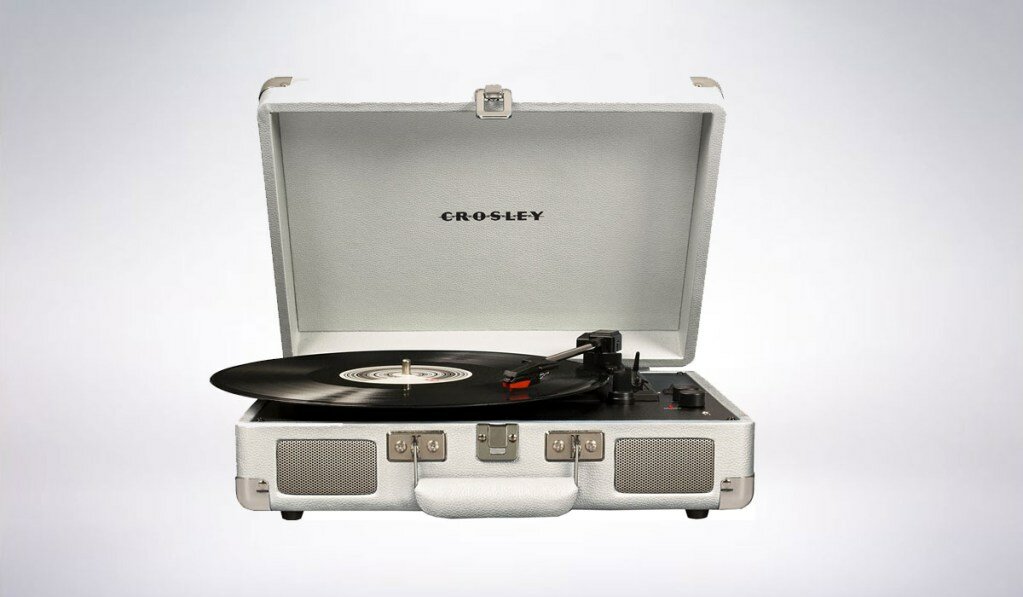 Design and Quality
Coming second best in this list is a portable record player with a rare current look but typical vintage.
This stylish briefcase design has a safe lock and handle. This way, it becomes very comfortable and easy to carry around wherever. Besides, it weighs 5 pounds which makes it lightweight for portability.
Also, the white suitcase has a unique texture that imitates noble skin. Plus, the interior features a classical matte plastic that requires regular polishing.
Crosley completes its striking design with nickel-plated inbuilt speakers that are compact but powerful.
Bear in mind that it comes with 27 vibrant colors to help you customize your style effortlessly. So, it's also on top of its game in being fashionable.
Performance
Firstly, it's a 3-speed portable record player of 33 1/3, 45, 78 RPM. This allows you to adjust and play all records, even those early vintage collections.
The two-front, built-in speakers can play the stereo sound or use the RCA or headphone jacks to play music via your phone.
Do you wish to add more of your favorite albums to your vinyl record? The Bluetooth receiver allows you to play digital music direct from your phone.
The inbuilt speakers come in a compact space, projecting great sound in a room. Even though this record player cannot produce loud enough sound for a large room, an office or bedroom would be ideal to use it.
Pros
Adjustable 3-speed player
Two inbuilt speakers
Bluetooth receiver
Lightweight and portable
Stylish with a wide color range
Protective and robust briefcase build
Cons
Vinyl rubs on the player lid
The inbuilt speakers produce low-quality sound
Numark PT01USB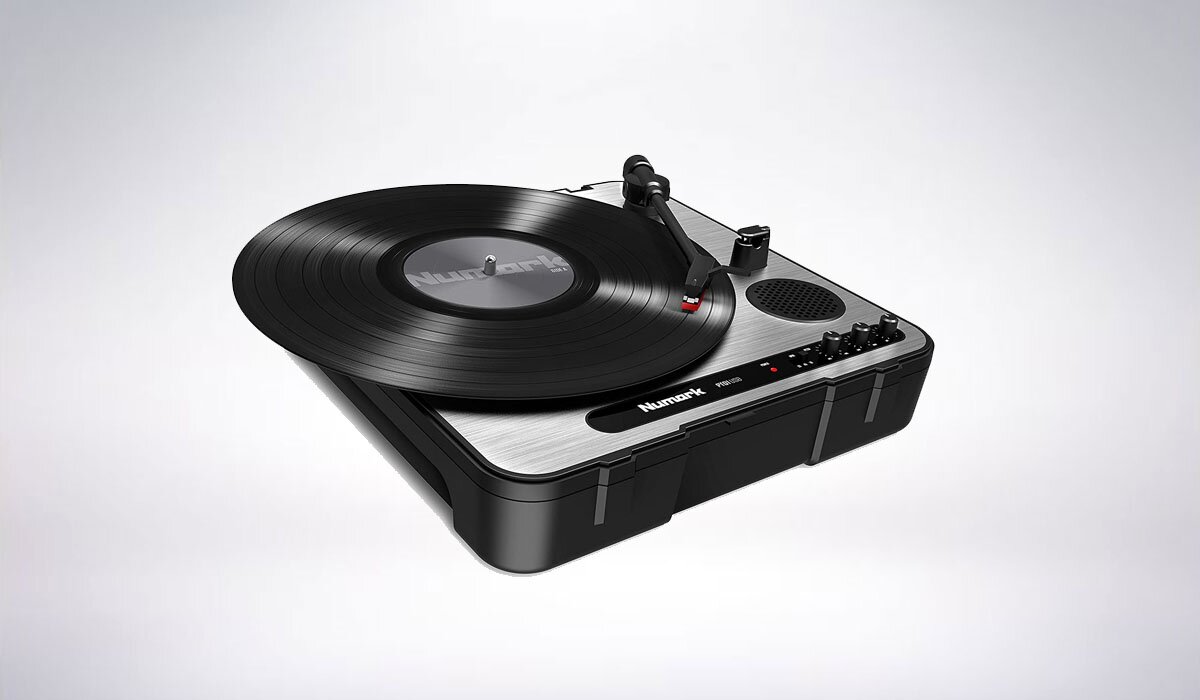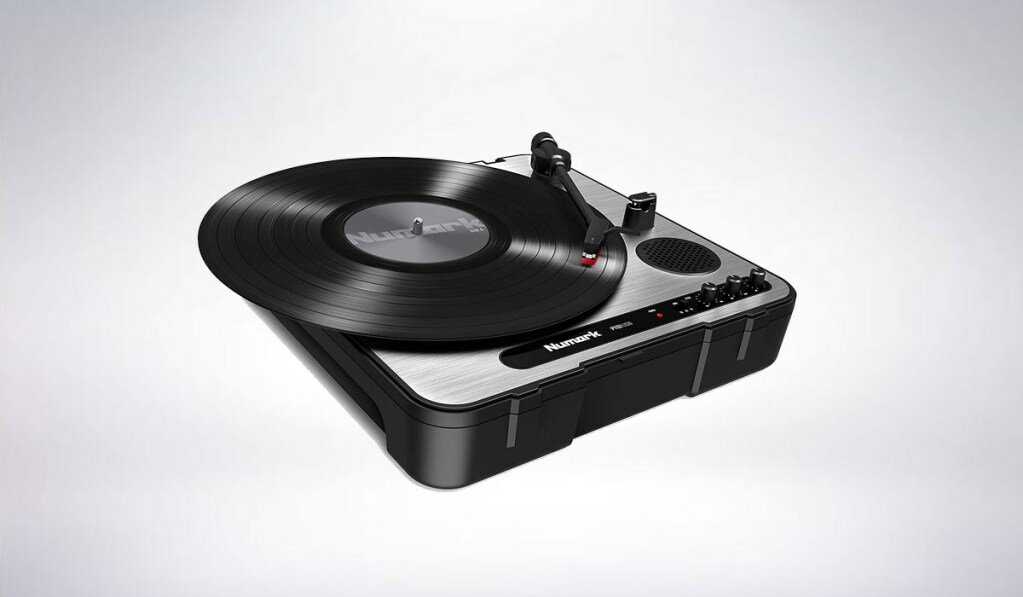 Design and Quality
Though it doesn't come with bells and whistles, Numark follows closely behind due to its unique features.
The PT01USB has a boxy portable design, a built-in handle, and a protective, removable dust cover.
With slightly over 4 pounds, the turntable is lightweight hence very easy to transport and free from damage. The protective metal case also enhances the durability of Numark.
Thanks to the AC adaptor or batteries, powering this portable record player is a breeze. With a belt-driven turntable, either power option is more stable than most options.
Performance
Numark features three playback speeds, which allow you to play whatever you have in your vinyl collection.
Moreover, the addition of adjustable pitch control and EZ Vinyl Converter recording software gives aspiring DJs the freedom to try some fresh mixes. Besides, some users claim to modify PT01USB, converting it into a scratch turntable for this specific purpose.
Additionally, this record player comes with in-built speakers that produce sufficient volume and balanced sound.
Still, if you want several playbacks, you can use the RCA connector or headphone jack with external speakers for more customized listening. Plus, you can use the USB to record your vinyl into your computer and create MP3 files. The outputs are high-quality to deliver clean and balanced sound in all playback modes.
The battery powering ability enhances the portability advantage. So, you can use Numark even in conditions that don't allow plugging in.
Pros
Inbuilt speakers with decent sound output
3-speed playback
Adjustable pitch control
Inputs for different playback modes
It has a battery powering back up
Lightweight and portable with a handle
Removable, protective, and durable metal cover
Cons
It struggles to playback via headphones
The locking mechanism fails to work regularly
Victrola Vintage Portable Suitcase Record Player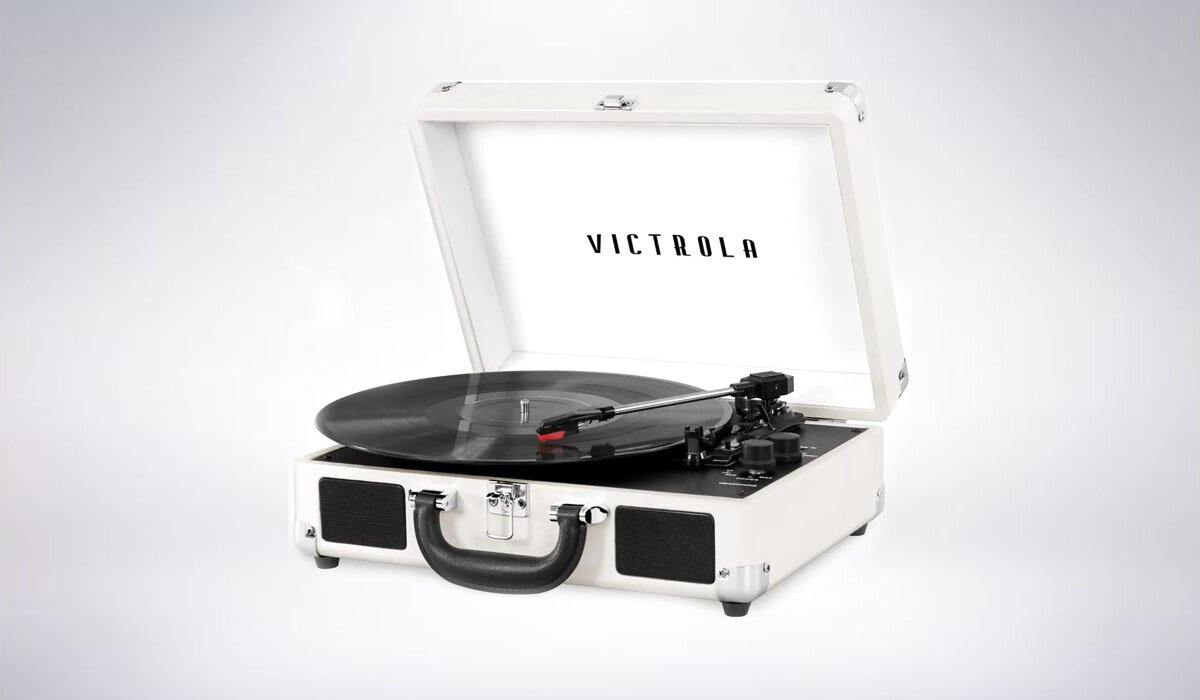 Design and Quality
If you want a highly portable model you can take anywhere with you, this suitcase turntable is what you deserve.
It may not come with fancy extras or be the most durable, but it's among the best choices in terms of portability and functionality.
Victrola Vintage features excellent compact design and customization options. The build is also sturdy and robust, assuring the user can handle any mode of transportation to any destination like a champ.
In the briefcase, the turntable occupies the largest space. Aside from the three controls being intuitive, you can control the volume and power and choose the input source. The controls have a deep matte black finish that invites the eye to the color suitcase.
With over 33 colors to choose from, you can customize your feel the way you like. Remarkably, many colors and patterns feature striking vivid colors and bold tones.
However, the platter is a thin plastic without any soft material. Hence, there's no way to keep your vinyl records safe and minimize vibrations. Though the tonearm is metal, it seems somewhat thin and flimsy. But, worry not!
Most of the components in this record player are upgradable.
Performance
Despite the low price, the Bluetooth connectivity streams music quite well. So, no need to panic about lags or breaks while listening to your favorite music. The streaming range is also over 33 feet away, allowing you to play music from a different room.
Aside from the wide color range and striking looks, this model beats many high-end suitcase turntables. Next to its portable design, it comes with several customization options as the most vital selling points.
Remarkably, Victrola does more than offer three-speed settings. It automatically identifies the type of record you're listening to and automatically adjusts the platter's speed. As a beginner on the turntable, this unique feature is impressive and easy to use.
Nonetheless, the low price doesn't compromise the audio quality, thus delivering more than expected. But if you want a record player with heavier bass response, it would be best to hook up external speakers on this model.
Even though Victrola has similar features to other lower-priced models, it comes with unique additions like a cue lever. It operates by assisting you in cueing your vinyl collection safely and precisely. This prevents scratches on the record surface and damage to the stylus.
Furthermore, it has practical inputs that offer various playback options. For instance, it has a basic 3.5-millimeter aux that enables you to connect to several external devices for added listening options.
This type of connection allows you to hook up external devices such as CD players, MP3 players, and active speakers.
Pros
Completely automatic cueing
High sound quality
Economically priced
Beginner-friendly
Several color options range
Adjustable speed options
Upgradable components
Cons
There's nowhere to carry the plugin
Low sound quality from inbuilt speakers
ByronStatics 3-Speed Record Player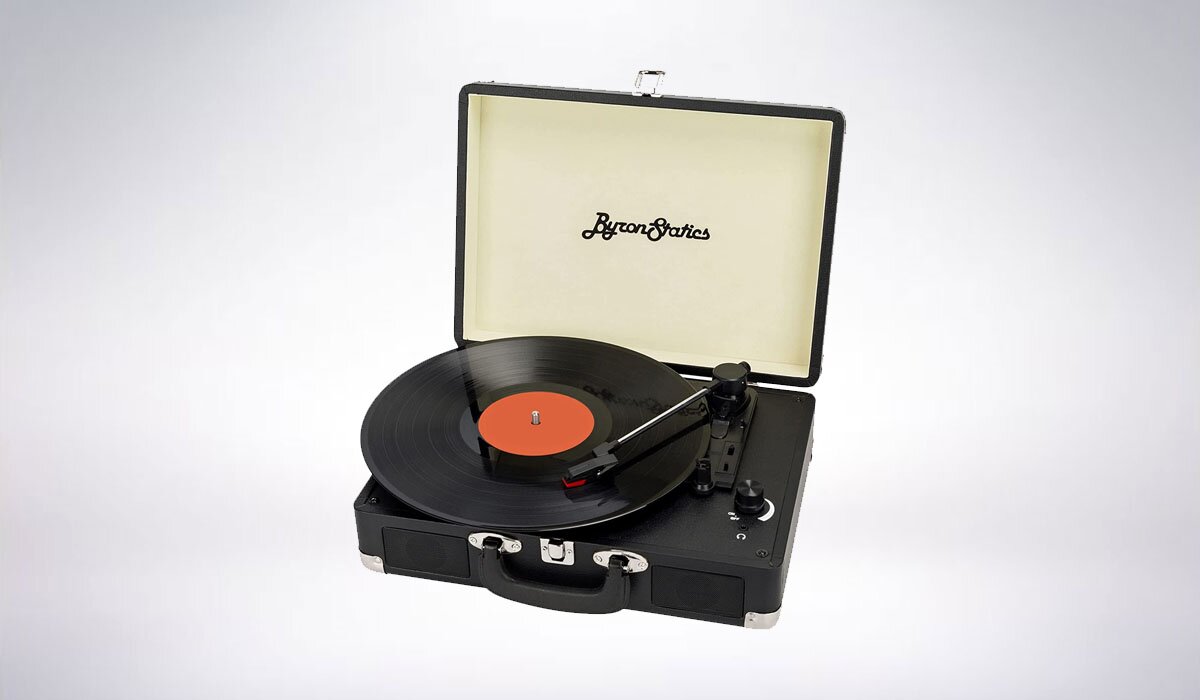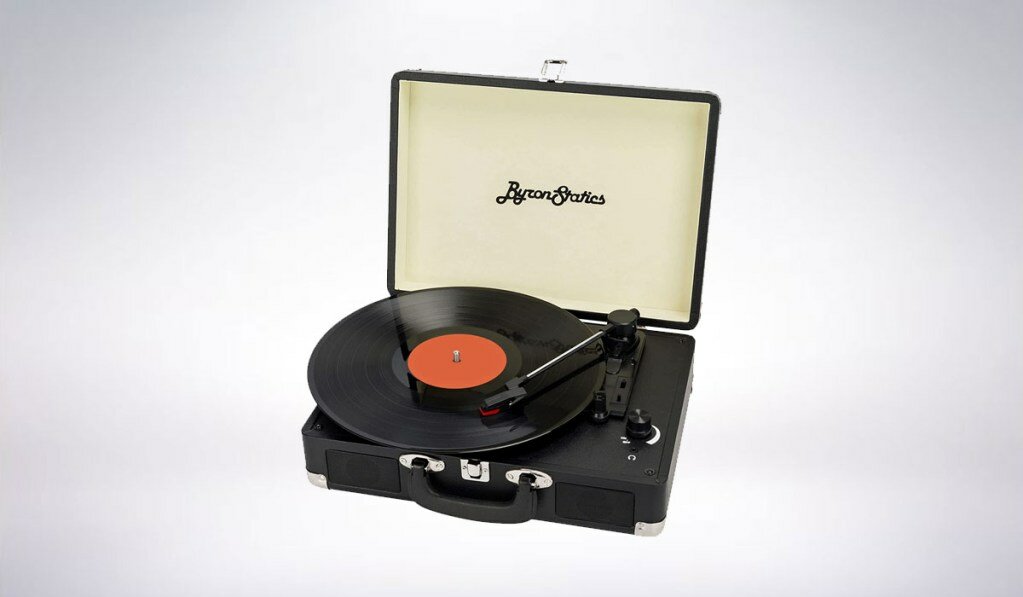 Design and Quality
Next is this modern, sleeker style that boasts of class all through. The lightweight newer laptop design allows a perfect blend at home or office.
Moreover, the manufacturer did a brilliant job in creating a briefcase turntable. The compact design lets you pack it with other luggage or carry it everywhere. Besides, it has a wooden case with a matte black finish bringing out an aesthetic appeal every time.
Additionally, the housing of the turntable features spring mounting. The springs work to reduce vibrations from any impact or movement.
Usually, the vibrations source from the body and affect the stylus, causing skips and poor sound quality. Fortunately, the springs counter that impact. In short, it's right to say that the design of ByronStatistics is safe and convenient.
Performance
This portable record player comes with three-speed settings – a significant win. So, you can pitch sound for any vinyl record size. However, you have to buy a particular needle separately to play the 78-speed setting because it has wider grooves than 33 1/3 and 45.
Though small in size, the two front-facing speakers produce a good quality sound. The weak bass output is expected with this turntable design because the high vibrations would ruin the listening experience. But, the acoustics produce decent sound through these speakers.
A knob near the platter allows you to adjust the volume control to how you desire quickly. Also, the knob works as an on/off switch.
This model features RCA and 3.5-millimeter jacks. The RCA jack is for connecting an external speaker or receiver, whereas the 3.5 mm jack connects your smartphone to play music from it.
Moreover, this record player has a standard-sized Chuo Denshi CZ800 ceramic cartridge weighing 4g. Though it doesn't provide top-of-world performance, it works as expected.
Pros
Attractive faux leather case
Reduced vibrations
Built-in speakers
Extremely lightweight and portable
Three-speed options
Convenient several outputs
Cons
Wockoder Record Player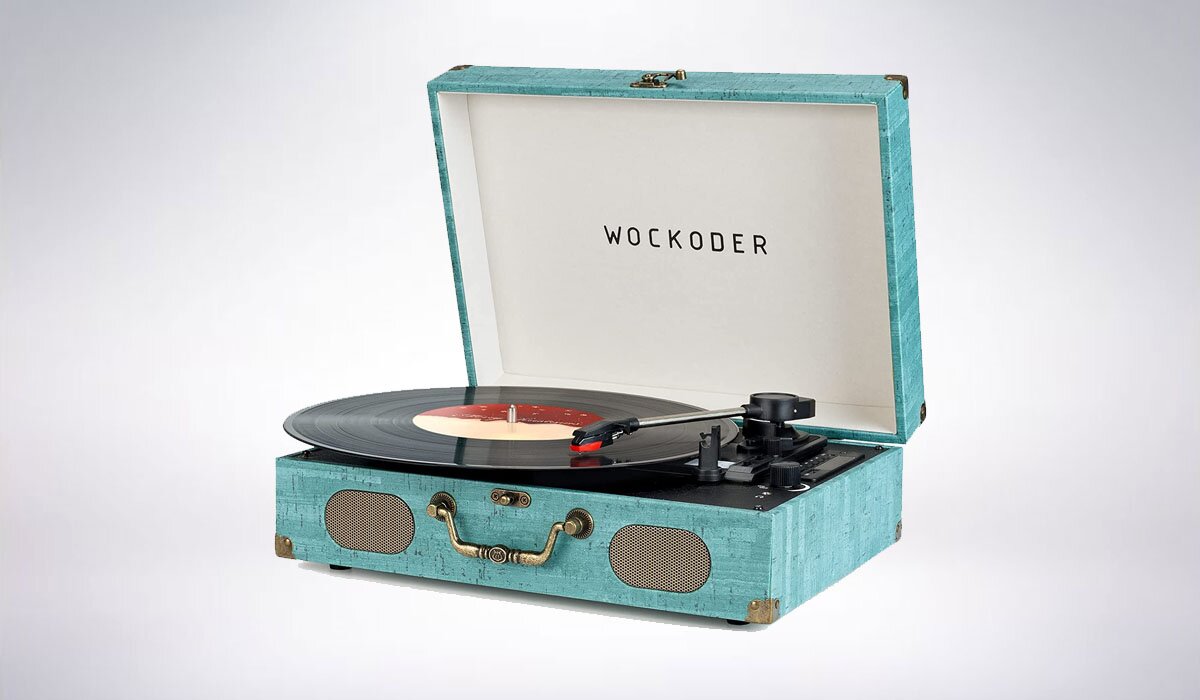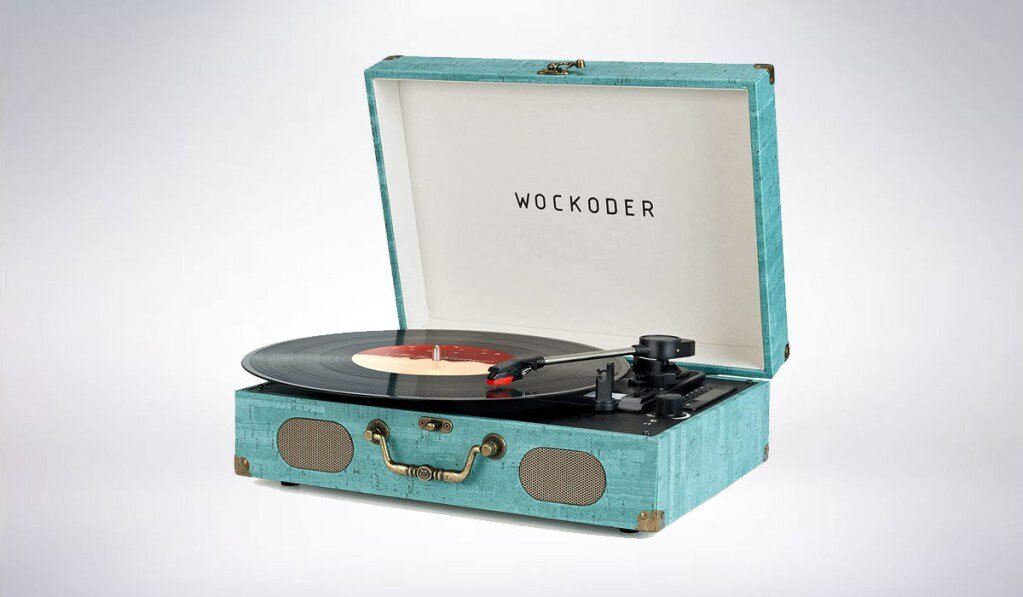 Design and Quality
Wockoder's design brings charm to this vintage model. Also, the soft pastel color evokes a certain 1950s nostalgic feeling.
In addition, it has similar features to other models in this price range, but it stands out from the competition due to its lightweight, portable design. This is a significant advantage for anyone who loves to travel.
Also, it features an inbuilt USB port that makes it effortless to transfer your vinyl record to your computer.
Moreover, Bluetooth connectivity featured enables straightforward pairing of smart devices to stream digital music or enjoy your vinyl collection on a Bluetooth-compatible device.
Finally, it comes with an SD slot. Generally, Wockoder provides the flexibility to listen to music from different sources.
Performance
For most beginners, record players can be challenging to use. However, Wockoder is very easy to use compared to most models herein. Even so, as a first-time record player user, ensure you read and understand the manual to avoid damaging your favorite vinyl.
With 7 pounds, this model is lightweight and highly portable on the go. The construction comprises lightweight plastic and wood. Plus, storing Wockoder is a breeze.
Furthermore, playing several record sizes with multiple speed options boosts its versatility. You shouldn't miss any classic or modern hits.
As mentioned earlier, this model has a headphone jack that provides the convenience of listening to music anytime and anywhere without disturbing people. Better still, you can stream music using the Bluetooth receiver and enjoy it on the go.
Pros
Beginner-friendly
Built-in handle
Inbuilt speakers
It plays several records
Highly portable
Lightweight with 7 pounds
Wireless function
Cons
Not adequately loud for a large room
The plastic interior seems flimsy
1byone Wireless Turntable HiFi System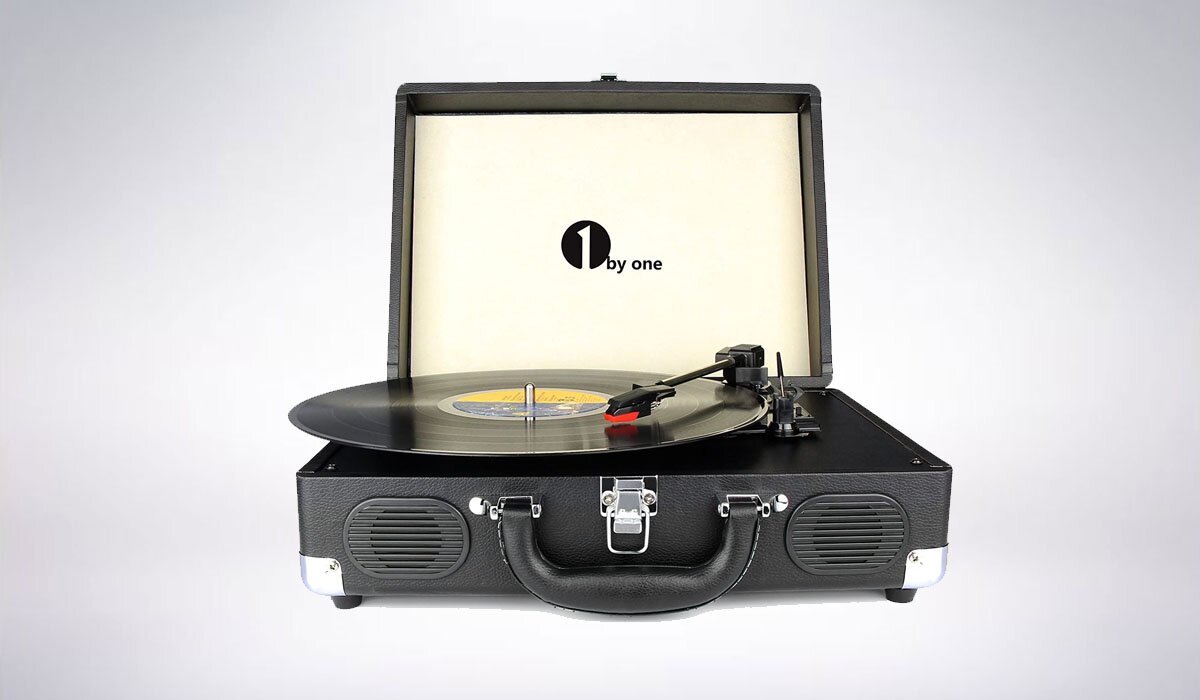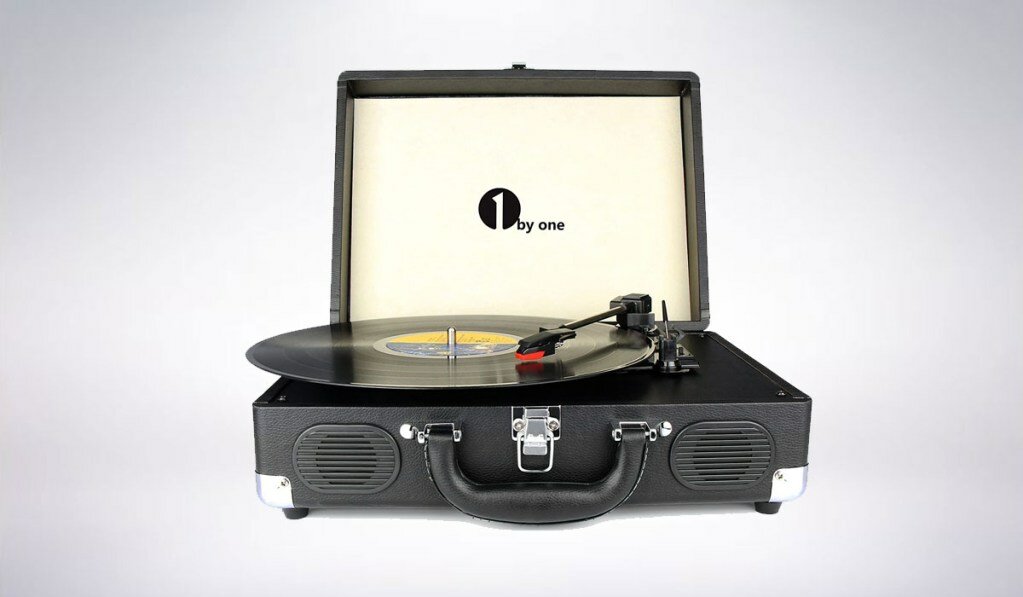 Design and Quality
If you're scouting the market for a retro turntable, here's a model that wins the cake. About a decade ago, the classic style of this model won the hearts of many listeners, becoming a favorite. Sadly, portable turntables were unheard of.
In modern times, people use mobile devices to effortlessly stream digital music if you're a passionate vinyl collector.
This model comes in a compact, durable powder blue suitcase, including a handle and lid. So, you can shut down the turntable, drop down the cover, and step out with your favorite collection.
Performance
If you're an avid suitcase turntable operator, then you know that most models cannot blast music as loud as you would desire. This is a worthy trade-off for most people to get a portable design with inbuilt speakers.
Also, the RCA connection allows you to hook up external speakers or achieve a louder sound by plugging in the headphones. There's more.
It has impressive additional features like the tonearm for soft damping control, a 45 RPM adapter, and inputs and outputs for external devices such as smartphones, speakers, and tablets.
Pros
Additional 45 RPM adapter
In-built speakers
Portable
RCA and aux inputs
Tonearm with subtle damping control
Cons
It doesn't have Bluetooth connectivity
Quiet and low-quality sound
Portable Record Player Buying Guide
It's not easy shopping for the ideal suitcase record player that matches your needs and preferences. Choosing one from the several options can be daunting, especially when you have to think about buying a renowned brand or a promising upcoming brand.
Luckily, all is never lost when you work with a buying guide. Jump into our extensive buying guide below to help you consider essential features for a quick and wise decision.
Portability
While this may sound obvious, there's more to look at in this feature. When it comes to portability, you need to consider the size, weight, and mode of carrying.
A compact size is ideal for moving around with, not to mention lightweight. Most importantly, you are looking for an easy way of carrying your portable record player.
Most options are foldable to protect the interior and have a handle for easy carrying.
Speakers
Usually, the briefcase models don't have great speakers. The inbuilt speakers only sound better in a quiet room at an average volume.
However, if you want a model with enough power to fill a large room, go for those with RCA outputs. With RCA outputs, you must look for external speakers, making the portability idea less applicable.
But if you're going to a place with speakers, you're not lost. Also, portable record players with RCA outputs are more expensive.
Better still, some speakers have built-in Bluetooth, making it easier to connect with your portable record player.
Speed
There are three typical speeds for vinyl records- 33 ⅓, 45, and 78. Usually, 33 ⅓ feature full albums while 45 play singles, consisting of one or two songs on each side. The 78 speed is for the 10″ EPs records.
So, if you have an extensive EPs collection, ensure your portable record player comes with inbuilt speed functionality. Above all, make sure the record player has the correct speed setting to match your records.
Audio Encoding
If your vinyl collection is extensive, it would be best to encode and digitize your records for a lasting future. Some portable record players require a USB connection to plug into your computer for encoding software.
After that, the software quickly and reliably converts your vinyl into any audio format you desire. This comes in handy for print-outs and rare records.
Why Do You Need A Portable Record Player?
If you love music but travel a lot, the best portable record player is your best bet. Primarily, a portable record player focuses more on convenience and portability than durability and quality.
Other than providing the convenience of music on the go, portable record players still have a lot to offer. For instance;
Their briefcase design is an excellent way of keeping it safe from damage and breakages in the luggage
Most of them come pre-installed with music, so they're ready to use straight out of the box
They're cheaply available compared to the fixed units
A vinyl record on the go offers high-quality, uncompressed music wherever you are
It's your only access to vintage records anytime and anywhere you go
What's The Difference Between a Record Player and a Turntable?
It's exciting to be alive at such a time of vinyl rebirth. Undoubtedly, music has never been this good.
However, the vinyl culture has a long history that makes it confusing and overwhelming to understand. More specifically, the terminologies play a significant role in the confusion with people calling 'turntables' instead of record players.
Because these words are primarily interchangeable in several contexts, it can be downright confusing to decide whether you need a turntable or record player. Yes, there's a significant difference, and luckily we're going to discuss all that below.
Turntable 101
A turntable is a flat circular surface that rotates at a specific, regular speed depending on the requirements of the record. The different rates include;
It works when the needle forms sound vibrations after engaging the grooves. After that, the sound vibrations go up to the cartridge in the metal arms. There's a magnetic field in the coils of the cartridge that then convert the vibrations into electric signals that emit through the speakers.
Moreover, a turntable works well with RCA male plugs, RIAA Equalizer, and a preamplifier. Without the speaker and the amp, the turntable would produce an electric signal that's too quiet only for human ears.
Record Player 101
The operation of the record player isn't as complicated as the turntable because it only requires a power cord to work fully behind the scenes.
Modern record players come as a single unit comprising;
A cartridge
A pick-up arm
A turntable
An amplifier or speakers
Record players come in different shapes and sizes to suit your needs and preferences. Examples of record players include;
Gramophone-style
Portable record player
Semi-portable
With inbuilt radio and cassette players
Record Player vs. Turntable
The younger crowds of today relate turntables with the act of DJ spinning records. As a result, turntables appear as a modern version of record players while the record players signify the old and low-end equipment.
The truth couldn't be any further.
However, let's get things straight. The difference between the two terms doesn't lie in the sound quality but in function. Believe it or not, the turntable is a section of the record player.
It's the platter where you put the record; hence turntables have a significant role in the functioning of a record player. However, the same applies to the turntable because it can't fully operate without additional equipment.
When it comes to buying either option, your choice entirely depends on;
Budget: Record players are usually more expensive than turntables.
Intent: Your expectations for any chance bearing in mind that a turntable cannot work alone to play music.
Also, your choice between a record player or turntable depends on your intention and the user-friendliness to make it work.
Some people prefer to mix and match their equipment, hence buying separate pieces for assembling.
On the other hand, others just want to relax and enjoy their sweet vinyl collection.
FAQ
Are Portable Record Players Good?
Generally, your choice determines the results. Like most things, there's a wide range of portable record players, and the expensive options play well compared to the cheap options.
Can Portable Record Players Ruin Records?
Yes and no. Also, your selection determines how safe your records are. Usually, expensive options come with a high-quality stylus that is durable and ensures your records are always in excellent condition.
What Records Are Best For Portable Record Players?
Vinyl albums and 45s are best and play without hitches on any record player. However, the old and low-quality records tend to damage eventually.
Conclusion
You have a top-rated list of the seven best portable record players. Undeniably, finding the best is majorly a matter of personal preference. However, I hope the above guide plays a valuable part in helping you make an informed decision.
Above all, ask yourself questions like; what collection do I have, and where do I want to go with my vinyl hobby? Allow your budget and aspirations to decide the type of portable record player you need.
Above all, rest assured that the options are fun, affordable, and portable, ready to blow you away with excellent build quality and sound.
You may also be interested in:

About Post Author