Are you unsatisfied with the sound from your turntable? Get yourself a phono preamp for the desired output.
A phono preamp is a circuit that electronically equalizes and amplifies the output in a phonograph turntable. It's worth it because it makes a significant impact on the sound. You have to choose a phono preamplifier that complements the phono cartridge of the particular turntable system.
Similar to most products, a phono preamp also comes in a wide selection and different price ranges. Here we break down the best of the crop for you to enjoy.
Best Phono Preamps of 2022 Comparison Table
Cambridge Audio Alva Duo


Structure
Just by its first appearance, you can tell that the Cambridge is an exciting preamp that's easy to use. The volume dials are highly intuitive. There's also a mirrored labeling at the back for effortless connections from any angle.
Aesthetically, it's stylish and uncluttered.
Also, it features a 6.3mm headphone jack and power buttons. Still, it's versatile, allowing MM and MC cartridge options with the ins and outs, not to mention a trim balance back level.
Performance
There's a subsonic filter that removes low-frequency noise when it comes to performance. Power goes off after 20 minutes of inactivity and uses 0.5W power on standby mode. This way, it maintains low power consumption.
The Alva has a surface mount technology and switch-mode power supply that enhances quick and precise response using short signal paths. Plus, it reduces background noise to ensure you hear nothing during the vinyl's low-level signals.
The Duo has sure and perfect timing of beats with changing intensity as a dynamic performer.
Pros
Aesthetic and functional design
Provides balance control
Reasonable power consumption
Good dynamics and perfect timing
Cons
Power management may not be for all
iFi Audio Zen Phono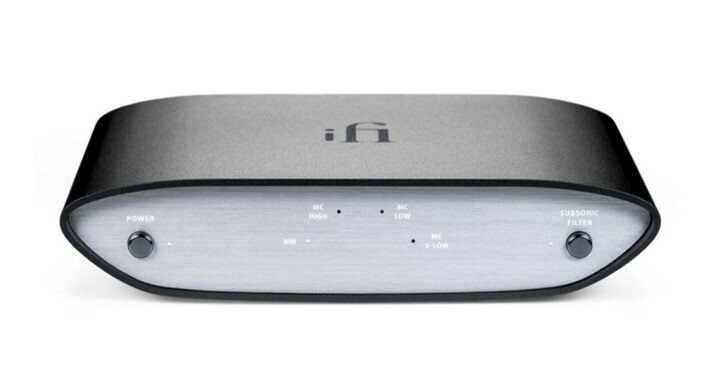 Structure
For starters, iFi is a brand known for its outstanding products that compete with the best in the market at affordable prices. Better still, it allows the user to be more ambitious in settling, not for anything less.
The Zen Phono handles moving magnet cartridges and coil for a range of 36dB to 72dB. Also, it has a unique, balanced circuit that reduces unwanted sound (noise).
It uses high-quality capacitors of Panasonic and TDK to enable precise clarity and low distortion. Its distinct low-noise power supply produces noise as low as -151dBV hence, offering a solid preamplification.
Performance
Generally, the iFi Zen Phono produces excellent sound. It takes all that turntable offers without adding anything but only polishes every note to make the best sound.
Remarkably, it creates perfect balance by treating every frequency with a similar texture and tone. This way, it gets to the high or low levels as long as your turntable allows it.
Furthermore, it has an AI sub-sonic filter that converts quickly without compromising the bass quality or triggering phase problems.
Overall, the iFi Audio Zen phono preamp parts work together to enable vinyl clarity and excellent imaging.
Pros
Excellent sound output with balanced highs and lows
Works with 36dB-72Db cartridges
Features AI sub-sonic filter for quick adjustments
Easy to connect to speakers and headphones
Cons
It doesn't play short sounds like beeps and alerts
Pro-Ject Phono Box E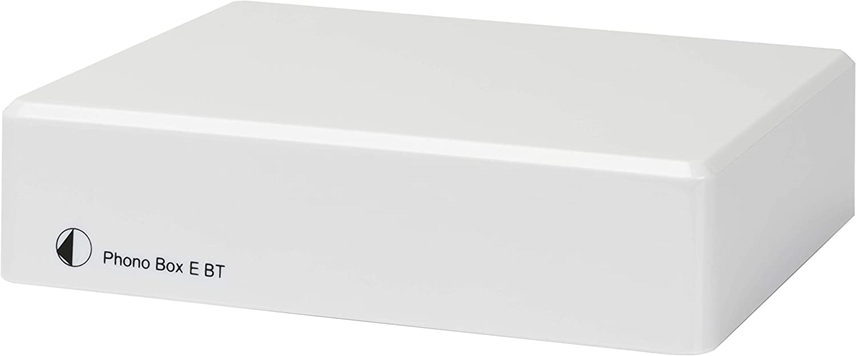 Structure
It comes in black or white. Also, it has a clean and compact design that deserves to be on a desk near the turntable. Still, its standard RCA ins and outs are visible enough for effortless connection to any hi-fi amplifier via a 3.5mm jack.
Additionally, the build is plastic but has protective internal metal shielding against breaking from falls.
Performance
Firstly, it's straightforward to set up and connect. Also, the unique Bluetooth connection is very convenient since you don't need any long cable for connection. Better still, it's easily recognizable by the system producing incredible sound.
Pro-Ject works with Moving Magnet cartridges using low-noise elements with a separate power supply as a versatile phono preamp. The excellent sound also allows different levels of fine-tuning.
For a frequency response of 20 Hz–20 kHz, this turntable preamp offers a natural and defined rich sound profile.
Pro-Ject qualifies as an excellent solution for frequent listeners who want great sound.
Pros
Compact and lightweight
It comes with protective internal metal shielding
Easy to connect
Bluetooth picks up quickly
Versatile for easy fine-tuning
Cons
Bluetooth range is not the greatest
Edwards Audio Apprentice MM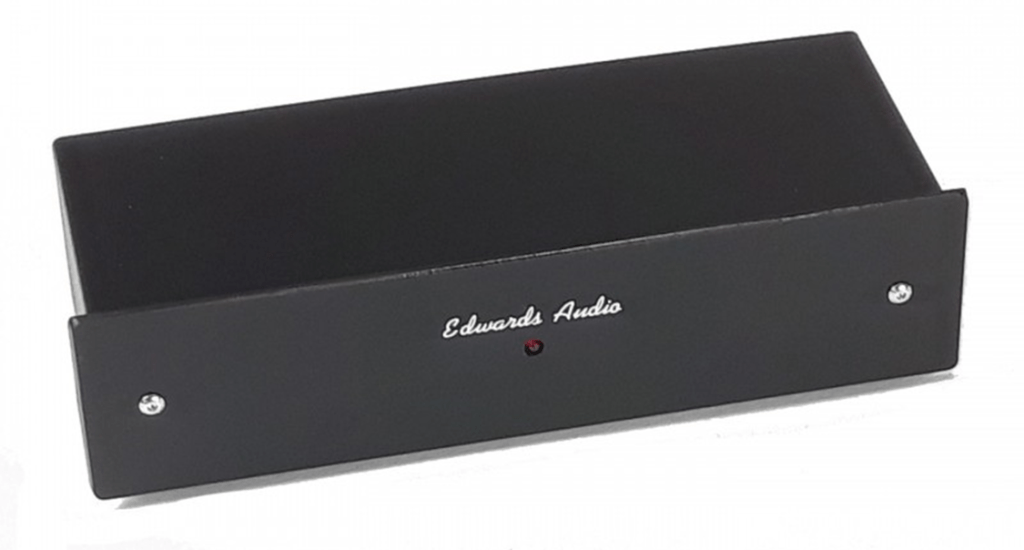 Structure
It's effortless to use since it comes with no power switch; the process usage entails plug-in and play. After connecting to the amplifier, a small red LED shines to signify it's on and ready.
Its small but minimalist design focuses more than just on aesthetics.
Performance
The Edwards Audio presents a satisfactory performance while playing any kind of music.
It uses a circuit that delivers equalization on the active bass and passive treble. Thanks to the even tonal balance, this phono preamp doesn't consume more bass than it can handle.
So, it maintains precise performance as it affords enough body to the vocals.
Pros
Straightforward to connect and play
Well-blending and balance of sound
Aesthetic and functional
Low-noise operation
Cons
LED red light doesn't turn off unless you unplug
Rega Fono Mini A2D
Structure
It features a black aluminum box, USB socket, the RCA ins and outs, level ripping control, and an earthing plug. An LED also shows the power is on after a successful setup.
Ripping vinyl with this preamp is effortless because any digital editor can use it. This makes the fine Audacity software very flexible instead of a controlled self-designed program.
Performance
If you find the appearance basic, the performance is going to blow your mind. Among its winning talents is the well-timing. Fono Mini A2D enhances music with passion and properly aligns beats making it unbeatable by its competition.
Aside from delivering passionate tracks, it also quickly builds them, blending naturally.
Pros
Easy to use
Cleans up background noise
High-quality digital to analog transfer
Solid structure
Excellent sound quality
Cons
It emits constant noise in the mid-woofer even when it's off
Rega Fono MM MK3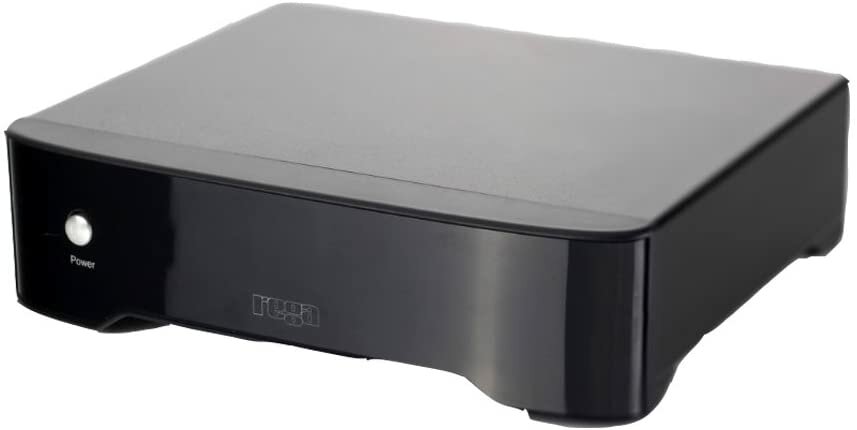 Structure
Fono MM is an improved version of its design, not to mention its moving coil.
Though they appear slight, such improvements to the chassis significantly impact the performance.
However, the inside has minor alterations with slight nips to the board to reduce noise levels.
Undeniably, the MK3 is sleeker yet simple than most of Fono's older and newer versions. There's only one power button, AC socket, and earthing peg at the back.
Performance
The unbeatable sound from MK3 airs from the speakers with reduced noise floor providing better clarity. Another impressive performance is the expanded dynamic range.
Furthermore, Rega works very well with turntables and amplifiers, producing bold and powerful strokes. All these are thanks to the well-timing and dynamics offered by MK3.
Finally, this phono preamp works with enthusiasm to boast a fine sense of rhythm without any lumps or missed beats.
Pros
Clear and spacious performance
Proper timing and strong dynamics
Improved stylish compact design
Easy to install
Solid and broad sound stage
Cons
Somehow flimsy due to the plastic casing
Musical Fidelity MX-VYNL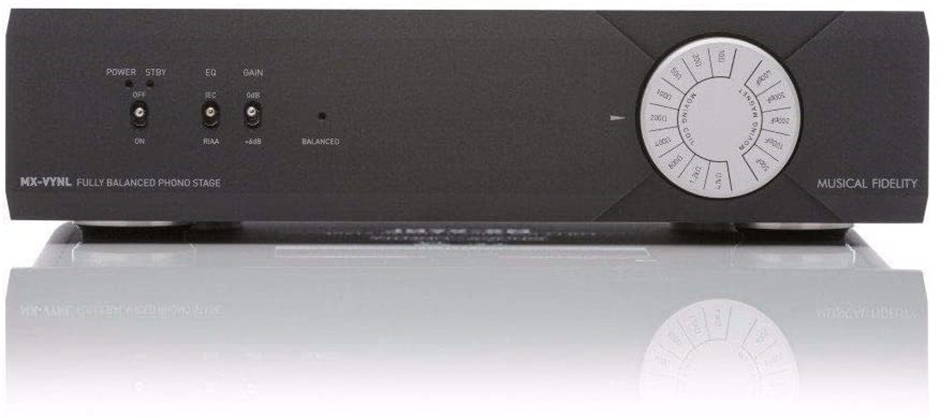 Structure
This is a stylish, black tiny product. Aside from a clean-cut appearance, it has a solid structure that is proportioned and pleasing.
Musical Fidelity also takes pride in its adjustability. Instead of one switch, it comes with two sets of loading plugs behind the chassis.
Rear connectivity includes both stereo RCA and XLR outputs.
Performance
The MX-VYNL is user-friendly and flexible, from its quick navigation on the moving coil and moving magnet. Its MM has five capacity settings and 9 for the MC to reduce issues and proper user control.
When you match this phono preamp with a suitable turntable, it delivers any song's ultimate power and pure joy.
Additionally, it offers plenty of low-end that noticeably warm up the performance without becoming invasive or extreme.
Pros
Highly adjustable
Handles both MM and MC cartridges
Highlight vocal performances
Open and wide presentation
High-quality sound and detail
Cons
The back switch is somehow challenging to use
Moon 110LP v2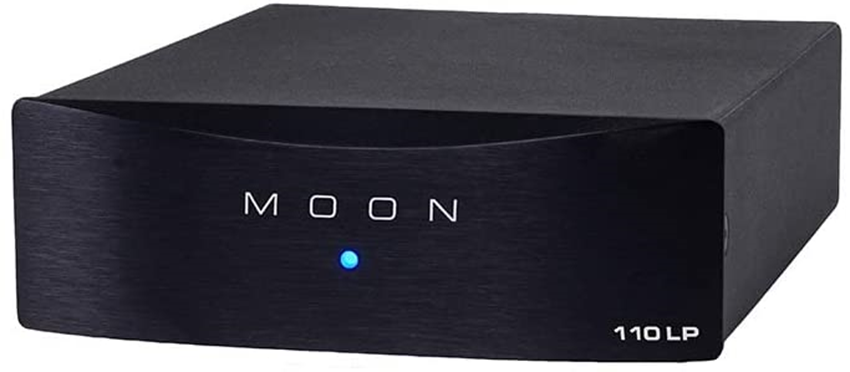 Structure
The black neat aluminum box features high-quality finishing. The curved front phase is beautifully machine-shaped, making the Moon appear classier than its rivals.
It also features a wall socket power port, a single input, stereo RCA output, and a grounding post.
Additionally, this turntable preamp is switchable to handle both moving coil and moving magnet cartridges.
Performance
Beating most of its competition, this little black box is adjustable in four increments from 40dB-66dB. This is an easy-to-cope range for all moving magnet designs and not the minimum output moving coil cartridges.
The Moon's gain has several dipswitches alterations under the unit like many capacitance and resistance values. As long as you understand the correct settings, it's easy to use– but please confirm your cartridge's specifications in case of doubt.
Moreover, it has stable stereo imaging even when handling demanding music. Also, every track beat and rhythm comes out subtly without force. With longer listening, everything becomes as clear as daylight without skipping any information.
Overall, 110LP v2 is among the best phono preamps for its uncompetitive price. It dishes out a refined, smooth, and fluid sound with a satisfying punch.
Pros
Upgraded technology for better sound quality
Allows trouble-free use
Quick configurations
Filtering for lower noise level
Optimal performance with throughout powering
Cons
The bright blue LED is always on
Phono Preamp Buying Guide
Phono Preamp: What Is It And How Does It Work?
A phono preamp, phono stage, or turntable preamp is an audio element for amplifying the signal from a turntable. This way, you can easily connect it to a modern sound system like an MP3 or CD player.
Plus, there're record players that can't work without a phono stage.
The audio signal output from a turntable is usually fragile, like 1000 times low, compared to a CD player. Therefore, there's a need to boost the signal to reach the average line-level or AUX necessary for the modern amplifiers.
This means that a phono preamp's work connects a record player to an amplifier by adjusting the phono signal to a standard line level.
A phono stage equalizes the RIAA curve to the turntable's output signal, restoring its initial shape. Also, remember that you need to buy a turntable preamp with RIAA standards to get the best sound quality.
Undoubtedly, the market is overflowing with several options of phono preamps; hence making a suitable choice becomes difficult. But, worry not! Several fundamental factors guide you in the direction of a good phono preamp.
Such factors include:
Power
Watts is the standard measure for power. Though most electrical appliances have labeled Watts, you need to be cautious as most manufacturers aren't trustworthy to boost sales.
Usually, a higher power rating has better results, but your speakers and amplifier must handle it. In most cases, testing products is impossible if you're buying online. Still, even buying from a physical shop would be tricky since you can't carry the whole system to the shop for testing.
So, what to do?
It would be best to research and read reviews and recommendations from other buyers. This way, you gain confidence in buying a quality turntable preamp.
Signal to Noise Ratio
This is the signal power level compared to the noise power level. Typically, the measurement is in decibels (dB). According to proven tests, a higher SNR produces better sound quality to give more signal than noise.
Remember always to maintain a strong signal level above the noise level, to get high-quality and clear audio. Generally, avoid buying a phono preamp with a low SNR.
Total Harmonic Distortion
This specification provides a practical difference between the input and output audio signals in percentage. Therefore, be ready to handle a little mathematical calculation. Bear in mind that the lower the difference percentage, the better the sound quality.
Some tests show that a slight amount of harmonic distortion is unavoidable though hardly noticeable. This is because current manufacturers make devices with small distortion specifications.
Frequency Response
Often, it appears as a curve on a graph describing how a device responds to sound in a specific frequency range. On the chart, the "x" axis is for the frequency response in (Hz) hertz, while the "y" axis is the sound pressure level in (dB) decibels.
Usually, the standard frequency for most audio products is 20 Hz to 20 kHz, which is bearable for humans.
Also, a combination of the frequency response, SNR, and total harmonic distortion significantly affects sound overall stability and quality.
Speaker Output
Several turntable preamps have an output for direct connection to speakers or headphones. Usually, it's an audio jack port labeled as "output."
Nonetheless, high-end models have a different type of output since they pay more attention to preamplification.
Portability
When buying a phono stage, a compact and lightweight choice is ideal. There's little to no space next to the turntable; hence, a tiny preamp would fit easily.
If you're a DJ, you should pay attention to the ease and convenience of carrying the turntable preamp to your countless gigs. Preferably, find a tiny one that fits with other equipment in the bag or get one that comes with its carrier bag.
Aside from the size and weight playing a significant role in portability, you also want to ensure the structure is sturdy enough. This way, you're sure it can withstand occasional bumps.
Benefits and Drawbacks of a Phono Preamp
Typically, most people, especially beginners in the sound system, want to know why it's essential to get a phono stage.
Many manufacturers currently sell receivers that can receive a phono signal or even make turntables with an inbuilt phono preamp. Truthfully speaking, the inbuilt version is more convenient. It allows you to listen to music with fantastic sound quality with the least baggage in your chain.
Having a phono preamp isn't a must. Still, it proves beneficial to many sound technicians due to its dedication to improving your player's signal.
On the flip side, there're drawbacks to having a preamp. See below.
Benefits
It's upgradable anytime you desire
It comes in a broad range of selections
There's better control of EQ.
You have the freedom to choose favorable settings
It allows you to understand and enjoy sound better
Drawbacks
Require separate purchase hence the additional cost
Understanding Phono Preamps
Phono Preamps Cartridges
Phono preamps come in two main types that record players use one of the two types of cartridges. These types are MM and MC preamps. Your choice of a particular type mainly depends on the taste of your collection because both types have different sound qualities for specific roles.
Each phono cartridge has a magnet and a coil, though the placement and function can differ in terms of the stylus. Here's where the difference lies.
Usually, most beginners don't know the correct cartridge type for their record players. It would help to look for a label or manufacturer's specifications in such cases.
MM preamps
Moving Magnet cartridges work using a needle and a set of magnets to send the signal to the coil. Because of their low-cost, most turntables use MM cartridges.
Like in most cases, cheap tends to compromise quality, and MM isn't any different in audio quality. This is because the weight of the magnet reduces the impact, making tracking inaccurate.
MC Preamps
The needle and the two coils work directly for the moving coil cartridges. The MC is more expensive and accurate in gathering information and tracing significant punch detail.
The sound quality is also better than the MM version, but the output level is low. MC carts also have irreplaceable needles, hence needing a new one every time it spoils.
Input Gain
There's a delicate relationship between a phono preamp and the recording cartridge. Usually, the low-level cartridge signal magnifies through the preamp progressing all over. Indeed, it solely relies on the signal levels that begin at the source and reach each part of the signal chain.
Several factors control the gain figures for the low output moving coil. First, is the circuit vacuum tube solid? Usually, SS designs effortlessly reach high gain and low noise results than vacuum tubes.
Additionally, the solid-state phono stage focuses on the operational amplifiers and resistors. Op-amps are crucial for the gain capacity and the general track identity of a phono preamp. Still, tube circuits typically sound wonderful but optimizing the gain calls for extra gain boosters like transformers.
Also, their performance with MM is excellent. Still, it lacks adequate input gain, requiring a helper to manage those complex low output MC cart signals.
Phono Preamp Power Supply
Even with high-quality circuit components, the phono stage only works with a top-notch power supply. Apart from powering the system, the PSU unit of a phono stage also eliminates all hums.
Mains pollution is the noise from amplifying silent signals. This percolates through the circuit, limiting the sonic benefits of high-end components. Fortunately, there's a way manufacturers are reducing pollution by using top-notch DC to DC converter chips.
The external PSU reduces noise to provide good quality signals.
Vinyl experts spend a lot on power supplies and specialized power cables because they affect the frequency response of the cartridge. Conversely, battery-powered phono stages solve mains pollution issues by eliminating the mains-powered PSUs.
FAQ
1) What Difference Do Phono Preamps Make?
A good phono preamp has a massive impact on sound quality. A phono preamp has a vital task in an excellent sound system as an overlooked component. It amplifies the tiny electrical signal from the cartridge to use it with a line-level input on a receiver. In the end, the sound emitted sounds much better.
2) Is It Okay To Leave The Phono Preamp Always On?
Leaving your phono preamp on isn't a problem. Besides, most high-end phono stages don't come with a power switch because manufacturers always saw the need for constant powering.
3) Should You Plug In Your Preamp?
A phono preamp comes with line-level outputs that produce signals for noise or overload. As a result, the signal distorts, requiring you to plug your preamp into your line inputs.
4) Can You Use A Preamp To Power Speakers?
No, here's why. A preamp doesn't have enough power like an amplifier to boost the line signal loud enough to hear through the speakers.
Final Word
The phono preamp technology remodels intentional rich sound after it leaves your favorite vinyl record. So whether you're starting out or just upgrading your sound system, investing in a good phono preamp is delivering the promise of excellent sound. Besides, you don't have to break the bank to get the best.
The above selection of phono preamps provides value for whatever budget in any choice.
You may also be interested in:
About Post Author