A good home audio set-up will not only enhance the listening experience but unravel layers to your accustomed playlist whether at home or in your work office. The best thing about a DAC/Amp combo is that it is versatile and will directly accept digital outputs and inputs to whatever device you are streaming your audio from.
This could be a mobile phone, CD player or DVD Player. Additionally, a DAC/Amp comes in handy in PC settings that don't feature a perfect integrated audio system. Here is a selection of the best desktop DAC/Amp combos out there.
What Is A DAC/Amp Combo
As the name suggests, it is a device that has a combination of a DAC and amp, mostly a headphone amp. It gives a sound system an unmatchable upgrade regardless of its type. This combo dramatically helps in alleviating any sound distortions and makes your headphones more functional.
The amp is responsible for enhancing the original sound of your system and making it flow well through the headphones. A DAC/Amp combo usually has high-quality components and accurately separates power supplies, thus enhancing audio results.
Are you looking to upgrade your audio system? Do not worry because we have a great list of the 11 best desktop DAC/amp systems for your PC. Their specifications and features are outstanding, and you will get value for your money by investing in any of them.
Keep reading for more details. In addition, we shall discuss some important factors that you should prioritize when buying a good desktop DAC/amp.
iFi Pro iDSD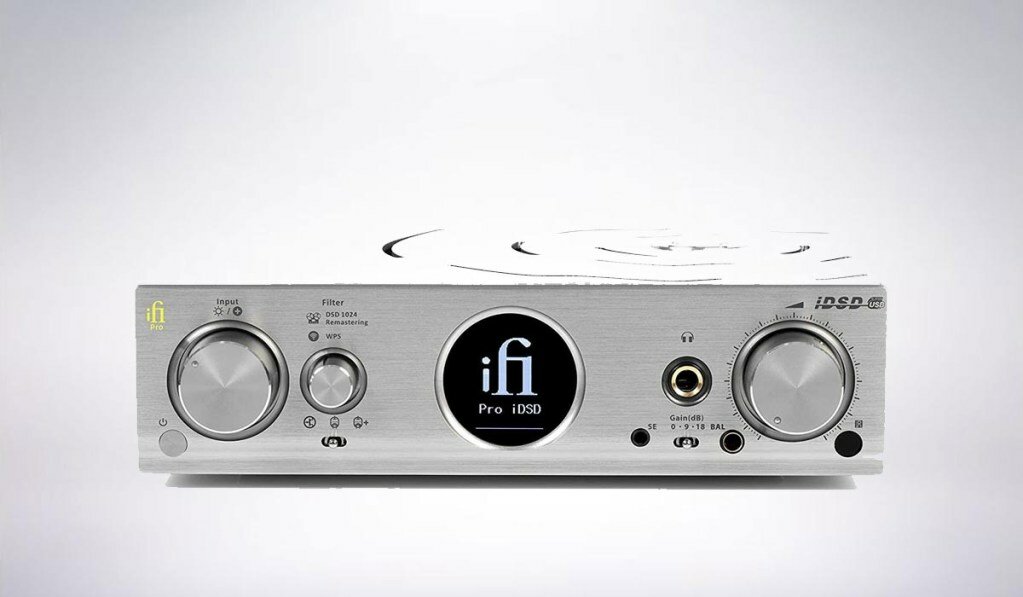 This DAC/amp combo device is designed for whatever mood that you are in. It boasts many incredible features making it the best on the list for studio or home use. Besides the duties of a DAC, this device will amplify your network streaming whether it is wired or not.
The iFi Pro iDSD bears all the hallmarks of an efficient DAC/amp. Not only does it have the capacity to give high-resolution outputs, it supports Wi-Fi streaming, which separates it from the old-fashioned DACs.
It effectively converts all digital music streams from Spotify, iTunes, and Qobuz, to name a few, to studio-grade audios.
Performance
This tube amplification will be the transformation you have been looking for because it makes your sound smooth and distinctive. Additionally, the device filters out any sound distortions through its chipset. In addition, the DAC/amp combo has enough power reserve of up to 4.2w, and you can be sure to enjoy music for a long time regardless of the type of headphones you are using.
Connectivity and streaming
iFi Pro boasts multiple connections with a self-powered USB input. All the inputs of this device are isolated, meaning that its power management system is separate. The filtering takes place at the galvanically isolated voltage. On the other hand, this combo features Wi-Fi streaming, and you can stream your favorite music from Qobuz, tidal, etc., via an app.
Stand Out Features
The 4.19 Watts power rating of the headphone amp makes it fit for a broad category of headphones. Further, its top performance Burr-Brown chipset sets it apart in handling high-resolution audio. It converts MP3 to studio-grade outputs like PCM 768 and DSD 512.
Pros
Solidly built
Great in filtering
Remote controlled
Cons
The streamer is poor
No setup manual
Fostex USA HP-A4BL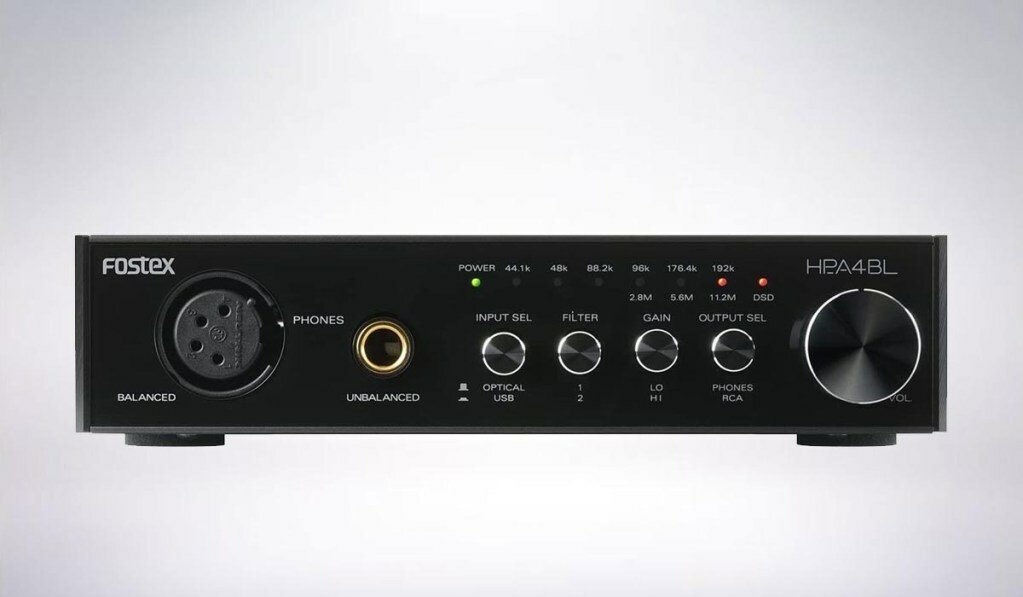 Your search for an unmatchable DAC/Amp device ends here. The Fostex USA Fostex will give you a detailed and resolution sound that you have never experienced. This device is versatile, and you can count on its performance. Here are the outstanding features and benefits.
Fostex USA HP-A4BL drops the traditional DAC/amp combo tags through modern audio-grade capacitors. Such play a significant role in audio precision and low phase noise.
Moreover, HP-A4BL is compatible with the latest PC operating systems—Windows 7, 8, and 10 and Mac OSX from version 10.6 upwards.
Resolution
If you are looking for a DAC/amp combo with high resolution, this is the best. Fostex has high resolution making it the best for professional and mastering sound engineers, not to forget audiophiles. The resolutions give it a superior sound quality regardless of the device from which your music is playing. You will have that natural and detailed sound you wished for your listening moments.
Functionality
This DAC/amp device is versatile and made for a wider headphones section. It features a digital filter that ensures all distortions are removed.
Stand Out Features
One of the critical features of the Fostex HP-A4 is its 24bit/192kHz PCM playback capacity. Additionally, it can handle 11.2MHz of DSD audio. What about the Chipset? The DAC runs on The Burr-Brown PCM1792A version, which sets it apart as a top-shelf DAC due to its high-quality audio conversion.
Pros
Great sound quality
The drivers are easy to install
Excellent build
Cons
No Bluetooth
Low performance
Burson Audio Conductor 3x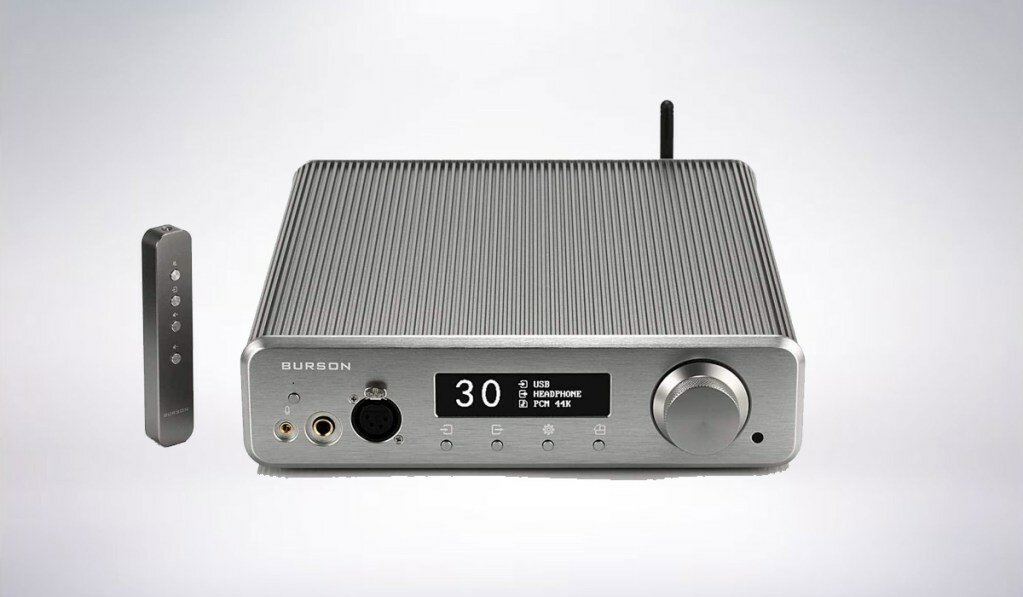 Conductor 3X is a product built to give audiophiles a personal listening experience thanks to its performance. Its component is top quality since the device has a chip for each channel. Here are reasons why you should buy this unit.
Burson 3X is a product of Burson's power supply innovation in 2017—MCPS. It's a power supply technology that's far better than the old-fashioned transformer and switching designs. It's what Burson products are currently using.
The MCPS—acronym for Maximum Current Power Supply—pushes the voltage frequency from 51 Hz to 170 kHz and thus "throws" the noise beyond human auditory capacity. The impedance is also low and thus ensures a sufficient and continuous energy flow for the output transistors.
Design
You will love this device for its outstanding design and appealing look. It has a cool case made from heavy aluminum. Under the case are four visible screws and a big aluminum knob in front through which you luxuriously control the volume. This device also has an OLED screen that gives you the user experience you deserve.
Sound Quality
We cannot finish describing this DAC/amp combo without mentioning the sound you should expect. The sound of the Conductor 3x device is engaging and natural, and it also comes with clarity whose quality will keep you wanting to listen more and more. It is not only ideal for headphones but also works well with IEMs.
One thing that makes its sound unique is the high-end chip that it boasts because they ensure that power is efficiently processed.
Stand Out Features
The Burson 3X has a significantly low output impedance making it indispensable for single-ended audio systems. Further, it runs on the leading receiver chips in the industry—XMOS USB and SABRE 32, which come with customized drivers.
It makes the DAC/amp "ride" high in processing power. Playback of high-resolution audio like DSD512 is just a breeze!
The display and control have a contemporary touch too. The OLED screen offers a convenient interface, and the smooth aluminum knob is crucial for the fine controls.
Pros
Worth the money
Has top-quality components
Great headphone output
Cons
Low Bluetooth performance
Highly-priced
EPOS | Sennheiser GSX 1200 PRO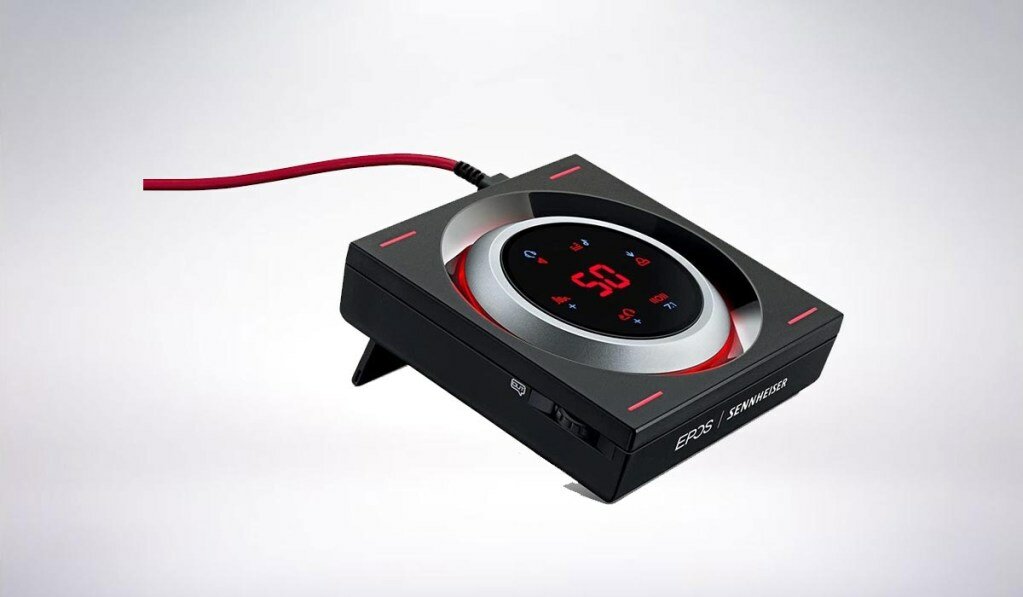 Take your listening experience to another level with this combination of DAC and amp. It is the best you can have if you love gaming with a set of headphones on your ears. Here is why you should go for it.
The new EPOS Sennheiser has revolutionized the gaming scene. With a top-range audio engine capable of operating in the 7.1 Surround audio environments, it completely upgrades the gaming audio effects.
It comes with specialized Equalizer (EQ) presets for balancing sound frequencies and absolute gaming focus.
Notably, the dedicated gaming DAC chip won't trouble you with the requirement of additional drivers—it's a plug-and-play affair, unlike in the previous models.
Functionality
The Epos device has all you would want in DAC and an amplifier. It has a deep bass extension and incredible clarity. It will give you an immersive audio experience thanks to its precision accuracy. Also, it was made with the gamer in mind because it has two separate controls, one for chatting and the other for the game audio. As a result, you can have a team conversation with other gamers.
Settings
EPOS features a setting lock with which you can lock audio controls. This helps create an audio playing field that is levelled. The feature comes in handy in the prevention of changes that might happen accidentally.
Stand Out Features
The ability to change the spatial feeling (from tiny enclosures to open spaces) of the listener is a crucial feature of Sennheiser. It creates a gaming immersion experience from its reverberation level settings.
Further, it has the Sidetone headphone controls that raise your voice and makes voice chats more convenient. The control function is effortless—a single click on the touch panel.
Ultimately, Sennheiser excels over the compatibility issue. It's usable with headphones, desktop computers, and laptops running on Windows or Mac OSX.
Pros
Balanced sound frequency
Best for gamers communication
Sound can be customized
Cons
Limited to gamers
Highly-priced
FiiO E10K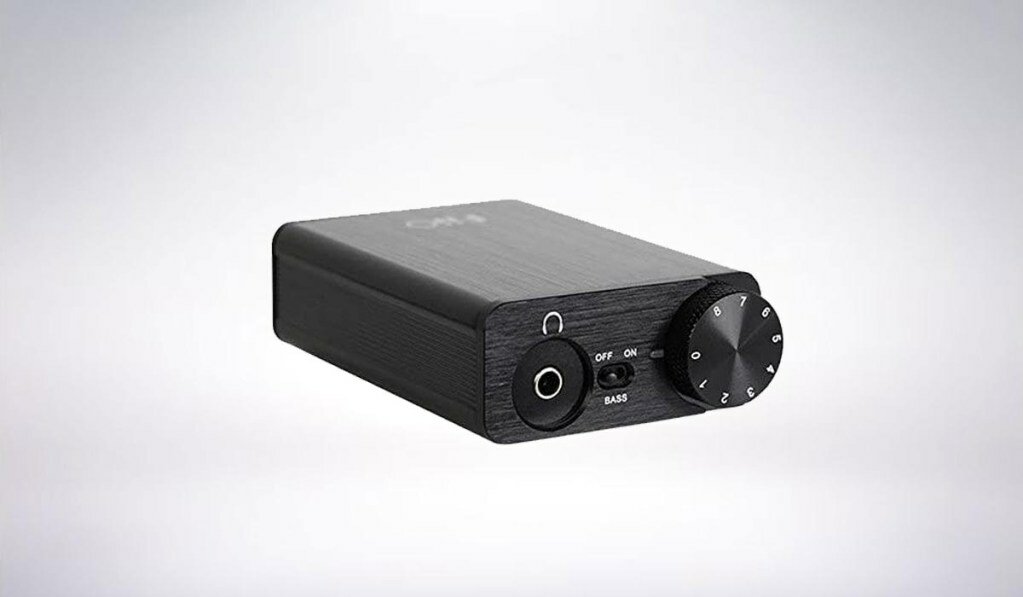 This DAC/Amp is designed for an audiophile and made for headphones. The black device is light in weight and small in size.
The FiiO E10K is an advanced version of the older E10 and sorts out some of the few shortcomings of the former. For instance, the device has a low noise floor in diverse audio environments due to its specialized bass boost circuit and functional loss-pass filter design.
Many users adore the FiiO E10K for its tiny size and portable design. Its aluminum casing gives it a modern look while ensuring its durability.
Design
This device will be a centerpiece on whichever platform you place it on. It is beautifully enclosed in an aluminum cage and boasts a sleek appearance. The chassis of this unit is strong, and therefore, you will have it for a long time. You can also go with it anywhere because it is portable.
Audio Quality
The E10K unit has an internal DAC chip that improves the audio quality of your music besides handling files. It does so by filtering out any unwanted noise and ensuring that the track timing is perfect.
Stand Out Features
The PCM102 internal DAC chip makes it well suited for handling PCM audio files, enhancing the audio quality through a built-in filter, reducing delays, and eliminating phase shifts. The DAC chip can process PCM files with a maximum bitrate of 24 and a 96 kHz frequency.
It connects to laptops via micro USB ports and uses the same port for charging. Further, the E10K comes with an onboard bass-enhancer—incredible for cranking up low frequencies to "roof-shattering tremors." The enhancer is controlled by a small "BASS" switch at the front panel.
Pros
Great volume control knobs
Perfect in boosting bass
Made for an audiophile
Cons
Not enough power reserve
Available in black only
Soundavo HP-DAC1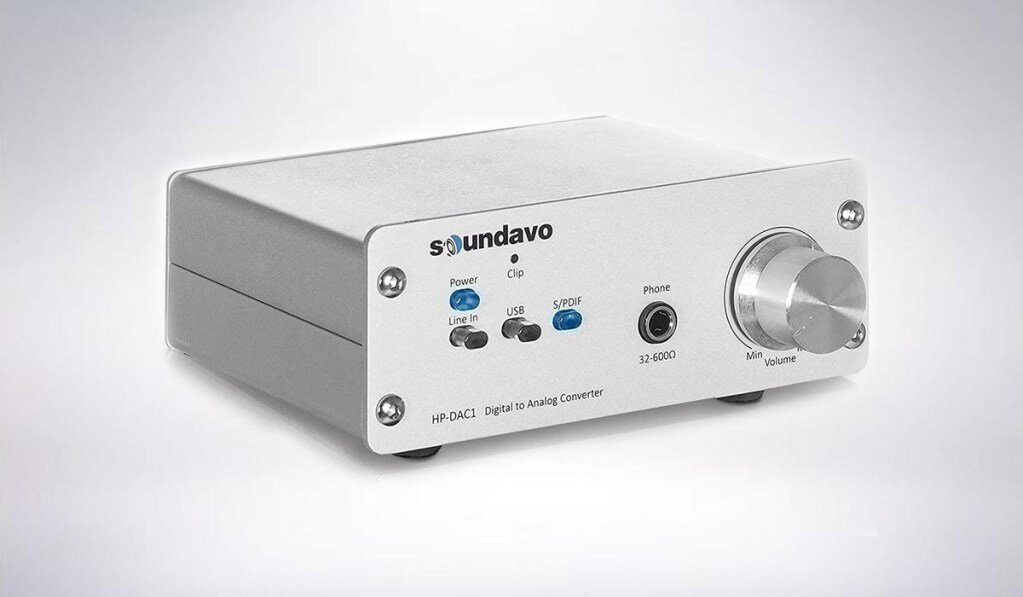 Get value for your money by investing in this DAC/amp combo. It has high resolution and an easy-to-use design. Here is what you get from the device.
HP-DAC1 is a significant advancement to Soundavo's HP series. With DAC1, it's now possible to connect to a variety of inputs—USB cables, optical-based input, and also S/PDIF. The selection is simple, with push buttons on the front panel.
Further, there are single-ended RCA outputs if you want to connect the DCA/amp to an external powered speaker or integrated amp.
Connectivity
A good DAC/amp device should be versatile when it comes to connection. This allows you to enjoy music from different sources without limitation. Fortunately, Soundavo has multiple sources for input selection. You can choose from optical/USB or PDIF.
Functionality
This unit is competitive when it comes to functionality. With its high resolution, it gives you a sound that is clear, separated, and detailed. Also, it boosts the volume making it deeper than what is released from your device. Additionally, it features an output that has a multichannel format.
Stand Out Features
Users of Soundavo HP-DAC1 enjoy its installation simplicity. With preset drivers, you do not need any external drivers. Available for Apples' Mac OS and Windows PCs upto the recent Windows 10, you simply plug it into a USB port of your PC, game console, etc., and it's ready to operate.
HP DAC1 supports HD audio. It's preferred for its sound clarity and volume boost.
Pros
Easy to operate
Great in bass delivery
Cons
Adjustable volume control
Unreliable output
Topping DX7 Pro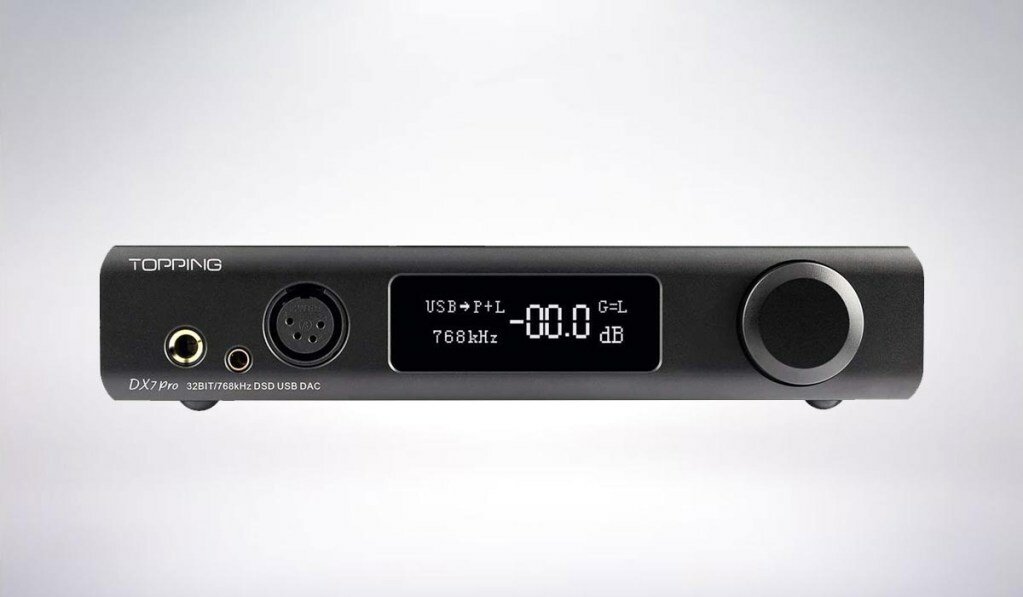 Get value for your money by buying the DX7 Pro DAC/amp combo. Its price to performance ratio is excellent, thanks to the many features that it boasts.
Topping DX7 Pro is thoroughly ultra-modern. With the top-notch chipset—CSR8675—it supports wireless connections via Bluetooth 5.0. Further, the chip can process audios with a bitrate of 24 and a 96 kHz frequency.
Connectivity
The unit has three outputs for headphones, and they are all versatile. It also has an additional Bluetooth receiver and is the best because it can receive streams of up to 990 kb/sec on wireless transmission. This is a quiet and incredible feature. The 5.0 Bluetooth version has an antenna that makes the signals stable and clear regardless of any concrete walls between the DX7 and the sender.
Design
You will love the design and aesthetics of DX7. All the screws are entirely sealed either under the unit or on the side plates. Also, this device is simple, clean, and boasts some elegance. The white and black LED screen adds class and makes it a centerpiece wherever you place it.
Stand Out Features
DX7 comes with multiple interfaces—USB, Optical, Coaxial, and AES—and is thus able to handle different audio resolutions. For instance, the USB can transmit PCM (32 bit/768 kHz). The other interfaces can handle the same resolution, DSD64-DSD1024, and 24bit/192KHZ.
Pros
A versatile DAC/amp combo
Value for money
Remote controlled
Cons
Available in one color
Highly-priced
Audioengine D1 24-Bit DAC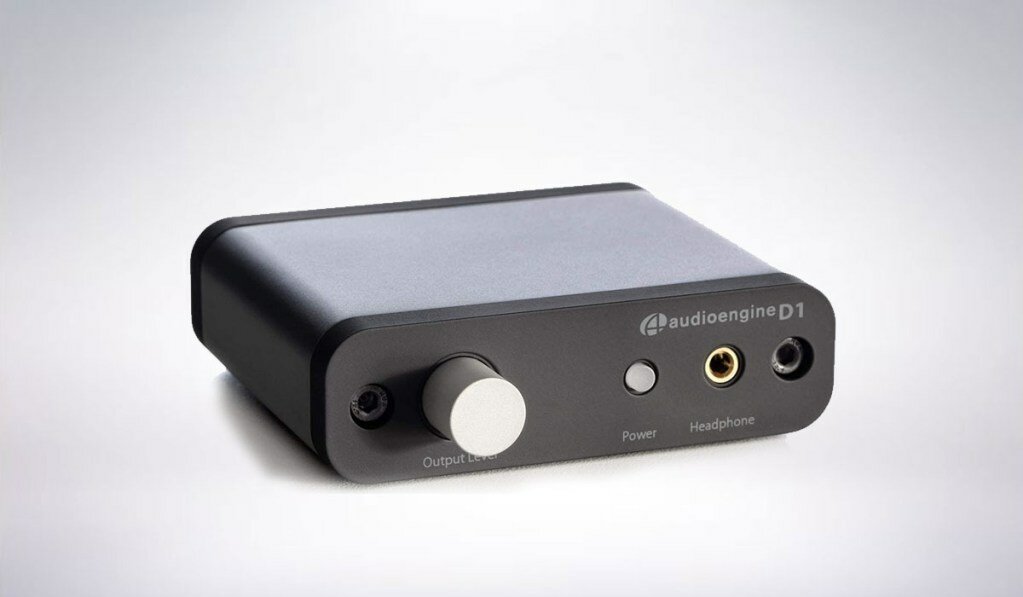 Made by a highly respected audio product company, D124-BIT is the magic you need. It is great for both speakers and headphones. Its plugs and play set up is also simple and has a versatile input.
Compared to its predecessors, the D1 is a premium DAC and headphone amp. With the AKM4396 chipset, it can handle audio signals with high resolutions up to a bit rate of 24 and a 96 kHz sampling frequency.
For high-resolution music from streaming sites, D1 serves you with astonishing detail.
Versatility
Unlike most DAC/ amp units, D1 is the most versatile in this list. It works with speakers, headphones, any computer, a product whose output is optical, and any audio system whose RCA input is small.
Functionality
The DAC boasts many features that make the unit have a high performance. Some features include a volume control on the front panel and don't require any separate power. It also serves as a perfect music interface between speakers and headphones.
Stand Out Features
Audioengine D1 has two audio input varieties—2 USB ports and an optical port. It's not only compatible with headphones but also with smartphones, laptops, and desktop computers.
Further, it supports the RCA line outputs for integrated amplifiers and powered speakers. Its fabulous casing enhances its durability and is bound to attract audiophiles!
Pros
High performance
Excellent sound
Cons
Sound BlasterX G6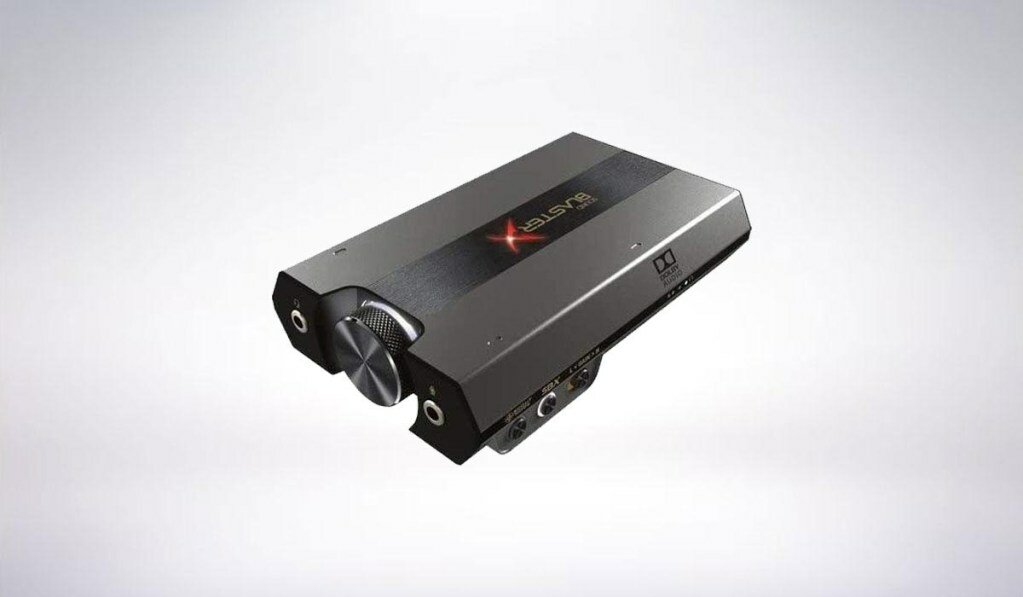 Made with the best audio technology, this DAC/amp device is all you need for your listening sessions. It comes with several benefits that make it worth your money.
If you're after upgrading your gaming experience using the Blaster series, then the XG6 is the real deal. So what's special about it?
The Sound blaster XG6 improves the quality of the basic motherboard audio for fantastic quality for an array of platforms—XBOX1, PlayStation 4, Nintendo, and even on computers.
Versatility
This device is not limited to headphones alone. It has several connectivity options, including USB, line-in, and optical. Therefore, you can listen to your content from any device, whether it is a PC, game console, or any other.
Sound Quality
Sound Blaster is made with a technology that has withstood the test of time. This makes it a great sound enhancer giving you what you deserve. Depending on your preference, you can also have your audio in versions of highs, mids, and bass.
Stand Out Features
Sound Blaster XG6 excels in audio fidelity. The amplifier is designed to amplify each audio channel separately to deliver an entirely new level of high-quality lossless audio. Additionally, the significantly low output impedance (less than 1.2 Ohms) powers up the amp.
The streams are highly detailed and authentic.
Pros
Ideal for all sound ranges
Best for gaming
Cons
Not great in saving energy
RME 2-Channel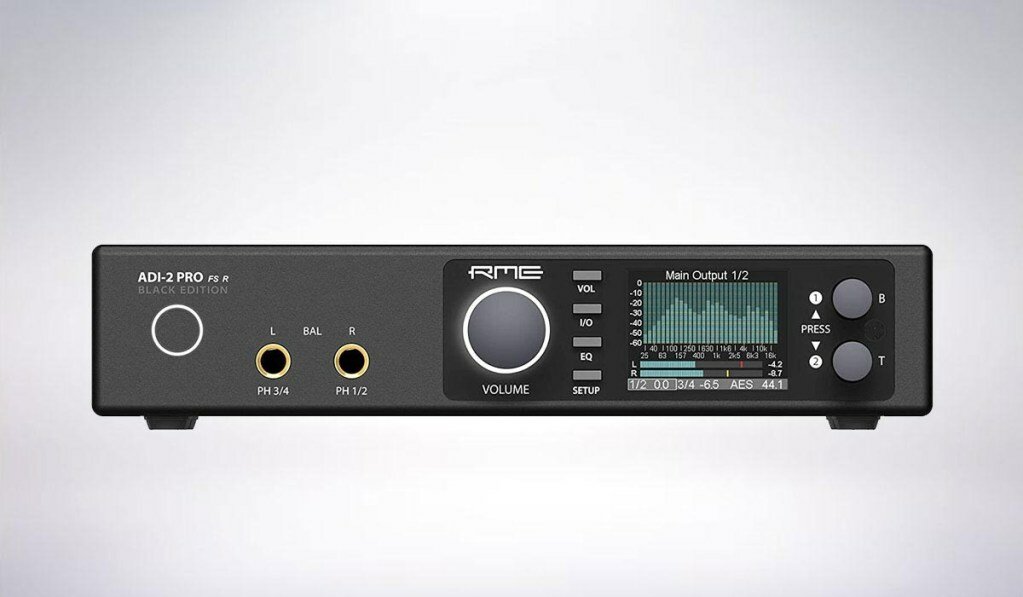 If you are an audiophile, this unit is oriented for you, and it's the first remote-controlled product from RME. This gadget will make a statement in your home or office with its colored display whose spectrum analyzer is realistic. Here is why you should have it.
The RME-Channels beats the previous RME DAC/amp combos in their capacity to handle high-resolution audios and compatibility with computing platforms.
This DAC/amp handles high-resolution audio files in several formats—PCM, DSD as well as DXD—supporting frequency sampling of up to 768kHz.
Functionality
The RME 2-Channel features an extreme power output that is suitable for your headphones. Its analog circuitry is fine-tuned and boasts an upgraded remote control system.
This model comes with an adopted analog output stage, effectively reducing distortions and giving you quality sound. Also, its DA conversion is improved, and you can record DSD audio with it.
The features that have made RME-2 DAC receive the most positive reviews include the 4-stage output and in-put control hardware. Connecting your headphones to this gadget makes it automatically pick the perfect output after detecting the connection.
Also, you can set your preferred volume if you want to use it with a different headphone.
Sound Quality
RME-Channel doesn't compromise when it comes to the quality of sound. It gives you the kind of listening experience that you would want to have. This device captures and reproduces sound while ensuring it remains undisturbed. It also has a high resolution which makes the sound detailed and outstanding.
Stand Out Features
The RME Channel excels in its high-power headphone output that results in studio-grade sound. The DAC/headphone amp's output for in-ear-monitors (IEMs) is ideal for low noise operation crucial for today's IEMs.
Pros
Best for both recording and listening
Optimal sample rates flexibility
Great in noise reduction
Cons
Headphone limitation
No Bluetooth
Sabaj D5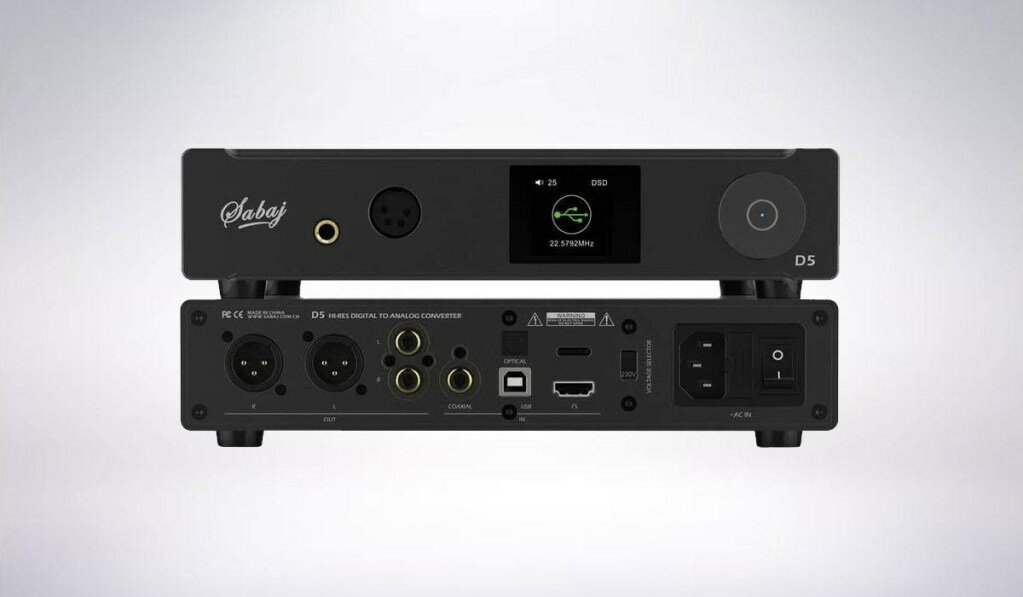 This is an all-in-one solution both as a headphone amplifier and DAC. The architecture, which is carefully fixed, and the various components of this device give it excellent performance and superb audio quality. Besides, SABAJ is reasonably priced and has a high end DAC chip.
Sabaj D5 features a top-range power supply chipset, the ES9311, with significantly low noise compared to the former models.
The device has a built-in top-performance transformer. It only allows little vibration and helps the chipset maintain low noise levels.
Sound Quality
The device ensures that your sound has low or no distortions because it is well implemented. This is thanks to its numerous features that work towards an improved sound. The features include an ESS technology DAC chip,32-bit audio processing, high-power sulky chip, etc.
Design
The sharp and clear OLED display makes it distinctive, and its front face is clean and boasts a single knob. This DAC/Amp combo is caged in a strongly built aluminum case whose crafting is detailed. The device gives you an accurate sound thanks to the high-quality components.
Some components include a linear voltage regulator with ultra-low sound, a sealed transformer, and a USB supporting interface. With this gadget, you can be sure that your headphones will be powered.
Stand Out Features
Sabaj D5 supports a variety of inputs like coaxial and optical, both of which support DSD streaming.
You'll like Sabaj D5 if you fancy sharp OLED displays. Although the fonts are small, they are sufficient when tweaking the settings.
Pros
Well and strongly built device
Remote controlled
Excellent performance
Cons
Not durable
It is expensive
Desktop DAC/Amp Combo Buying Guide
The quality of music depends on the device that's playing it. Although most electronic devices have inbuilt DACs that blend well with headphones, you need a better experience. You stand to gain much with a DAC/amp combo, mostly in terms of sound quality. You can be sure to have a clearer and natural sound.
Are you still reluctant about buying a DAC/amp? Here are some of the benefits?
1) Offers The Best Audio Quality with High-Definition
You will notice a significant difference when you connect your headphones with a PC or phone directly and when you use a DAC/amp device. The difference in sound quality is enormous because an inbuilt DAC doesn't have the power to drive high-power demanding headphones.
For this reason, the combo comes into the picture because it has enough power that the headphone needs to produce quality audio. You will have an incredible listening experience with a good precision that's unmatchable.
2) Accurate Controls
This is another outstanding benefit of the DAC/amp combo. Most of them are designed to meet the different sounds loved by different people. With this device, you have the power to control your music to whatever sound you like, whether it's treble, midrange or bass. This is all thanks to the accurate sound controls that give you a fine-tuning experience and precise control over your device.
3) Connection Versatility
A good and reliable DAC/amp combo features several connectivity options. The options could be to devices like DVD players, CD players, AV receivers, or any sound unit with a USB port. All these connection options enable your device to give a quality sound worth your time.
4) Reduction of Jitter
Have you ever listened to your music and noticed that it has some distortions? That is what is referred to as jitter. They lower the quality of sound and its timing. However, such issues won't occur if you are using a DAC/amp combo. This is because the DAC will reduce the distortions while the amplifier enhances your sound quality, and that way, you will get excellent sound output.
The above discussed are the main benefits of the combo, and here is a list of other benefits:
It has a clean and presentable look
All features can be controlled by one remote
It is multifunctional and can be a preamp for both powered speakers and headphones.
No need for interconnects
A DAC/amp combo saves on space, unlike the multiple standard devices.
They are two in one hence cheaper than purchasing a DAC and amplifier separately.
How to Choose a Good Desktop DAC/amp?
There are many types of these devices in the market, and choosing one won't be a walk in the park. The different models differ in features and benefits. If you are a first-time buyer, the purchase could be more hectic for you. However, with the following factors put in place, you will pick the best desktop DAC/amp.
Input Connection
Desktop DAC. Amp devices have several inputs allowing you to accommodate various audio sources. The sources could be USB or optical. Although this feature might increase the unit's price, they are worth it because you will not have to spend money buying a DAC and an amplifier separately. After all, they say that cheap is always expensive.
Headphone Connection
Since you will be using this desktop device with your headphones, your choice should depend highly on the listening device. For this reason, you should pick a DAC/amp whose functionality matches the audio plug and your headphone.
Many desktop DAC/amp devices have a 3.55mm plug, although this might vary depending on your headphone type.
If your choice is a DAC/amp combination set that requires a different plug for it to function, you must buy an adaptor. However, this will be too much work. This is why you should select a combo that has an ideal connection for audio.
Size
This is another critical factor. You might have a big DAC/amp combo, but it won't serve you efficiently because it is difficult to carry. This is more so if you are using it with a smartphone or headphones. For this purpose, it may be better to seek out a portable DAC/Amp Combo.
Impedance
These combo devices include several components, including an amplifier that boosts low frequencies and transfers them to your headphones as increased sounds. Nevertheless, that process of amplification is restrictive and greatly depends on the impedance of your headsets.
A headset that has a high impedance requires excellent impulses, unlike a compact one. This means that your headphone's amp's amplifier output should be sufficient to feed different ohms.
Therefore, it is critical to ensure that you have the right ohm for your headphones and an adequate capacity in your DAC/amp combo. Additionally, be on the lookout for properties like adaptability and the reaction of a vast frequency spectrum.
A good DAC/amp combo should be able to meet the requirements mentioned above.
Price
Now that you have considered the discussed features, it is time to ask for the price. The pricing may be high since a DAC/amp combo rules out the need for two different units. However, considering the features that this device boasts, investing in it would be wise.
This doesn't mean that all models are expensive. You can still get a DAC/amp combo that is reasonably priced if you research the market well.
The above are the main factors that should guide you when purchasing a desktop DAC/amp. Others include Bluetooth, format support, and value.
Frequently Asked Questions
1. Can a portable DAC/amp replace a desktop DAC/Amp?
No. Because what makes the desktop DAC/amp is beyond the design and size. It is its functionality and performance that keep it ahead of a portable DAC/amp combo. If you want a versatile device for your headphones, pick a DAC/amp combo device.
2. How is the sound quality of a desktop DAC/Amp compared to that of a portable one?
This depends on your sound preference. Some people don't have any sound specifications provided they hear what they want. However, for an audiophile, their desire for quality sound can only be quenched by a desktop DAC/amp.
This is because it features outstanding features, giving it an output of excellent audio sound quality. However portable DAC/amps feature impeccable convenience owing to their form factor and size.
3. Which is the essential feature in a desktop DAC/Amp?
There is no specific feature that we can term as the most critical. All features of this device are meant to produce quality sound and enhance your listening experience.
Conclusion
Now you know the best desktop DAC/amp device that you can go for in the market. They have outstanding features and functionalities that make their performance unbeatable. Also, the devices are strongly built and designed to occupy a little space.
You can trust them for quality audio output and sound clarity. Additionally, the most discussed devices are versatile and will work with almost any headphones or listening device.
Now that you know the desktop DAC/amp device you should buy, it is time to own one. However, remember the best should be the one that is in line with your budget, preference, and PC settings.
You can believe in the list we have provided and enjoy an incredible listening experience.
You may also be interested in:
About Post Author