Well-versed in planar magnet technology, Audeze are a strong pioneer within the world of personal audio. Their story was inspired by NASA technology which has seen the company bring forth innovations including Fluxor magnet arrays and Fazor wave-guide elements. With an appetite for the planar sound, Audeze also became one of the first companies to integrate planar technology into in-ear models such as the iSINE 10 and 20.
While not as common as their dynamic counterparts, the planar magnet's expense is one reason they have not crossed over into mainstream audio brands. However, their incredible impulse response and lack of distortion underpin their choice for a variety of audiophile offerings. For this reason, Audeze were keen to include this system within a closed-back alternative of their already brave iSINE series.
The Audeze Euclid is the company's first planar magnetic in-ear monitor (IEM) in a closed-back form factor. The IEM incorporates a miniaturized 18 mm single planar magnetic driver within a Fluxor magnet array and retails for $1299. True to their form as a specialist, the Euclid are able to offer 'incorruptible phase fidelity' with a completely linear frequency response.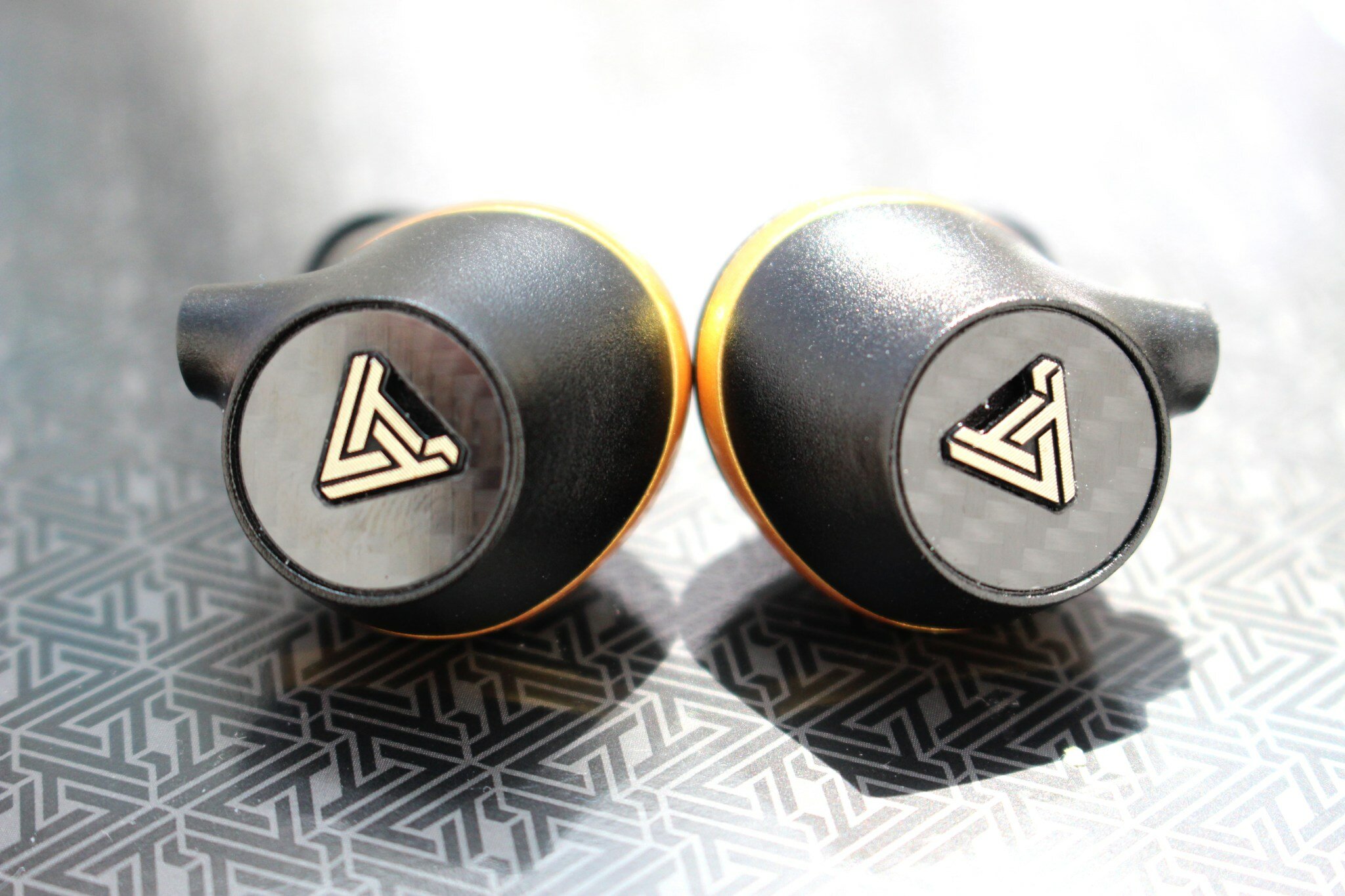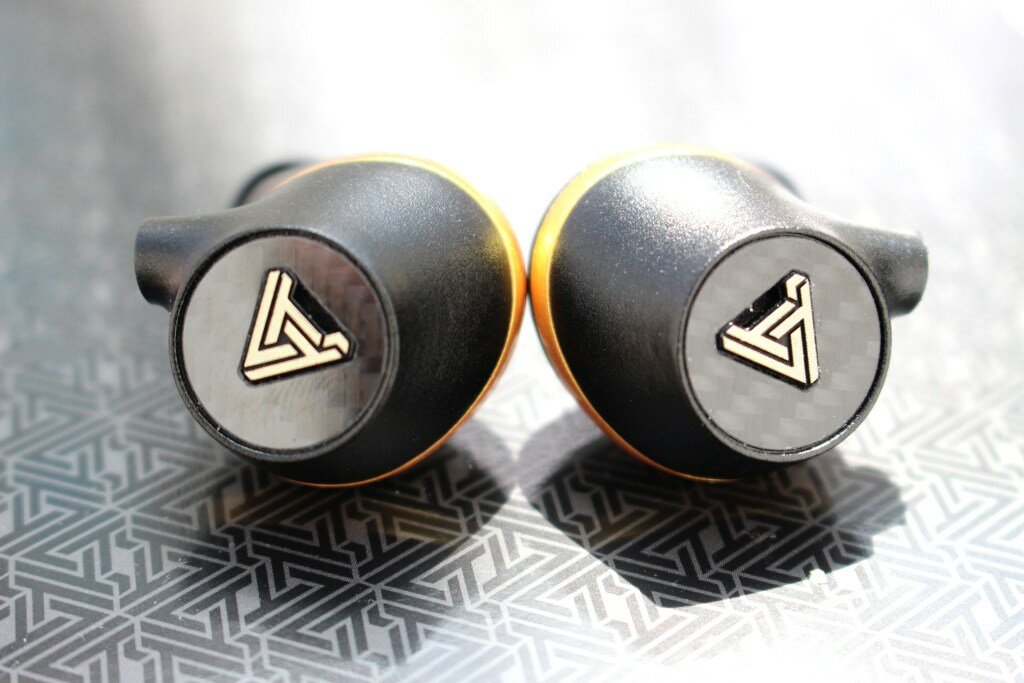 The Packaging
The aesthetic of the Audeze packaging is sharp – the box bears the 'Audeze' logo amidst a geometric design. For the eagle-eyed consumers, the design is made from an interlacing variant of the Audeze 'A' moniker which can also be seen on the housings of the in-ears.
Inside, users are greeted with a transparent pelican case which unlatches from two clasps to reveal the in-ear monitors suspended in a foam cut out. The casing here is rather reminiscent of that of Shure's SE846 albeit less grand and space-consuming. Consumers also get a user guide & driver download card, soft carrying pouch, pelican hard case, shirt clip, authenticity card, shirt clip, cleaning tool, 1 set of SpinFit tips (S/M/L), 1 set of foam tips (S/M/L) and 1 set of normal silicone tips (S/M/L).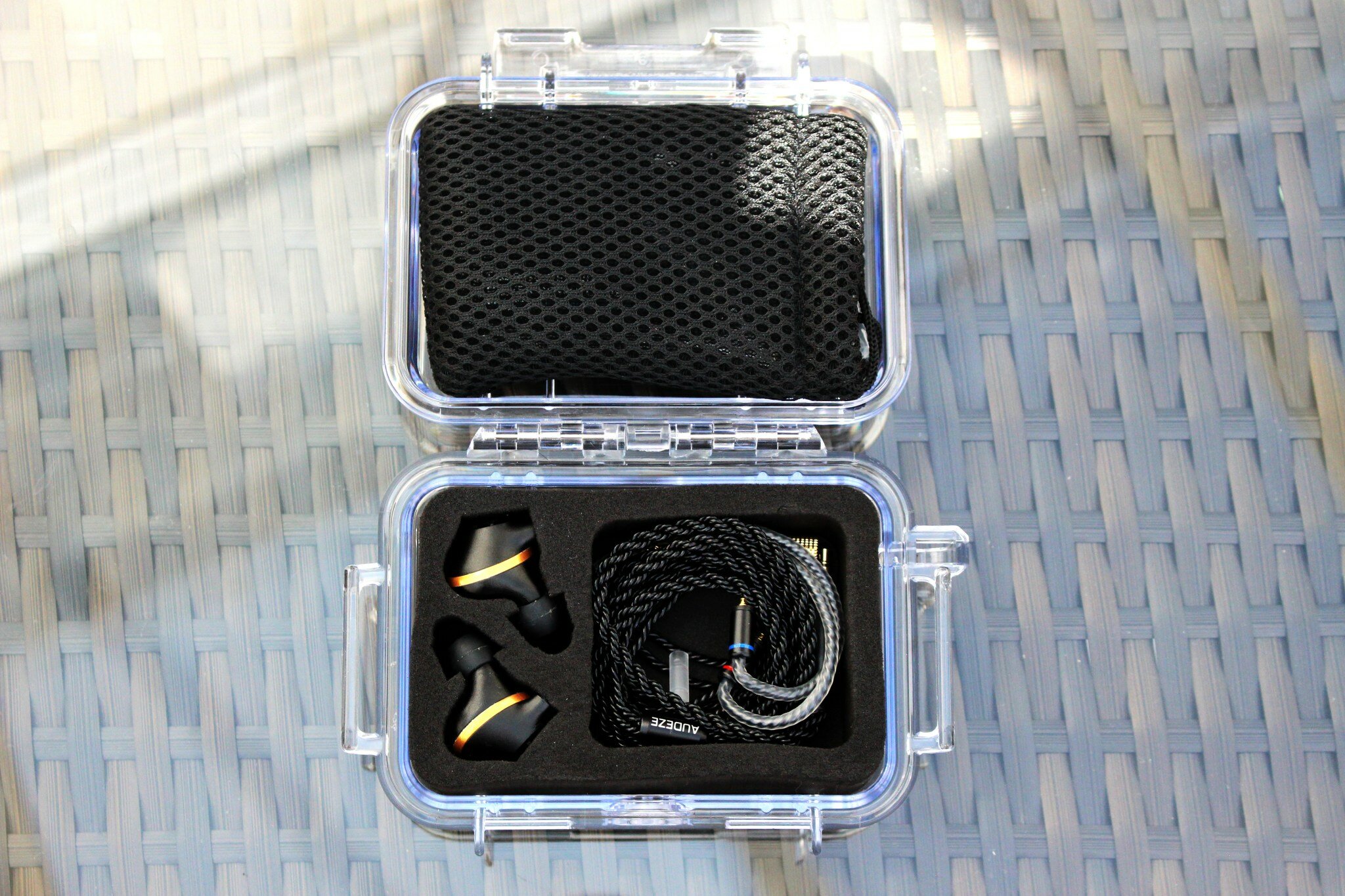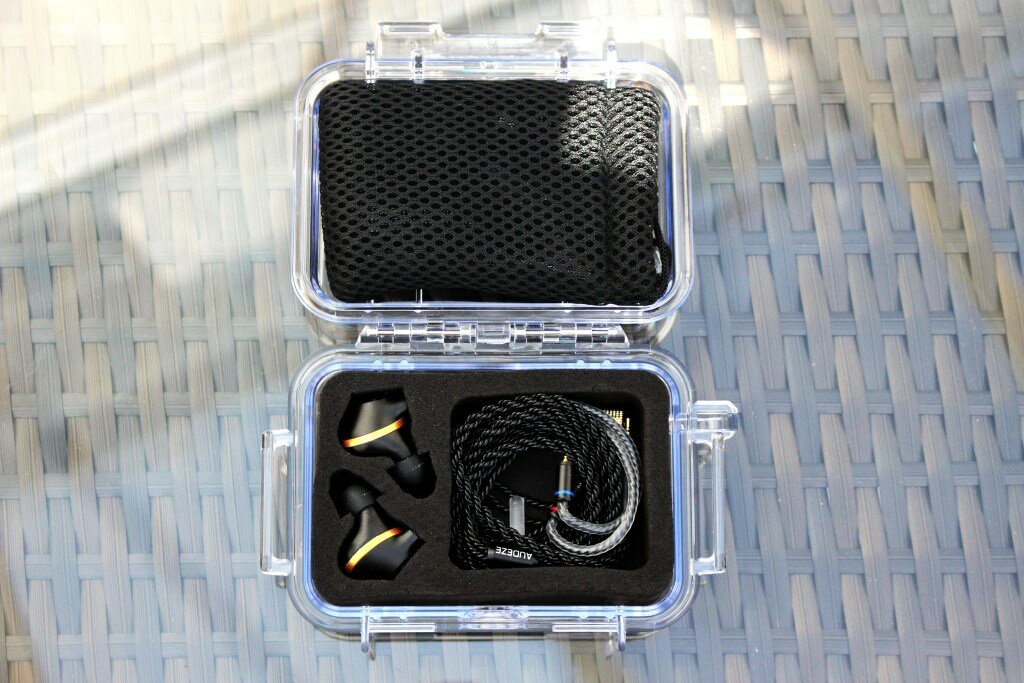 Build & Design
The Audeze Euclid comes in a very refined and elegant design that radiates high-quality and luxury appeal. The housings combine ergonomically milled aluminum with carbon fiber for a low light weight design. The matte black finish with the subtle gold accents show off Audeze's creative flair without being too gaudy or ostentatious. It is a well thought out design and the precision-milled unibody brings the whole in-ear monitor together.
Audeze have opted for gold plated MMCX connections here which seems to be the new standard in high-end IEMs as of late. The angled nozzle allow the housings to sit further afield in the overall ear anatomy aiding a more ergonomic fit.
The cable included here is dual-braid with a single-ended 3.5 mm termination. Audeze are offering a separate balanced 4.4 mm cable as well as Bluetooth module for separate prices. While it would have been nice to have included this in the overall stock packaging, this would likely raise prices for the end consumer.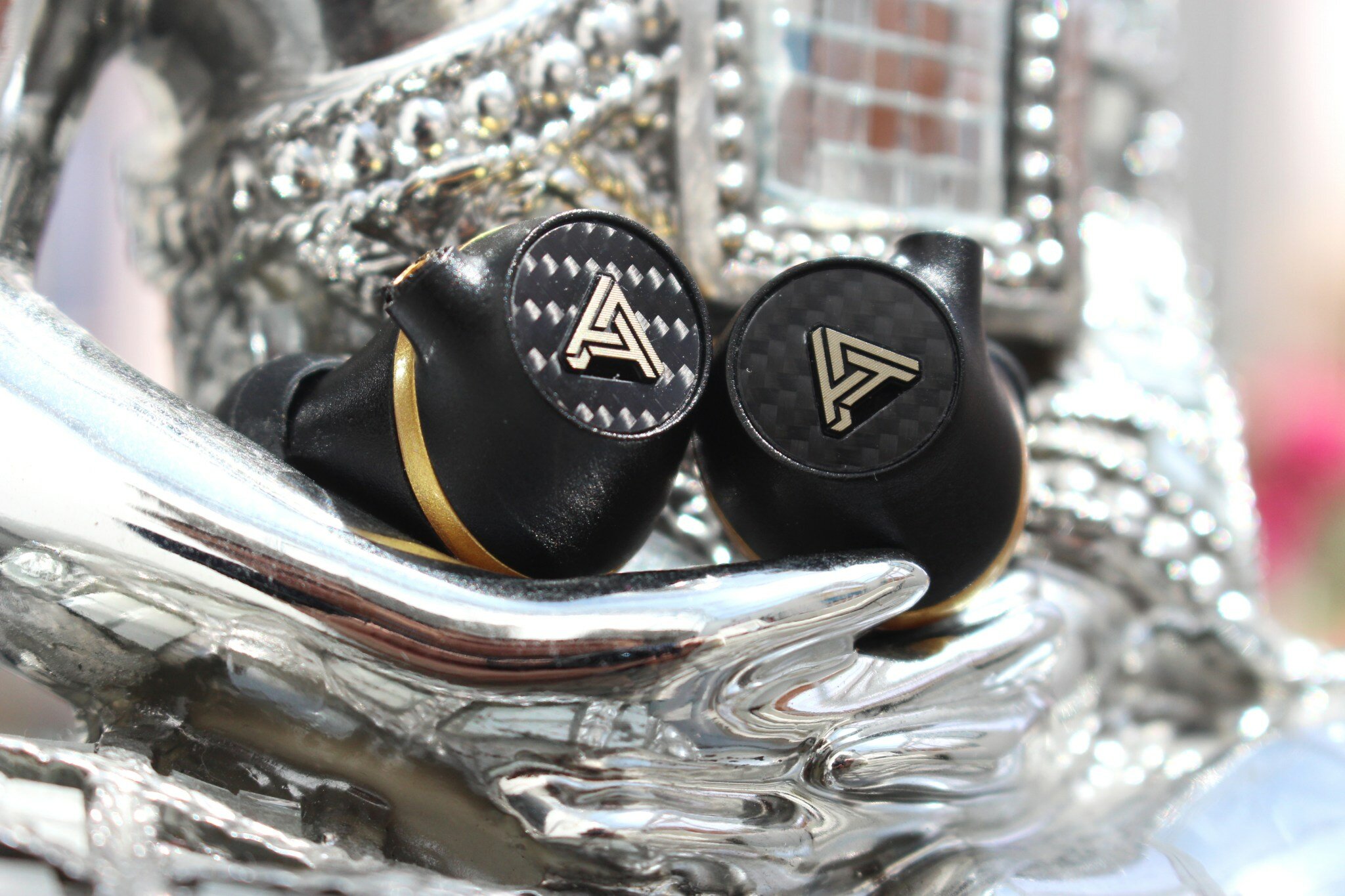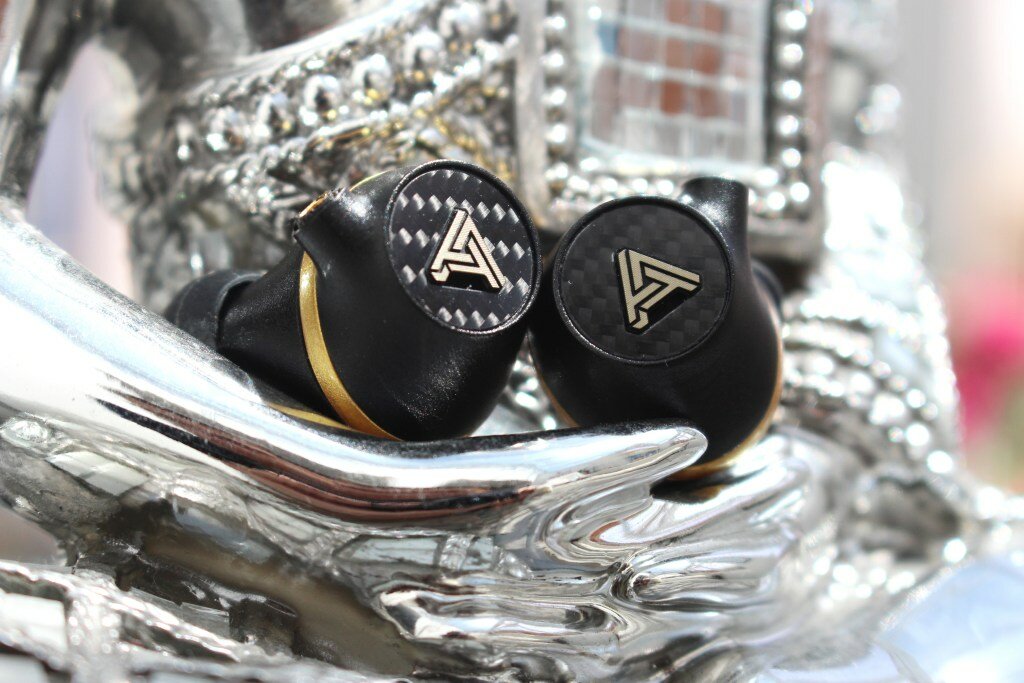 The Tech
The Audeze Euclid is one of very few high-end IEMs which incorporate planar magnetic driver technology in a closed-back in-ear monitor format.
For more detail on how planar technology works, see our latest article on planar magnetic headphones.
In Audeze's case, the technology consists of an ultra-thin diaphragm and voice coil (18mm) suspended between their patented N50 Fluxor magnets and Fazor waveguides. The end result being that of improved sensitivity, coherency and reduced distortion when compared to dynamic driver counterparts. The efficient drivers possess 12 ohms of impedance with 105 dB of sensitivity allowing it to be driven from a range of portable audio players.
Fit & Isolation
The Euclid's ergonomic design is masterfully done with a contouring that mimics the custom in-ear design with its angled nozzle and grooved body. Like the InEars ProMission X, the Euclid sits nicely within the conchae of the ear and the outer housing sitting flush in the overall fit. There is no sensation of digging or undue pressure which together with its light weight design aids a comforting prolonged listening session.
The over-ear portion of the cable is one of the nicest that I have come across with a weighty support that is not easily moved and a perfect arc that conforms to the outer proportions of the ear.
Sound isolation levels are by virtue of their design significantly better than the previous Audeze open-back planar iSINE models. However, compared to other closed-back offerings they are neither here nor there in terms of sheer passive noise isolation.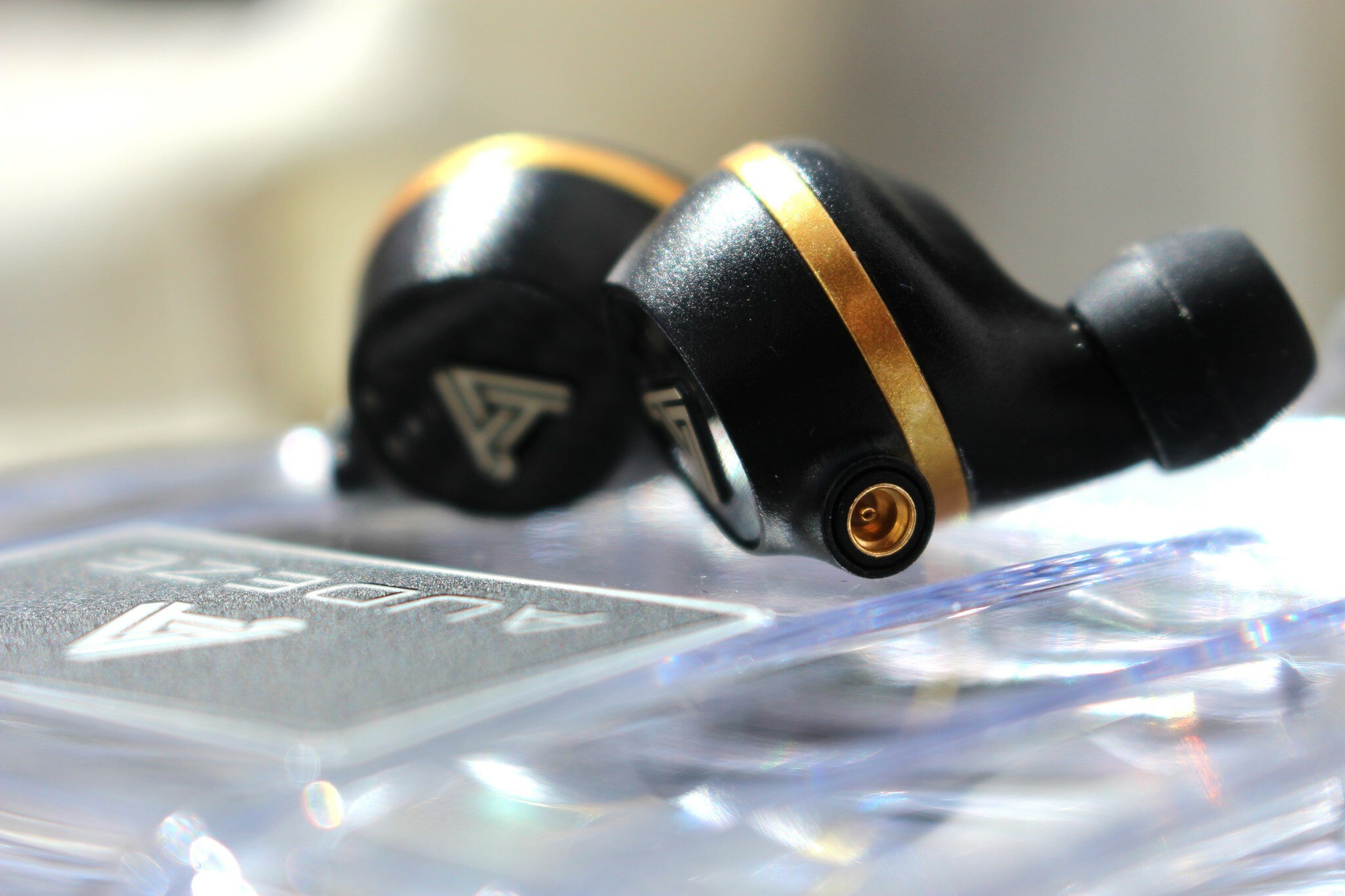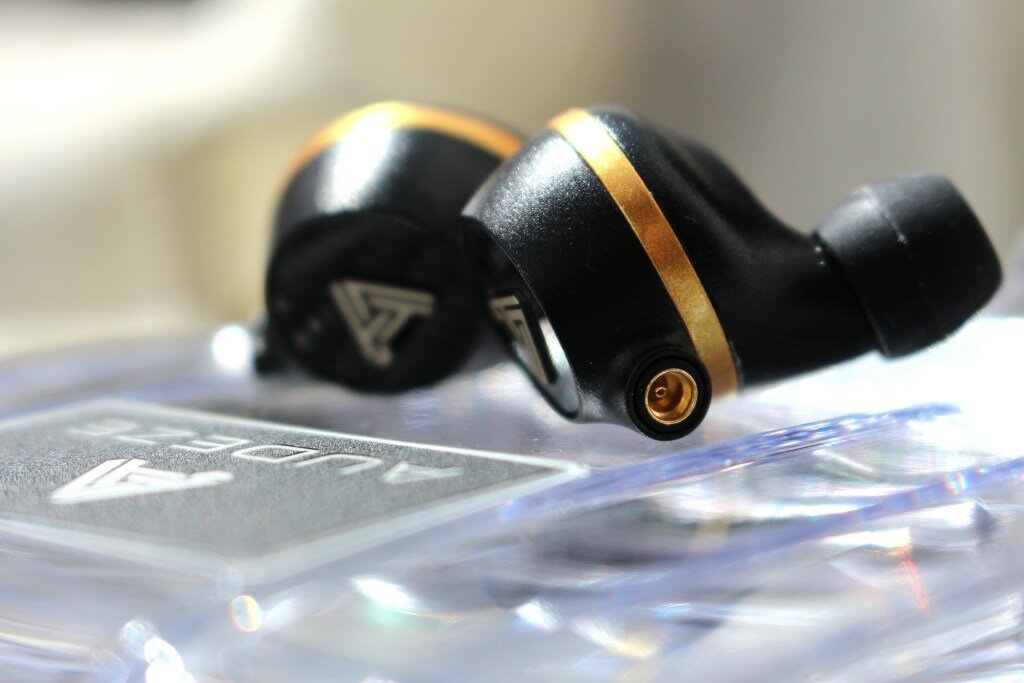 Sound Impressions
Tonality
The Audeze Euclid has an effortless air about it in the way that it deciphers notes from the bass all the way to the treble. It does not command attention from the outset with incisive revelation of micro-details like the Tia Fourte, but it unravels high resolution and coherence in a graceful and unassuming manner.
There is no doubt that the planar magnetic technology employed here really is something special with certain qualities reminiscent of Shure's electrostatic KSE1200 in-ears. However, unlike the KSE1200, the Euclid has some weight and density behind its note size.
The overall sound generally leans towards the uncolored side with mild bumps in the frequency regions (most notably the 5 kHz region).
Bass
In keeping with the high quality, the bass has outstanding resolution with short sustains and responsive decays. This is not a dynamic type of bass with rear note linger but a BA-type bass with great texturing and tonality. However, the Euclid does trade this off for absolute levels of slam and impact.
Fans of more authoritative bass should consider other bass-heavy in-ear monitors to appease their desires. Make no mistake though, the Audeze Euclid retains great levels of macro-dynamics without the 'moving mass' of dynamic drivers to really drive visceral bass.
In 'Mood' by 24kGoldn, the underlying bass is well-controlled with good extension and punchiness. Fans of a reference yet dynamic bass will be pleased with the Euclid's low-end performance.
Midrange
The Audeze Euclid inherits the benefits of the planar sound with its superb responsiveness and top-tier resolution. The overall soundscape is very cohesive and nothing sounds particularly disjointed. Owing to the elevation from the 1K to 2K territories, vocals are brought slightly forward in the center staging.
There is a good amount of space between sound detailing and Euclid revels in its separation and imaging capabilities. The tonal character does not pledge allegiance to warmer or colder hues of the frequency response but adapts rather well across a range of genres.
A lift in the 5K frequency does restore some upper midrange sparkle which can be a source of contention when paired with brighter sources. However, with more neutral sources such as Lotoo's PAW 6K – the Euclid's upper midrange is tame and does not suffer from any compression issues.
Treble
Audeze have opted for a more laidback frequency response with the Euclid model. This can be seen in the higher frequencies where there is notable roll-offs in the upper octaves. The resulting sound is more relaxed while still retaining excellent resolution and depth.
Personally, it would have been nice to see more of an uptick in the higher frequencies for added headroom and sparkle. Notes remain smooth and transparent which is a recurring theme in this model.
Soundstage & Imaging
The Audeze Euclid possesses an open soundstage with excellent instrument separation, depth and lateral width. Compared to Tia Fourte, the Euclid sounds more effortless in the way it presents the overall staging. Whereas the Tia Fourte outputs pin-point spatial localization of sonic cues, the Euclid renders cues with more ebb and flow.
As a result, there is more of an ethereal quality behind the Euclid ethos. One area which could be improved is the sense of height which is likely down to choice of a more subdued treble region.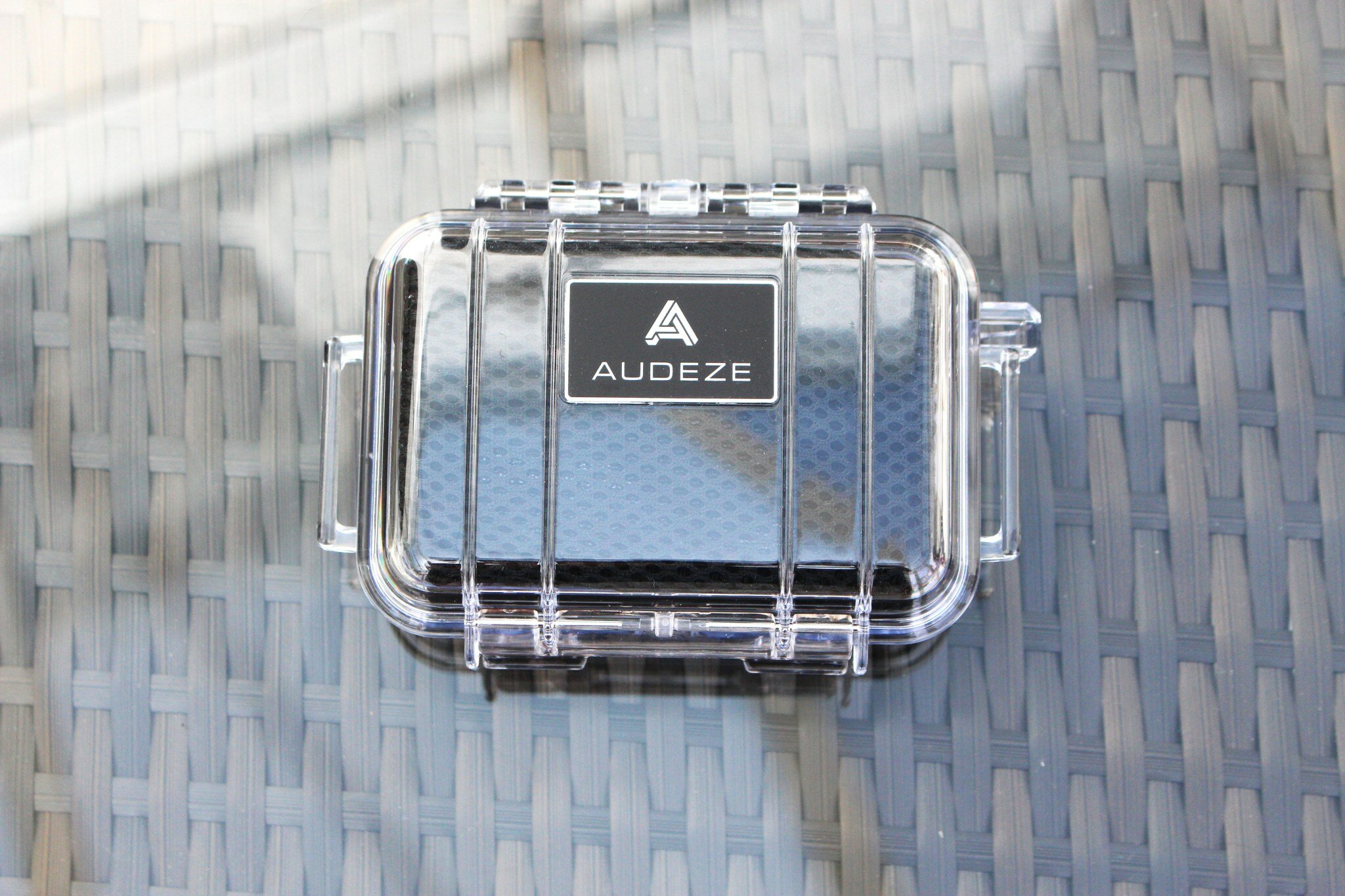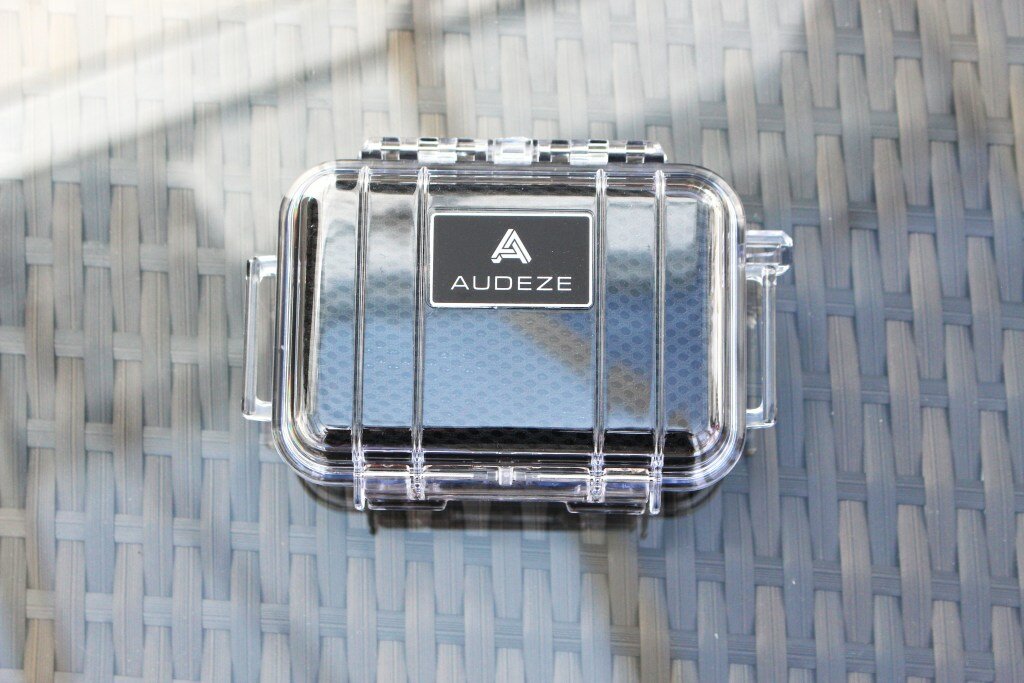 Comparisons
Shure KSE1200

($1999)
The Shure KSE1200, like the Euclid, is an IEM which incorporates pioneering technology. Where the KSE1200 goes fully electrostatic, the Euclid is the company's first planar magnetic closed back. Comparing the two, the Euclid shares some of the electrostatic tendencies of the KSE1200 with its incredible responsiveness, fast decay and overall resolution. However, the two differ in the overall tonality as the KSE1200 is completely colorless and neutral with a predisposition to a leaner note size.
The Euclid, on the other hand, portrays denser notes with a deeper extending bass and an upper midrange sheen.
Dita Fidelity

($1299)
Both the Dita Fidelity and the Euclid are single driver in-ear monitors with the same recommended retail price. However, the Dita Fidelity opts for dynamic driver whereas Audeze have gone with planar magnetic. It is interesting to see in-ear companies abandon the prior 'arms race' to pack in as many drivers as possible.
A strong emphasis is now being placed on technology and implementation to achieve desired levels of tuning. Both the Fidelity and Euclid share high levels of resolve with an easy-going tonality.
The Euclid, however, possesses a more cohesive soundstage with faster responsiveness. The Dita Fidelity depicts a more typically analytical sound with a neutral-bright affiliation. Both are excellent in-ear monitors in their own right with great instrument separation and imaging.
Conclusion
The Audeze Euclid defines the new era of planar magnetic in-ear monitors – a breed which offer outstanding resolution, responsiveness and coherency. While there are a few directions I would have liked the Euclid's tuning to have taken (a subtle sub-bass lift and uptick of higher frequencies) – there is no denying its laidback but highly resolute sound are a dream for reference lovers.
The build quality and design are also fantastic and aluminum should be a material more manufacturers should consider owing to its lightweight properties. The Audeze Euclid will be taking a seat in our list of highly recommended IEMs and I do look forward to see what the California-based audio brand has next up their sleeves..
Audeze Euclid Specifications:
| | |
| --- | --- |
| Style: | In-ear, closed-back |
| Transducer type: | Planar Magnetic |
| Magnet type: | Neodymium N50 |
| Transducer size: | 18 mm |
| THD: | <0.1% @ 100 dB SPL |
| Sensitivity: | 105 dB/1mW (at Drum Reference Point) |
| Impedance | 12 ohms |
Available from:
Audeze
About Post Author